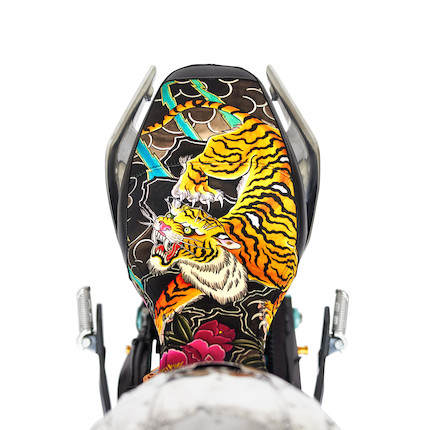 Tinker Hatfield X SEE SEE
Custom Electric SR/F Zero Motorcycle
2020
VIN No. 538ZFAZ71LCK1303
accompanied by the original artwork for the seat by Drat Diestler, charging cable and stand
21 October 2021, 11:00 PDT
Los Angeles
Sold for US$20,312.50 inc. premium
Own a similar item?
Submit your item online for a free auction estimate.
How to sell
Looking for a similar item?
Our Modern Decorative Art & Design specialists can help you find a similar item at an auction or via a private sale.
Find your local specialist
Ask about this lot
Katherine Miller
Senior Sale Coordinator
Tinker Hatfield X SEE SEE
Custom Electric SR/F Zero Motorcycle
2020
VIN No. 538ZFAZ71LCK1303
accompanied by the original artwork for the seat by Drat Diestler, charging cable and stand

Footnotes
Through the development of motorcycle racing, modifications on standard machines carried the objective of improving the performance and ultimately making them faster, lighter, and overall better than the competitors. Whether that was for road or dirt racing, many privateers - and makers themselves - proposed mechanical and aesthetic modifications to enhance performance.

Following the 1990s and into the 2000s where the custom culture evolved towards Choppers, street and 'standard' machines were being modified again, essentially through neo-retro designs directly inspired by the 1960s and 1970s. Contrary to their models, these Scramblers, Cafe Racers or Street Trackers became a trend more focused on design and lifestyle rather than performance.

While most of these customs are simple expressions of their owners' skills and tastes, some of them can be considered works of art showcasing an exceptional illustration of craftsmanship and talent, which the motorcycle offered here precisely represents.

Indeed, this machine is one such artistic design piece, the result of a collaboration between two decisive figures in their respective fields. On the design side, the bike was sketched and imagined by the legendary Nike footwear designer Tinker Hatfield, whose timeless designs such as the Air Max and Air Jordan are known across the globe and have become footwear standards in their own right.

On the motorcycling side, Thor Drake, Founder of See See Motorcycles, oversaw the technical preparation of the bike. Through See See Motorcycles and the One Moto Show, Drake has become a name inseparable from Custom Motorcycle Culture, having created a large community of enthusiasts that gather every year to showcase the most spectacular bikes from around the world.

To construct this bike and fully realize Hatfield's vision, Drake used the best components, such as Ohlins inverted forks and rear suspensions, Brembo brakes and details like the Rizoma turn signals. Paramount to the character of the project was the use of a Zero SR/F Electric Motorcycle, one of the most advanced electric bikes on the market and a key starting point for the look and feel of Tinker and Thor's vision.

The result is a stunning machine that could be at ease both on the road and on display in a museum.

--

This motorcycle is sold to benefit the Friends of Columbia County.