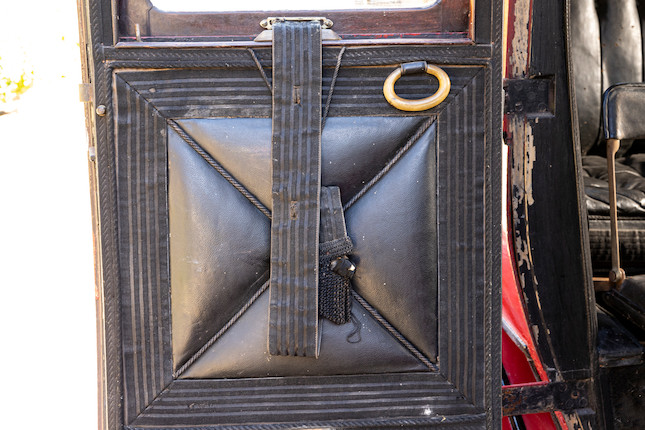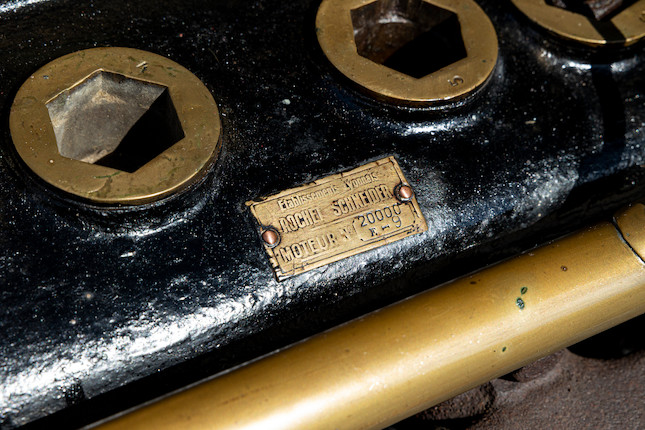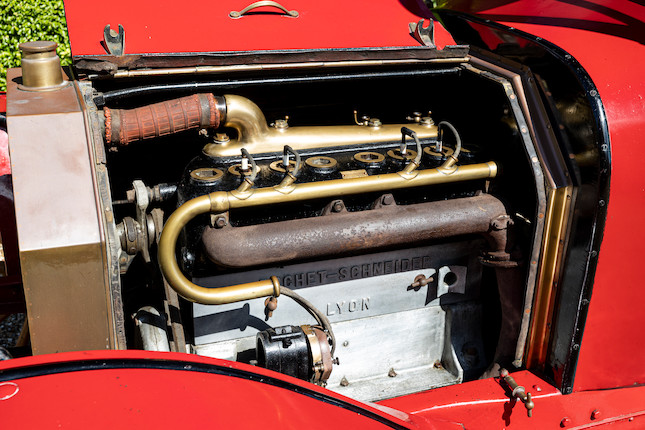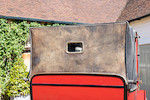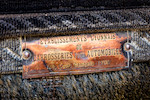 1910 Rochet-Schneider 18hp Series 9300 Open-drive Landaulet
Registration no. not registered Chassis no. 10736
Amended
5 September 2021, 10:30 BST
Beaulieu, National Motor Museum
Sold for £19,565.22 inc. premium
Own a similar item?
Submit your item online for a free auction estimate.
How to sell
Looking for a similar item?
Our Collector Cars specialists can help you find a similar item at an auction or via a private sale.
Find your local specialist
1910 Rochet-Schneider 18hp Series 9300 Open-drive Landaulet
Registration no. not registered
Chassis no. 10736
Odometer reading: TBC
MOT: Exempt
*3.7-litre four-cylinder engine
*Ex-Sharpe Collection
*Stored since acquisition in 2005
*Requires re-commissioning
To view a video of this lot please
click here
Based at Chemin-Feuillat in Lyon, Rochet-Schneider was one of Les Grands Marques of the Edwardian period in France. The firm was so called because it was initially run by the Rochets, father and son, together with Théophile Schneider, a member of the eponymous armaments manufacturing family. Originally bicycle manufacturers, Société Anonyme des Établissements Rochet-Schneider built its first automobile in 1894, and in 1901 at the Paris Salon exhibited two cars of Panhard configuration. However, by this time the most advanced type of car was the German Mercedes, so for 1903 the Lyonnaise cars were redesigned along Mercedes lines. From the introduction of that year's 20/22hp model, Rochet-Schneider's reputation as the builder of strong, fast cars grew rapidly, fully justifying the firm's description of its products as 'Les voitures de qualité'.
Offered here is an example of the 18hp 9300 Series, a 3.7-litre, four-cylinder model first introduced in 1910. Its generously proportioned open-drive landaulet coachwork affords the occupants ample space, while there is additional occasional seating in the rear compartment. The current vendor purchased this stately French Edwardian at the Sharp Collection sale in June 2005, since when it has been carefully stored, the engine being run once several years ago. Re-commissioning, at the very least, will be required before returning the car to the road. Sold strictly as viewed.
Footnotes
Based at Chemin-Feuillat in Lyon, Rochet-Schneider was one of Les Grands Marques of the Edwardian period in France. The firm was so called because it was initially run by the Rochets, father and son, together with Théophile Schneider, a member of the eponymous armamentsmanufacturing family. Originally bicycle manufacturers, Société Anonyme des Établissements Rochet-Schneider built its first automobile in 1894, and in 1901 at the Paris Salon exhibited two cars of Panhard configuration. However, by this time the most advanced type of car was the German Mercedes, so for 1903 the Lyonnaise cars were redesigned
along Mercedes lines. From the introduction of that year's 20/22hp model, Rochet-Schneider's reputation as the builder of strong, fast cars grew rapidly, fully justifying the firm's description of its products as 'Les voitures de qualité'. Offered here is an example of the 18hp 9300 Series, a 3.7-litre, four-cylinder model first introduced in 1910. Its generously proportioned open-drive landaulet coachwork affords the occupants ample space, while there is additional occasional seating in the rear compartment. The current vendor purchased this stately French Edwardian at the Sharpe Collection sale in June 2005, since when it has been carefully stored, the engine being run once several years ago. Re-commissioning, at the very least, will be required before
returning the car to the road. Sold strictly as viewed.

Vendor Score Total: 30 /100

Bidders should note that the automated 100-point Seller's Assessment is provided by each Seller at the point of consignment using the guidelines below, and is not provided, assessed or verified by Bonhams MPH. Accordingly Customers (Bidders) are on notice that each vehicle is offered "as is / as seen" subject to the Conditions of Sale for the auction, and Customers (Bidders) are strongly recommended to view the Lot(s) being offered, before bidding, in order to satisfy themselves as to their condition; Bonhams MPH will not entertain disputes over Sellers' Assessments.

Key for sellers' assessments:
1/5 POOR. A project vehicle | Requires urgent attention | Damaged | Parts missing
2/5 AVERAGE. Useable condition | Requires some attention | Light damage
3/5 GOOD. Drive away | Presents well | Good history file | Drives well
4/5 VERY GOOD. Well restored | Running and driving with no noticeable faults | Sound throughout
5/5 EXCELLENT. Concours condition | Beautifully presented | Driving very well

EXTERIOR TOTAL: 9 /25
Body Work: 2
Paint: 2
Glass: 3
Chrome/Plastics/Trim: 1
Wheels/Tyres: 1

RUNNING GEAR TOTAL: 5 /20
Gearbox/Clutch: 2
Axles: 1
Suspension: 1
Brakes: 1

INTERIOR TOTAL: 7 /20
Seats: 2
Dashboard/Door cards/Carpets: 2
Headlining: 2
Trim: 1

ELECTRICAL TOTAL: 2 /10
Main components: 1
Ancillary components: 1

ENGINE TOTAL: 5 /20
Starting: 1
Running: 1
Under Bonnet: 1
Mechanical components: 2

Car History File: 2
Saleroom notices
Interested parties should note that the engine is seized as does not turn over