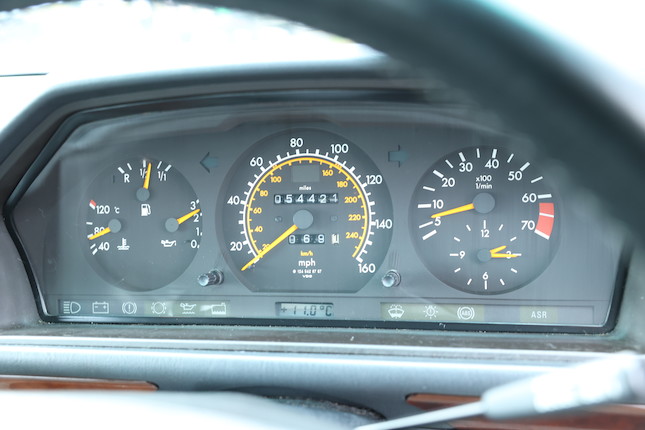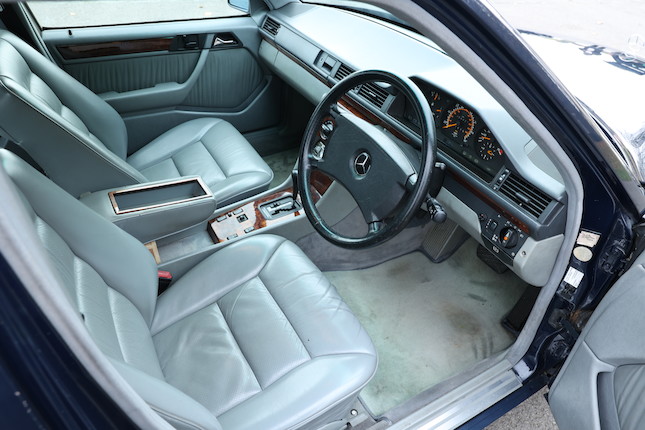 1991 Mercedes-Benz 300E Saloon
Registration no. H633 LJA Chassis no. DB1240302B442807
11 December 2021, 15:00 GMT
Bicester, Bicester Heritage
Lot to be sold without reserve
£2,000 - £4,000
1991 Mercedes-Benz 300E Saloon
Registration no. H633 LJA
Chassis no. DB1240302B442807
Odometer reading: 54,230
MOT: 09/05/2022


*Single family ownership from new
*Automatic transmission
*Plentiful service history

In late 1984, Mercedes-Benz updated its medium-sized passenger car line-up, introducing the new W124 bodyshell, which replaced the nine-year-old W123 style. Improving aerodynamic efficiency as a means of reducing fuel consumption and thus lowering emissions had become a major preoccupation among motor manufacturers, and the W124's sleekly refined shape reflected these concerns. Slightly longer but a whole 2" narrower than their predecessors, the W124s had a significantly reduced frontal area and coefficient of drag, which together with reduced weight made for appreciably better performance. In the case of the top-of-the-range, Bosch fuel-injected, six-cylinder 300E model, these advances made for a top speed of around 144mph (manual) or 140mph (automatic) and a significant improvement in fuel consumption, figures that emphatically eclipsed those of the superseded 280E that it replaced.
Known as 'The Duchess', this automatic transmission 300E has enjoyed single family ownership from new. Notable features include the following: heated seats; air conditioning; cruise control; electric sunroof; leather-trimmed steering wheel and gear lever knob; fully electric front seats; and burr walnut trim. The history file's contents include specialist service bills totalling over £17,500 and dating back to 2011 (latest service in May 2021) plus a quantity of old MoTs (including the most recent) dating back to 2012. Finished in Midnight Blue with grey leather interior, the car is offered with two sets of keys; its original leather wallets; owner's manual; European and UK Mercedes-Benz workshop directory and map; and two maintenance booklets, the first recording its PDI on 7th February 1991 with services from 21st March 1991 through to 1999.

Footnotes
Vendor Score Total: 85/100

Bidders should note that the automated 100-point Seller's Assessment is provided by each Seller at the point of consignment using the guidelines below, and is not provided, assessed or verified by Bonhams MPH. Accordingly Customers (Bidders) are on notice that each vehicle is offered "as is / as seen" subject to the Conditions of Sale for the auction, and Customers (Bidders) are strongly recommended to view the Lot(s) being offered, before bidding, in order to satisfy themselves as to their condition; Bonhams MPH will not entertain disputes over Sellers' Assessments.

Key for sellers' assessments:
1/5 POOR. A project vehicle | Requires urgent attention | Damaged | Parts missing
2/5 AVERAGE. Useable condition | Requires some attention | Light damage
3/5 GOOD. Drive away | Presents well | Good history file | Drives well
4/5 VERY GOOD. Well restored | Running and driving with no noticeable faults | Sound throughout
5/5 EXCELLENT. Concours condition | Beautifully presented | Driving very well

EXTERIOR TOTAL: 24/25
Body Work: 5
Chrome/Plastics/Trim: 5
Glass: 4
Paint: 5
Wheels/Tyres: 5

RUNNING GEAR TOTAL: 16/20
Axles: 4
Brakes: 4
Gearbox/Clutch: 4
Suspension: 4

INTERIOR TOTAL: 15/20
Dashboard/Door cards/Carpets: 3
Headlining: 4
Seats: 4
Trim: 4

ELECTRICAL TOTAL: 8/10
Ancillary components: 4
Main components: 4

ENGINE TOTAL: 17/20
Mechanical components: 4
Running: 5
Starting: 4
Under Bonnet: 4

Car History File: 4