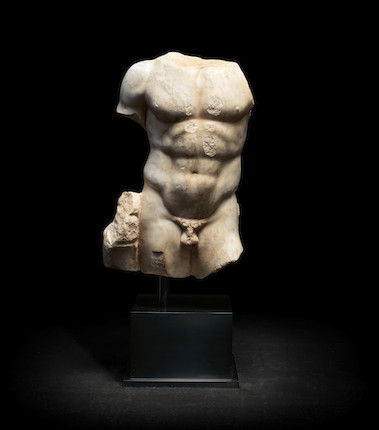 A Roman marble torso of Hercules
6 July 2021, 15:00 BST
London, New Bond Street
Sold for £81,500 inc. premium
Own a similar item?
Submit your item online for a free auction estimate.
How to sell
Looking for a similar item?
Our Antiquities specialists can help you find a similar item at an auction or via a private sale.
Find your local specialist
Ask about this lot
Francesca Hickin
Head of Department
Anna Marston
Senior Cataloguer
A Roman marble torso of Hercules
Circa 2nd Century A.D.
Depicted nude and of athletic form, standing in contrapposto, with the weight on his right leg, his left shoulder slightly raised, the muscular torso with well-defined pectorals, abdominal muscles and iliac crests, with rounded buttocks and muscular back, the dorsal muscles emphasised by a sunken depression along the spine, a supporting strut extending the length of his right thigh, 33cm high
Footnotes
Provenance:
Anonymous sale; Hôtel des ventes de Saint Dié, 3 May 1981, lot 59.
Anonymous sale; Pierre Bergé & Associés, Paris, 10 October 2017, lot 287.
Private collection, Hong Kong, acquired at the above sale.

The above lot shares certain features with the Lansdowne Herakles in the J. Paul Getty Museum, originally found at Hadrian's villa at Tivoli, acc. no. 70.AA.109.1. Both portray a youthful, more slender version of the hero, and in the Lansdowne figure he is depicted beardless with his right leg leaning against a support strut carved as the draped Nemean lion skin. In both sculptures the left shoulder is slightly higher, for the purpose of supporting a club resting on his shoulder. The remains of the support strut in the above lot is roughly chipped making it difficult to tell what it originally represented: rather than a lion pelt, it may simply be a tree stump against which a club rests, as in another Roman statue of Hercules in the J. Paul Getty Museum, acc. no. 73.AA.43.1. The remains of a strut on the side of the left buttock in the above lot may have been where the body has contact with the draped lion pelt, in the manner of this second example.