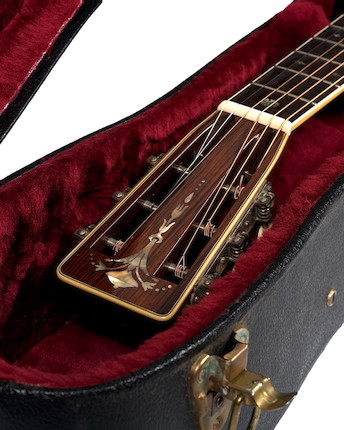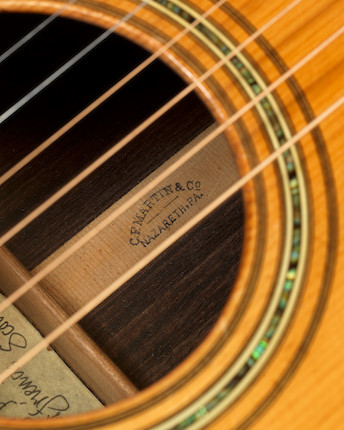 Martin Guitars: A Martin 000-45 acoustic guitar,
1929,
5 May 2021, 11:00 BST
London, Knightsbridge
Own a similar item?
Submit your item online for a free auction estimate.
How to sell
Looking for a similar item?
Our Popular Culture specialists can help you find a similar item at an auction or via a private sale.
Find your local specialist
Ask about this lot
Katherine Schofield
Department Director
Claire Tole-Moir
Head of Department
Martin Guitars: A Martin 000-45 acoustic guitar,
1929,
serial no.39320 stamped on neck block, with Brazilian rosewood back and sides, spruce top, pearl and celluloid binding to top and back, pearl inlaid rosette, inside of body with label reading, March 21, 1996 To Martin Taylor In recognition of your extraordinary performance with Steve Howe on the historic Chinery Collection recording and with gratitude for the unprecedented way your music has touched my life personally. With awe and admiration your friend Scott Chinery, rectangular ebony bridge with celluloid saddle and pins, one-piece mahogany neck, celluloid-bound 12-fret-to-body ebony fingerboard with snowflake pearl markers, bound slotted headstock with rosewood top and intricate pearl inlay, celluloid tuners, in case
Footnotes
Provenance:
The property of guitarist Martin Taylor, MBE.

This was presented to Martin Taylor by US guitar collector Scott Chinery. To mark the publication in 1996 of The Chinery Collection: 150 Years Of American Guitars, a commemorative CD was released, Chinery Collection: Masterpiece Guitars, featuring around 90 instruments from Scott's collection played by Steve Howe and Martin Taylor.

Martin's Style 45 guitar is the company's top of the range in terms of detailing and woods used. Martin's catalogue from October 1930 describes the Style 45 as 'very handsomely decorated' and of the three '45' models listed, the 000-45 is the most expensive, at $170, the same price as in 1929. The catalogue also states: 'Rosewood is selected for the finest Martin guitars, because of its resonant tone quality. The wood grows in Brazil, is very hard, and takes a beautiful finish, showing the matched grain and rich dark color.' Martin historian Mike Longworth gives production of just 20 examples of the 000-45 in 1929.

Grammy-nominated musician Dr. Martin Taylor, MBE, has enjoyed a musical career over five decades, with more than 100 recordings to his credit and the recipient of a record 14 British Jazz Awards as a guitarist. In addition to his solo work he has collaborated with musicians from different musical genres, including Jeff Beck, Bill Wyman, Chet Atkins, George Harrison, Jamie Cullum and Bryn Terfel.
Born into a musical family, Martin took up the guitar at a very early age and was inspired by guitarist Django Reinhardt. Completely self-taught, Martin turned professional as a teenager. Through jazz guitarist and mentor Ike Isaacs he was introduced to legendary violinist Stephane Grappelli and this led to more than a decade of Martin playing with him, occupying the position once held by his idol, Django Reinhardt, in the Quintette du Hot Club de France in the 1930s and 1940s.

Literature:
Longworth, Mike, Martin Guitars: A History, 4 Maples Press, Pennsylvania, 1988.
Bacon, Tony & Chinery, Scott, The Chinery Collection: 150 Years Of American Guitars, Balafon Books, London 1996.
Illustrated in Freeth, Nick & Alexander, Charles, The Acoustic Guitar, Mel Bay Publications, 1999.