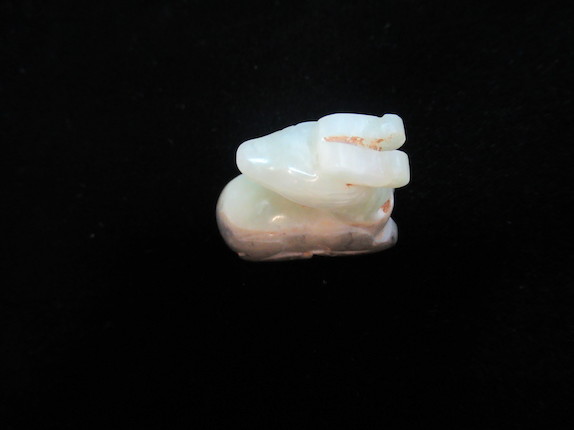 PROPERTY FROM THE ESTATE OF ROBERT P. YOUNGMAN
Celadon and Gray Jade Deer
Western Han Dynasty/Six Dynasties
14 December 2020, 19:00 EST
Los Angeles
Own a similar item?
Submit your item online for a free auction estimate.
How to sell
Looking for a similar item?
Our Japanese Art specialists can help you find a similar item at an auction or via a private sale.
Find your local specialist
Ask about this lot
Client Services (San Francisco)
Client Services (New York)
Client Services (Los Angeles)
Celadon and Gray Jade Deer
Western Han Dynasty/Six Dynasties
The kneeling deer looking over its back, the lower body geometrically cut but softly polished, the base flat with a few shallow cuts, the head raised and with simply cut horns, the neck pierced horizontally for suspension, the upper body of celadon tone and the lower portion calcified to a grey tone, traces of earth encrustation and red pigment. 1 1/2 in (3.7 cm) wide
Footnotes
Early carvings of deer in the round are rare. For an earlier green jade deer precursor to our carving and dated to the Western Zhou period, but which is more geometric and posed recumbent and looking over its back and with antlers raised, see the website of the Sanmenxia Guo State Museum, Henan Province but unnumbered. For a later Song dynasty example see, Sotheby's, Hong Kong, 3 October 2013, lot 3110
For another rare Han dynasty animal carving (ram) in a similar kneeling position from the Qing Court Collection, see The Complete Collection of the Treasures of the Palace Museum, Jadeware I, [Gugong bowuyuan cang wenwu zhenping quanji, yuqi zhong], The Commercial Press (Hong Kong) Ltd., 1995, p.237, no. 198.

See Stanley Charles Nott, Chinese Jade Throughout the Ages, Tokyo, 1962, pp.19-20, for a discussion of the deer in Chinese art where the author notes that the deer (or stag) though not holding a place of honour (sic)in the Zodiacal circle, is nevertheless prominent in the thoughts of the Chinese, its name (lu), a popular symbol meaning 'longevity' and 'income' was probably suggested by the great length of life that tradition has ascribed to this animal. According to tradition "the horns turn back, denoting that it has attained immortality".