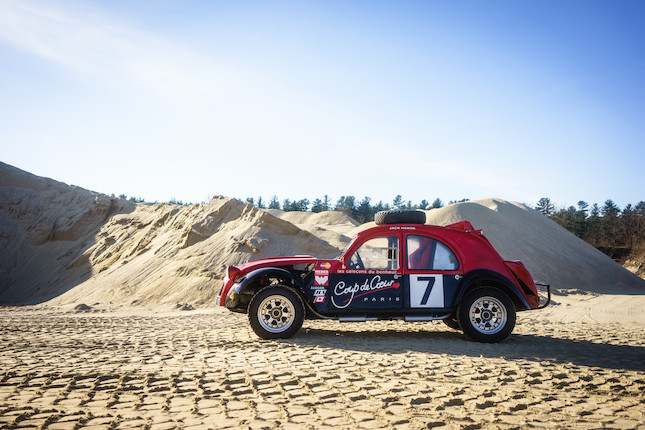 1974 Citroën 2CV Twin-Engined 4x4 Special
Registration no. Not UK Registered Chassis no. 54KA6411
Amended
11 December 2020, 13:00 GMT
Bicester, Bicester Heritage
Own a similar item?
Submit your item online for a free auction estimate.
How to sell
Looking for a similar item?
Our Collector Cars specialists can help you find a similar item at an auction or via a private sale.
Find your local specialist
1974 Citroën 2CV Twin-Engined 4x4 Special
Registration no. Not UK Registered
Chassis no. 54KA6411
Odometer reading: n/a
MoT expiry date: exempt
*Built by champion Parisian racer Jack Hanon for desert racing
*Two Citroën GSA 1.3-litre engines
*Known ownership history, race and exhibition record
*Present ownership since 2014
*Restored to original specification
No doubt inspired by Citroën's own twin-engined Sahara 4x4, this 2CV desert racer was built in the 1980s by Frenchman Jack Hanon, who wanted to compete in the Rallye de l'Atlas, a gruelling 1,800-mile race across Morocco's Atlas Mountains. After more than 3,000 hours of work, this unique vehicle emerged from his garage in the Paris suburb of Gennevilliers. The chassis consists of two Citroën Ami frames cut and welded together, while motive power (130bhp) is supplied by two Citroën GSA flat-fours, one at either end, connected together. Both engines retain their transmissions, with a shared gear lever and single clutch pedal. For access to the major components, all the glassfibre body panels fore and aft of the doors can be raised upwards. The car has 12" of ground clearance, coil-sprung shock absorbers all round, and inboard disc brakes front and rear.
Hanon and his 2CV competed in the Rallye de l'Atlas and other races in Morocco for a decade, commencing in 1985. Taking the 2CV with them, Hanon and his wife then immigrated to Canada where he died in the mid-1990s. His widow kept the car for 20 years before selling it to her tenant, who sold it to the vendor in 2014. The new owner then commenced a complete restoration to 1985 specification and restored Coup de Coeur livery. The car has a New Hampshire, USA title and is currently resident in Holland.
To Schedule a video condition report for this lot please
click here
Footnotes
Vendor Score Total: 60/100

Bidders should note that the automated 100-point Seller's Assessment is provided by each Seller at the point of consignment using the guidelines below, and is not provided, assessed or verified by Bonhams MPH. Accordingly Customers (Bidders) are on notice that each vehicle is offered "as is / as seen" subject to the Conditions of Sale for the auction, and Customers (Bidders) are strongly recommended to view the Lot(s) being offered, before bidding, in order to satisfy themselves as to their condition; Bonhams MPH will not entertain disputes over Sellers' Assessments.

Key for sellers' assessments:
1/5 POOR. A project vehicle | Requires urgent attention | Damaged | Parts missing
2/5 AVERAGE. Useable condition | Requires some attention | Light damage
3/5 GOOD. Drive away | Presents well | Good history file | Drives well
4/5 VERY GOOD. Well restored | Running and driving with no noticeable faults | Sound throughout
5/5 EXCELLENT. Concours condition | Beautifully presented | Driving very well

EXTERIOR TOTAL: 15/25
Body Work: 3
Chrome/Plastics/Trim: 3
Glass: 3
Paint: 3
Wheels/Tyres: 3

INTERIOR TOTAL: 12/20
Dashboard/Door cards/Carpets: 3
Headlining: 3
Seats: 3
Trim: 3

ENGINE TOTAL: 12/20
Mechanical components: 3
Running: 3
Starting: 3
Under Bonnet: 3

RUNNING GEAR TOTAL: 12/20
Axles: 3
Brakes: 3
Gearbox/Clutch: 3
Suspension: 3

ELECTRICAL TOTAL: 6/10
Ancillary components: 3
Main components: 3

Car History File: 3/5
Saleroom notices
Please note as this is a race car, elements such as interior, chrome/plastic fittings are not scored, thus giving the illusion of a lower rating. We have been advised by the vendor that this unique Citroen 2CV is in generally very good mechanical and cosmetic condition, and that the lot also comes with extensive historic documentation.