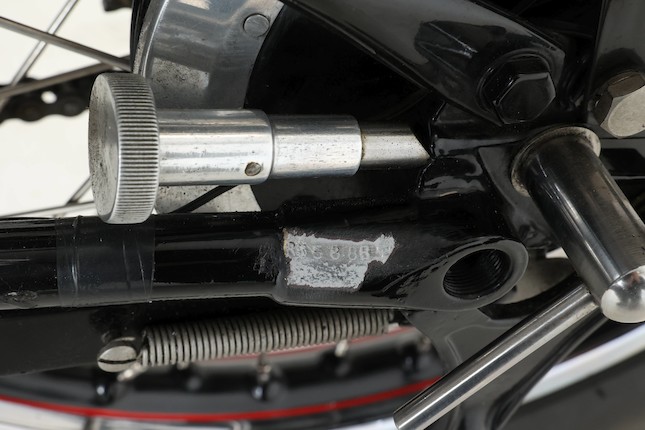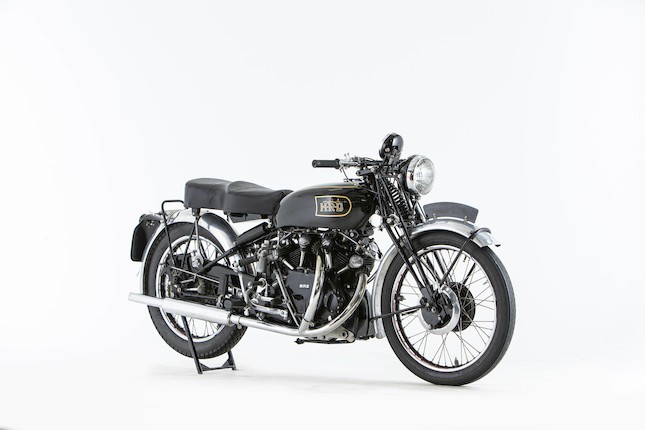 Offered from the National Motorcycle Museum Collection, 1949 Vincent-HRD 998cc Series-B Black Shadow
Registration no. VAS 492 Frame no. R3588B Rear Frame No. R3588B Engine no. F10AB/1B/1688 Crankcase Mating No. Q7/Q7
Amended
4 July 2021, 10:00 BST
Stafford, Staffordshire County Showground
Sold for £80,500 inc. premium
Own a similar item?
Submit your item online for a free auction estimate.
How to sell
Looking for a similar item?
Our Motorcycles specialists can help you find a similar item at an auction or via a private sale.
Find your local specialist
Offered from the National Motorcycle Museum Collection
1949 Vincent-HRD 998cc Series-B Black Shadow
Registration no. VAS 492
Frame no. R3588B Rear Frame No. R3588B
Engine no. F10AB/1B/1688 Crankcase Mating No. Q7/Q7
• Matching upper frame, rear frame, and engine numbers
• Delivered new to Australia
• Returned to the UK circa 2002

Ever since the Series A's arrival in 1937, the Vincent v-twin has been synonymous with design innovation, engineering excellence and superlative high performance. From Rollie Free's capture of the 'world's fastest production motorcycle' record in 1948 on a tuned Series-B Black Shadow to the final, fully enclosed Black Knight and Black Prince, Philip Vincent's stress on appearance and performance is legendary. His machines bristled with innovative features, offering adjustment of brake pedal, footrests, seat height, and gear-change lever. The finish was to a very high standard commensurate with the cost of the machine, which was virtually double that of any of its contemporaries.

But above all else it was the 1,000cc v-twin's stupendous performance that captivated motorcyclists, whether they could afford one or not. The appeal of the Vincent, and the Black Shadow in particular, lay in its ability to out-perform just about every other vehicle on the road, and in the early post-war years there was nothing to compare with it. This was a time when the average family saloon was barely capable of reaching 70mph, and not until the advent of Jaguar's XK120 was there a production sports car that could live with the thundering v-twins from Stevenage.

The outbreak of WW2 in 1939 had brought production of all Series A models to a halt, and when Vincent resumed production at the war's end it was with the all-new Series B. Its rear suspension aside, the Series A Vincent-HRD had been conventional enough: tubular steel frame, girder forks, separate gearbox, etc but with the Series B Messrs Vincent and Irving effectively established the marque's reputation for the defiance of convention in the pursuit of engineering excellence. For a start there was no 'frame' as such, merely a fabricated box attached to the cylinder heads, that served as the oil tank and incorporated the headstock and the attachment point for the rear springs. The gearbox was integral with the engine, and the swinging arm pivoted directly in the engine/gearbox casings, features commonplace today but unusual 60 years ago. Only in his retention of the pre-war Brampton girder fork did Phillip Vincent appear to be lagging behind other manufacturers, almost all of which had switched to telescopics, but this apparent shortcoming would soon be addressed by the introduction of the famous 'Girdraulic' fork.

When it was introduced in 1946, the Vincent-HRD Series-B Rapide was immediately the fastest production motorcycle on sale anywhere, with a top speed of 110mph. The basic design clearly had even greater potential though, as was demonstrated by the tuned Rapide known as 'Gunga Din', ridden by factory tester George Brown, that proved unbeatable in UK motorcycle racing in the late 1940s. Private owners too had expressed an interest in extracting more performance from their machines, all of which convinced Philip Vincent that a market existed for a sports version. Despite opposition from within the company's higher management, Vincent pressed ahead with his plans and together with Chief Engineer Phil Irving, clandestinely assembled a brace of tuned Rapides. The prototypes incorporated gas-flowed cylinder heads, Comet cams, polished con-rods and larger carburettors, these changes being good for a maximum output of 55bhp despite a compression ratio limited to only 7.3:1 by the 72-octane petrol that was the best available in the UK at the time. Ribbed brake drums were fitted to cope with the increased performance, while in a marketing masterstroke Vincent specified a 5"-diameter '150mph' speedometer and black-finished engine cases for his new baby – the Black Shadow. With a claimed top speed of 125mph, soon born out by road tests, the Vincent Black Shadow was quite simply the fastest road vehicle of its day.

Deliveries commenced in the spring of 1948 and only around 70-or-so Series-B Black Shadows had been made before the Series-C's introduction at that year's Earl's Court Motorcycle Show. Nevertheless, it would be 1950 before all Vincents left the factory in Series C specification, during which period references to 'HRD' were phased out.

The Black Shadow was indeed a legend in its own lifetime, and in the half-century since production ceased, the esteem in which this iconic motorcycle is held has only increased, fuelling the demand among discerning collectors for fine examples of the marque, such as that offered here.

This rare Series-B Black Shadow was despatched to Elder Smith in Sydney, Australia on 1st February 1949. The Vincent was later taken to New Zealand and remained there until December 2000 when it returned to Australia. Its new owner commissioned local marque specialist Terry Prince to make the machine roadworthy, which included incorporating numerous stainless steel fasteners and converting the electrics to 12-volt operation. In April 2002 the Vincent was sold to a prominent private collector in the UK and registered here as 'VAS 492' (see purchase agreement on file). It is not known when it was acquired by the NMM.

Accompanying paperwork consists of a copy of the Works Order Form; a VOC Dating Certificate; an expired tax disc; and an MoT (2003-2004). There is no V5C document with this motorcycle. The machine's mechanical condition is not known; accordingly, prospective purchasers must satisfy themselves with regard to its condition, completeness, correctness, or otherwise prior to bidding.

Footnotes
On finding the engine did not turn over on the kickstart, we discovered that the clutch springs were missing. We are advised by the museum that this machine was last ridden in 2016 as part of the Friends of the NMM riders scheme.

Please click the link to view the walkaround video of Lot 706: click here
Saleroom notices
On finding the engine did not turn over on the kickstart, we discovered that the clutch springs were missing. We are advised by the museum that this machine was last ridden in 2016 as part of the Friends of the NMM riders scheme. Please click the link to view the walkaround video of Lot 706: click here