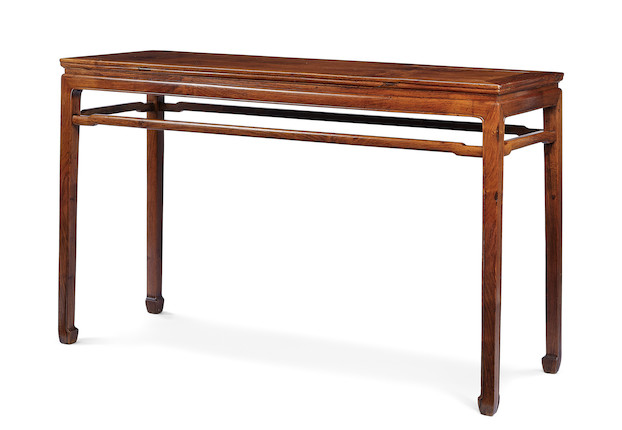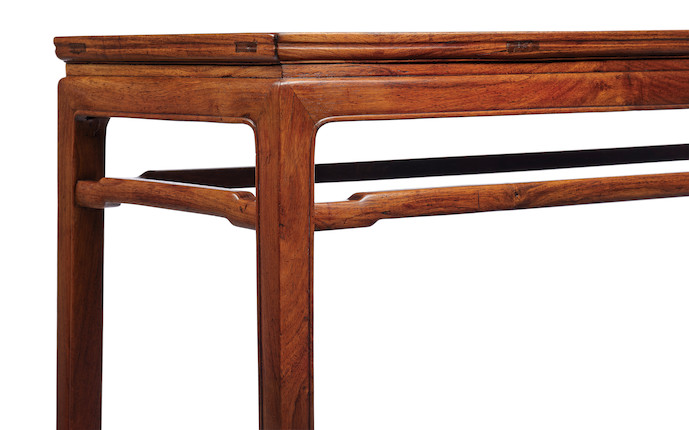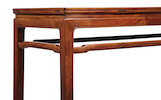 A huanghuali waisted corner-leg side table, tiaozhuo
17th/18th century
1 December 2020, 15:30 HKT
Hong Kong, Admiralty
HK$800,000 - HK$1,200,000
Own a similar item?
Submit your item online for a free auction estimate.
How to sell
Looking for a similar item?
Our Chinese Ceramics & Works of Art specialists can help you find a similar item at an auction or via a private sale.
Find your local specialist
A huanghuali waisted corner-leg side table, tiaozhuo
17th/18th century
Of rectangular form with a single floating panel set in a mitred frame of mortise and tenon construction with moulded edges, supported underneath by three transverse stretchers, above a short recessed waist surmounting a plain beaded apron, supported on four beaded legs of slender square section terminating in hoof feet and joined by humpback stretchers. 137cm (54in) wide x 46cm (18 1/8in) deep x 85cm (33 1/2in) high.
Footnotes
十七/十八世紀 黃花梨束腰馬蹄足長條桌

Provenance:
MD Flacks Limited, New York
Ever Arts Gallery, Hong Kong
A Hong Kong private collection

來源:
馬科斯‧弗拉克斯,紐約
恆藝館,香港
香港私人收藏

Well proportioned and elegantly designed, the current table captures the essence of literati taste which has been admired since the late Ming dynasty. Its simplicity, fluidity and well-balanced design, made possible by sophisticated joinery, allows for a minimal use of material and elegant proportions.

A related huanghuali table, 17th century, is in the Victoria and Albert Museum, London, illustrated by C.Clunas, Chinese Furniture, London, 1988, no.48; another huanghuali table, 17th century, is illustrated by Chen Zengbi, Central Academy of Arts and Crafts: Illustrations of collections , vol.2, Beijing, 1994, no.35. See another similar but larger example, early Qing dynasty, in the Qing Court Collection, illustrated in The Complete Collection of Treasures of the Palace Museum: Furniture of the Ming and Qing Dynasties (I), Hong Kong, 2002, no.97, p.114.

A very similar huanghuali table, 17th century, was sold at Bonhams New York, 16 September 2016, lot 6011; and another similar huanghuali table, 17th/18th century, was sold at Bonhams London, 11 May 2017, lot 329.

條桌黃花梨製,桌面打槽平鑲獨板面心,桌面狹長,下設三根穿帶支撐,窄束腰,細牙條。四腿間安羅鍋枨。供肩直腿,內翻馬蹄足。整體造像屬明式風格,惟四足內翻成馬蹄,意趣較晚,具清代風格。

此條桌比例協調,造型優雅,乃自晚明以來最受推崇之經典樣式之一,後流行於歷代各朝。木匠通過精妙的榫卯拼接,結合束腰型桌形結構設計,以最簡潔的設計呈現出最優雅的線條。

倫敦維多利亞與艾伯特博物館藏一件十七世紀黃花梨條桌,著錄於Craig Clunas,《Chinese Furniture》,倫敦, 1988年,編號48;另見現藏清華大學美術學院一例十七世紀黃花梨條桌,著錄於《中央工藝美術學院珍品圖錄:第二輯:明式家具》,北京,1994年,編號35。另見北京故宮博物院清宮舊藏一例,斷代為清早期,著錄於《故宮博物院藏文物珍品全集:明清家具(上)》,香港,2002年,編號97,頁114。

拍賣會曾出售類似之例,見紐約邦瀚斯曾出售十七世紀一例,2016年9月16日,拍品6011;另見倫敦邦瀚斯曾售出相似一例,2017年5月11日,拍品 329。