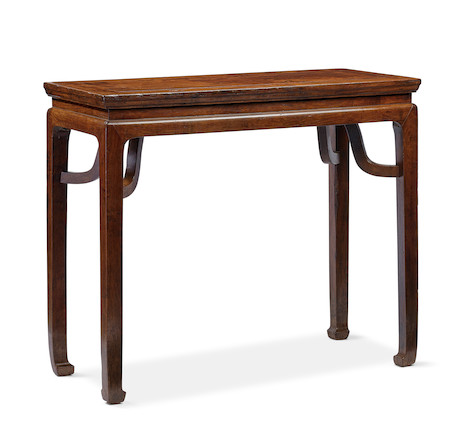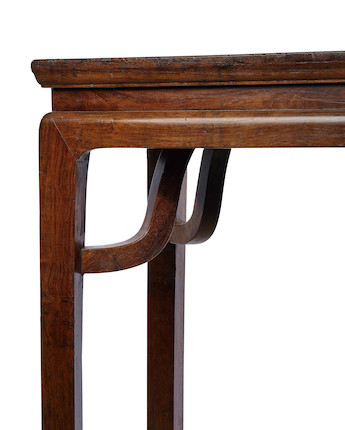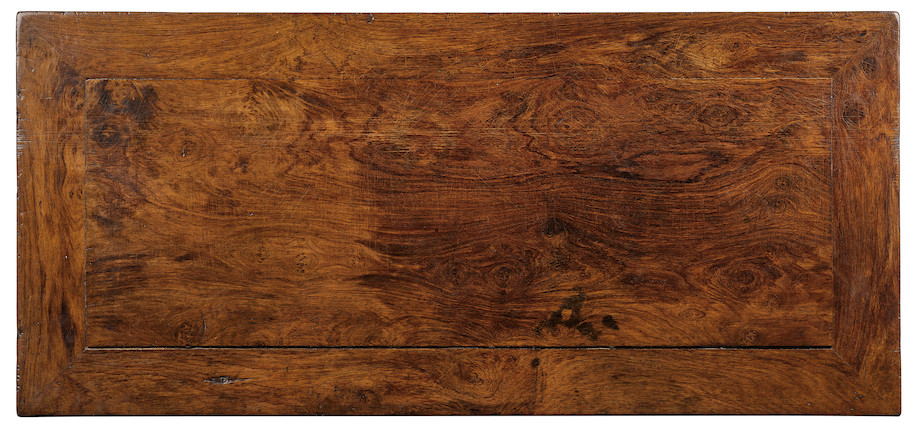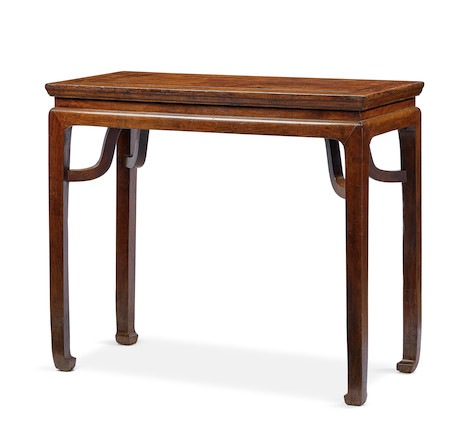 A huanghuali waisted corner-leg side table, banzhuo
Late Ming Dynasty
1 December 2020, 15:30 HKT
Hong Kong, Admiralty
HK$1,000,000 - HK$1,500,000
Own a similar item?
Submit your item online for a free auction estimate.
How to sell
Looking for a similar item?
Our Chinese Ceramics & Works of Art specialists can help you find a similar item at an auction or via a private sale.
Find your local specialist
A huanghuali waisted corner-leg side table, banzhuo
Late Ming Dynasty
The single-panel top set within a rectangular frame with beaded edge, above a tall waist and plain apron, supported on curved 'giant's arm' braces extending from the inside of each leg to the underside of the table, the legs of square section terminating in hoof feet. 95.5cm (37 5/8in) wide x 44cm (17 1/4in) wide x 82cm (32 1/8in) high.
Footnotes
明晚期 黃花梨高束腰霸王棖馬蹄足半桌

Provenance:
An important Asian private collection

來源:
重要亞洲私人收藏

The present table is an extraordinary example of simplicity, balance and elegance. The corner-leg, angular design is adorned only with the elegantly beaded edge above a tall waist, highlighting its delicate balance of proportions. This, together with the beautifully curved 'giant's arm braces', is in strong contrast to the linear framework creating the perfect balance of angularity and curvature.

Very few tables can be categorised as qinzhuo, because a Chinese qin can be played on the lap, on a low table while seated o the floor, seated at a lower table, or standing with the guqin on a standard height table. Qingzhuo tables are usually supported by S-shaped 'giant's arm braces' such as the present lot, or 'humpback stretchers', as these structures provide better comfortableness to a performer.

See a related low-waist corner-leg huanghuali qinzhuo table, Ming dynasty, in the Shanghai Museum, illustrated by Wang Shixiang, mingshi jiaju zhenshang, Hong Kong, 2012, no.98; Compare also a related huanghuali and nanmu lute table, 17th century, with 'giant's arm braces' but of flush-sided construction, illustrated by M. Flacks, Classical Chinese Furniture, New York, 2012, pp.234-235. Compare also a small and wider huanghuali high-waist table with similar corner-leg construction, but with nanmu panel, illustrated by G. W. Bruce, The Best of the Best: The MQJ Collection of Ming Furniture, Vol.1, Beijing, 2017, pp.112-115.

Compare a similar huanghuali corner-leg waisted side table, 17th/18th century, which was sold at Sotheby's London, 9 November 2011, lot 36; and another huanghuali rectangular corner-leg waisted side table, 17th century, which was sold at Sotheby's Hong Kong, 8 October 2020, lot 17.

桌面以格角榫攢邊框鑲板心,高束腰,牙條以抱肩榫與腿足接合,長邊牙條內有穿銷貫過高束腰至桌面以加強穩固性,四腿內置霸王棖,與面心底部穿帶結合,腿足下展為為馬蹄足。桌底留有原裝漆灰及糊織物。

高束腰結構與霸王棖為明代家具基本設計,此桌以方材霸王棖連接桌面與腿,高束腰線條明朗,霸王棖使桌子均衡受力。造型簡潔明快,束腰與腿足曲線優美,舒展有致,是高束腰霸王棖馬蹄足經典之作。

此桌可作琴桌使用。琴桌無論是否有束腰,在棖子的設置中,必定會選擇有利於腿部舒適的羅鍋棖或霸王棖,正如此桌。參看陳夢家夫人舊藏明代黃花梨霸王棖條桌,雖束腰不明顯,但亦可資比較,著錄於王世襄,《明清家具珍賞》,香港,2012年,圖98。另見一件十七世紀黃花梨木與楠木琴桌,著錄於M. Flacks,《Classical Chinese Furniture》,紐約,2012年,頁234-235。另見一晚明黃花梨高束腰馬蹄足霸王棖癭木面小畫桌,著錄於伍嘉恩,《木趣居:家具中的嘉具(上)》,北京,2007年,頁112-115。

蘇富比倫敦曾售出一件十七/十八世紀束腰馬蹄足霸王棖半桌,2011年11月9日,拍品編號36;另見蘇富比香港曾售出一件明十七世紀黃花梨束腰霸王棖馬蹄足半桌,2020年10月8日,拍品編號17。