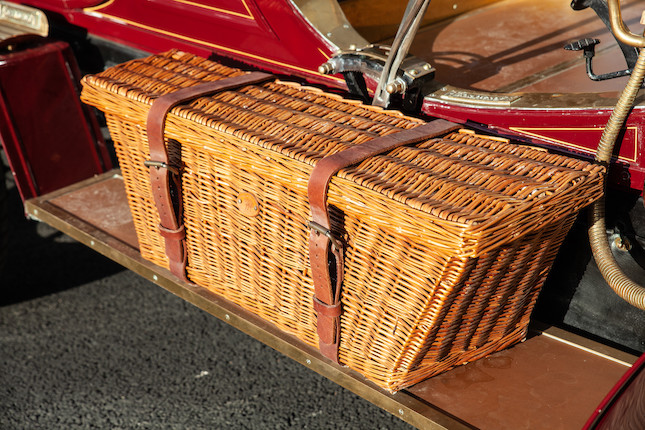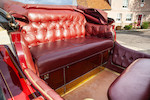 1903 Thornycroft 20hp Four-Cylinder Double Phaeton
Registration no. AA 575 Chassis no. BZ 14
Amended
30 October 2020, 17:00 GMT
London, New Bond Street
Sold for £304,750 inc. premium
Own a similar item?
Submit your item online for a free auction estimate.
How to sell
Looking for a similar item?
Our Collector Cars specialists can help you find a similar item at an auction or via a private sale.
Find your local specialist
Ask about this lot
Tim Schofield
Senior Specialist, Head of Department, UK
1903 Thornycroft 20hp Four-Cylinder Double Phaeton
Registration no. AA 575
Chassis no. BZ 14
*Rare passenger car from a renowned commercial vehicle manufacturer
*Owned by company founder Mr Tom Thornycroft until 1957
*Fully restored
*Present ownership since 1987
*100% London-Brighton finishing record
*Entry in the 2020 London-Brighton Veteran Car Run, no. 206

Footnotes
Thornycroft was founded in 1864 as a shipbuilder before diversifying into road transport in 1896 with the introduction of a steam-powered van. The company is best known as a manufacturer of commercial vehicles, its time as a maker of passenger cars being relatively short, lasting from 1903 to 1913. Production began with twin-cylinder 10hp and four-cylinder 20hp designs, which featured automatic inlet valves, gill-tube radiators, and shaft drive. Thornycroft cars were of high quality and well regarded, but the demands of the firm's successful commercial vehicle division were such that it was forced to end car production after some 450 had been completed.

This rare four-cylinder Veteran motor car comes with an exceptional history having been owned by Mr Tom Thornycroft (one of the company's founders) until 1957. Mr John Brown purchased the car that year; he then sold it to Mr John Carter but must have missed this exceptional machine as he repurchased it later on. 'AA 575' has had only four owners from new.

Previous owner T L Roberts acquired the Thornycroft in 1987 and can be credited for the immaculate condition the car is in today. Works carried out during his ownership include a full 'last nut and bolt' body-off restoration. The engine and gearbox were removed and the engine fully stripped, with all parts crack-tested; the crankshaft reground; new white metal bearings made for big-ends and mains; cylinder blocks re-bored and new pistons manufactured; new primary gears manufactured for the distributor drive; the inlet valves reconditioned; and the carburettor overhauled. One spare piston was made and all the old ones kept.
Turning to the transmission: the clutch (fluid type) was fully reconditioned including new drive plates, and the gearbox stripped and new gears manufactured as necessary; modern oil seals and all new bearings were fitted prior to re-assembly. The prop-shaft was remanufactured to include stronger 'U' couplings, and the rear axle stripped and rebuilt with new bearings and modern seals. The fuel tank was remade and increased in capacity, and is now housed under the driver's seat, while a fuel system isolator is fitted to the offside of the car.

New outboard brake shoes were manufactured and the rear springs re-tensioned with an extra leaf fitted. Suspension stops were fitted to balance the rear. The coolant tank was restored and installed beneath the rear floor, accessed via a special cover. Side steps and floorboards were re-covered, and all bodywork stripped and repaired with new woodwork where necessary. The body was then painted to a very high standard, including hand-applied coachlines, and all leatherwork replaced with buttoned Connolly hide. The rear section of the double phaeton coachwork is original to the car and would have been removed and stored during the winter months, while the front section has been rebuilt to the exact original design. Running boards were added and a replica front seat made.

The front windscreen surround and all its fittings were manufactured in brass using castings taken from a 1913 Silver Ghost. To improve weather protection, fully enclosed side screens were made and a useful storage case added at the rear, while the willow basket and umbrella basket were specially commissioned for this car. The original rear tonneau and all fittings, including the rear window and irons, have been retained.

The artillery wheels were fully restored, painted and lined, and all lamps refinished. A bespoke starter motor has been installed, operated by a discreet switch; it is powered by two 12-volt batteries in a box beneath the rear seats, and there is an isolator switch in the nearside seat compartment.

The epitome of Edwardian style, this magnificent Thornycroft has been meticulously maintained and has a 100% completion record for the London to Brighton Veteran Car Run. Operation is simple: tickle the carburettor, flick on the ignition, and the car is ready to go, starting equally well when turned either by handle or the starter motor. Equipped with a 2½-litre four-cylinder engine and a three-speed gearbox, the Thornycroft is a capable performer and has often completed the run to Brighton with as many as six people on board. No jumping out to push up Burgess Hill with this Thornycroft! Should the weather turn inclement, the handsome pram hood is easily erected by one person.

Fascinating details abound on this beautifully presented 'Brass Era' motor car, which has the added advantage of an entry in this year's London to Brighton Veteran Car Run.
Saleroom notices
Please click the link to view a video of this lot: click here