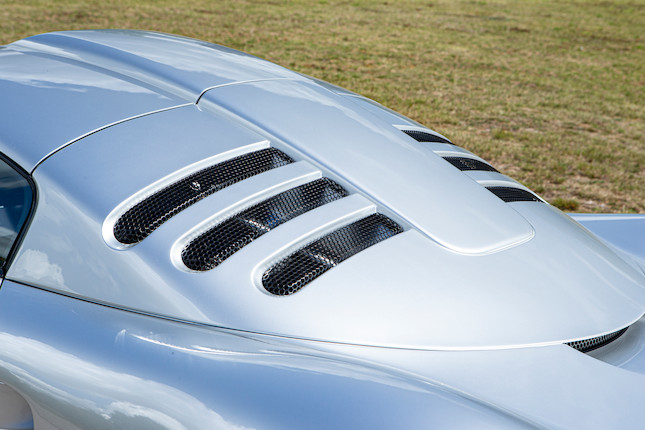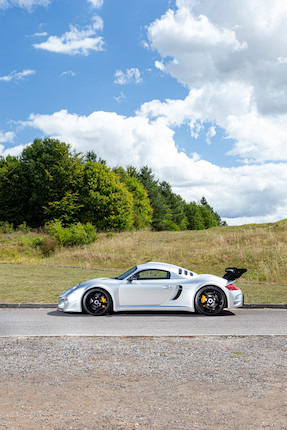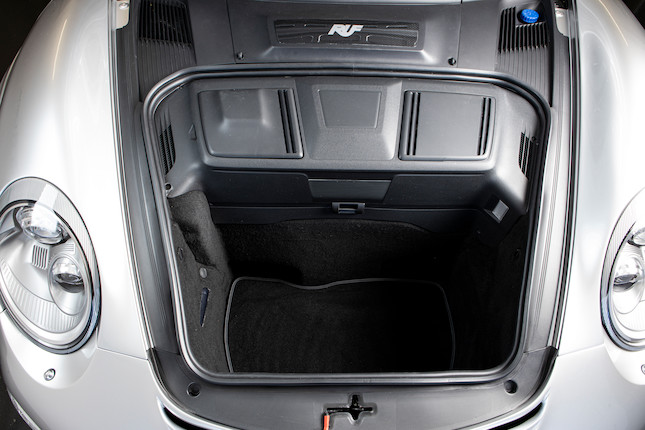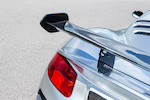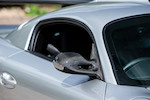 One of only seven CTR3s built to the desirable Clubsport specification
2013 RUF CTR3 Clubsport Coupé
Chassis no. to be advised
17 October 2020, 17:00 BST
Chichester, Goodwood and London, New Bond Street
Own a similar item?
Submit your item online for a free auction estimate.
How to sell
Looking for a similar item?
Our Collector Cars specialists can help you find a similar item at an auction or via a private sale.
Find your local specialist
One of only seven CTR3s built to the desirable Clubsport specification
2013 RUF CTR3 Clubsport Coupé
Chassis no. WO9BM0382DPR06019
*Ultra-rare German supercar
*Believed the only right-hand drive example
*Delivery mileage (46 miles)
*Dry stored for its entire life
*'As new' condition
Footnotes
"Bottom line. The CTR3 is comfortably the finest Ruf to date. It's also by far and away the best 911 Porsche never made." – evo.

From a tuner and modifier of Porsches, Alois Ruf graduated into automobile manufacturer, being awarded that status in 1981 by the German Automobile Manufacturers Association. The first group of Ruf-designated cars - numbered BTR1, BTR2, and BTR3 - was constructed in the 1980s. Ruf's favoured Porsche 911 was the basis for the trio. The BTR's engine was based on the 3.3-litre Turbo's but displaced 3.4 litres and was fed via a Ruf inter-cooler by an oversize KKK turbocharger. The resulting 369 horsepower was transmitted to the road via a Ruf five-speed gearbox, while the suspension and brakes were of Ruf design also. Finished cars could be purchased either directly from the Ruf factory, or customers could have their own cars converted.

Ruf's concept of a super-tuned and upgraded Porsche 911 progressed via the CTR and CTR2, the latter based on the Type 993 model introduced for 1995. Testing one of the first CTRs, Road & Track magazine nicknamed it 'Yellowbird' on account of its striking bright yellow livery, and the name stuck. With a top speed of around 213mph (343km/h), the original CTR held the title of world's fastest production vehicle for many years.

The successor CTR2 was based on the Type 993 Porsche 911 Turbo, its 3.6-litre engine tuned by Ruf to produce 520bhp and 505ft/lb of torque, while later versions came with 580 horsepower on tap. Other enhancements included Ruf's own suspension system, bigger brakes, Kevlar body panels, lightweight glass, integral roll cage, redesigned rear wing, and Recaro racing seats with Simpson five-point safety belts. With a recorded top speed of 217mph, the CTR2 was, just like its predecessor, the world's fastest production vehicle at the time of its introduction. Two-wheel and four-wheel drive versions were available.

Launched in 2007, the CTR3 gained rave reviews as the most polished, complete car Ruf had ever made. The CTR3 debuted on 13th April that year at Ruf's new factory at the Bahrain International Circuit, the kingdom's ruler, Sheik Salman bin Hamad Al-Khalifa, being the German firm's wealthiest customer. Unlike many previous Rufs, which were closely based on the Porsche 911, the CTR3 is built on a largely bespoke platform developed by Ruf in collaboration with Canadian motor sports specialists Multimatic, who more recently were responsible for manufacturing the new Ford GT. The forward part of the chassis is that of the Porsche 911 GT3 RS, while a tubular sub-frame supports the engine, the latter mid-mounted (as in the Porsche Cayman) rather that at the rear (like a 911). One consequence of the engine's altered position is that although the CTR3 is the same length as a 911, it is longer in the wheelbase by a considerable 274mm (10.8"). The 911's MacPherson strut front suspension was retained and a multi-link arrangement adopted at the rear rather than the customary double wishbones.
While undeniably resembling a Porsche from many angles, when parked next to a 911 the CTR3's differences become very clear - most notably its increased width and greatly reduced (by 114mm) height. Boasting leather-trimmed carbon fibre bucket seats, the cabin is necessarily somewhat cosier than that of a 911.

Powering the CTR3 was Ruf's Porsche 911-based 3,746cc flat-six twin-turbocharged engine producing 691bhp, which delivered its power to the rear wheels via a six-speed sequential gearbox (with clutch) that eschewed the almost universal shift paddles in favour of a conventional gear lever. Ruf claimed a top speed of 235mph (378km/h) for the CTR3, a stupendous performance reined in by 15" cross-drilled carbon-ceramic brake discs gripped by six-pot callipers. It is also notable as one of the tiny handful of supercars with a power-to-weight ratio exceeding 500bhp/ton, albeit only just (by one horsepower).

"Towering as the Ruf's performance undoubtedly is, its chassis is simply exquisite," observed evo's tester David Vivian. "The CTR3 is a car you instinctively trust. It makes fast easy in the same way that a Boxster or Cayman does, stripping away the cause-and-effect concerns that would haunt the nine-tenths 911 pilot. It's gun-it-and-go raised to a supernatural level. Momentum and mass seem perfectly synchronised, the car's potential feels uncannily accessible; there's a tremendous sense of precision and immediacy in everything is does and a wonderful, exploitable balance."

At the 2012 Geneva Motor Show Ruf unveiled the CTR3's replacement: the CTR3 Clubsport. More aggressively styled than the stock CTR3, the Clubsport featured a large fixed carbon rear wing; flared wheelarches to accommodate a wide track; and a new front section with splitter.

The Clubsport also featured a revised engine producing a phenomenal 777bhp and 723lb/ft of torque, and could be ordered with an optional seven-speed dual-clutch 'PDK' transmission. Despite its enhanced performance, the more track-focused Clubsport remains as easy to drive and useable as any Porsche, thanks to its combination of original 911 and custom Ruf suspension. It even enjoys the benefit of a front axle lift system. The interior is beautifully finished in leather with carbon fibre detailing, again using a blend of familiar Porsche switchgear and custom Ruf items such as the seats and steering wheel. Around 30 Ruf CTR3s were produced, with a further seven sold in Clubsport specification.
This particular Ruf CTR3 Clubsport is believed to be the only right-hand drive example in existence. Built in 2013, it was originally supplied through Ruf Singapore and immediately was put into storage. The car was shipped to the UK in 2017 and again placed immediately into storage, and is now offered for sale with only 46 miles covered from new. As one would expect, the Ruf is in 'as new' condition throughout, representing an exciting acquisition for any significant private collection.

Should the vehicle remain in the EU, VAT of 20% will be payable on the hammer price and buyer's premium.