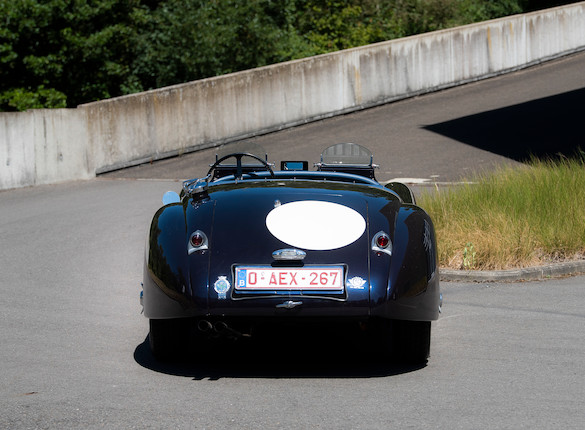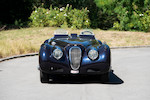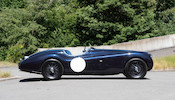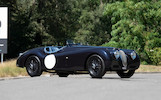 1954 Jaguar XK120 SE Roadster
Chassis no. S676340
Engine no. F1775-8
11 October 2020, 14:00 CEST
Knokke-Heist, CWART
Sold for €138,000 inc. premium
Own a similar item?
Submit your item online for a free auction estimate.
How to sell
Looking for a similar item?
Our Collector Cars specialists can help you find a similar item at an auction or via a private sale.
Find your local specialist
Ask about this lot
Gregory Tuytens
Head of Sale, Belgium
Philip Kantor
International Chairman for Motoring
Paul Darvill
Head of Department, Bonhams Collector Cars Europe
1954 Jaguar XK120 SE Roadster
Chassis no. S676340
Engine no. F1775-8
•Rare and desirable Special Equipment (SE) version
•One of only 2,194 left-hand drive XK120 SEs built
•Up-rated engine with C-type cylinder head (210bhp)
•Restored between 2008 and 2009
•Exquisitely detailed
Footnotes
"We claimed 120 mph (for the XK 120), a speed unheard of for a production car in those days." - William Heynes, Chief Engineer, Jaguar Cars.

Conceived and constructed in but a few months, the XK120 debuted at the 1948 Earls Court Motor Show where the stunning-looking roadster caused a sensation, the resulting demand for what was then the world's fastest production car taking Jaguar by surprise. With orders rolling in apace, Jaguar had no choice but to think again about the XK120's method of construction. The work of Jaguar boss William Lyons himself and one of the most beautiful shapes ever to grace a motor car, the body had been conceived as a coachbuilt, aluminium panelled structure for the simple reason that Jaguar expected to sell no more than 200 XK120s in the first year! In conjunction with the Pressed Steel Fisher Company a new all-steel panelled body was developed, which retained the fabulous looks of the coachbuilt original while differing in minor external details. Beneath the skin the steel car was entirely different and it would take some 20 months of development before manufacture could begin.

The XK120's heart was, of course, the fabulous XK engine, which had been developed during the war and was intended for Jaguar's forthcoming Mark VII saloon. A 3.4-litre 'six' embodying the best of modern design, it boasted twin overhead camshafts running in an aluminium-alloy cylinder head, seven main bearings and a maximum output of 160bhp. It went into a chassis that was essentially a shortened version of the simultaneously announced Mark V saloon's, featuring William Heynes' torsion bar independent front suspension. Jaguar lost no time in demonstrating that the XK120's claimed top speed was no idle boast. In May 1949, on the Jabbeke to Aeltre autoroute, an example with its hood and side screens in place recorded a speed of 126mph and 132mph with the hood and windscreen detached and an under-tray fitted.

The XK120 set new standards of comfort, roadholding and performance for British sports cars and, in keeping with the Jaguar tradition, there was nothing to touch it at the price. Coupé and drophead coupé versions followed, and for customers who found the standard car too slow, there was the Special Equipment (SE) package which boosted power to 180bhp. With either engine and regardless of the type of bodywork, the XK120 was a genuine 120mph car capable of sustained high-speed cruising. The XK120 was produced until 1954 and would prove to be the most popular of the XK series, with 12,078 examples built, of which 2,194 were left-hand drive SE roadsters like that offered here.

This stunning XK120 SE roadster was delivered new to Max Hoffman, Jaguar's East Coast distributor in New York, USA and first owned by one William G Sherwin. Its accompanying Jaguar Heritage Trust Certificate reveals that the car was manufactured on 19th August 1954 and originally finished in Pastel Blue with red interior trim and French Grey soft-top. Restored between March 2008 and July 2009, it has been fitted with an engine up-rated to XK140 SE specification with the C-type cylinder head, producing 210bhp. (The original engine block numbered 'F4064-8S' is included in the sale.) There are delightful details in abundance on this exquisitely restored XK120: twin aero screens, number roundels, leather bonnet straps, wire wheels, a quick-release fuel filler, a fitted suitcase, and even a hip flask secured to the driver's door! Offered with Belgian Carte Grise (Oldtimer) and described by the vendor as in excellent condition throughout, this has to be one of the very best XK120 roadsters currently available.