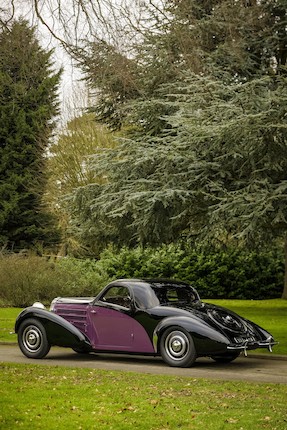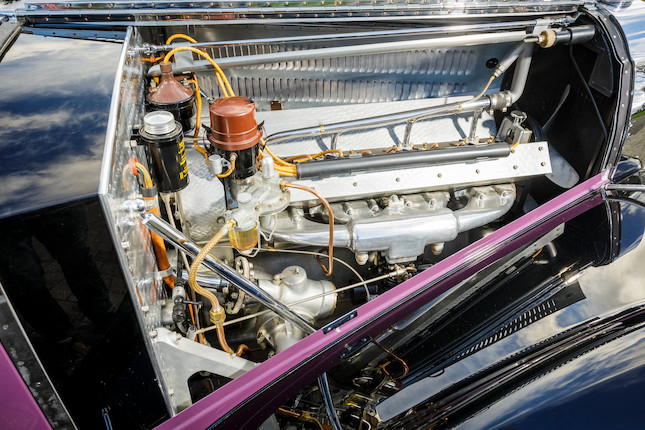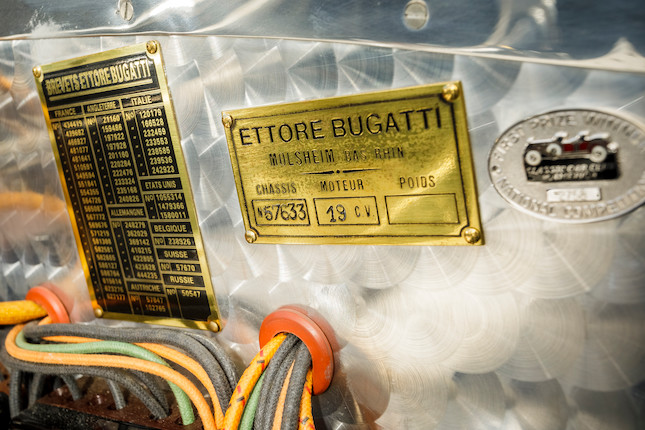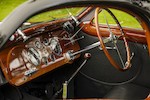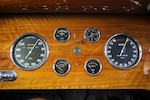 1938 Bugatti Type 57 Atalante Coupé
Coachwork by Carrosserie Gangloff Chassis no. 57633
6 February 2020, 14:00 CET
Paris, The Grand Palais
Own a similar item?
Submit your item online for a free auction estimate.
How to sell
Looking for a similar item?
Our Collector Cars specialists can help you find a similar item at an auction or via a private sale.
Find your local specialist
Ask about this lot
Philip Kantor
International Chairman for Motoring
1938 Bugatti Type 57 Atalante Coupé
Coachwork by Carrosserie Gangloff
Chassis no. 57633
•Unique coachwork features
•Delivered new in France
•Known ownership history
•100-Point professional restoration 2004-2005
•Present ownership since 2006

Footnotes
By the early 1930s Ettore Bugatti had established an unrivalled reputation for building cars with outstanding performance on road or track; the world's greatest racing drivers enjoying countless successes aboard the Molsheim factory's products and often choosing them for their everyday transport. Because of its lengthy run of success, Ettore Bugatti remained stubbornly committed to his single-cam engine, only adopting the more advanced double-overhead-camshaft method of valve actuation, after much prompting by his eldest son Jean, on the Type 50 of 1930. From then on Jean Bugatti took greater responsibility for design, his first car being the exquisite Type 55 roadster, a model ranking among the finest sports cars of the 1930s. He followed that with a design of equal stature, the Type 57. A larger car than the Type 55, the Type 57 was powered by a 3.3-litre, double-overhead-camshaft straight eight of modern design housed in Bugatti's familiar Vintage-style chassis. Showing the strong influence of Jean Bugatti, it at last gave the marque a civilised Grande Routière to match those of rivals Delage and Delahaye.

The Type 57 attracted coachwork of the finest quality executed in a startling variety of styles but was no mere rich man's plaything, as evidenced by two outright wins at Le Mans; proof, if it were needed, that ancestral virtues had not been abandoned when creating a car fit to rank alongside Rolls-Royce or Bentley. Its success is revealed by the production figures: some 670-or-so examples of all Type 57 models were produced between 1934 and 1940, and the post-war Type 101 was based on its chassis. However, although many Type 57s were fitted with bespoke bodies, the most popular coachwork was built to Jean Bugatti's designs by the marque's preferred carrossier, Gangloff of Colmar, just a few miles from the Bugatti works at Molsheim. Factory offerings on the Type 57 chassis included the Galibier four-door saloon, Stelvio cabriolet, four-seater Ventoux coupé, and two-seater Atalante coupé. In Greek mythology, the athletic huntress Atalanta would only marry a man that could out-run her; it is thus a most appropriate appellation for this fast, exotic and very stylish Bugatti. The Type 57 in all its forms attracted discerning owners who were only satisfied with the best, among them speed king Sir Malcolm Campbell.

This fine Bugatti Type 57 – number '57633' – is a later example and thus benefits from a reinforced cross-braced chassis, rubber engine mounts, and Lockheed hydraulic brakes. Like all Type 57 Atalante coupés, it was bodied by Bugatti's close collaborator, Carrosserie Gangloff of Colmer. It had been ordered by one Fernand Crouzet, who specified unique rear bodywork, special bumpers, and wheel discs, and is the only Type 57 known have these unusual features. Finished in two-tone black over blue, the Bugatti was first registered on 7th April 1938.

Mr Crouzet kept the car until 1943 when it was registered in Paris, and like so many exotic and valuable French automobiles is said to have been hidden away during the war to prevent it falling into German hands. Following extensive renovation by the Paris Bugatti agency, '57633' was despatched to the UK where it served as one of the French Embassy's official cars. As such it carried France's national 'F' plate and the 'CD' plate of the Corps Diplomatique, both of which were still in place when it was sold at auction in 1987 (see below).

In 1948 the Bugatti was sold to a new owner in Scotland, one W Morrilees, and later that same year was acquired by Dr J H Weir of New Seaham, who within a year or so had sold the car to Mr J G H Carter. Mr Carter kept the Atalante until 1955 when it passed to Bugatti Club member and motoring author, Kenneth Ullyett of Hampton Court. The Bugatti remained in the Ullyett family's possession until 1987, its owner having died ten years previously, when it was discovered sharing a shed with a diverse collection of classic vehicles. Having stood for several years in less than ideal conditions, the car required extensive renovation.

Sold at auction as a 'barn find', the Type 57 was taken to the USA where a no-expense-spared body-off restoration was carried out by Classic & Exotic Service Inc of Michigan. The quality of their work may be gauged from the fact that following completion it was judged a 100-Point restoration in 2005. The current vendor's father purchased the Atalante from its previous private owner circa 2006/2007, having viewed it at the Bugatti Museum in Cheltenham where it was stored. The car is currently registered in the UK and comes with a V5C document.

Offered with a comprehensive history file, this exceptional Type 57 Atalante, with its unique coachwork features, would be an ideal candidate for touring, rallies, leisure driving and any of the world's most prestigious concours events: Pebble Beach, Villa d'Este, Amelia Island, etc.

Please note if you wish to bid on this Lot, special formalities are required. Contact Client Services at +44 20 7447 7447 or [email protected] at least 24-hours in advance of the sale. Please also note Online Bidding is not available for this Lot.

Bugatti Type 57 Atalante coupé 1938
Carrosserie Gangloff
Châssis n° 57633

•Caractéristiques de carrosserie unique
•Livrée neuve en France
•Historique des propriétaires connu
•Restauration professionnelle 100 points 2004-2005
•Aux mains du propriétaire depuis 2006

Au début des années 1930, Ettore Bugatti avait acquis une réputation sans précédent avec ses voitures aux performances éblouissantes, tant sur route que sur circuit. Les plus grands pilotes de course du monde remportaient de nombreux succès à bord des productions de l'usine de Molsheim et les choisissaient aussi souvent comme moyen de transport personnel. Du fait de la longévité de son succès, Ettore Bugatti s'était obstinément attaché à ses moteurs à simple arbre à cames, n'adoptant le système de contrôle des soupapes par double arbre à cames, plus moderne, qu'après les incitations répétées de son fils ainé Jean, sur la Type 50 de 1930. À partir de là, Jean prit une part de plus en plus importante dans la conception des modèles, sa première création étant le superbe roadster Type 55, un modèle qui fait partie des plus belles voitures de sport des années 1930. Il fut suivi d'un modèle de la même veine, la Type 57. Plus grande que la Type 55, la Type 57 adoptait un moteur à huit cylindres en ligne à double arbre à cames en tête de 3, 3 litres très moderne, logé dans un châssis Bugatti plus traditionnel. La gamme témoignait de la grande influence de Jean et offrait enfin une grande routière civilisée capable de concurrencer les Delage et Delahaye.

La Type 57 reçut des carrosseries de la meilleure qualité, construites dans une grande variété de styles, mais ce n'était pas un simple « jouet de riche », comme en attestent ses deux victoires aux 24 Heures du Mans. La preuve, s'il en fallait une, que les gênes ancestraux n'avaient pas été abandonnés en créant cette voiture capable de concurrencer les Rolls-Royce et Bentley. Les chiffres de production témoignent de son succès. Quelques 680 exemplaires de Type 57, tous modèles confondus, furent produits entre 1934 et 1940 et la Type 101 d'après-guerre reprenait le même châssis. Bien que de nombreuses Type 57 aient été carrossées sur mesure, les carrosseries les plus populaires étaient construites sur des dessins de Jean Bugatti par le carrossier attitré de la marque, Gangloff de Colmar, situé à quelques kilomètres des usines de Molsheim. Les modèles d'usine sur la type 57 était la berline quatre porte Galibier, la cabriolet Stelvio, le coupé quatre places Ventoux et le coupé deux places Atalante. Dans la mythologie grecque, l'athlétique chasseresse Atalanta ne pouvait se marier qu'à un homme qui la surpasserait à la course. C'est donc un nom tout à fait approprié pour cette Bugatti rapide, exotique et raffinée. La Type 57 sous toutes ses formes attira des propriétaires connaisseurs qui ne se satisfaisaient que de ce qu'il y avait de mieux, parmi eux le roi de la vitesse, Sir Malcolm Campbell.

Cette magnifique Bugatti Type 57 – numéro 57633 – est l'un des derniers exemplaires et bénéficie donc d'un châssis à croisillon renforcé, de support moteur en caoutchouc et de freins hydrauliques Lockheed. Comme tous les coupés Type 57 Atalante, elle a été carrossée par un proche partenaire de Bugatti, la carrosserie Gangloff de Colmar. Elle avait été commandée par un certain Fernand Crouzet, qui avait spécifié un arrière unique, des pare-chocs spéciaux et des roues à disque et se trouve être la seule Type 57 connue à arborer ces caractéristiques particulières. Peinte en noir sur bleu, la Bugatti fut immatriculée le 7 avril 1938.

M. Crouzet garda la voiture jusqu'en 1943, lorsqu'elle fut immatriculée à Paris et, comme beaucoup de modèles français exclusifs de valeur, aurait été cachée pendant la guerre pour éviter qu'elle ne tombe aux mains des allemands. Après une rénovation chez l'agent Bugatti de Paris, 57633 fut expédiée au Royaume-Uni ou elle servit comme l'une des voitures officielles de l'ambassade de France. En tant que telle, elle portait le F national de la France et une plaque CD du corps diplomatique, tous deux étant encore en place lorsqu'elle fut vendue aux enchères en 1987 (voir ci-dessous).

En 1948, la Bugatti fut vendue à un nouveau propriétaire en Écosse, un certain W. Morrilees, puis plus tard cette même année fut acquise par le Dr J. H. Weir de New Seaham, qui au bout d'un an environ l'avait vendue à M. J. G. H. Carter. M. Carter garda l'Atalante jusqu'en 1955 quand elle passa aux mains d'un membre du Club Bugatti et passionné d'automobile, Kenneth Ullyett d'Hampton Court. La Bugatti resta en possession de la famille Ullyett jusqu'en 1987, son propriétaire étant mort dix ans auparavant, lorsqu'elle fut découverte partageant un abri avec une collection de plusieurs classiques. Étant restée pendant plusieurs années dans des conditions rien moins qu'idéales, la voiture avait besoin d'une rénovation complète.

Vendue aux enchères comme « sortie de grange », la Type 57 fut envoyée aux États-Unis où elle subit une restauration sans regarder à la dépense par Classic & Exotic Service Inc. dans le Michigan. La qualité de leur travail peut se juger par le fait qu'une fois achevée, elle reçut une note de 100 points pour sa restauration en 2005. Le père du vendeur a acheté l'Atalante à son précédent propriétaire vers 2006/2007, après l'avoir vue au Musée Bugatti de Cheltenham où elle était remisée.

La voiture est actuellement immatriculée au Royaume–uni et vendue avec ses papiers V5C. Vendue avec un dossier historique complet, cette exceptionnelle Type 57 Atalante, avec ses caractéristiques de carrosserie uniques, fera une candidate idéale pour le tourisme, les rallyes, les loisirs et tous les concours les plus prestigieux du monde, Pebble Beach, Villa d'Este, Amelia Island, etc...

Veuillez noter que des formalités spéciales d'enregistrement seront exigées si vous souhaitez enchérir sur ce lot. Contactez notre service clients au +44 20 7447 7447 / [email protected] au moins 24 heures avant la vente. Veuillez aussi noter que les enchères en ligne ne seront pas disponibles pour ce lot.