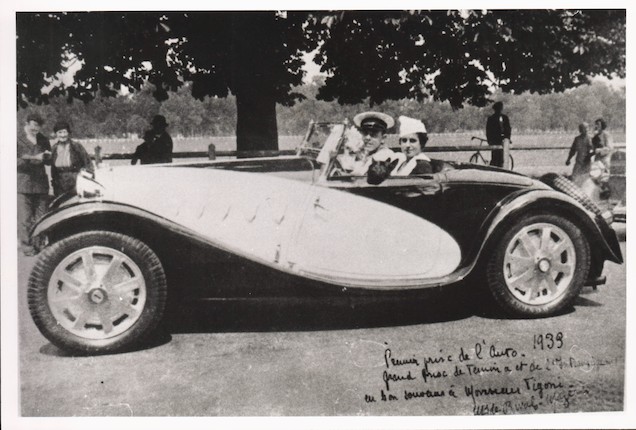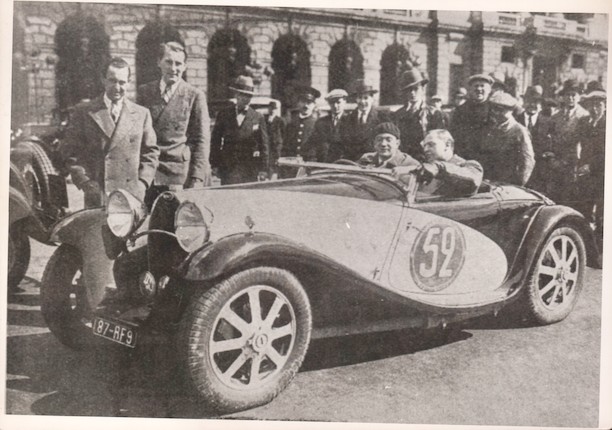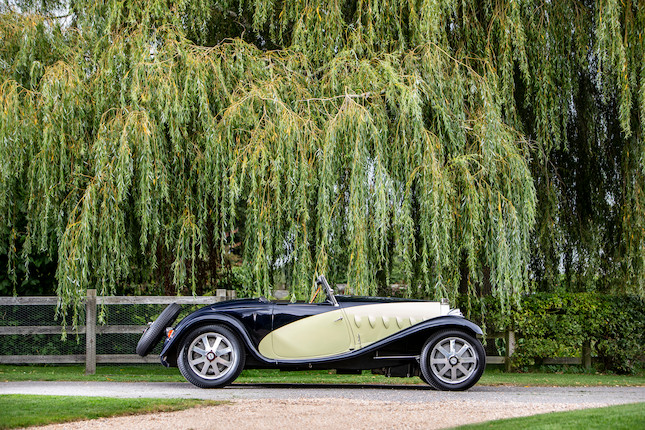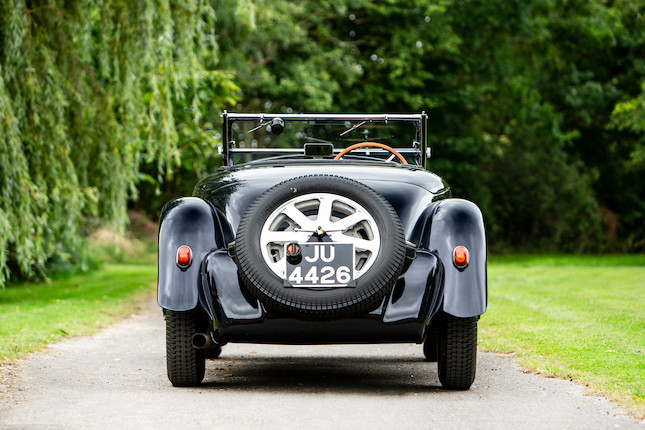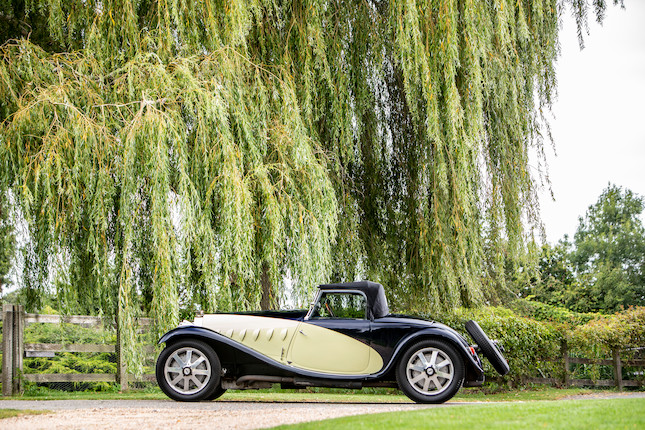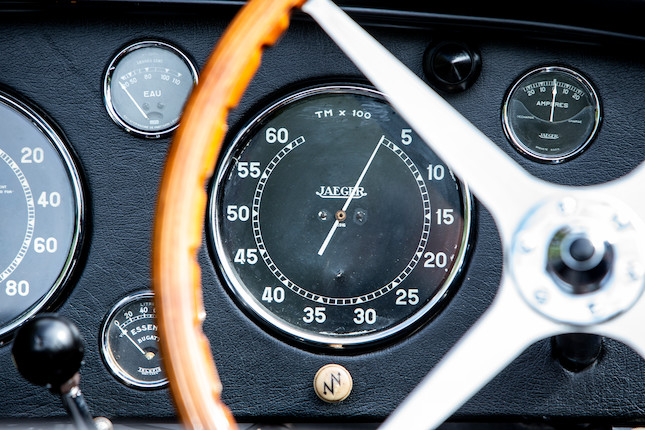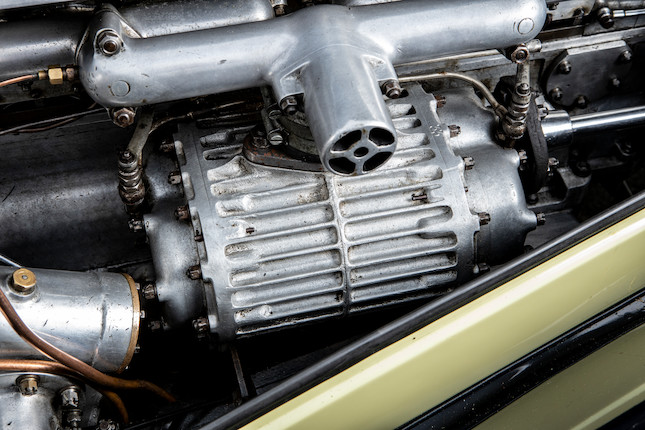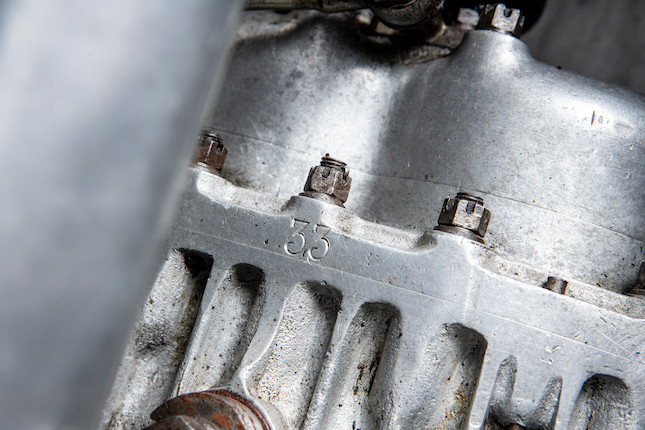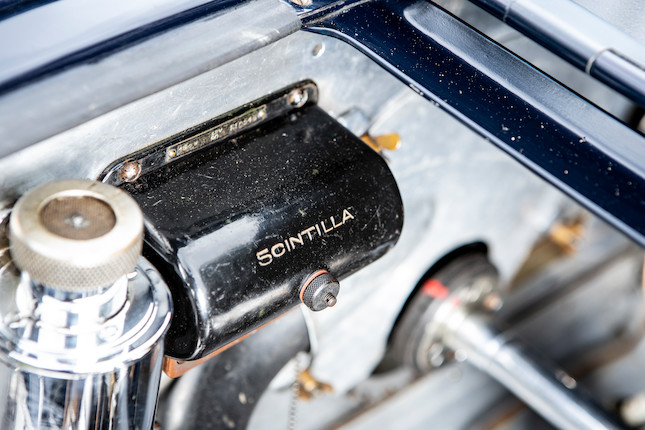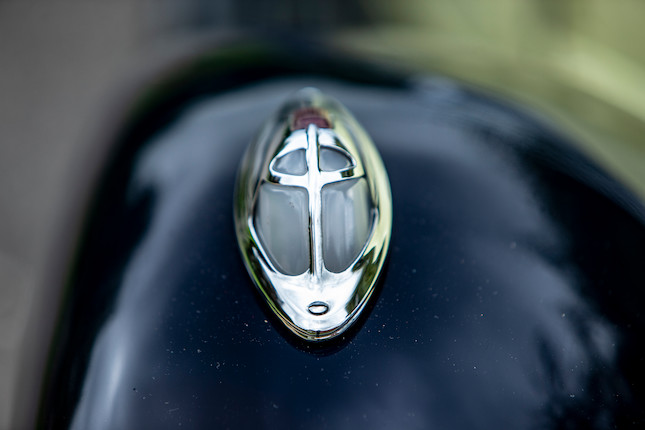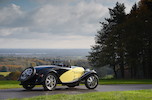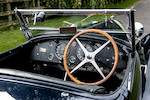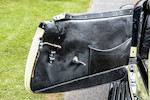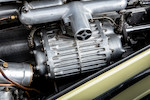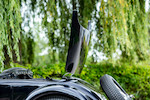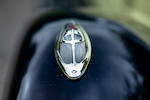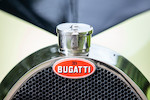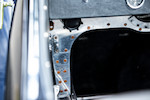 1931 Bugatti Type 55 Two-Seat Supersport
Coachwork by Carrosserie Figoni, Paris
6 February 2020, 14:00 CET
Paris, The Grand Palais
Sold for €4,600,000 inc. premium
Own a similar item?
Submit your item online for a free auction estimate.
How to sell
Looking for a similar item?
Our Collector Cars specialists can help you find a similar item at an auction or via a private sale.
Find your local specialist
Ask about this lot
Philip Kantor
International Chairman for Motoring
56 years in the ownership of Geoffrey St John and his Estate The 1932 ex-Le Comte Guy Bouriat/Louis Chiron Le Mans 24-Hours
1931 Bugatti Type 55 Two-Seat Supersport
Coachwork by Carrosserie Figoni, Paris,
Chassis no. 55221
Engine no. 26 (ex-car 55223)
UK Reg No: JU 4426
Here, Bonhams proudly offers the renowned 'Geoffrey St John', 56-years in his ownership, 1932 Bugatti Type 55 Supersport with its unique, 1933-fitted, Figoni coachwork. This magnificent high-performance, Post-Vintage Thoroughbred two-seater began life as a works-backed Bugatti entry in the 1932 Le Mans 24-Hour race. It was co-driven there by two of France's most capable and charismatic drivers, the aristocratic Sarthois (from Le Mans) Count Guy Bouriat Quintart and the renowned Monegasque future French Champion, Louis Chiron.
While this 2.3-litre supercharged straight-8 Bugatti originated with a spartan lightweight racing body tailored to that year's Le Mans 24-Hour regulations, following its post-race sale to Parisian magazine publisher Jacques Dupuy it was speedily rebodied in Boulogne sur-Seine on the outskirts of Paris by the now legendary Italian-born stylist/coachbuilder Giuseppe Figoni.
Following an awards-rich early history in France, this mouth-watering sports Bugatti survived World War 2 and, as long ago as August, 1963 – some 56 years ago – it was acquired by its long standing owner, leading British Bugattiste, Geoffrey St John.
This magnificent car became the apple of his eye, and he was devastated in June 1994 when it was involved in a road accident in France, assailed by a speeding car driven by a youth who was both uninsured, and drunk. Frontal damage to the car was beautifully repaired in a subsequent, utterly painstaking 5,000-hour restoration, from which his Bugatti Type 55 – chassis '55221' – re-emerged, the vast majority of its original St John-ownership fabric having been successfully preserved and repaired...A photographic record of the restoration has been documented by Independent Bugatti Consultant Mark Morris.
In fact, Bugatti Type 55 chassis '55221' was ordered by Guy Bouriat as early as January 1, 1932. The order form specifies: "2.3 litre Supersport car, Type 55, supercharged, 4-seat torpedo body, complying with Le Mans regulations. With 6 Bugatti wheels and all necessary accessories for a 24 hours race. Automatic fuel cap." The address on the form is Bouriat's family home in Paris, 44 Rue Fabert, near the Champ de Mars. No trace has been found in the factory archives of any related invoice or payment – perhaps indicative of it having been treated as a works entry for Bouriat as an established (and well connected) racing driver.
To meet this formal order, chassis No. '55221'/(initial) engine '14' was assembled at the works in April 1932, concurrent with sister chassis using engines '15' and '16'. It was factory-bodied as a torpedo, the Molsheim bodyshop register recording it as being the first of the bodies built in June 1932: "Carr 24h . 55/14 -55221. juin 32". The car was then delivered to Paris by road on June 11th, 1932 – ready for the following weekend's important race at Le Mans.
Le Mans 24-Hours - June 18-19, 1932.
Guy Bouriat and Louis Chiron in '55221' starred under race number '15' amongst the 27 entries for this late-Depression-era 24-Hour Grand Prix d'Endurance.
Charles Faroux of the journal 'L'Auto' reported: "There are four Bugattis entered of which two, above all, deserve attention by the speed they achieved during testing days: one is at the hands of Chiron and Bouriat, while the other has Count Czaykowski and the brave Friderich as pilots... I would not be at all surprised to see these two pairs fight hard with the Alfa Romeos, as did the Bentleys and Mercedes."
While '55221' was fitted with a 130-litre fuel tank, the sister Type 55 for Count Czaykowski/Friderich had only a 115-litre tank. In the opening race period, four Alfa Romeo 8C-2300s led, with this Bouriat/Chiron Bugatti keeping pace in fifth place. But, as Faroux then reported: "At the beginning of the third hour, we are told to the astonishment of everyone, that Bouriat, then fifth, (has) run out of gas... Bouriat was helped to the pit. Of course he is declared out of the race since his forced stop happened on the 22nd lap when he had two more laps to run before refuelling" – having thus infringed the organising ACO club's unpitying minimum refuelling distance rule.
The 'L'Auto' issue of June 20, 1932, then described how: "Wisely, Bouriat and Chiron had lined their tank with a thick piece of felt and duckboard providing good protection against flying stones. This protection could not extend to a small part above the rear axle trumpet; it is in this small gap that a stone stuck, bending the metal sheet which resisted, but whose crimping parted and let 50 litres of gas leak through it. Bouriat, then in his twentieth lap, who knew he could run forty more laps on his fuel, thought there was a breakdown of his fuel supply and finds his carburettor empty and the floats, lacking damping, detached. Unavoidable withdrawal. Having abandoned, he is given 5 litres of fuel to go back to the pit. It is while refuelling to return to the pit that he sees the leak in the tank and realizes the cause of it. What a terrible tragedy...".
This Bugatti '55221' had in fact represented the French industry's best hope of a home win at Le Mans that year, but its split fuel tank helped leave the course clear for Raymond Sommer/Luigi Chinetti to win – for Alfa Romeo and Italy...
Post-race, '55221' was sold to Jacques Dupuy, motoring-enthusiast son of Paul Dupuy, proprietor of the newspaper 'Le Petit Parisien', and founder of the magazines 'Mirroir des Sports' and 'Sciences et Vie'. In a 1992 letter to Pierre-Yves Laugier, Jacques Dupuy recalled: "I bought the Bugatti from Guy Bouriat. It was a black 2+2 torpedo with light aluminium body. The car could reach 200 km/h...I kept it with its bucket seats for a few months before taking it to Figoni's. It was bodied there according to my drawings. The steel body was black and white. The dashboard was in black leather...I sold the car about three or four years later, after the 1936 Paris-Nice rally, to Monsieur Gandon, a wine and spirits merchant at 152 Boulevard Hausmann."
Between 1928 and 1933, the Figoni bodyshop at "14 rue Lemoine, Boulogne, Seine", bodied some 77 Bugattis.
Jean Dupuy's order for this Bugatti Type 55 appears in the Figoni register in February 1933, while the August issue that year of 'L'Équipement Automobile' carries a profile drawing of the car and cites its Nitrolac enamel paintwork as being "iris black and Leda white".
M. Dupuy also recalled how: "During my custody, I had to go twice to the factory one of them was for repairing the compressor (factory note dated March 21st 1933). I won the Paris-Nice rally in 1933 beating the Alfa Romeos in the Sport category. At La Turbie, I reached 83km/h standing start. This car is the 2300cc single shaft...which was maintained for me by Mr Rocatti, a Bugatti specialist in Paris who had a garage at Buttes-Chaumont".
XIIth Critérium International de Tourisme Paris-Nice, 1933
The journal 'L'Auto' for March 30th 1933 described how the Paris-Nice Rally was to be run in three stages: Paris-Vichy, Vichy-Marseille and Marseille-Nice. Jacques Dupuy's Type 55 would run as number '52' in up-to-3-litre Class D. In the 1km Michelet stage – with standing start and flying finish - Dupuy set the fastest time, of 34 seconds, averaging 105,882km/h (66.09mph). Upon arrival in Nice on April 3rd, an idling and acceleration test took place on the Quai des États-Unis in which Dupuy's Bugatti set times of 49.6 secs and 18 secs respectively.
Next day, in a 500 metres trial before thousands of spectators on the Promenade des Anglais Dupuy again bettered the rival Alfa Romeos of Gunzburg and Weinberg, at 142,860 km/h (88mph). In the final stage on the famous 6.3km (3.9-mile) La Turbie hill-climb, Dupuy finally won the Paris-Nice event overall, with a climb time of 4mins 25.6secs, 85.391km/h (53mph). The 'L'Auto' report described how: "Victory goes to Jacques Dupuy. This young pilot had a 2.3 litre double camshaft Bugatti at his disposal. No need to be a pre-eminent driver and Jacques Dupuy never had such pretentiousness. But you had to own a car complying with the regulations. The 2.3 litre Bugatti fully satisfied. In congratulating Dupuy, one must not forget the maker of Molsheim...".
The Bois de Boulogne Concours d'Elégance - June 24, 1933
Two months after his Paris-Nice victory Jacques Dupuy entered his freshly Figoni-bodied Bugatti '55221' in the annual Parisian Grand Concours d'Elégance. The Countess de Rivals-Mazères had been invited "to enhance his convertible" and after the car had won the 'L'Auto'-sponsored first class judged, for over 10hp open cars, the Countess helped show it in two further categories backed by the journals 'Fémina' and 'L'Intransigeant' In the third category (cars over 15 HP presented by ladies and driven by a chauffeur in livery), Mme de Rivals-Mazères – accompanied by two Scottie dogs - "sur Bugatti 17C cabriolet transformable Figoni" won a Spark gramophone...
Owner Dupuy recovered his laurelled thoroughbred and would use it for three more years before selling it, as he recalled, to Marcel Gandon.
The new owner was the 38-year-old son of wine merchant Alphonse Gandon, of 152 Boulevard Hausmann, Paris, but he kept '55221' only briefly – from early-1936 to April 1937 – when he bought a brand-new Type 57S Atalante. On November 28, 1936, the unique Figoni-bodied Type 55 was sold via Bugatti to Garage Bayard, 22 Rue Bayard, Paris, the sale document stating: "Sold to garage Bayard one car Type 55 N° 55221, engine 14 (ex Gandon) 2 seat roadster bodywork (convertible by Figoni) in good working order, second hand sold as is for a net price of 25 000 francs".
Paris-Saint-Raphaël Rallye Féminin 1937
The Garage Bayard was run by Charles de Lavoreille, Jacques de Valence and a M. Richer-Delavau and the latter's wife ran '55221' in the March 17-22, 1937 'IXe Paris-Saint-Raphaël Féminin' – entry number '48', facing a 1,039 km route to be completed in five days, staging through Nevers, Clermont-Ferrand, Orange and Toulon. In initial 500 metres standing start, and 1km flying-start tests at Nevers Mme Richer-Delavau placed 6th in each, and in the Saint-Sébastien hill-climb at Saint Raphaël, she maintained her position with a time of 47.8secs, behind Mmes Lamberjack and Lucy O'Reilly Schell in their Delahaye Sport. Overall in the Rally she would finish sixth and fifth in class.
M. Laugier's Bugatti records show that on December 27, 1937, an un-named Parisian enthusiast bought '55221' from Garage Bayard. This might have been Roger Teillac, a Bugatti specialist based in the Avenue de Suffren, as his archives contain three pictures of the car, but wearing a 1938 Nancy licence plate. Teillac possibly maintained the car for another owner 1938-39 or had taken back the car in the post-war summer of 1946 when his establishment repaired its oil sump, split by frost.
Certainly, Louis Stephanazzi had acquired the car on May 7, 1938, and registered it '5658 KU 5' to his home address of 49bis Avenue Anatole France, Nancy. Family memory recalls that the car was hidden dismantled during the war in the garage that Stephanazzi ran in town. The Germans requisitioned his garage where they would repair their vehicles. At the back were a Bugatti Type 57 convertible, bought in Paris in August 1938, and the 55 roadster, which both survived the conflict.
On September 16, 1946, the Type 55 was sold in Paris under licence plate '4239 RP 4' and one month later, it passed to André Couston, a dealer from Nice, resident at 4bis Avenue Mont Alban. On October 18, 1946 he re-registered the car '3286 BA 8'. At the time André Couston also owned the first Type 55 roadster, chassis '55201'.
On July 30th 1948, '55221' returned to Paris, registered '7220 RQ 4'. Its owner was possibly Jacques Devinot who told M. Laugier in June 1993: "I owned three Bugattis...(including)...the Type 55 convertible...bought around 1948 from a garage near Porte de Champerret. It was then sold to Mr Bierlein from Paris in 1950 who sold it to a Canadian man. I found it back later at Docime's, dismantled. The registration papers were never changed and the Canadian man came to see me to get a sale certificate which I refused to do, having already done one for Mr Bierlein. When I bought the car, the chassis had been bent and I had to dismantle the car and correct it. As I see it, every bit was original on the car which was in a cream and black livery". He also had a luggage rack installed by Figoni»
The Police register confirms M. Devinot's dates, while a letter from him states that in August 1950 the Bugatti was owned by Gaston Bierlein, of Hôtel Pylone 1, Megève, Haute-Savoie. He kept the car for five years before selling it on March 24, 1955, to Canadian journalist Douglas Lachance, of 59 Avenue Hoche, Paris. The car – with its engine dismantled or removed - was then consigned to leading Bugatti specialist Gaston Docime, in the Rue de la Saussaie, Neuilly-sur-Seine. It remained in there until August 28, 1962 when British Type 55 enthusiast Anthony Austin Morse, a dentist of 4 Westfield Road, Rugby, imported it into England, less engine, with a £20 deposit on the import duty pending valuation.
A. A. Morse then owned three Type 55s - '55220', '55221' and '55223' – but he quickly sold the unique Figoni-bodied example to Henry H. Thomas of White Cottage, Belmond Park Road, Maidenhead, proprietor of the Fernley Service Station, who on July 25, 1963, re-sold it to Geoffrey St John, of Woodland Cottage, Greenwich Lane, Leafield, Oxon for £750
In a letter to Geoffrey St John, dated August 12, 1963, the eminent British Bugatti Registrar Hugh Conway wrote: "I did point out the engineless car to Morse, at Docime's, which he bought for £100 and sold to Thomas..." In another letter, Conway remarked that the engine of '55221' could have been sold by Docime in the USA.
Geoffrey St John restored the car to running order with engine 26 ex 55223 installed. It became a stable-mate for his Type 35B and Type 51 Grand Prix cars and it has remained in this single family ownership to this day. Geoffrey St John was a talented technician working for Smiths Industries, and eventually became the company's Chief Engineer, while dedicating most of his spare time to Bugatti restoration, tuning and racing. He was a most talented driver and became the sporting Bugatti marque's foremost British exponent over many years. He was exceptionally highly regarded as a twin-cam 2.3 Bugatti specialists, and always took particular delight in driving '55221' widely throughout the UK, and in Continental Europe, particularly – of course in France.
It was on a French road – near Auxerre in June 1994 – that he had the misfortune to be hit by a drunken driver, as described. The damage sustained took some two years of work to put right, Geoffrey St John being determined (at considerable extra expense) to save absolutely all of the car's original fabric that had escaped total destruction. Chassis straightening, keeping all the original parts, was carried out by renowned British specialist Gino Hoskins (Images on file).
A November 2019 inspection report on the car has been compiled by leading French Bugatti authority Pierre-Yves Laugier. He sums up its present condition thus: "The car keeps its original chassis, repaired in 1994. It (the original element of the chassis) is 90% complete with a few additional strengthening plates added according to Christian Huet, Parisian expert in charge of the accident file. The exterior of the car after restoration was completely in accordance with the original after more than 5,000 hours work.
"It (then) took part in its first event in the summer of 1996 (and so) the only Figoni roadster on a Supersport Type 55 Bugatti chassis is ready to join the world of rallies and concours d'élégance. It remains one of the most beautiful expressions of a Sports car by a coachbuilder, multi-purpose and powerful, one of the most important witnesses of the golden era of coachbuilding and know-how of the Bugatti brand..."
In detail M. Laugier observed: "The frame bore number 22, but the fixing hole of the spare wheel shows only one of the '2s' (the other having been drilled through). The front axle is of the right type, with no number and is probably new". In fact Geoffrey St John always maintained that the current front axle is an original, Bugatti-manufactured, hollow front axle of correct Type 55 specification...
M. Laugier continued: "The engine (comprising a matched pair of upper and lower crankcase castings – the left-rear mounting leg of which carries) assembly number '48' from roadster '55223'/engine '26'. One observes important welding traces under the rear-left mounting piece. Front-left mounting piece (the integrally cast engine leg), which was completely destroyed in the accident, was melted down and re-cast from a pattern amongst Geoffrey St John's spare parts collection. The re-cast leg was then welded back into place.
The clutch casing carries on both parts number '14'. Both gearbox and rear-axle sumps were rewelded after the accident. Traces are still visible on the original parts.
"The car was equipped with an overdrive. Compressor No '33' is ancient and of the right kind, but is not the one on the car in 1933, because a note of the repair workshop for compressors dated March 21st, 1933. states: 'Compressor 55 N° 45, Mr Rocatti, Paris, client Mr Dupuy, milling of notches in the chambers' The body of the gearbox is engraved (stamped) '39'. It is probably the factory replacement box, following the 38 (other such gearboxes that were) produced from 1931 to 1933.
"It could have been fitted to the car after one of the races in which it took part between 1933 and 1937. The original gearbox of the car, No '14', is today on a Type 55 chassis '55235' with a British history and which in 1962 was equipped with a Cotal gearbox. The original rear axle numbered '14' is the original one (installed in) the car and has race type ratio of 14 x 54 instead of the usual 13 x 54 of the first Type 55."
Mark Morris adds: "The front axle is of the right type, with no number" .
Pierre-Yves Laugier's report continues: "The fixed parts of the body are made of steel, while the opening parts are made of aluminium. After the accident in 1994, the wooden dashboard was rebuilt as the original wood board was split in two. The aluminium part of the bonnet had also to be completely replaced as well as the left front wing and the right door. Most of the wooden structure was kept. The work was carried out at Terry Hall's workshop. Drums and left front brake shoe were rewelded and two brake shoes were replaced. The wheel rim of several wheels was redone by welding - particularly visible on the spare wheel."
M. Laugier further observes: "The chassis plate of the vehicle is ancient. It wears number '55221', apparently over-stamped. It is of the Type 57 'Bas-Rhin' type and the number '57282' can be detected underneath (which) tallies with a Type 57 chassis number delivered in the Nord department in April 1935".
Since completion of restoration work in 1996 until Mr St John's recent passing, '55221' was regularly exercised by him. In similar style to the modern-day Bugatti Veyron, Chiron and EB110 models – which are both a schoolboy pin-up and a modern car collector's dream - so in its heyday the Bugatti Type 55 was a hugely coveted automotive jewel.
It is in essence a Grand Prix car with sports bodywork for use on the open road, powered by a 2.3-litre supercharged twin-cam 8-cylinder engine –as developed for the multiple Grand Prix-winning Bugatti Type 51 and only moderately detuned. Even in 1932 this power unit's blistering power and torque endowed the Type 55 with 0-60mph acceleration in 13 seconds and the hitherto unheard-of top speed – for a road car - of 115mph.
Even in the backwash from The Great Depression, the most style-conscious of high-society glitterati all aspired to the Type 55 – and, with its technical specification and haute couture body styling, it was squarely aimed at the most wealthy...and the most dashing...clientele such as the Duc de la Tremoille, Victor Rothschild and Nicholas Embiricos. With its contemporary price tag of some $7,500, Bugatti produced only 38 Type 55s, 27 of which are now known to survive.
And amongst them, this Figoni-bodied example – with its waistline-level doors offering proper cockpit wprotection in contrast to the doorless, cut-down cockpit sides of the more common Jean Bugatti roadster style – is unique. It is offered here in running order, accompanied by not only the immensely fine-detailed Pierre-Yves Laugier and Mark Morris inspection and history reports, but also by a substantial array of relevant spare parts. After 56 years in one ownership this is – when judged by the highest standards - a unique example of perhaps the most mouth-watering of all Bugatti models, and a definitive connoisseur's car to be truly, truly, coveted...
Please note if you wish to bid on this Lot, special formalities are required. Contact Client Services at +44 20 7447 7447 or
[email protected]
at least 24-hours in advance of the sale. Please also note Online Bidding is not available for this Lot.
Footnotes
56 ans aux mains de Geoffrey St John et de sa succession
ex-comte Guy Bouriat/Louis Chiron des 24 Heures du Mans 1932

Bugatti Type 55 Supersport deux places 1931
Carrosserie Figoni à Paris
Châssis N° 55221
Moteur N° 26 (ex-voiture 55223)
Immatriculée au Royaume-Uni sous le n° JU 4426

Bonhams est fier de proposer ici la fameuse Bugatti Type 55 Supersport 1932 de « Geoffrey St John », en sa possession pendant 56 ans, avec sa carrosserie unique, réalisée en 1933 par Figoni. Ce magnifique pur-sang deux places à haute performance de l'ère post-Vintage a commencé sa vie comme voiture d'usine Bugatti aux 24 Heures du Mans 1932. Elle était confiée à cette occasion à deux des meilleurs et des plus célèbres pilotes français, un aristocrate Sarthois (du Mans) le comte Guy Bouriat-Quintard et le célèbre Monégasque, future Champion de France, Louis Chiron.

Alors qu'à l'origine cette 2,3 litres à moteur 8 cylindres en ligne à compresseur arborait une spartiate carrosserie légère de compétition construite sur mesure conformément au règlement des 24 Heures du Mans de cette année-là, vendue après la course à l'éditeur de presse parisien Jacques Dupuy, elle fut rapidement recarrossée à Boulogne sur-Seine, par le légendaire carrossier/styliste d'origine italienne Giuseppe Figoni.

Après un début de carrière riche de nombreux prix en France, cette alléchante Bugatti sport survécut à la seconde guerre et, en août 1963 – il y a 56 ans – elle fut achetée par son propriétaire, l'éminent Bugattiste britannique Geoffrey St John, qui en resta propriétaire jusqu'à aujourd'hui.

Cette magnifique automobile était comme la prunelle de ses yeux et il fut anéanti quand elle fut impliquée dans un accident de la route en France, heurté par un jeune conducteur en état d'ébriété qui n'était pas assuré. Les dégâts à l'avant de la voiture furent magnifiquement réparés au cours d'une restauration méticuleuse de 5 000 heures. La Bugatti Type 55 – châssis 55221 – en ressortit avec succès, la majeure partie des matériaux du temps de St John ayant été préservés... Un reportage photographique de la restauration a été effectué par le consultant Bugatti indépendant Mark Morris.

En fait, la Bugatti Type 55 châssis 55221 fut commandée par Guy Bouriat dès le 1er janvier 1932. Le bon de commande précise : « Une voiture 2 lit.300 Supersport, type 55, à compresseur, carrossée en torpédo 4 places, aux cotes des 24 heures du Mans. Munie de 6 roues Bugatti et de tous les accessoires nécessaires à une course de 24h. Bouchon automatique. »
L'adresse sur le bon de commande est le domicile familial parisien des Bouriat au 44 rue Fabert, près du Champ de Mars. Nous n'avons trouvé aucune trace de facture ou de règlement pour cette voiture dans les archives de l'usine – un indice qui atteste peut-être qu'elle fut traitée comme une voiture d'usine, destinée à Bouriat, un pilote reconnu (et ayant des relations).

Pour répondre à cette commande officielle, le châssis N° 55221/moteur (d'origine) 14 fut assemblée à l'usine en avril 1932, en même temps que ses châssis jumeaux utilisant les moteurs 15 et 16. Elle fut carrossée en torpédo dans l'atelier de carrosserie de Molsheim, le registre confirmant qu'elle était la première des carrosseries construites en juin 1932 : « Carr 24h . 55/14 -55221. juin 32 ». La voiture fut alors livrée par la route à Paris le 11 juin 1932 – prête pour l'importante course du Mans le week-end suivant.

24 Heures du Mans - 18-19 juin 1932.
Guy Bouriat et Louis Chiron sur 55221 sous le numéro 15 étaient les vedettes des 27 engagés pour ce grand prix d'endurance de 24 Heures en pleine dépression économique.

Charles Faroux du journal L'Auto écrit: « Les Bugatti engagées sont au nombre de quatre dont deux surtout retiennent l'attention par la vitesse dont elles ont témoignée aux essais : L'une est aux mains de Chiron et Bouriat, l'autre a comme pilote le Comte Czaykowski et le valeureux Friderich....et je ne serais nullement surpris de voir les deux tandems mener un rude train aux Alfa Roméo, à la Bentley, à la Mercédès. »

Alors que 55221 recevait un réservoir de 130 litres, l'autre Type 55 du comte Czaykowski/Friderich avait un réservoir de seulement 115 litres. En début de course, quatre Alfa Romeo 8C-2300 prennent la tête, la Bugatti de Bouriat/Chiron les suivant à la cinquième place. Mais, comme le rapporte Faroux : « Au début de la troisième heure, nous apprenons à la surprise générale que Bouriat, alors en cinquième position est resté en panne d'essence... Bouriat a été dépanné et rentre à son stand. Bien entendu il est mis hors course puisque son arrêt forcé s'est produit au cours du 22e tour, alors qu'il avait encore deux tours à accomplir avant de ravitailler. » – ayant ainsi enfreint les règles impitoyables de la distance minimale de ravitaillement de l'ACO, le club organisateur.

L'Auto du 20 juin explique : « Sagement, Bouriat et Chiron avaient garni leur réservoir d'un feutre épais et d'un caillebotis le protégeant efficacement contre les projections de cailloux. Cette protection n'avait pas pu s'étendre à une partie située au-dessus d'une trompette de pont ; c'est dans ce léger intervalle qu'un caillou s'est coincé, gondolant la tôle, qui résista, mais dont le sertissage céda, d'où fuite et perte de 50 litres d'essence. Bouriat, qui en était à son vingtième tour et qui savait avoir du carburant pour quarante tours, croit à une panne d'alimentation, trouve son carburateur vide et les masselottes, dont le mouvement n'est plus amorti, détachées. Abandon inévitable. On lui porte cinq litres d'essence, puisqu'il a abandonné, et il revient aux tribunes. C'est en faisant son plein pour regagner son cantonnement qu'il perçoit la fuite irrémédiable du réservoir et en reconnaît la cause. Quelle terrible tragédie... ».

Cette Bugatti 55221 représentait en fait le meilleur espoir de l'industrie française pour une victoire à domicile au Mans cette année-là, mais son réservoir crevé contribua à dégager la route à Raymond Sommer/Luigi Chinetti qui l'emportèrent - pour Alfa Romeo et l'Italie..

Après la course, 55221 fut vendue à Jacques Dupuy, passionné d'automobile fils de Paul Dupuy, propriétaire du journal Le Petit parisien, créateur du Miroir des Sport et de Sciences et Vie. Dans une correspondance de 1992 avec Pierre-Yves Laugier, Jacques Dupuy confiait : « J'ai acheté la Bugatti à Guy Bouriat. C'était un torpédo noir 2+2 places, en aluminium léger. La voiture frôlait les 200 km/h. Je l'ai gardé en sièges baquets pendant quelques mois, avant de la porter chez Figoni. Elle y sera carrossée selon mes dessins. La caisse réalisée en tôle était noire et blanche. Le tableau de bord était en cuir noir. J'ai revendu la voiture trois ou quatre ans plus tard, après le Paris-Nice 1936 à Monsieur Gandon, marchand de vins et spiritueux, 152 boulevard Hausmann ».

Entre 1928 et 1933, l'atelier Figoni « 14 rue Lemoine. Boulogne. Seine » carrossa quelque 77 Bugatti.

La commande de Jean Dupuy pour cette Bugatti Type 55 apparaît dans le registre de Figoni en février 1933, tandis que le numéro d'août de cette année de L'Équipement Automobile montre un dessin du profile de la voiture et mentionne sa peinture émaillée de chez Nitrolac comme étant « noir iris et blanc Léda ».

M. Dupuy se rappelait : « Pendant ma période d'utilisation du véhicule, j'ai dû me rendre deux fois à l'usine dont une pour réparer le compresseur (note d'usine du 21 mars 1933). J'ai remporté le Paris-Nice en 1933, contre les Alfa Roméo. En catégorie Sport, à la Turbie, j'ai réalisé 83 km/h au départ arrêté. Cette voiture est la 2300 cm3 simple arbre... entretenue pour moi par M. Rocatti, spécialiste Bugatti à Paris, qui avait un garage aux Buttes-Chaumont . »

XIIe Critérium International de Tourisme Paris-Nice, 1933.
Le journal L'Auto, dans son édition du 30 mars 1933, explique que le rallye Paris-Nice se déroule en trois étapes, Paris-Vichy, Vichy-Marseille et Marseille-Nice. La Type 55 de Jacques Dupuy est inscrite sous le numéro 52 dans la classe D, jusqu'à 3 litres. Dans l'épreuve du boulevard Michelet, disputée sur un kilomètre - départ arrêté et arrivée lancée - Dupuy réalisa le meilleur temps en 34 secondes, à 105,882 km/h. À l'arrivée à Nice, le 3 avril, sur le quai des États-Unis se tenait l'épreuve de ralenti et d'accélération au cours de laquelle la Bugatti de Dupuy réalisa respectivement les temps de 49 secondes 3/5 et 18 secondes.

Le lendemain, dans l'épreuve des 500 mètres, sur la Promenade des Anglais devant des milliers de spectateurs, Dupuy supplanta ses rivales Alfa Romeo pilotées par Gunzburg et Weinberg à 142,860 km/h. Dans la dernière étape, dans la célèbre course de côte de 63 km de la Turbie, Dupuy remporta finalement le Paris-Nice en réalisant 4 minutes 25 secondes 3/5, à la moyenne de 85,391 km/h. L'Auto rapporte : « La victoire revient à Jacques Dupuy. Ce jeune conducteur disposait d'une Bugatti 2,3 litres à double arbre à cames. Point n'était besoin d'être un pilote émérite et Jacques Dupuy n'a jamais eu cette prétention. Mais il fallait posséder une voiture répondant aux exigences du règlement. La Bugatti 2,3 litres a donné entière satisfaction. Aussi en félicitant Dupuy, il ne faut pas omettre de féliciter également le constructeur de Molsheim. »

Concours d'Elégance du Bois de Boulogne – 24 juin 1933
Deux mois après sa victoire au rallye Paris-Nice, Jacques Dupuy engageait sa Bugatti 55221 fraîchement carrossée par Figoni au Grand Concours d'Elégance Parisien. La comtesse de Rivals-Mazères était invitée « à mettre en valeur son cabriolet » et, après la victoire de la voiture dans la première classe réservée au voiture ouvertes de plus de 10 HP parrainé par L'Auto, la comtesse la présenta dans deux autres catégories financées par les journaux Fémina et L'Intransigeant. Dans la Troisième catégorie, réservée aux voitures de plus de 15 HP (présentées par des dames et conduites par un mécanicien en livrée), Mme de Rivals-Mazères – accompagnée de deux Scottish terriers – « sur Bugatti 17C cabriolet transformable Figoni » gagnait un phonographe Spark...

Jacques Dupuy récupère ensuite son Pur-Sang auréolé de nouvelles récompenses et l'utilise encore pendant trois années, avant de le céder, selon ses propres souvenirs, à M. Gandon.

Le nouveau propriétaire de 38 ans est le fils d'Alphonse Gandon, marchand de vins, domicilié 152 boulevard Hausmann à Paris, qui ne conserva 55221 que très brièvement – du début de 1936 à avril 1937 – lorsqu'il acheta une Type 57S Atalante flambant neuve. Le 28 novembre 1936, l'unique Type 55 à carrosserie Figoni fut vendue par Bugatti au Garage Bayard, 22 rue Bayard, à Paris, le document de vente précisant : « Vendu au garage Bayard une voiture type 55 N° 55221, moteur 14 (ex Gandon) carrosserie roadster 2 places (cabriolet Figoni) en bon état de marche, vendue d'occasion dans l'état où elle se trouve, pour le prix net de 25 000 francs. ».

Rallye Féminin Paris-Saint-Raphaël 1937.
Le garage Bayard était dirigé par Charles de Lavoreille, Jacques de Valence et un certain M. Richer-Delavau dont l'épouse pilota 55221 dans le « IXe rallye féminin Paris-Saint-Raphaël » du 17 au 22 mars, sous le numéro 48, affrontant une épreuve de 1 039 km à couvrir en cinq jours, en faisant étapes à Nevers, Clermont-Ferrand, Orange et Toulon. À Nevers, dans les épreuves initiales, l'une sur 500 mètres départ arrêté, l'autre sur 1 kilomètre départ lancé, Mme Richer-Delavau se classa 6e dans chacune et à la course de côte de Saint-Sébastien à Saint Raphaël, elle maintint sa position avec un temps de 47,8 secondes, derrière Mmes Lamberjack et Lucy O'Reilly-Schell sur Delahaye Sport. Au classement général du rallye, elle termina sixième et cinquième de sa classe.

Dans son Bugatti M. Laugier indique que le 27 décembre 1937, un amateur parisien inconnu acquiert 55221 auprès du garage Bayard. Il pourrait s'agir de Roger Teillac, spécialiste Bugatti, situé avenue de Suffren, car il existe trois photos de la voiture dans ses archives, mais ces photos montrent une plaque de Nancy datant de 1938... soit Teillac entretint la voiture pour un autre propriétaire en 1938-39 ou bien il avait pu lui reprendre la voiture dans l'été d'après-guerre de 1946, quand son établissement répara le carter d'huile éclaté par le gel.

Il est certain que Louis Stephanazzi de Nancy a acquis la voiture le 7 mai 1938 et l'a immatriculée sous le numéro 5658 KU 5 à son domicile du 49 bis, avenue Anatole France à Nancy. Les souvenirs familiaux racontent que la voiture fut remisée démontée pendant la guerre dans le garage que dirigeait Stephanazzi en ville. Les allemands avaient réquisitionné son local et y réparaient leurs véhicules. Dans le fond se trouvaient une Bugatti type 57 cabriolet, achetée à Paris en août 1938, et le roadster 55, qui survécurent tous deux au conflit.

Le 16 septembre 1946, la Type 55 fut vendue à Paris sous le numéro d'immatriculation 4239 RP 4 et un mois plus tard, elle passa à André Couston, un concessionnaire de Nice, résidant au 4 bis, avenue Mont Alban. Le 18 octobre 1946, il immatricula la voiture sous le numéro 3286 BA 8. À l'époque, André Couston possédait aussi le premier roadster type 55, châssis 55201.

Le 30 juillet 1948, 55221 retourna à Paris, immatriculée 7220 RQ 4. Son propriétaire était probablement Jacques Devinot qui confia à M. Laugier en juin 1993 : « J'ai possédé trois Bugatti...(y compris)... la Type 55 cabriolet... acheté vers 1948 à un garage près de la Porte de Champerret. Elle fut revendue à Bierlin de Paris en 1950 qui la céda à un canadien. Je l'ai retrouvé plus tard chez Docime, démontée. La carte grise n'avait jamais été changée et le canadien vint me voir pour réaliser un certificat de vente, ce que je refusai, en ayant déjà fait un à Bierlein. Lorsque j'ai acheté l'auto, le châssis était faussé, je dus le démonter pour le rectifier. Selon moi, tout était d'origine sur la voiture qui était crème et noire. Je fis ajouter un porte-bagage par Figoni.»

Les registres de Police confirment les dates de M. Devinot, tandis qu'un courrier de lui indique que la Bugatti est cédée en août 1950 à M. Gaston Bierlein, « Hôtel Pylone 1 » à Megève, en Haute-Savoie. Il conserve la voiture près de cinq ans et la cède le 24 mars 1955 au journaliste canadien Douglas Lachance, 59 avenue Hoche, à Paris. La voiture – son moteur absent ou démonté – finit chez le renommé spécialiste Bugatti Gaston Docime, rue de la Saussaie, à Neuilly-sur-Seine. Elle y reste jusqu'au 28 août 1962, quand un amateur anglais passionné de Bugatti Type 55, Anthony Austin Morse, dentiste au 4 Westfield road à Rugby, l'importe en Angleterre sans moteur, après un dépôt de 20 £ pour les droits de douane, en attendant son évaluation.

A. A. Morse possédait alors trois Type 55 - 55220, 55221 et 55223 – mais il revendit rapidement l'unique exemplaire à carrosserie Figoni à Henry H. Thomas de White Cottage, Belmond Park Road, à Maidenhead, propriétaire de la Fernley Service Station, qui, le 25 juillet 1963 la revendit à Geoffrey St John, de Woodland Cottage, Greenwich Lane, à Leafield, Oxon pour 750 £.

Dans un courrier daté du 12 août 1963, adressé à G. St John, l'éminent Hugh Conway du British Bugatti Register précise : « C'est moi qui ai indiqué la voiture à Morse, chez Docime, sans moteur, il l'acheta pour 100 £ et la vendit à Thomas ». Dans un autre courrier, Conway indique que le moteur de 55221 aurait été vendu par Docime aux États-Unis.

Geoffrey St John restaura la voiture pour la remettre en route avec le moteur 26 ex-55223. Elle devint la compagne de sa Type 35B et de sa Type 51 Grand Prix et elle est restée en la possession de sa seule famille jusqu'à ce jour. Geoffrey St John était un technicien de talent travaillant pour Smiths Industries et devint finalement l'ingénieur en chef de cette société, consacrant la majeure partie de sont temps libre à restaurer, préparer et courir avec la Bugatti. C'était un pilote aguerri et il devint le pilote sportif britannique le plus en vue de la marque Bugatti pendant de nombreuses années. Il était considéré comme un spécialiste exceptionnellement voué au Bugatti 2,3 litres double arbre et prenait toujours grand plaisir à piloter 55221 dans tout le Royaume-Uni et en Europe continentale, particulièrement – bien sûr - en France.

C'est sur une route française – près d'Auxerre en juin 1994 – qu'il eut la malchance d'être heurté par un chauffard ivre, comme nous l'avons dit. Deux années de travail furent nécessaires pour réparer les dommages occasionnés, St John étant déterminé (au prix de dépenses considérables) à préserver absolument tous les matériaux d'origine qui avaient échappés à la destruction. Le redressement du châssis en conservant toutes les pièces originales fut effectué par le renommé spécialiste britannique Gino Hoskins.

Un rapport d'inspection de la voiture, daté de novembre 2019, a été mené par le grand spécialiste français de Bugatti, Pierre-Yves Laugier. Il résume ainsi son état actuel : « La voiture conserve son châssis d'origine, réparé en 1994. Il a pu être conservé à 90%, avec de nombreux renforts, selon Christian Huet, l'expert parisien en charge du dossier de l'accident. L'extérieur de la voiture, après restauration, était entièrement conforme à son origine après plus de 5 000 heures de travail. »

« Elle prit (alors) part à sa première manifestation au cours de l'été 1996 et (c'est ainsi que) le seul roadster Figoni sur châssis Bugatti Type 55 Supersport est prêt à retrouver le monde des rallyes et des concours d'élégance. Il reste une des plus belles expressions de la voiture de sport de carrossier, polyvalente et performante, témoin majeur de l'âge d'or de la carrosserie et du savoir-faire de la maison Bugatti... »

Donnant plus de détails, M. Laugier continue : « Le cadre portait le numéro 22, mais le trou de fixation de la roue de secours ne laisse plus deviner qu'un seul « 2 » (l'autre a été perforé). L'essieu avant est du bon modèle, non numéroté et sans doute neuf. Il est important de noter que St John a toujours affirmé que l'actuel essieu avant est original, fabriqué par Bugatti, et que c'est bien un essieu avant creux, conforme aux spécifications du Type 55.

Le moteur (comprend deux carters de vilebrequin, un supérieur et un inférieur, constituant une paire – dont la patte arrière gauche porte) le numéro d'assemblage 48 du moteur du roadster 55223 /moteur 26. On observe d'importantes traces de soudure sous la patte arrière gauche. La patte avant gauche (pièce entièrement coulée), qui avait été complètement détruite dans l'accident, a été fondue et ressoudée, après réalisation d'un moule d'après une pièce de la collection de Geoffrey St John. La patte fut alors ressoudée à sa place.

Le carter d'embrayage porte sur ses deux éléments le numéro 14. Il faut noter que les carters de boîte et de pont ont aussi été ressoudés après l'accident. Les traces restent visibles sur les pièces d'origine.
« La voiture était équipée d'un overdrive. Le compresseur, N° 33, est ancien et du bon modèle, mais il n'est pas celui de la voiture en 1933, car une note de l'atelier de réparation des compresseurs, datée du 21 mars 1933 indique : « Compresseur 55 N° 45, M. Rocatti, Paris, client M. Dupuy, fraisage des encoches dans les flasques ». Le corps de la boîte de vitesse est gravé (estampé) 39. Il s'agit sans doute de la boîte de rechange d'usine, qui fait suite aux 38 (exemplaires similaires) produits de 1931 à 1933.

« Elle peut avoir été montée dans la voiture après l'une des épreuves auxquelles le véhicule a participé entre 1933 et 1937. La boîte de vitesse d'origine de la voiture, numéro 14, se trouve aujourd'hui sur une type 55 châssis 55235 à l'historique britannique, et qui en 1962 était équipée d'une boîte Cotal. Le pont arrière numéroté 14 est celui d'origine (installé dans) la voiture et possède un rapport de type course de 14 x 54 au lieu du 13 x 54 habituel des premières type 55. »

Mark Morris ajoute : « l'essieu avant est d'un type conforme, sans numéro et est probablement (mais pas forcément) neuf... » .

Le rapport de Pierre-Yves Laugier continue : « les parties fixes de la carrosserie sont en acier, tandis que les ouvrants sont en aluminium. Après l'accident de 1994, le tableau de bord en bois a été refait, car le bois d'origine était fendu en deux. La partie en aluminium du capot a dû être entièrement remplacée, ainsi que l'aile avant gauche et la porte droite. Une grande partie de la structure en bois a été conservée. Le travail de carrosserie fut effectué à l'atelier de Terry Hall. Les flasques et les mâchoires du frein avant gauche ont été ressoudés, et deux mâchoires changées. Les bords de la jante de plusieurs roues ont été refaits avec de la soudure - particulièrement visible sur la roue de secours.

M. Laugier constate plus loin : « La plaque de châssis du véhicule est ancienne. Elle porte le numéro 55221, visiblement regravé. Elle est du type 57 « Bas-Rhin », et on peut deviner le numéro 57282 en dessous qui correspond à un châssis de type 57, livré dans le département du Nord en avril 1935.

Depuis l'achèvement des travaux de restauration en 1996, jusqu'à la récente disparition de M. St John, 55221 a été régulièrement utilisée par celui-ci. De la même façon que les Bugatti Veyron, Chiron et EB110 modernes – à la fois fantasme d'écolier et rêve de collectionneurs de voitures contemporaines - la Bugatti Type 55 était à son époque un joyau tout aussi convoité.

Il s'agit dans son essence même d'une voiture de Grand Prix pouvant être utilisée sur route, dotée d'une carrosserie sportive et équipée d'un moteur 8 cylindres en ligne double arbre de 2,3 litre à compresseur – identique à celui mis au point pour la Bugatti Type 51 victorieuse en Grand Prix et à peine « civilisé ». En 1932 déjà, la puissance et le couple époustouflants de ce moteur permettait à la Type 55 des accélérations de 0 à 100 km/h en 13 secondes et une vitesse de pointe, encore jamais vue de sur une voiture de route à l'époque, de 185 km/h.

Même en plein cœur de la grande dépression, les plus avertis en matière de style de la haute société rêvaient de la Type 55 – et avec sa sophistication technique et sa carrosserie haute couture, elle était clairement destinée aux plus riches... à la plus distinguée clientèle, comme le duc de la Trémoille, Victor Rothschild ou Nicholas Embiricos. Avec un prix de 7 500 $ à l'époque, Bugatti ne construisit que 38 Type 55, dont 27 ont survécu jusqu'à nos jours.

Parmi celle-ci, cet exemplaire à carrosserie Figoni – avec ses portes à hauteur de caisse offrant une vraie protection, contrairement au roadster sans portières et à l'habitacle échancré dessiné par Jean Bugatti – est tout simplement unique. Elle est proposée ici en état de marche, accompagnée non seulement des inspections et des rapports historiques les plus circonstanciés et les plus détaillés de Pierre-Yves Laugier et Mark Morris, mais aussi d'un substantiel ensemble de pièces détachées pertinentes. Après 56 années aux mains du même propriétaire, il s'agit – selon les critères les plus élevés – d'un exemplaire unique de ce qui est probablement le plus alléchant de tous les modèles Bugatti et d'une voiture assurément convoitée par les vrais connaisseurs ...

Veuillez noter que des formalités spéciales d'enregistrement seront exigées si vous souhaitez enchérir sur ce lot. Contactez notre service clients au +44 20 7447 7447 / [email protected] au moins 24 heures avant la vente. Veuillez aussi noter que les enchères en ligne ne seront pas disponibles pour ce lot.