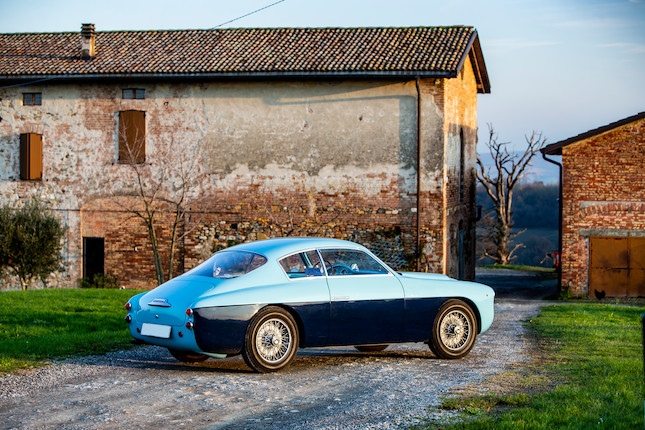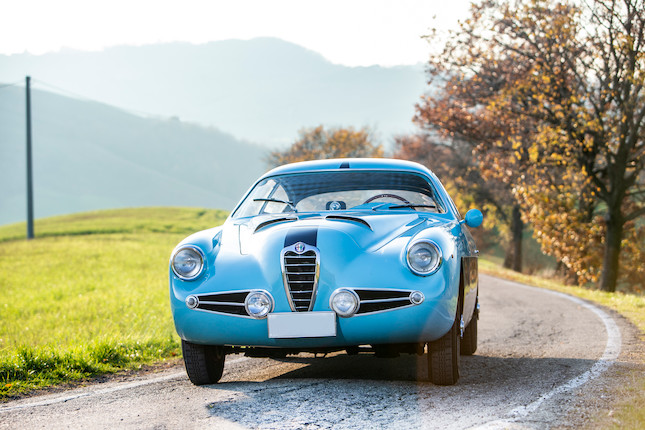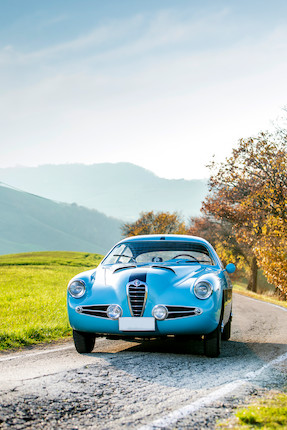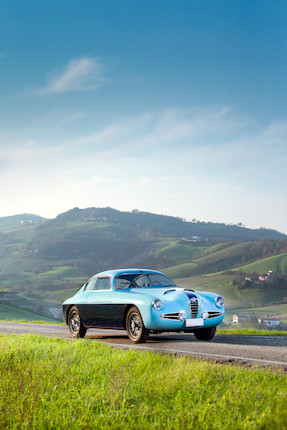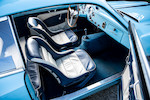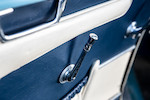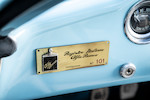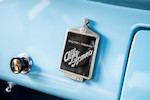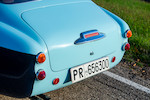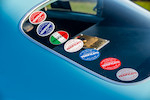 1955 Alfa Romeo 1900C SZ Coupé
Coachwork by Carrozzeria Zagato
Amended
6 February 2020, 14:00 CET
Paris, The Grand Palais
Sold for €724,500 inc. premium
Own a similar item?
Submit your item online for a free auction estimate.
How to sell
Looking for a similar item?
Our Collector Cars specialists can help you find a similar item at an auction or via a private sale.
Find your local specialist
Ask about this lot
Philip Kantor
International Chairman for Motoring
1955 Alfa Romeo 1900C SZ Coupé
Coachwork by Carrozzeria Zagato
Chassis no. AR 1900C.02062
•Matching numbers engine and chassis
•Conrero-prepared engine from new
•Present family ownership since 1991
•Professionally restored in Italy the early 1990s
•Eligible for the Mille Miglia

Footnotes
According to Alfa Romeo's Centro Documentazione, chassis number '02062' left the factory fitted with engine number '1308.01045' on 21st May 1955. The car was sold new to Alfa's Milanese neighbours Carrozzeria Zagato to be clad with their distinctive bodywork, as evidenced by the invoice on file date 25th October 1955.

According to accompanying documentation, the first owner was Mr Esteban Sala of Barcelona, Spain. A racing driver, Mr Sala participated in various editions of the Coppa Montjuich Rally among other races, although it is not known if he used this car for those events.

As Mr Sala had the engine prepared by the well-known Turin-based Alfa Romeo specialist tuner, Conrero, it is highly likely that this car was used for racing in period. A letter from Conrero to a later owner confirms that the engine was extensively modified by them. The engine's original specification included four Weber 45 DOE carburettors (later replaced with Solex 40 PIIs); balancing of the crankshaft, flywheel and clutch; modifications of the intake systems and valve seats; different camshafts; Conrero-type competition pistons, and a higher compression ratio of 9:1. The suspension was left standard, although the stock shock absorbers were specially adjusted. The original power output with the Weber carburettors was 150bhp, a substantial increase over the standard 115 horsepower. (Conrero estimated the power output with the later Solex carburettors to be in the region of 125bhp).

The list of owners as per a US-based dealer who sold the car to the current custodian's father is as follows:
Esteban Sala of Barcelona, Spain
Claude Levy of Switzerland (there are photocopies of a photograph apparently taken at the 10th Lyon-Charbonnières Rally depicting an Alfa Romeo 1900 Zagato with Geneva number plates)
Alexander Thompson of York, Pennsylvania
Thomas M Spencer of Salt Lake City, Utah (correspondence on file between Conrero and Spencer dates from 1959)
R L Zwart of El Toro, California (he apparently repaired earlier front-end damage with a glassfibre wing and bonnet)
Dr Douglas Rucker of Virginia
Bob and Patricia Taylor
Stephen Schwartz

According to the list, Stephen Schwartz owned the car from 1978 until 1990 when he sold it to Barry Russinof of Miami-based dealers Auto Strada. Barry Russinof sold the car as a project to the current owner's father in 1991. Apparently, Mr Schwartz recorded that he found traces of the (possibly) original light blue colour under the dashboard, and it is believed that the doors were a darker blue.

Imported into its native Italy in 1991, the Alfa was comprehensively restored: the bodywork being entrusted to well-respected specialist Emilio Galbiati of Milan while the mechanicals were overhauled by Preparazioni Mendogni near Parma. Mendogni's documentation of the work recorded that some 383 hours were spent on the mechanicals alone. The car was finished in time for the 1993 Mille Miglia retrospective. Since then it has been regularly maintained and has participated in various editions of the Vernasca Silver Flag hill climb (in 2006, 2007, 2008, 2011, 2014 and 2016).

Now nicely patinated, both inside and out, the car still presents beautifully, while on a recent test-drive a Bonhams specialist was able to experience first-hand the capabilities of this amazing Alfa Romeo. This stunning car is offered with an ASI certificate; FIVA passport (now expired); Italian registration documents; and a wealth of documentation and correspondence from previous owners and other parties, including Alfa Romeo and Conrero.

With only some 38 examples built with Zagato's lightweight body, and very few equipped with a Conrero-prepared engine from new, this rare Alfa Romeo 1900C deserves close inspection and is eligible for a wide variety of competitive and touring events including the Mille Miglia retrospective.

Alfa Romeo 1900C SZ coupé 1955
Carrosserie Zagato
Châssis n° AR 1900C.02062

•Numéros moteur et châssis concordants
•Moteur préparé par Conrero d'origine
•En possession de l'actuelle famille depuis 1991
•Restaurée professionnellement en Italie au début des années 1990
•Éligible aux Mille Miglia

Selon le Centro Documentazione d'Alfa Romeo, le châssis numéro 02062 a quitté l'usine avec le moteur numéro 1308.01045 le 21 mai 1955. La voiture a été vendue au voisin Milanais d'Alfa Romeo, la carrozzeria Zagato pour être revêtue de leur carrosserie caractéristique, comme le confirme la facture au dossier en date du 25 octobre 1955.

Selon la documentation fournie, le premier propriétaire était M. Esteban Sala de Barcelone, en Espagne. Pilote, M. Sala participa à diverses éditions de la Coppa Montjuich entre autres courses, bien que l'on ne soit pas certain qu'il utilisât cette voiture pour ces épreuves.

Comme M. Sala avait fait préparer son moteur par le fameux préparateur de Turin spécialiste des Alfa Romeo, Conrero, il est plus que probable que cette voiture ait été utilisée pour courir à l'époque. Une lettre de Conrero à un propriétaire plus tardif confirme que le moteur avait été profondément modifié par eux. Les spécifications d'origine du moteur comprenaient quatre carburateurs Weber 45 DCOE (plus tard remplacés par des Solex 40 PIIs), l'équilibrage du vilebrequin, du volant moteur et de l'embrayage, des modifications au système d'admission et aux sièges de soupapes, des arbres à cames différents, des pistons Conrero type compétition et un taux de compression plus élevé de 9 : 1. La suspension de série fut conservée, mais les amortisseurs de série furent spécialement ajustés. La puissance d'origine avec les carburateurs Weber était de 150 ch, un accroissement substantiel par rapport aux 115 ch de série. (Conrero estimait que la puissance avec les carburateurs Solex se situait aux alentours de 125 ch).

La liste des propriétaires selon le concessionnaire américain qui a vendu la voiture au père de l'actuel propriétaire est la suivante :

Esteban Sala de Barcelone, Espagne
Claude Levy de Suisse (photocopie d'un cliché apparemment pris lors du 10e rallye Lyon-Charbonnières, représentant l'Alfa Romeo 1900 Zagato avec des plaques de Genève)
Alexander Thompson d'York, en Pennsylvanie
Thomas M. Spencer de Salt Lake City, Utah (correspondance au dossier entre Conrero et Spencer datée de 1959)
R. L. Zwart d'El Toro, Californie (il a apparemment fait réparer des dommages à l'avant avec un capot et une aile en fibre de verre)
Dr Douglas Rucker de Virginie
Bob et Patricia Taylor
Stephen Schwartz

Selon cette liste, Stephen Schwartz a possédé la voiture de 1978 à 1990, lorsqu'il l'a vendue à Barry Russinof, le concessionnaire Auto Strada de Miami. Barry Russinof a vendu la voiture comme projet de restauration au père de l'actuel propriétaire en 1991. Apparemment, M. Schwartz mentionnait qu'il avait trouvé des traces de ce qui pourrait être la couleur bleu clair originale sous le tableau de bord et on pense que les portes étaient d'un bleu plus foncé.

Importée dans son Italie natale en 1991, l'Alfa Romeo a été entièrement restaurée. La carrosserie a été confiée au très respecté spécialiste Emilio Galbiati de Milan, tandis que la mécanique était révisée par Preparazioni Mendogni près de Parme. La documentation du travail de Mendogni montre que 383 heures ont été passées sur la mécanique seule. La voiture a été finie à temps pour la rétrospective des Mille Miglia 1993. Depuis, elle a été régulièrement entretenue et a participé à diverses éditions de la course de côte du Silver Flag à Vernasca (en 2006, 2007, 2008, 2011, 2014 et 2016).

Désormais joliment patinatée, tant à l'intérieur qu'à l'extérieur, la voiture se présente toujours bien et un spécialiste de Bonhams lors d'un essai récent a pu faire l'expérience des capacités de cette incroyable Alfa Romeo. Cette étonnante voiture est vendue avec un certificat ASI, son passeport FIVA (aujourd'hui périmé) ses papiers d'immatriculation italienne et une riche documentation et correspondance des précédents propriétaires et autres parties, incluant Alfa Romeo et Conrero.

Avec seulement 38 exemplaires construits avec la carrosserie Zagato allégée et bien peu équipées avec un moteur préparé par Conrero d'origine, cette rare Alfa Romeo 1900C mérite une attention toute particulière et est éligible pour tout un ensemble de manifestations touristiques ou compétitives incluant les Mille Miglia.
Saleroom notices
Please note that the correct denomination of the car is Alfa Romeo 1900 C SS Zagato. Veuillez noter que la dénomination correcte de cette auto est Alfa Romeo 1900 C SS Zagato.