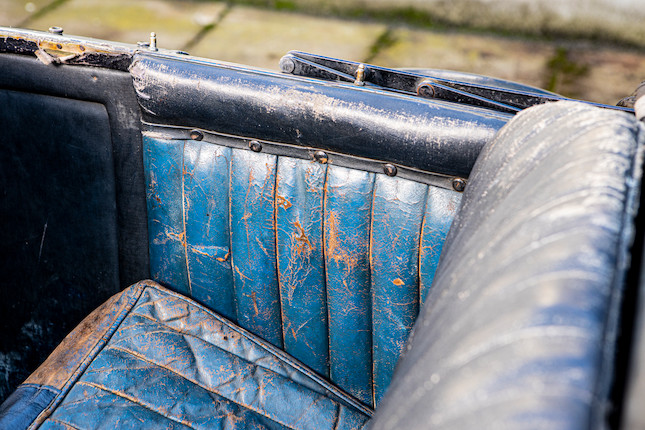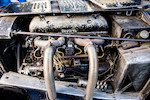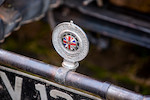 1931 Invicta 4½-Litre S-Type Low Chassis Sports 'Scout'
Coachwork by Carbodies Chassis no. S75 Engine no. LG6/451/S4
6 February 2020, 14:00 CET
Paris, The Grand Palais
Sold for €1,610,000 inc. premium
Own a similar item?
Submit your item online for a free auction estimate.
How to sell
Looking for a similar item?
Our Collector Cars specialists can help you find a similar item at an auction or via a private sale.
Find your local specialist
Ask about this lot
Philip Kantor
International Chairman for Motoring
1931 Invicta 4½-Litre S-Type Low Chassis Sports 'Scout'
Coachwork by Carbodies
Chassis no. S75
Engine no. LG6/451/S4
•One of the finest sports cars of the Vintage era
•Un-restored: original paintwork, interior, engine, etc
•Known history dating back to the 1930s
•Present family ownership since 2009
•Gearbox professionally rebuilt in 2010
•Guaranteed entry to the most prestigious events worldwide
Footnotes
In an era when most cars stood tall, the 4½-litre S-Type Invicta, with its dramatically lowered chassis, caused a sensation: few sports cars before or since have so looked the part. The Invicta Company's origins go back to 1924 when Noel Macklin and Oliver Lyle, both of whom had motor industry experience, got together to create a car combining American levels of flexibility and performance with European quality and roadholding.

Like the contemporary Bentley, the Invicta was produced to an exemplary standard. Price was only a secondary consideration, a factor that contributed largely to both firms' failure to weather the Depression years of the early 1930s. The final Invicta left the factory, appropriately enough, on Friday 13th October 1933, though a handful of cars was assembled at the company's service depot between 1934 and 1936. It is estimated that approximately 1,000-or-so Invictas of all types were made.

Apart from a handful of prototypes, all Invictas were powered by the tireless six-cylinder engines made by Henry Meadows. Launched at the 1930 Olympia Motor Show, the S-type featured an new under-slung chassis that achieved a much lower centre of gravity by positioning the rear axle above the frame rails instead of below as was normal practice at the time. Like most low-revving engines, the 4½-litre Meadows delivered ample torque in the lower and middle speed ranges. Indeed, the Invicta can be throttled down to 6-8mph in top gear, despite its relatively high 3.6:1 final drive ratio, and will then accelerate rapidly and without complaint when the accelerator is depressed.

The popular '100mph Invicta' tag notwithstanding, standard cars had a – still impressive – top speed of around 95mph with more to come in racing trim. However, it must be stressed that the S-type Invicta was primarily a very fast but comfortable high-speed touring car, its greatest attribute being an ability to cover a substantial mileage at high average speeds with no strain, either to driver or the machinery.

Invictas are about as indestructible in normal use as a car can be. Approximately 68 of the 75-or-so S-types built are known to survive and most are in excellent order, testifying to the fact that they have always been regarded as high quality motor cars. Indeed, in pre-war days there was a club dedicated exclusively to the model and members famously christened individual cars with names like 'Scythe', 'Scrapper' and 'Sea Lion'. 'S75' was named 'Scout'.

In The Invicta S-Type Low Chassis (Invicta Publishing, 2015) 'S75' is recorded as purchased in 1938 by Henry Pether, who would maintain it in original and un-restored condition for almost 60 years. Remarkably, with the exception of necessary mechanical overhauls, the car remains in that wonderfully patinated condition today, almost certainly making it unique among surviving S-Type Low Chassis Invictas.

Registered as 'OV 1296', the S-Type had been delivered new in 1931 to Lord Ebury, who owned the car until 1938 when it was sold to one Norman Ruck. Henry Pether was the third owner. The immediately preceding (German) owner, Mr Martin Kölnberger of Aachen, purchased 'S75' from Henry Pether in February 1995. 'S75' was supplied with a spare engine to racing specification ('LG6/451/S4'), which was rebuilt by a specialist in the 1990s and is currently installed, while the original engine ('7478') is included in the sale. The gearbox also has been rebuilt (bill on file). While belonging to Mr Kölnberger, the Invicta was raced by him at the Classic Le Mans, achieving a speed of 185km/h (with the race engine and foldable windscreen fitted) and also won the prize for 'Best Un-restored Car' at the Concours Bagatelle in Paris in 2001.

The current vendor purchased 'S75' from Mr Kölnberger in July 2009 and reregistered the Invicta in his daughter's name in April 2016. On a recent test drive with a Bonhams consultant, the Invicta started, ran and drove beautifully.

Retaining its original UK registration, 'OV 1296', the car comes with a well prepared history file containing old registration documents, expired MoTs and tax discs, and a current UK V5C Registration Certificate. The original (non-folding) windscreen and side screens are included in the sale.

The Low Chassis Invicta S-Type is now regarded as one of the most desirable pre-war sports cars, sought after by collectors for its exceptional driving abilities, style and sheer presence. A guaranteed entry at the most prestigious rallies, concours events and race meetings around the world, the Low Chassis has an enviable reputation amongst connoisseurs and examples are to be found in some of the most important private collections.

Please note if you wish to bid on this Lot, special formalities are required. Contact Client Services at +44 20 7447 7447 or [email protected] at least 24-hours in advance of the sale. Please also note Online Bidding is not available for this Lot.

Invicta 4½ Litre Type S châssis sport surbaissé, « Scout » 1931
Carrosserie Carbodies
Châssis n° S75

•Une des plus remarquables sportives de l'ère vintage
•Non restaurée, peinture, intérieur, moteur, etc d'origine
•Historique connu remontant aux années 1930
•En possession de l'actuelle famille depuis 2009
•Boîte de vitesses refaite par un professionnel en 2010
•Inscription garantie dans les événements internationaux les plus prestigieux

À une époque où la plupart des voitures étaient hautes sur pattes, l'Invicta 4½ Litre Type S, avec son châssis particulièrement surbaissé fit sensation. Peu de sportives avant elle et jusqu'à aujourd'hui se sont montrées aussi originales. Les origines de la société Invicta remontent à 1924, lorsque Noel Macklin et Oliver Lyle, tous deux ayant déjà une longue expérience dans l'industrie automobile, s'associèrent pour créer une voiture combinant le niveau de souplesse et de performances des modèles américains avec la tenue de route et la qualité des modèles européens.

À l'instar des Bentley contemporaines, l'Invicta était construite au plus haut niveau de qualité. Le prix était une considération annexe, un facteur qui contribua à la faillite des deux firmes qui ne survécurent pas à la dépression du début des années 1930. De manière assez ironique, la dernière voiture quitta l'usine, le vendredi 13 octobre 1933, bien qu'une poignée de modèles aient encore été assemblée aux entrepôt de la société, entre 1934 et 1936. On estime qu'environ 1 000 Invicta de tous types furent construites.

En dehors de quelques prototypes, toutes les Invicta étaient propulsées par l'infatigable six cylindres construit par Henry Meadows. Lancée lors du salon de 1930 à l'Olympia, la Type S recevait un châssis surbaissé qui lui offrait un centre de gravité bien plus bas, grâce au positionnement de l'essieu arrière au-dessus des longerons du châssis, plutôt que dessous, comme il était de mise à l'époque. Comme la plupart des moteurs à régime lent, le six cylindres Meadows fournissait un couple généreux à bas et moyen régime. De fait, avec l'Invicta, on peut accélérer à partir de 6-8 mph (10-13 km/h) sur le rapport supérieur, malgré un rapport de pont assez élevé de 3,6 à 1, et elle file sans faire d'histoire lorsqu'on appuie sur l'accélérateur.

En dehors de celles portant la fameuse étiquette « 100 mph Invicta », les voitures de série offraient une – toujours impressionnante - vitesse de pointe de 95 mph (153 km/h) et bien plus encore, en version compétition. Quoiqu'il en soit, il faut souligner que les Invicta Type S étaient avant tout des voitures de tourisme rapides et confortables, leur plus grande aptitude étant les longs kilométrages à des moyennes élevées sans fatigue ni pour la machine, ni pour son conducteur.

Ces Invicta sont aussi indestructibles que peut l'être une automobile en usage normal. Environ 68 des 75 Type S construites ont survécu et la plupart sont en excellent état, témoignant du fait qu'elles ont toujours été considérées comme des automobiles de qualité supérieure. Avant-guerre, il y avait déjà un club dédié exclusivement à ce modèle et les membres baptisaient leur voiture de noms tels que « Scythe » (faux), « Scrapper » (bagarreur) ou « Sea Lion » (lion de mer). S75 était surnommée « Scout » (éclaireur).

Dans The Invicta S-Type Low Chassis (Invicta Publishing, 2015) S75 est enregistrée comme ayant été achetée en 1938 par Henry Pether, qui allait la conserver dans son état d'origine sans la restaurer pendant presque 60 années. De manière incroyable, à l'exception des révisions mécaniques indispensables, elle est resté dans un magnifique état patiné, ce qui la rend sans conteste unique parmi les Invicta Type S à châssis surbaissé survivantes.

Immatriculée OV 1296, la Type S a été livrée neuve en 1931 à Lord Ebury, qui a gardé la voiture jusqu'en 1938 lorsqu'il la vendit à un certain Norman Ruck. Henry Pether fut le troisième propriétaire. Le précédant propriétaire (allemand), M. Martin Kölnberger d'Aix-la-Chapelle, a acheté S75 à Henry Pether en février 1995. S75 fut vendue avec un moteur de rechange aux spécifications course (LG6/451/S4), refait par un spécialiste dans les années 1990 et actuellement installé sur la voiture, tandis que le moteur original (7478) est compris dans la vente. La boîte a également été refaite (facture au dossier). Lorsqu'elle appartenait à M. Kölnberger, l'Invicta a été engagée au Mans Classic, où elle a atteint 185 km/h (avec le moteur course et le pare-brise rabattable) et a également remporté le prix de la « meilleur voiture non restaurée » au Concours de Bagatelle à Paris en 2001.

Le vendeur a acheté S75 à M. Kölnberger en juillet 2009 et l'a immatriculée au nom de sa fille en avril 2016. Lors d'un récent essai avec l'un des consultants de Bonhams, l'Invicta a parfaitement démarré et s'est comporté magnifiquement.

Portant toujours son immatriculation originale du Royaume-Uni, OV 1296, la voiture est vendue avec un dossier historique bien préparé, contenant d'anciens papiers d'immatriculation, des MoT et ses disques de taxes périmés et un certificat d'immatriculation UK V5C. Le pare-brise original (non rabattable) et les écrans latéraux sont inclus dans la vente.

L'Invicta Type S à châssis surbaissé fait aujourd'hui partie des sportives d'avant-guerre les plus recherchées par les collectionneurs pour son comportement exceptionnel, son style et sa prestance. Une parfaite garantie d'inscription aux manifestations, rallyes et concours internationaux les plus prestigieux, cette « châssis surbaissé » jouit d'une réputation des plus enviables auprès des connaisseurs et on en trouve des exemplaires dans les collections privées les plus importantes.

Veuillez noter que des formalités spéciales d'enregistrement seront exigées si vous souhaitez enchérir sur ce lot. Contactez notre service clients au +44 20 7447 7447 / [email protected] au moins 24 heures avant la vente. Veuillez aussi noter que les enchères en ligne ne seront pas disponibles pour ce lot.