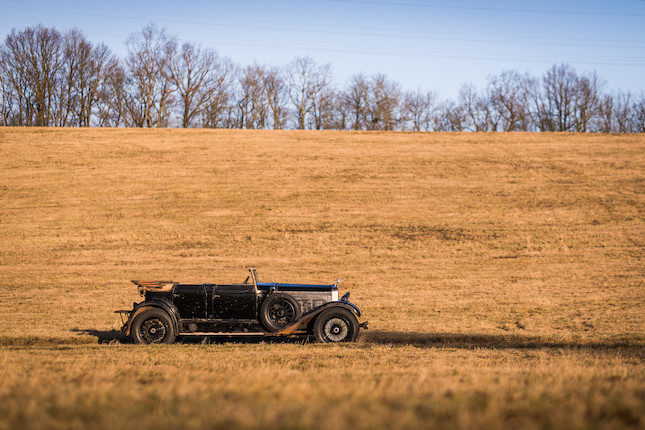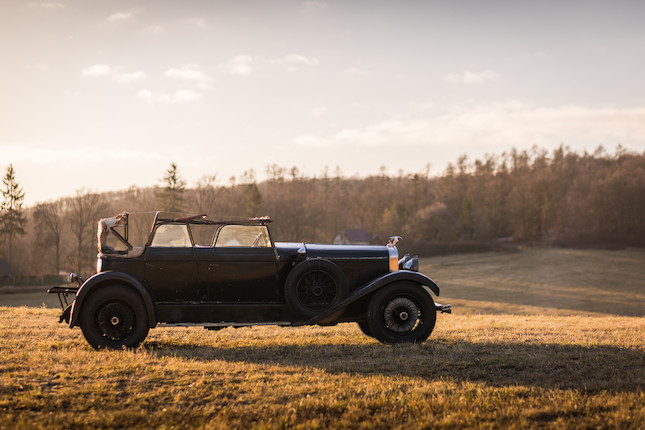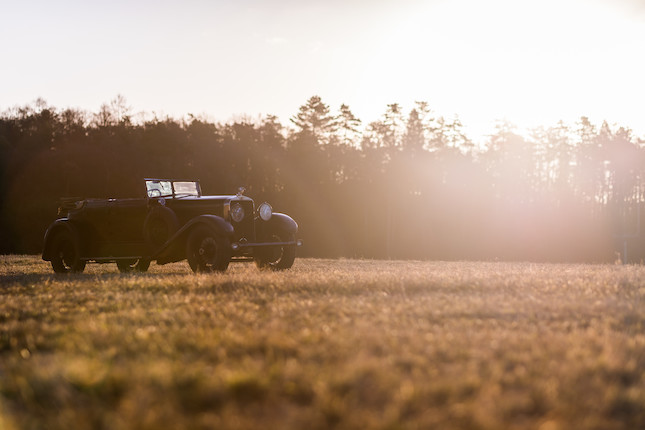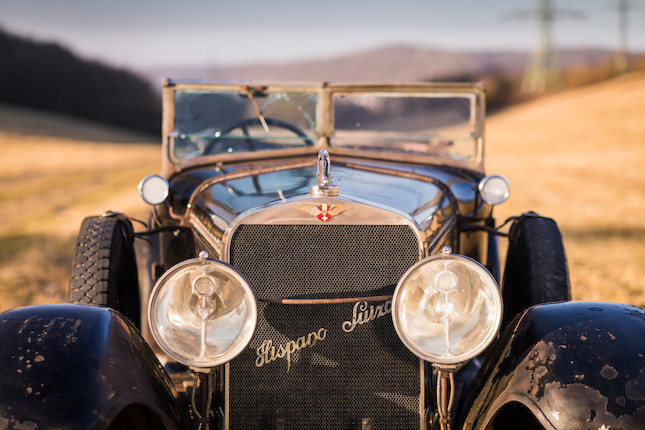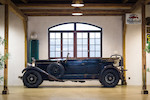 1926 Hispano-Suiza H6B Convertible Phaeton
Coachwork by Derham - Licensed by Hibbard & Darrin Chassis no. 11392 Engine no. 301424
6 February 2020, 14:00 CET
Paris, The Grand Palais
Sold for €333,500 inc. premium
Own a similar item?
Submit your item online for a free auction estimate.
How to sell
Looking for a similar item?
Our Collector Cars specialists can help you find a similar item at an auction or via a private sale.
Find your local specialist
Ask about this lot
Philip Kantor
International Chairman for Motoring
1926 Hispano-Suiza H6B Convertible Phaeton
Coachwork by Derham - Licensed by Hibbard & Darrin
Chassis no. 11392
Engine no. 301424
6,597cc SOHC Inline 6-Cylinder Engine
160bhp at 3,000rpm
3-Speed Manual Transmission
4-Wheel Leaf Spring Suspension
4-Wheel Servo-Assisted Mechanical Drum Brakes

*Luxurious French Classic Era Automobile
*Owned by Countess Mildred Harrison von Holstein
*Lovely Convertible Phaeton Derham aluminum coachwork
*Eligible for the most prominent Concours events, restored or preserved



Footnotes
HISPANO-SUIZA

The choice of European royalty, Indian Maharajahs, Hollywood film stars and industrial tycoons, the legendary Hispano-Suiza was superbly engineered and imitated unashamedly by some of the world's leading car manufacturers.

The genius of Swiss engineer Marc Birkigt had been proven by Georges Guynemer's 'Escadrille Cigogne' (Stork Squadron), of Hispano-Suiza-engined Spad fighter planes in World War I. It was this same brilliance that was reflected in the sensational and finely engineered new H6 cars built in Paris at the Bois Colombes factory and unveiled to the world in 1919. The H6B model followed for the 1922 season.

For the first time in 1919 the radiator emblem 'La Cigogne Volante' appeared, the insignia of Captain Georges Guynemer's Stork Squadron of Hispano-Suiza-engined Spads. The mascot adorned the radiator of the new H6, an all-new six-cylinder car of 6,597cc capacity which was to be the mainstay of production for some fifteen years. The model was renowned for its ease of handling, the flexibility of its engine – which necessitated only a three-speed gearbox – and its efficient servo-assisted brakes, a design later to be adopted by Rolls-Royce. Subsequent significant developments of the H6 included the Monza and the exciting short chassis 8-liter Boulogne.

Reflecting aero engineering technology, the new car made the other 'hyphenated greats', Rolls-Royce, Isotta-Fraschini and Pierce-Arrow, take notice. The H6B Hispano-Suiza found favor with the rich, the discerning and the famous.


THE MOTORCAR OFFERED

H6B chassis number 11392 and engine number 301424 was delivered by the Hispano-Suiza factory at Bois-Colombes on January 14th, 1926, to the Hispano-Suiza agency of Paul Bablot in Marseille. The Bablot agency delivered 11392 to a private customer by the name Giraud. It remains unknown if 11392 was delivered a bare chassis, or had coachwork fitted at this point. Sometime in 1927, 11392 was exported to the US, presumably by the American agent for Hispano-Suiza, Clarke D. Pease Inc. of New York. During 1928, the car received the bespoke and very elegant aluminum Convertible Phaeton Coachwork which it wears today, crafted by the Derham Body Co., Inc. of Pasadena, California. Period pictures of the car can be found in the impressive history file accompanying the Hispano-Suiza, and the original coach builders' tags can be found on both sides of the scuttle. Recently, an original manufacturer's label, stamped DERHAM BODY CO., was still attached to the spring inside the bottom of a seat. The coachwork design on 11392 was first initiated by stylist Howard Darrin of French coachbuilders Hibbard & Darrin fame and called Torpédo Transformable, and was duly licensed in the USA by Derham, Dietrich and other prominent American coachbuilders.

What makes the Derham body on 11392 stand-out is the specific windshield frame and the way its supports are shaped that make up the A-pillar. Other distinct details are the high waistline and the recessed moldings in the top of the doors. One interesting reference to 11392 was made in the Hispano-Suiza Society Newsletter of October 1985, when its editor, the late Jules Heumann, published a picture of 11392, adding the caption: "This interesting phaeton was for Countess von Holsteid and was constructed by Derham to a Hibbard and Darrin design." Holsteid, no doubt, should be Holstein. who is believed to have been the next owner of 11392. Today, a beautiful monogram is preserved on both of the rear doors. It shows a coronet with 9 visible tines with pearls, with the stylized letters M H underneath. Exactly this type of coronet was formerly used in the heraldic tradition of counts and countesses in Germany, France, Spain and Portugal.

Count Karl von Holnstein aus Bayern (1877-1916 - killed in action during WWI), married Mildred Harrison (1881-1942) in 1905 then becoming Countess Mildred Harrison von Holnstein of Villanova. Her name was very often misspelled - even in the period - Holstein not Holnstein. Many period articles about the Count and Countess are incorporating the aforementioned history file. When reading through the history of The Derham Body Co. on www.coachbuilt.com, written by Mark Theobald, the following paragraph are of interest: "One successful Derham body design of 1928 was a 4-passenger Convertible Phaeton originally built on a Hispano-Suiza chassis for the Countess Holstein. While on display in the Lancaster Ave showroom, Derham managed to sell two duplicates to two prominent Philadelphia citizens, Mr. Thomas Gimbel, the son of Jacob Gimbel, the founder of Gimbel's Department Stores and socialite Miss Eloise Geist, the daughter of Clarence Henry Geist, a Philadelphia utility magnate and Florida real estate developer." The period pictures of 11392 was taken in front of the service entrance to Geist residency in Villanova, where the Countess lived.

11392 was discovered in recent years in Michigan on the ranch of a Mr. Carruthers, a friend of Jerry Sherman of Malvern, Pennsylvania. The Carruthers collection included no less than three Hispano-Suizas, two H6Bs and one H6C. Carruthers and Sherman had started collecting Hispanos in the 1950s, when such prominent cars could still be found languishing on the estates of the wealthy people who had bought them new. After Mr. Carruthers' death the cars were dispersed and 11392 spent a couple of years with collector car dealer Platinum Classics, who were so sensible to keep the car in its preserved condition and just giving it some TLC. Later, 11392 was acquired by a well-known East Coast dealer, who sold the Hispano-Suiza to the present owner, and experienced European Hispano-Suiza connoisseur. Today, the car is described as being highly original, correct and complete. The engine runs but needs to be fully restored for road use. This fine automobile would be welcomed at the most prominent Concours d'Elegance events around the world, and offers exciting styling and sophisticated, Hispano-Suiza engineering.

Hispano-Suiza H6B phaéton cabriolet 1926
Carrosserie Derham - Licence Hibbard & Darrin

Châssis n° 11392
Moteur n° 301424

Moteur 6 cylindres en ligne 6 597 cm3 simple arbre à cames en tête
160 ch à 3 000 tr/min
Transmission manuelle à 3 rapports
Suspension par ressort à lames aux 4 roues
Freins à tambour mécaniques servo-assistés aux 4 roues

*Luxueuses automobile française de la période classique
*Propriété de la comtesse Mildred Harrison von Holnstein
* Séduisante carrosserie phaéton cabriolet Derham en aluminium
*Éligible aux plus grands concours, restaurée ou en l'état


HISPANO-SUIZA

Choisies par les familles royales européennes, les Maharajahs indiens, les stars d'Hollywood et les capitaines d'industrie, les mythiques Hispano-Suiza étaient des chefs-d'œuvre mécaniques et furent imitées sans vergogne par quelques-uns des plus grands constructeurs du monde.

Le génie de l'ingénieur suisse Marc Birkigt avait été mis en valeur par l'escadrille des cigognes de Georges Guynemer et ses chasseurs Spad à moteur Hispano-Suiza au cours de la première guerre mondiale. C'était ce même génie qui se retrouvait dans l'extraordinaire raffinement technologique des voitures H6 construites près de Paris, à l'usine de Bois-Colombes et dévoilées en 1919. Le modèle H6B suivit en 1922.

Pour la première fois en 1919 apparaissait sur le radiateur l'emblème à la cigogne, l'insigne des Spad à moteur Hispano-Suiza de l'escadrille des cigognes du capitaine Georges Guynemer. Cette mascotte ornait le radiateur de la nouvelle H6, une toute nouvelle six cylindres de 6 597 cm3 qui allait restée en production pendant près de quinze ans. Le modèle était réputé pour sa tenue de route, la souplesse de son moteur – qui se contentait d'une boîte de vitesses à trois rapports – et l'efficacité de ses freins servo-assistés, une technique qu'allait adopter plus tard Rolls-Royce. Les évolutions remarquables de la H6 furent la Monza et la séduisante 8 litres Boulogne sur châssis court.

Héritant d'une technologie aéronautique, la nouvelle venue se fit remarquer par les autres « grands constructeurs à trait d'union », Rolls-Royce, Isotta-Fraschini et Pierce-Arrow. L'Hispano-Suiza H6B trouva la faveur des riches, des amateurs exigeants et des célébrités.


LA VOITURE PROPOSÉE

La H6B châssis numéro 11392 et moteur numéro 301424 a été livrée par l'usine Hispano-Suiza de Bois-Colombes le 14 janvier 1926, à l'agence Hispano-Suiza de Paul Bablot à Marseille. L'agence Bablot livra 11392 à un particulier du nom de Giraud. On ignore si 11392 a été livrée en châssis nu ou si elle avait déjà sa carrosserie à ce moment-là. Aux environs de 1927, 11392 a été exportée aux États-Unis, probablement par l'agent américain d'Hispano-Suiza, Clarke D. Pease Inc. de New York. Au cours de l'année 1928, la voiture reçut l'élégante carrosserie cabriolet phaéton sur mesure en aluminium qu'elle porte aujourd'hui, réalisée par Derham Body Co. Inc. de Pasadena, en Californie. Des photos d'époque se trouvent dans le volumineux dossier historique qui accompagne l'Hispano-Suiza et la plaque carrossier originale se trouve de chaque côté de l'auvent.

Récemment, une plaquette d'origine du constructeur estampillée Derham Body Company fut trouvé attachée à l'un des ressorts sous l'un des sièges. Le dessin initial de la caisse de 11392 qui s'appelait « torpédo transformable » était dû au styliste Howard Darrin du carrossier français Hibbard & Darrin et fut dûment licencié aux États-Unis par Derham, Dietrich et d'autres éminents carrossiers américains.

Ce qui rend la carrosserie de Derham sur 11392 remarquable est son cadre de pare-brise et la façon dont ses supports sont arrangés pour constituer le montant avant. Les autres détails particuliers sont sa haute ceinture de caisse et les moulages en creux en haut des portes. Une intéressante mention de 11392 se trouve dans la newsletter de l'Hispano-Suiza Society d'octobre 1985, où son rédacteur en chef, feu Jules Heumann, a publié une photo de 11392 avec cette légende : « Cet intéressant phaéton était destiné à la comtesse von Holsteid et a été réalisé par Derham sur un dessin de Hibbard et Darrin ». Il ne fait aucun doute que Holsteid soit en fait Holnstein qui fut, pense-t-on, la propriétaire suivante de 11392. Aujourd'hui, un superbe monogramme est préservé sur chacune des portes arrière. Il montre une couronne à 9 fleurons, surmontés de perles avec les initiales stylisées M H au-dessous. Exactement le type de couronne que l'on trouve dans la tradition héraldique pour les comtes et comtesses en Allemagne, en France, en Espagne et au Portugal.

Le comte Karl von Holnstein aus Bayern (1877-1916 – tué au combat pendant la première guerre) avait épousé Mildred Harrison (1881-1942) en 1905 qui était alors devenue la comtesse Mildred Harrison von Holnstein de Villanova. Son nom fut souvent mal orthographié – même à l'époque - Holstein et pas Holnstein. De nombreux articles de l'époque sur le comte et la comtesse reprennent la fiche historique mentionnée ci-dessus. Lorsque l'on consulte l'histoire de Derham Body Co. sur www.coachbuilt.com, écrite par Mark Theobald, le paragraphe suivant est intéressant : « L'un des dessins de carrosserie les plus réussis de Derham en 1928 était un cabriolet phaéton 4 places à l'origine construit sur un châssis Hispano-Suiza pour la Comtesse Holstein. Au cours de l'exposition au showroom de Lancaster Ave, Derham réussit à vendre deux copies à d'éminents citoyens de Philadelphie, M. Thomas Gimbel, fils de Jacob Gimbel, fondateur des grands magasins Gimbel's et la mondaine Miss Eloise Geist, fille de Clarence Henry Geist, magnat des services publics de Philadelphie et investisseur immobilier en Floride ». La photo d'époque de 11392 a été prise devant l'entrée de service de la résidence Geist à Villanova, où vivait la Comtesse.

11392 fut découverte il y a peu dans le Michigan, dans le ranch de M. Carruthers, un ami de Jerry Sherman de Malvern, en Pennsylvanie. La collection Carruthers comprenait pas moins de trois Hispano-Suiza, deux H6B et une H6C. Carruthers et Sherman avait commencé à collectionner les Hispano dans les années 1950, quand on pouvait encre trouver ce genre de voitures abandonnées dans les propriétés de gens aisés qui les avaient achetées neuves. Après la mort de M. Carruthers les voitures furent dispersées et 11392 passa quelques années chez le marchand de voitures anciennes Platinum Classics qui eut le bon sens de préserver la voiture dans son état ne lui accordant que quelques soins attentionnés. Plus tard, 11392 fut acquise par un agent bien connu de la côte est qui vendit l'Hispano-Suiza à son actuel propriétaire, un restaurateur d'Hispano-Suiza européen expérimenté. Aujourd'hui, la voiture est décrite comme globalement originale, conforme et complète. Le moteur tourne, mais aurait besoin d'une restauration complète pour être utilisé sur la route. Cette remarquable automobile sera bien accueillie dans les plus importants Concours d'Élégance du monde et représente un style séduisant et une technologie sophistiquée typiques des Hispano-Suiza.