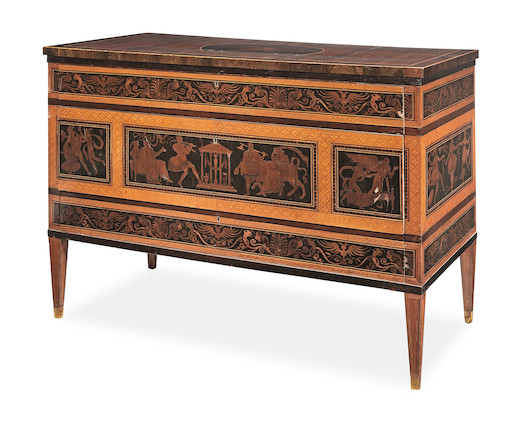 A pair of Italian early 19th century rosewood, ebony, purplewood, sycamore marquetry and chequer-inlaid commodes all'antica by Karl Amadeus Roos (1775-1837)
18 December 2020, 14:00 GMT
London, New Bond Street
Own a similar item?
Submit your item online for a free auction estimate.
How to sell
Looking for a similar item?
Our Home and Interiors specialists can help you find a similar item at an auction or via a private sale.
Find your local specialist
Ask about this lot
Thomas Moore
Head of Department
A pair of Italian early 19th century rosewood, ebony, purplewood, sycamore marquetry and chequer-inlaid commodes all'antica by Karl Amadeus Roos (1775-1837)
Each with a rectangular top inlaid with a central compass rose oval within lozenge and feather banded surrounds, above one long drawer inlaid with a frieze of alternating palmettes, scrolled foliate cornucopiae and harpie busts, over a deep drawer inlaid with one central tablet flanked by two smaller tablets, each within a chevron border encompassed by a stylised foliate pattern, one commode with scenes depicting figures about to sacrifice a bull at a temple, a dancer playing pipes and a warrior, the other inlaid with Paris and Helen of Troy, Cerberus and figures eating and drinking, the drawer below with conforming inlay to the frieze, on square tapering legs, with identically inlaid sides centred by the figures of three dancing Muses within a tablet, with walnut-lined drawers, the reverse of each commode branded: 'ROOS', one commode with a paper label inscribed in ink: 'SIGNORA, TERESA GUGLIELMI, CASTELLAMARE DI STABBIA' 118cm wide x 59cm deep x 91cm high, (46in wide x 23in deep x 35 1/2in high) (2)
Footnotes
Provenance
The present lot apparently belonged to Teresa Guglielmi some time during the latter half of the 19th century. Teresa was the daughter of, and one of five children born to, Maria Carolina Guglielmi, who was herself born with the surname Chirulli in 1831. Following her marriage to Pasquale Marzano, she became Teresa Marzano.

Teresa Guglielmi evidently lived in the Castellammare di Stabbia region which is located on the bay of Naples, not far from the city of Naples itself. However it is not known how and why the offered pair of commodes, which were most likely originally produced in Rome and probably supplied for a Roman client at the beginning of the 19th century, ended up being in Naples later on in the same century.

Karl Amadeus Roos
Roos was born in 1775 in Ludwigsburg, Germany. Following a period as an apprentice, he moved to Paris where he trained under the renowned ebeniste, Jacob. Then, at the age of 28, Roos re-located to Rome in 1804. Despite initially struggling to obtain major work, once he had done so his reputation spread rapidly and his business soon flourished. Within a short period of time, furniture by Karl Amadeus became highly fashionable among the affluent clientele of Rome, who were keen to purchase works produced by the German emigre.

By 1808, the same year in which Roos married a Roman called Felicita Mazzotti, he had already established a thriving workshop on the Via Condotti. Two years later he participated in an exhibition of Roman decorative arts held in the Campidoglio to mark the occasion of Napoleon's name day, winning the silver medal with a mahogany bureau housing various secret compartments, a Neoclassical 'Etruscan' style pier table with pietra dura top and a dressing box.

From 1811, Roos started to supply furnishings for the Palazzo Imperiale del Quirinale following the instructions of the architect Raffaele Stern (1774-1820). Stern appears to have been ultimately responsible for the refurbishment and renovation of three rooms at the Palazzo: the Sala Gialla, the Sala di Augusto and the Sala degli Ambosciatori. Among the various artistic and architectural figures involved in this Quirinale project Roos was evidently the pre-eminent cabinet maker. This was due not only to the quality and quantity of the furniture executed in the Roos workshop between 1811 and 1813 but also because of its renowned beauty and practicality.

A detailed list appears in Il Palazzo del Quirinale, Il Mondo Artistico a Roma nel Periodo Napoleonico, Vol II, ed. by M. Natoli and M.A. Scarpati, of all the furnishings supplied to the Quirinale by Roos during the Napoleonic Imperial period. This record, which is both extensive and highly varied, totals a vast number of pieces including: 86 commodes, 76 tables, 36 gueridons, 36 bureaux, 36 items of seat furniture and 25 secretaires among other assorted items.

Following the restoration of the Papal States to the control of the Vatican, Roos resumed his work for the Quirinale, now called the Sacro Palazzo Apostolico (as it had in fact been known prior to the Napoleonic era), once again under renewed orders from Raffaele Stern. During the period 1815-17 Roos prepared the interiors of the apartments for the rulers of Austria in advance of their proposed visit to Rome, which didn't actually take place until 1819.

At roughly the same time Roos was commissioned to provide furniture for the Villa Borghese, the then recently built residence of Princess Paolina Borghese, among which a bookcase, a circular table with a porphyry top and a chiffonier were perhaps the most significant examples of his oeuvre at that time. His business was evidently flourishing at this point since in 1817 Roos purchased two adjacent properties on the Via della Mercede. This would remain the location of his workshops for the last twenty years of his life.

Following his death in 1837, an inventory of items reveals the prolific stature of Roos as a cabinet maker, along with the wide variety of his output. This inventory also possibly includes a reference to the present pair of commodes in the following passage, Ibid:

'La varieta di legni, tipica dell' epoca, e legata anche al rinnovato gusto per gli intarsi, che infatti sono ben rappresentati nell'Inventario a decorazione di alcuni dei pezzi piu importanti: "due commod di noce a 3 tiratori con meandro intarsiato, non finiti" (sc. 28)'

Literature
Il Palazzo del Quirinale, Il Mondo Artistico a Roma nel Periodo Napoleonico, Vol II, ed. by M. Natoli and M.A. Scarpati, 1989, Rome, pp.'s 80-3.