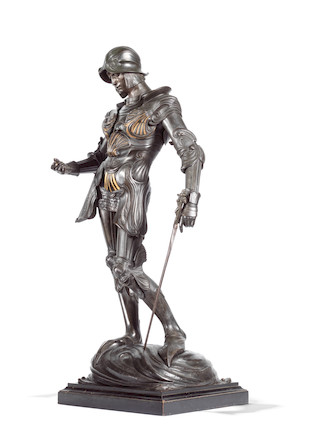 Sir Alfred Gilbert, A.R.A., R.A., M.V.O (British, 1854-1934): A rare and probably unique patinated and parcel gilt bronze 'double size' figure of St George
ordered by John Charles Williams of Werrington Park, Launceston, Cornwall directly from the sculptor and probably cast by Broad & Son, circa 1895-6
18 December 2020, 14:00 GMT
London, New Bond Street
Sold for £1,222,750 inc. premium
Own a similar item?
Submit your item online for a free auction estimate.
How to sell
Looking for a similar item?
Our Home and Interiors specialists can help you find a similar item at an auction or via a private sale.
Find your local specialist
Ask about this lot
Michael Lake
Head of Department
Sir Alfred Gilbert, A.R.A., R.A., M.V.O (British, 1854-1934): A rare and probably unique patinated and parcel gilt bronze 'double size' figure of St George
ordered by John Charles Williams of Werrington Park, Launceston, Cornwall directly from the sculptor and probably cast by Broad & Son, circa 1895-6
the figure with helmeted downcast head modelled in contrapposto and clad in elaborate armour with shell cast pauldrons and winged poleyns, one arm raised and with a slightly turned hand, the other arm down and outstretched, his straight sword with a corpus crucifix to the hilt (now lacking finial), on swirling base, raised on an ebonised shallow square plinth, the figure, 88cm high, 93cm high overall including wood plinth base
Footnotes
Provenance

John Charles (J.C.) Williams (1861-1939), Werrington Park, Launceston, Cornwall.
Ordered by J.C. Williams in 1895 as apparently the first part of a commission for four double size figure replicas, St George being the first figure representing England, the others as the second part of the commission being saints representing Ireland, Scotland & Wales (these three figures apparently never realised).
Thence by descent.

John Charles Williams (1861-1939) of Caerhays Castle, St Austell, Cornwall was an English Liberal Unionist politician, collector and keen horticulturalist, noted for his philanthropic interests in botany.

Affectionately known as 'J.C.', he was the second son of the miner, landowner and banker John Michael Williams (1813-1880) and Elisabeth Maria (d. 1884), of Caerhays Castle and was educated at Rugby School and at Trinity Hall, Cambridge.

The Williams family of Caerhays, Burncoose and Scorrier were prominent owners of mines and smelting works for several generations during the Cornish Industrial Revolution.

In 1882 'J.C.' Williams acquired the estate of Werrington, an 18th century house with earlier origins (then in Devon, but since 1974 in Cornwall) as his home and set about furnishing with furniture and artworks, some possibly from an earlier dispersal sale of the original contents but the majority acquired himself from other sources following the fashions of the day.

His own wealth combined with the fact that his elder brother Michael Williams took over running the family's business interests meant that he was able to devote time to collecting including amassing three major noted mineral collections and in particular his interests in breeding rhododendrons, camellias and daffodils amongst other plants.

He married Mary Christian Williams (1861-1922), the second daughter of Sir Frederick Martin Williams, second baronet of Tregullow in 1884 and in that same year he returned to live at Caerhays Castle when his mother died.

However, he remained Squire of Werrington Park even when he returned to his ancestral home as he reputedly enjoyed the good hunting on the Werrington estate and as such it is recorded that the he and his family lived partly at Caerhays and partly at Werrington in the late 19th and early 20th centuries.

Elected at the 1892 general election as the MP for Truro, he held the seat until he stood down at the 1895 general election and was also High Sheriff of Cornwall in 1888, and Lord Lieutenant of Cornwall from 1918–36.

During the Great War Werrington was turned over to the Red Cross becoming Auxiliary Home Hospital Werrington and accepting injured troops from the frontlines in France and Belgium. Mrs Williams is recorded as being 'Officer in Charge and Organising Secretary' and the hospital treated 1128 patients between January 1915 and March 1919.

John Charles and Mary Christian Williams had five sons and one daughter:
The Honourable Charles Williams of Caerhays Castle, Conservative MP for Tavistock 1918-1922 and Torquay 1924-1955.
John Francis Williams, killed in 1916 serving as Sub-Lieutenant of the St. George flotilla on the 'HMS Russell'.
Alfred Martin Williams, CBE, Conservative MP for North Cornwall 1924-29.
Robert Williams, killed in 1915 serving as Second Lieutenant of the 1st Guards Brigade, 2nd Battalion of the Grenadier Guards at the Battle of Loos.
Peter Michael Williams, known as 'PM', High Sheriff of Cornwall, 1952.
May Williams, who nursed her father after her mother's death.

Alfred Gilbert's St George and The Duke of Clarence Memorial

Alfred Gilberts depiction of St George can perhaps be described as the emblematic zenith of the New Sculpture movement.

However its conception and realisation on what was perhaps Gilberts most prestigious commission of the his career, that of the tomb of the The Duke of Clarence in the Albert Memorial Chapel at Windsor Castle was also the cause of much controversy.

Ten years previously however, Gilberts accent to the position of England's premier sculptor had seemed a natural and inevitable progression following the death of his former master and sculptor to the Royal family, Joseph Edgar Boehm in 1890. His success was subsequently sealed with the most prestigious commission of the day from the bereaved Prince and Princess of Wales to design a tomb for their eldest son, Prince Albert Victor, Duke of Clarence and Avondale who had tragically died from influenza on the 14th January 1892. Summoned three days after the funeral to discuss plans with the royal couple, Gilbert's preliminary sketch for the tomb of her grandson was approved by Queen Victorian on the 6th March 1892.

Although the finished tomb itself was a tour de force of the sculptors art incorporating an effigy of the recumbent Prince in his Hussar uniform beneath the figure of a kneeling angel holding a heavenly crown realised in bronze, brass, aluminium and white & coloured marble, it was the extraordinary hybrid Gothic and late Victorian surrounding grill designed to pay homage to the tombs of Cardinal Wolsey / Henry VIII that led to the inception of the figure of St George.

After seeing a monograph of the Wolsey / Henry VIII tomb prepared by the scholar Alfred Higgins and also seeing its inspiration which was the earlier tomb of Henry VII, Gilbert decided to emulate the use of such similar grills to these tombs incorporating twelve polychrome niche figures of saints into a fantastically elaborate design. The royal family were then consulted as to which saints should be represented. These were in order around the tomb, St George, The Virgin, St Elizabeth of Hungary, St Michael, St Margaret, St Patrick, St Catherine of Siena, St Edward the Confessor, St Hubert of Liege, St Ethelreda of Ely, St Nicholas of Myra and St Catherine of Egypt.

Of these saints, St George is undoubtedly the most famous and was the first to be cast. Epitomizing the last traces of Pre-Raphaelitism merging into Art Nouveau but perhaps also idiosyncratically paying homage to the armour of French and German medieval tomb figures rather than those of the Italian Renaissance, the warrior saint is depicted as a sinuous long limbed effete youth clad in fantastical separately cast armour incorporating swirling shell motifs.

The first figure of St George, cast in 'white metal' by George Broad & Son with carved ivory hands and face, was presented to the Prince and Princess of Wales. Delivered to Sandringham in November 1895 and intended as a private 'household' memorial to the Duke of Clarence it was subsequently installed in the Church of St Mary Magdalene at Sandringham.

The second figure of St George, cast in aluminium, again by George Broad & Son with carved ivory hands and face was the model that was installed at the tomb. As the first of the twelve saints surrounding the tomb to be cast, it was unveiled by Queen Victoria and positioned in its niche in July 1898.

Nevertheless at that moment in time, five figures of saints were still missing and it was not until 1928 that the tomb was actually finally completed, thirty six years after the original commission, twenty seven years after the death of Queen Victoria and seventeen years after the death of King Edward VII.

However, the epic protracted delay in completing the tomb and the associated scandal of Gilbert's improprieties in making unsolicited copies of the figure of St George not only took him away from successfully accepting and realising more profitable commissions but was also responsible for further complicating and frustrating his career.

In addition it also had a marked detrimental effect on the course of his own personal life, being in part, much of the reason for his personal bankruptcy and also a major catalyst for his hasty exit from England in 1901 to live in Bruges, Belgium in self imposed exile until 1920.

The convoluted and acrimonious story regarding the reproductions of St George which Gilbert undertook in the closing years of the late 19th and into the early 20th century is outlined and discussed by Richard Dorment in his 1986 book on the sculptor. The source of the unhappy predicament seems to have stemmed from Gilberts inability to acknowledge and accept that his designs for the tomb were exclusive to the Prince and Princess of Wales.

Nevertheless, and perhaps in spite of Gilberts indiscretions, the figures of the saints on the tomb became some of his most admired of works, with the figure of St George, as the patron saint of England perhaps being the most charismatic and emblematic.

By 1899, Gilbert is recorded as having produced a number of variant copies of the figure of St George measuring between approximately 46cm to 48cm high including an aluminium and ivory version for the patron and collector Sir William Agnew and in another infamous commission for the art dealer Robert Dunthorne a series of 'replica's' of four figures from the tomb including St. George which were sold to him for £500. These figures included some figures which had yet to be delivered to the Prince of Wales which led to the scandal where the Prince vowed never to speak to Gilbert again.

Some of this group of figures are known to have been cast at the Compagnie des Bronze, Brussels and during his time in Belgium Gilbert almost certainly continued to cast further models of St George at the foundry. This can be confirmed as the plaster model of St George was certainly already at the Compagnie des Bronzes in Brussels by the time he smashed the majority of his plaster working models in his studio in London in 1901. This dramatic action was to prevent plagiarism from copyists before leaving for Belgium and it is perhaps this plaster figure that was found in the artists studio at the time of death in 1934. It can also be validated by a reputedly later bronze figure of St George which is now in the collection of the Ashmolean. The gift of the artist Rev J. W. R. Brocklebank in 1926, it is listed (presumably from information provided to the Ashmolean by the artist) as having been cast at the Compagnie des Bronzes, circa 1910.

In addition there is also a series of correspondence in the archive of the Henry Moore Institute from Gilbert to one of his later patrons, Douglas Illingworth dating from 1909 to 1920 which mentions in 1911 the possibility of Gilbert making a series of figures for Illingworth including one of St George and there is also further mention in 1912 of producing another figure of St George for a Mr Somerset Beaumont. However further research at the Brussels State Archive of the Compagnie des Bronze fabrication books and client correspondence for this period would be required to corroborate this.

The Werrington Park 'double size' bronze figure of St George

Until the appearance of the J.C. Williams 'double size' figure of St George, no large scale version of this subject within the convoluted and complicate saga of Gilberts unauthorised replica editions had ever been recorded.

However the indication that one might exist is pinpointed by Richard Dorment in his book on Gilbert in an entry taken from Gilbert's studio diaries for the 14th June 1895 which reads as follows:

'Received from J. C. Williams Esq. £535, being first third on account of commission for £1600 to execute four figures, replicas, but double the size, of four used in the grille. St George to be one, and if I should introduce three other saints, representative of Ireland & Scotland & Wales, they are to be used'

Richard Dorment then comments that bearing in mind J.C. Williams was asking to have four replica figures from a royal tomb cast by the sculptor his next comment was surprising as follows:

'Mr Williams does not wish replica's of his four figures made'.

Although no further mention of the mystery J. C. Williams Esq. is made, he is undoubtedly John Charles Williams and as such the large scale figure of St George discovered at Werrington Park is the lost 'double the size' figure' mentioned in Gilberts studio diary.

However as there is no evidence or records at Werrington Park of any other figures en-suite to the that of the St George to create the full set of saints for England, Ireland, Scotland and Wales, it seems that Gilbert presumably got no further with the commission. This may be because the only other figure which did appear on the tomb was that of St Patrick so perhaps John Charles Williams cancelled the rest of the order as Gilbert couldn't fulfil it completely and create the required full set of figures including St Andrew and St David.

The fact that no large scale plaster model of the figure of St George is also known to exist suggests that that Gilbert may have actually subsequently destroyed the model of the figure after casting (although with hindsight this may seem unlike given Gilbert's preference for creating further copies of 'his' work as and when they were required) or perhaps it was destroyed when he smashed many of his models when he vacated his studio in 1901.

In the catalogue of the Royal Academy Gilbert exhibition of 1986, Richard Dorment comments that variations to the figures of St George cast under Gilberts supervision and direction are are not uncommon as there are distinct differences to both the known English and Belgium cast figures which date from between 1895 and 1900, illustrated in the range of St George figures that were shown at the exhibition (see Cats. 68-72). In particular Cat. 68, which is a collection of metal patterns for a cast of St George dating from circa 1896, illustrates how sand casts of individual components could be made to assemble the complex figure, its armour, head, helmet, sword and base. In the notes for this exhibit, Richard Dorment confirms from his source Duncan James that 'Variations in the angles of arms and hands in different casts of St George are due to this method of assembling parts, as opposed to casting the statue in one piece' demonstrating the range and variety that Gilbert could achieve from a single design.

With the Werrington Park 'double size' figure of St George, there are immediate and obvious intentional variations in the positioning of both the hands and arms. In particularly the hand of the right arm is not upheld as if in blessing but is turned slightly as if to hold something - perhaps a crown or his sword. In addition, the left arm is down and held out from the body rather than crooked. This may be because Gilbert was keen to make the figure appear less pious and more patriotic given the purpose of the his patron's commission - to create the four saints of Great Britain. In doing away with the raised hand which appears to bless the onlooker and which was perhaps more suited to a tomb, Gilbert replaces it with a turned hand that can perhaps proffer a sword befitting the symbolism of the warrior patron saint of England. In addition, the breastplate of the armour lacks the Anteros of some of the early smaller casts of the figure and the stylised serpent or dragon like base is simplified and reduced although it still balances the figure proportionally. Finally, the figure holds a straight sword cast with Corpus crucifix rather than a stanchion which can apparently be positioned in two ways via a small pin and small aperture to the base to hold the tip (although these may be later adjustments). This sword, although now missing its handle / grip and pommel (broken and presumed lost) is much shorter in proportion to the swords which accompany the figures of the smaller casts. However this may be because the sword to the present lot is actually a scale cast of one used on the smaller figures but appears reduced in size because the size of the figure has been upscaled to near double height.

Related Literature
R. Dorment, Alfred Gilbert, New Haven and London, 1985, pp. 166-168 (pp. 147-190).
R. Dorment, Alfred Gilbert: Sculptor and Goldsmith, ex. Cat., Royal Academy, London, 1986, pp. 154-64 nos. 69-72.
N. Penny, Catalogue of European Sculpture in the Ashmolean Museum, vol III, Oxford, 1992, pp. 84-7.
B. Read & J Barnes (eds.), Pre-Raphaelite Sculpture, London, 1991, No. 13, p. 103.

We would like to thank Richard Dorment and Helen Simpson for their invaluable and generous help in cataloguing and researching this lot.