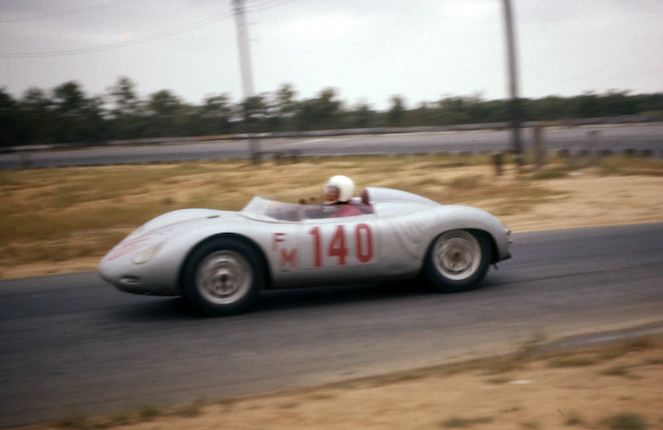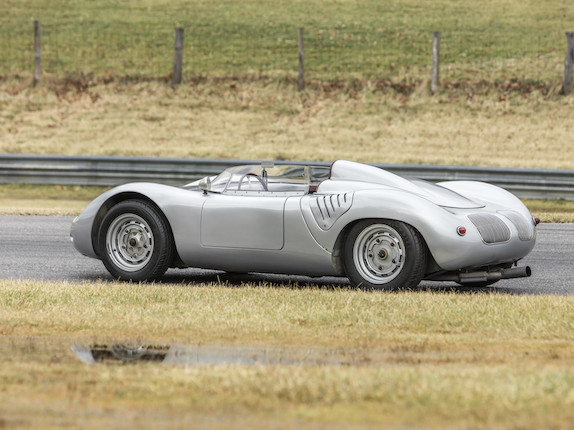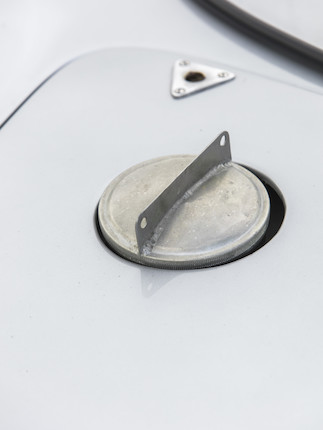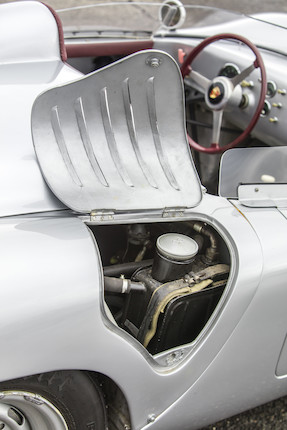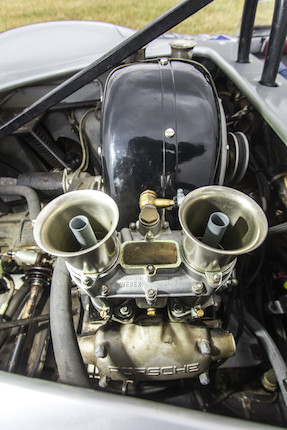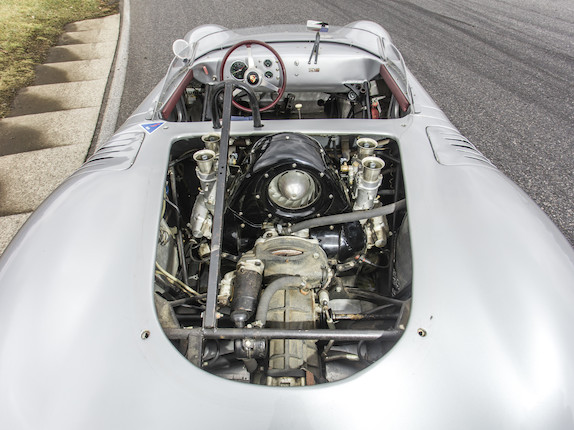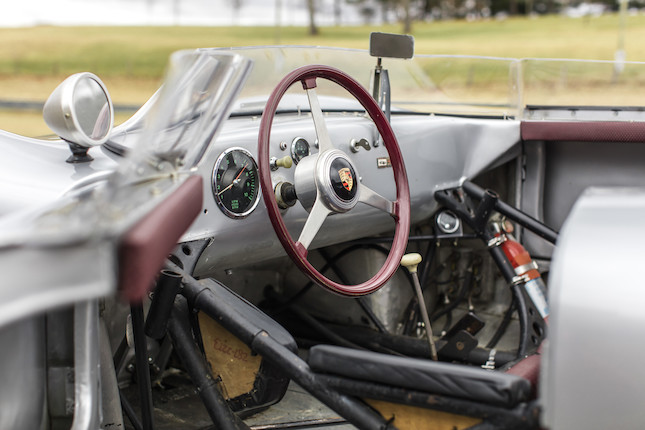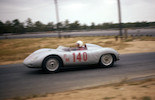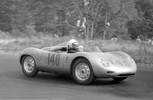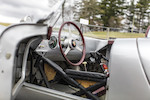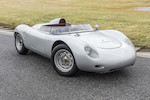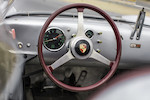 1959 Porsche 718 RSK Spyder
Coachwork by Wendler
Amended
14 August 2020, 11:00 PDT
Los Angeles
Sold for US$2,232,500 inc. premium
Own a similar item?
Submit your item online for a free auction estimate.
How to sell
Looking for a similar item?
Our Collector Cars specialists can help you find a similar item at an auction or via a private sale.
Find your local specialist
Ex-Bernie Vihl, Raced by Bob Holbert
1959 Bahamas Speed Week Multiple First Place Winner
In the present ownership since 1974
1959 Porsche 718 RSK Spyder
Coachwork by Wendler
Chassis no. 718-031
1,587cc DOHC Flat 4-Cylinder Engine
Dual Weber 46 IDM1 Carburetors
150+bhp at 7,200rpm
5-Speed Manual Transaxle
4-Wheel Independent Suspension
4-Wheel Hydraulic Drum Brakes
*Multiple first place finisher in the hands of Bob Holbert in 1959 and 1960 race season
*Three owners from new
*In the current ownership since 1974
*Eligible for the most exclusive driving and concours events globally
Previewing in Bedford Hills, New York by appointment. Please contact
[email protected]
for scheduling.
THE PORSCHE SPYDER
Porsche's Typ 718 RSK Spyder was the culmination of years of competition spyders by Porsche. Each step along the way was more successful than the one before as Porsche refined its approach to small displacement performance.
The origins of the RSK trace back to the period just before the outbreak of hostilities in the late Thirties. The German government had fostered development of the "people's car" conceived as the KdF-Wagen (
Kraft durch Freude
, Strength through Joy), the Volkswagen.
With its two-door sedan body and small 985cc, 24 brake horsepower engine competition was the antithesis of the Volkswagen's design but its potential was shown when in 1939 Porsche was asked to build a special streamlined coupe on the VW platform. The Typ 60K10 was intended to compete in a proposed race from Berlin to Rome, symbolically linking the capitals of the Axis. The September 1939 date for the event was rendered redundant by the German invasion of Poland on September 1.
Even during the war the Porsche design bureau pursued competition projects in moments that could be slipped in between war contracts. The staff and prototype workshop were moved to rural Austria, away from Allied bombers. After hostilities ceased and postwar administration of Germany and Austria were settled a fortuitous contract was obtained to design a Grand Prix car for Piero Dusio's Cisitalia.
In the Cisitalia can be seen the precursor of Porsche's later sports racing spyders: mid-mounted horizontally opposed engine and parallel trailing arm front suspension although with a supercharger, deDion rear axle and provision for 4-wheel drive. While these were noteworthy in the postwar racing car design encyclopedia, they reflected much of what Porsche had done prewar including the fabulous Auto Union Silver Arrows and a wartime project for a potentially game-changing sports car.
This was the Typ 114 with a mid-mounted 1,493cc dual overhead camshaft 72-degree V10 with shaft drive to the overhead cams and 4-wheel torsion bar sprung independent suspension with parallel trailing arms at the front and swing axles at the rear. A Typ 114 prototype was never built but the concept lingered in the Porsche design bureau's library of promising technical ideas.
It was succeeded by the 1948 Typ 356, numbered according to the succession of Porsche design projects – which had been only 60 barely a decade earlier when it was the design number for the KdF-Wagen – which brought the Porsche sports car into reality. VW-based, it took some inspiration from Piero Dusio's success with his production racing cars, the D46, and sports cars, the brilliantly styled 202, based on production FIAT components.
However the original Typ 356 design was not rear-engined. Rather, it used the VW drivetrain and rear suspension with the engine located behind the driver and in front of the rear axle. Clearly Porsche recognized the value of mid-engine location, as seen in the Auto Union Types C and D, Porsche's still-born Typ 114 and the postwar Cisitalia Grand Prix, and intended to use it in a low production Volkswagen sports car.
Built on a tubular space frame, the original Typ 356 transplanted the trailing arm torsion bar front suspension directly from a VW. The entire driveline and swing arm rear suspension were simply turned around, the torsion bar trailing arms of the VW now becoming leading arms anchored to a frame extension. The engine, now 1,131cc, was given a performance boost with higher compression ratio, modified cylinder heads and dual carburetors to realize some 40 horsepower. Clothing it was a roadster body penned by Porsche's Irwin Komenda with many features continued on later Porsches. This prototype was the first to bear the family name.
The economics, however, of producing an essentially hand-built tube frame automobile were impractical even for the perfectionist Porsche family and their equally demanding staff. The mid-engined 356 roadster was replaced by a new VW-based design called 356/2.
But the advantages of mid-engine placement were not forgotten by Porsche even though an aluminum-bodied rear-engined 1.1-liter Porsche coupe won its class at the 1951 Le Mans 24 Hours.
The pathway became clearer when in 1952 Porsche created the vaunted 4-cam Typ 547 engine designed by Ernst Fuhrmann. Starting with 1,498cc, Fuhrmann's powerhouse little horizontally opposed four-cylinder had a bore/stroke ratio of 0.78, thoroughly modern in engines built decades later and nearly unprecedented for 1952. The 85mm cylinder bore made relatively huge intake and exhaust valves possible in the hemispherical combustion chambers. Four overhead camshafts were driven by an intricacy of shafts and bevel gears operating the valve stems through interposed fingers that reduced side thrust.
The Hirth-built 10-piece crankshaft rotated in three roller bearings. The connecting rods likewise utilized roller bearings. This complexity of moving parts was lubricated by a dry sump system with an external reservoir. The large oil capacity helped cool the engine which, like all Porsches to this point, employed air cooling directed primarily to the cylinder heads. Dual spark plugs with dual coils and distributors initiated combustion.
The first Typ 547 4-cam Porsche engine ran in April 1953 and in the following summer it was ready to outfit a thoroughly updated 550 Spyder chassis. Based on a ladder frame with tubular side members that was underslung at the rear, it had the proven torsion bar trailing arm front suspension but a new torsion bar-sprung trailing arm suspension in the rear. The 4-cam 550 Spyder scored a notable class victory in the 1954 Carrera Panamericana driven by Hans Herrmann.
The early 550 Spyders were factory-owned and campaigned although frequently sold on to local racers after appearing in a race or two. In late 1954 Porsche began to build "production" Spyders for direct sale to customers, the 1500/RS Spyder. Bodied by Wendler they yet again incorporated detail design, body and mechanical details. These included a ZF-built fully synchronized 4-speed transaxle. The now thoroughly proven Typ 547 4-cam engine, steadily updated for performance and reliability, now delivered a rated 110 brake horsepower at a moderate 6,200 rpm and a maximum of 125 hp at 6,500 revs but was capable of nearly 8,000 rpm for limited periods, horsepower unspecified.
Building RS (
RennSport
) sports-racing cars had turned into a viable and profitable business for Porsche.
That was proven by the next iteration of the 550, the 550A, now with a rigid, lightweight space frame chassis of thin wall tubing, advancing the concept first evidenced in the original 356 roadster of 1948. The space frame weighed 95 pounds but was 3x stiffer in torsion and 5x stiffer in bending. Its design eliminated body mounting structures that had been needed for the 550, reducing body weight by 30% from the 550. Its engine now drove the distributors directly from the front of the crankshaft with worm gear drive giving consistent ignition timing. The continuously improved Typ 547 engine now delivered some 135 brake horsepower with Weber carburetors.
Rear suspension, always a challenge for Porsche, evolved to a low-pivot design with a lower roll center. Longer trailing arms reduced camber change in cornering with a pronounced beneficial effect on swing axle induced oversteer. A 550A won the Targa Florio in 1956. Another, with slippery coupe bodywork, finished fifth overall and won its class at Le Mans.
The time was right for the Spyder's ultimate form, the Typ 718 RSK, with development beginning in 1956.
Owing its name, RSK, to the shape of the front suspension torsion bar tubes which on the top sloped down to meet the lower torsion bar tubes at their midpoints, shaping the letter "K", the design, intended to better master camber change in cornering, did not survive testing, but the nickname persisted. Even after parallel torsion bars replaced the "K"-shape the steering box remained at the center of the front track with equal length track rods. A double U-jointed steering column gave Porsche the option of offset or center steering wheel mounting. The body was slimmed and lowered, with a rounded nose. The rear air vents were discovered to be better at admitting air to the engine's intake and the cooling system than they were at exhausting it.
While retaining its swing axle concept the rear suspension underwent a notable redesign with a Watt's linkage replacing the historic trailing arm with two radius rods, one leading forward from the bottom of the hub and another back from the top that securely positioned the rear wheels. Porsche's rear torsion bars were succeeded by a pair of tubular shock absorbers with concentric coil springs.
The RSK's redesign was sufficient for Porsche to give it a new project number, 718. With Weber carbureted 1,587cc Typ 547/3 engines Jean Behra and Hans Herrmann drove an RSK to an unprecedented third overall at Le Mans in 1958. Later in 1958 Behra finished fourth at Riverside in the
Los Angeles Times
Grand Prix for sports cars headed only by Chuck Daigh in a Chevrolet-powered Scarab, Dan Gurney in a Ferrari 375 Plus and Bill Krause in a Jaguar D-Type.
The success of the Porsche Typ 718 RSK can be measured not only in terms of its race wins but also its adaptability. In 1957 and 1958 the FIA allowed full envelope bodywork in 1.5 liter Formula 2. The center-mounted steering box in the 718 RSK made it supremely adaptable to this formula and Jean Behra captured an F2 win at Rheims, followed by another F2 win by Edgar Barth at the Berlin Grand Prix at Avus.
THE MOTORCAR OFFERED
This Typ 718 RSK, chassis 718-031, was among the last of the 35 718 RSKs built. According to its Kardex, it was completed in June of 1959 for its first owner Bernard "Bernie" Vihl Sr. of Clifton, New Jersey. A successful industrialist, Vihl immigrated to the United States from Poland in the 1920s and used his background in aeronautics to begin working at the American offices of Fokker Aircraft in Long Island. He later broke out on his own to start Industrial Copper and Metal Work, which proved to be rather successful and allowed him to begin racing and campaigning sports cars in the mid '50s, focusing his attention on Porsches. He would go on to own a 550 Spyder, this 718 RSK, and, later, a RS60, among others. With the purchase of his new 718 "Giant Killer", Vihl went hunting for big game and top honors at tracks around the country using his new car and the extremely talented and accomplished Bob Holbert as his wheelman.
In the world of racing, especially in the United States, Porsche and Robert "Bob" McCormick Holbert are inseparable. Born in Warrington, Pennsylvania in 1923, Holbert began wrenching on cars professionally in the 1940s and later opened Holbert's Garage in his hometown specializing in foreign cars in 1951. Two years later he began his racing career in an MG TD and the next year became one of the first authorized Porsche dealers in the United States—an operation that is still going today as the one of the oldest and best known Porsche dealerships in the country. In 1957, seeing the success of the Porsche 550 on the track and its ability to slingshot past larger bore cars, Holbert switched brands and quickly established himself as top contender driving Stuttgart's finest. In Porsches he won four Sports Car Club of America Championships, "Best Sports Car Driver" from
The New York Times
, and top finishes at the 12 Hours of Sebring. He retired from racing in 1964 to focus on his dealership while his son Al would go on to further the Holbert legacy of racing Porsche by taking two overall wins at the 12 Hours of Sebring in Porsches.
This car, 718-031, would be Holbert's chariot for the 1959 and 1960 season. Fresh from his 4th overall and 1st in class win at the 1959 12 Hours at Sebring in another 718 RSK, Holbert started the SCCA season in the brand new 718 RSK at the SCCA National Marlboro on April 14, 1959. 500 yards into the first lap of the first practice session, the Porsche was clipped in the left front corner by a Walt Hansgen's Lister Corvette and promptly rear ended by Bill Kimberly's Ferrari 500 TR. Pictures of the 718 after the incident were featured in the May 1959 issue of
Porsche Panamera
. Of course, being racing in the 1950s, this had little effect on Holbert's progress in the season as less than a month later the car was repaired and on the track at the SCCA National Cumberland where it took 2nd place behind Walt Hansgen's Lister. A photo of a smiling Holbert and family with the RSK on a trailer behind the family wagon at Cumberland shows how quickly and well things were repaired. Holbert's season in 718-031 continued apace around the country with Bridgehampton, Riverside (both SCCA and USAC), Montgomery, Vineland, and Thompson – getting on the podium of all but one of his SCCA outings. In September, Holbert took the RSK to a 7th overall and 3rd in class finish at the 12th Annual Grand Prix at Watkins Glen. Ending the year on top, he and 718-031 would blow into the 6th Annual International Bahamas Speed Week in December of '59. In its first outing of the event, the Governor's Trophy for 2000cc and under, Holbert took 1st overall edging out Ricardo Rodriguez's Ferrari Dino 196S and Harry Blanchard's 718 RSK. Two days later in the Nassau Trophy race, 718-031 was piloted from a Le Mans start to 3rd overall and 1st in class – just behind Phil Hill in his Ferrari 250 TR 59 and ahead of the 718 RSKs of Jo Bonnier, Harry Blanchard, and Wolfgang von Tripps—among others.
For 1960, Holbert kept up his A-game taking first place twice—at the May 1st Nationals in Virginia and July 17th National Continental Divide in Colorado—and scoring a podium finish overall all but once and first or second in class in virtually every race. For his efforts he was awarded the SCCA National Championship in 1960, thanks in no small part to his performance in this car.
By 1961, Holbert had moved onto Porsche's newest offering—the RS60—and Vihl would enter his RSK at one last race, the Canadian Grand Prix/The Pepsi-Cola Trophy at Mosport on September 30th, but it is not recorded that he arrived at the event. Shortly thereafter, 031 was acquired by fellow Tri-State Area racer and restauranteur Herb Wetanson. One of two 718 RSKs he would own, he continued to campaign the car throughout the Northeast. In the mid-60s, Wetanson swapped the original typ 547/3 motor for a larger 587/3 from a 904 that was sourced from George Barber of Birmingham, Alabama. Remaining in Herb's collection for about a decade, 031 was acquired by the current owner through Gran Turismo Automotive Enterprises, LTD of Greenvale, New York on March 12, 1974.
Receipts on file, dating from April of '74, indicate the Porsche was taken to Malcolm Pray's Porsche dealership for service, new tires, and—two months later—a repair to the front nose and a full repaint. In early 1978, a trade was arranged through Rennsport Werke of Santa Clara, California to repatriate a correct type 547/3 engine with the RSK in exchange for the 587/3 motor that was in the car—the latter going into Donald Orosco's 904. Rennsport Werke also sourced a correct type rebuilt transmission, no. 718-073, to be installed in the car. In 1981, Grand Prix Restorations performed a thorough mechanical restoration with receipts totaling more than $12,000. In 1985 the seats were reupholstered by Northumberland Engineering in East Hampton, New York. Further restoration was done in 1995 by KAM Motorsports. During this time the RSK was actively campaigned at VSCCA events across the Northeast as well as participating on the New England 1000. Not driven much from the early 2000s until recently, over $10,000 has been spent on recent service by Automotive Restoration in Stratford, Connecticut to recommission the car.
Today the car presents nicely and shows well. In a recent drive by a Bonhams specialist, it was amply clear why this 718 RSK was able to achieve so much success on the track. With the one and half liter four cam howling just inches behind your shoulders, it goes from swift to ludicrous speed once the cams start to really sing at the upper end of the rev range. Handling is equally balanced and predictable.
Spectacularly triumphant in period in the hands of the legendary Bob Holbert and having only been in the garages of three owners from new, this 718 is ready to race into paddock of its fortunate fourth owner. The Porsche is complete with large file of receipts and record recording all the work completed from 1974 to the today as well as its VSCCA logbook. Eligible for many the most prestigious races in the world, along with tours such as the Colorado Grand, it may be another nearly half a century before the opportunity to acquire this racer comes up again!
Footnotes
Special formalities are required to bid on this lot. Contact Client Services at +1 (212) 644 9001 or [email protected] at least 48 hours in advance of the auction. Please also note Online Bidding is not available for this lot.

Period Race History

1959

| Date | Race | No. | Driver(s) | Result |
|------------ |-------------------------------------------------- |----- |---------------- |-------- |
| 4/19/1959 | SCCA National Marlboro | 140 | Bob Holbert | DNS |
| 5/17/1959 | SCCA National Cumberland | 140 | Bob Holbert | 2nd |
| 5/31/1959 | SCCA National Bridgehampton | 140 | Bob Holbert | 4th |
| 7/18/1959 | SCCA National Riverside | 11 | Bob Holbert | 3rd |
| 7/19/1959 | USAC Riverside | 11 | Bob Holbert | 4th |
| 7/25/1959 | 6 Hour Harewood Acres | 79 | Bradley / Vihl | DQ |
| 8/9/1959 | SCCA National Montgomery | 140 | Bob Holbert | 3rd |
| 8/22/1959 | SCCA Regional Vineland | 140 | Bob Holbert | 1st |
| 9/6/1959 | Preliminary Thompson | 140 | Bob Holbert | 4th |
| 9/7/1959 | SCCA National Thompson | 140 | Bob Holbert | 2nd |
| 9/26/1959 | GP Watkins Glen | 140 | Bob Holbert | 7th |
| 10/11/1959 | SCCA Regional Vineland | 140 | Bob Holbert | 1st |
| 10/11/1959 | SCCA Regional Vineland | 140 | Bob Holbert | 2nd |
| 10/18/1959 | USAC Watkins Glen | 140 | Bob Holbert | DNF |
| 12/4/1959 | Bahamas Speed Week - Governor's Trophy (>2000cc) | 78 | Bob Holbert | 1st |
| 12/6/1959 | Bahamas Speed Week - Nassau Trophy | 78 | Bob Holbert | 3rd |

1960

| Date | Race | No. | Driver(s) | Result |
|----------- |---------------------------------- |----- |------------- |-------- |
| 4/16/1960 | SCCA National Marlboro | 140 | Bob Holbert | 2nd |
| 5/1/1960 | SCCA National Virginia | 140 | Bob Holbert | 1st |
| 5/15/1960 | SCCA National Cumberland | 140 | Bob Holbert | 4th |
| 5/28/1960 | Harewood Acres [Formula Libre] | 140 | Bob Holbert | 5th |
| 6/19/1960 | SCCA National Road America | 14 | Bob Holbert | DNF |
| 7/2/1960 | SCCA National Lime Rock | 14 | Bob Holbert | 2nd |
| 7/17/1960 | SCCA National Continental Divide | 14 | Bob Holbert | 1st |
| 7/24/1960 | SCCA National Meadowdale | 14 | Bob Holbert | 3rd |
| 7/31/1960 | USAC Road America | 14 | Bob Holbert | 8th |
| 8/6/1960 | SCCA Regional Meadowdale | 14 | Bob Holbert | 3rd |

1961

| Date | Race | No. | Driver(s) | Result |
|----------- |------------------------------------------------------ |----- |-------------- |-------- |
| 9/30/1961 | Canadian Grand Prix/The Pepsi-Cola Trophy at Mosport | 12 | Bernard Vihl | DNA |
Saleroom notices
Special formalities are required to bid on this lot. Contact Client Services at +1 (212) 644 9001 or [email protected] at least 48 hours in advance of the auction. Please also note Online Bidding is not available for this lot. Please note, the chassis number in the printed catalog is incomplete. The complete chassis number is 718-031.