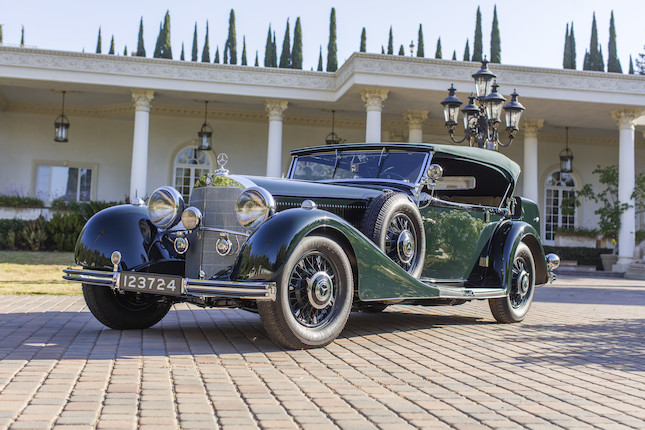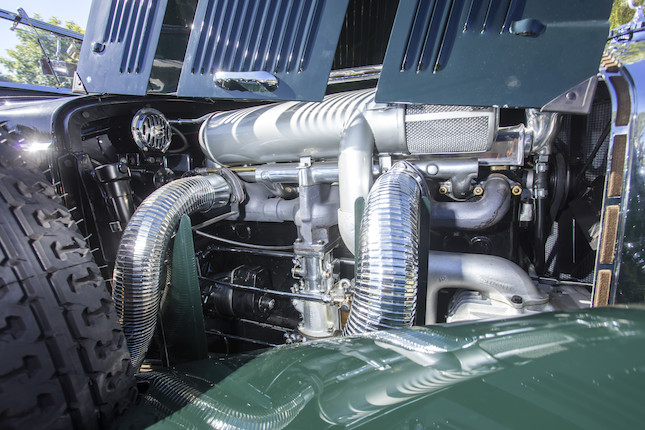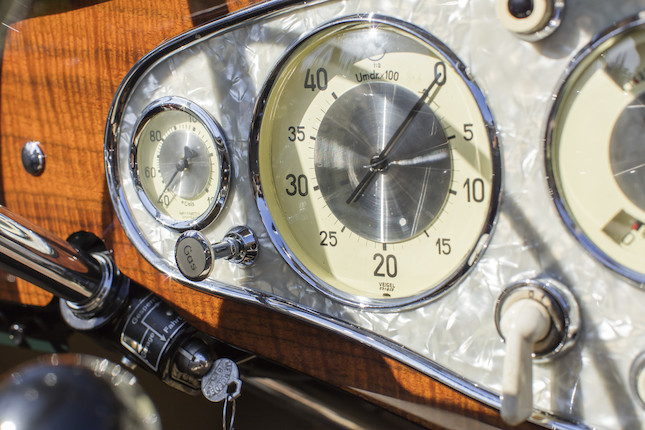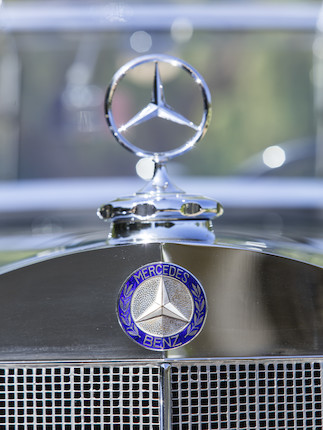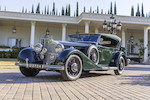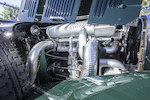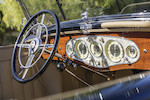 1936 Mercedes-Benz 500K Offener Tourenwagen
Chassis no. 209421 Engine no. 123724
14 August 2020, 11:00 PDT
Los Angeles
US$2,000,000 - US$2,500,000
Own a similar item?
Submit your item online for a free auction estimate.
How to sell
Looking for a similar item?
Our Collector Cars specialists can help you find a similar item at an auction or via a private sale.
Find your local specialist
The Ex-Ralph W.E. Cox Jr.
1936 Mercedes-Benz 500K Offener Tourenwagen
Chassis no. 209421
Engine no. 123724
5,018cc, Eight Cylinder OHV Engine
Roots Supercharger, 100bhp or 160bhp with supercharger engaged
4-Speed Manual Transmission
Independent Coil Spring Suspension, Front by Double Wishbones, Rear by Swing-axles
4-Wheel Drum Brakes with Hydraulic Servo-Assistance
*Pebble Beach Concours d'Elegance Prize Winning Restoration
*One of only 16 Sporting Tourenwagens built on the 500K chassis
*Former ownership of more than 60 years
*Pinnacle of 1930s motoring
To view a YouTube walkaround of this lot please
click here
Previewing at the Petersen Automotive Museum in Los Angeles, California by appointment. Please contact
[email protected]
for scheduling.
THE MERCEDES-BENZ 500K
The sensation of the 1934 Berlin Auto Show, Mercedes-Benz's legendary pre-war 500K supercar cost a small fortune when new and today commands a king's ransom, such is its rarity. The 1930s decade was a period of unprecedented fertility in motor car styling, of which the sublime 500K represented the very pinnacle of excellence. Its timeless appeal endures to this day.
The 500K, which boasted an ingenious swing-axle independent rear suspension layout, was created by Hans Nibel who, having started with Benz in the early years of the 20th Century, succeeded Marius Barbarou as chief engineer in 1904 and designed (and raced) the huge Benz cars of the period, culminating in the 200hp 'Blitzen' Benz. After the merger with Mercedes, he replaced Ferdinand Porsche and created the most sophisticated chassis of their day for road and track, including the first of the 'Silver Arrow' racers. The supercharged road-going Mercedes of the 1930s are a wonderful tribute to his engineering skills.
Together with its successor the 540K, the magnificent Mercedes-Benz 500K was arguably the most noteworthy production model offered by the Stuttgart firm during the 1930s. The 500K was powered by a 5,018cc supercharged straight-eight engine that featured the company's famous Roots-type supercharger system in which pressing the accelerator pedal to the end of its travel would simultaneously engage the compressor and close off the alternative atmospheric intake to the carburetor. This system had been thoroughly proven on the preceding series of Dr. Porsche-conceived S-Type cars, and in effect the 500/540K was the last supercharged production Mercedes until relatively recent times.
Beneath its seemingly endless bonnet, the 500K's straight-eight engine developed 100bhp un-supercharged or 160bhp with the compressor engaged. The gearbox was a four-speeder with overdrive top ratio. With the supercharger engaged, the 500K had a top speed approaching 110mph (177km/h) matched by servo-assisted hydraulic braking. Its performance potential was such that Mercedes-Benz in the UK retained racing driver Goffredo 'Freddy' Zehender as technical adviser and demonstration driver, since the supercharged Mercedes was one of the few genuine 100mph road cars available in the 1930s.
Although the 500K/540K chassis attracted the attention of many of the better quality bespoke coachbuilders of the day, the company's own Sindelfingen coachwork left little room for improvement.
The cabriolet came in a variety of styles. This example has the Cabriolet A option with two-door, left-hand drive coachwork and is outstandingly handsome, boasting wire wheels, twin boot-mounted spares, exposed landau irons, twin horns and a center spotlight. The work of the gifted Hermann Ahrens, design chief at Mercedes-Benz's in-house Sindelfingen coachworks, the Cabriolet A offered two-seater accommodation allied to breathtaking performance. After testing a 500K Cabriolet in 1936, The Autocar declared: 'This is a master car, for the very few. The sheer insolence of its great power affords an experience on its own.'
The manufacturing record of the 500K reveals its exclusive nature: 105 being produced in 1934, 190 in 1935 and 59 in 1936. In recent years, the rarity, style and performance of these big supercharged Mercedes have made them one of the most sought-after of all classic cars on the few occasions they have come on the open market.
THE MOTORCAR OFFERED
According to its data tag, Mercedes-Benz order number 209421 was delivered with engine number 123724, which it retains to this day. It is thought to have been equipped as new with the 'Tourenwagen' 2-door coachwork it still wears, a design which would have cost its first owner some 22,000 Reichsmarks. This style owes much to the earlier Sindelfingen bodies that can be found on six-cylinder supercharged cars, being lither, vintage, open and sporting, than the better known series of Cabriolets.
It was discovered by American aviator and car enthusiast Dr. Ralph W.E. Cox, Jr. while on his honeymoon in the early 1950s. Cox was a true pioneer. Born in Pittsburgh, Pennsylvania, he graduated as a Doctor of Dental Surgery from Pittsburgh University in 1937. But once this was achieved, he felt he'd backstopped a career in case his real desire fell foul and pursued his real passion of aviation. He tried to follow his brother into the Army Air Corp but was unsuccessful, and so sneaked in the 'back door' by joining the Navy instead. This would lead him to a colorful career long association with the air industry. It would start with American Export Airlines, then as the war ended and ex-military pilots were encouraged to use their talents to start their own independent airlines, he purchased a Douglas DC-3 with a friend and began flying the Eastern Seaboard.
At first they based themselves in McArthur Airport on Long Island, and then Laurenburg, North Carolina as it was a convenient stopping point on South American runs. But when traffic dried up, they took the advice of one of their mechanics who was familiar with the former Naval Air Station at Cape May Country Airport, New Jersey and said it was empty and would be a good base for them. After a careful check out, in the summer of 1949, they founded U.S. Overseas Airlines at the location which would become Dr. Cox's business and home base. At their peak some 18 planes were flying under the banner of US Overseas Airlines, but by 1964, Cox was forced into bankruptcy.
From the early 1950s, Cox also began to collect old cars. He had a particular interest in Model T Fords among other things. Frequently his travels would take him into Europe, and he chose to go there on his honeymoon, it was there on a sales lot in Munich in 1951 that he found the 500K. After befriending a local person, he was able to negotiate with its owner, a Mr. Unholzer, and secure its purchase. Dr. Cox drove the Mercedes up to Paris, then to the port at Le Havre from where it was shipped to New York and eventually home to New Jersey.
The car would reside for many years in the Frontier Village Museum at the Cape May County Airport, a photo during this period being depicted in Jan Melin's authoritative work on the model, Mercedes-Benz - The Supercharged 8-Cylinder Cars of the 1930s Part 2 (page 213). It later received a sympathetic in-house restoration by his son in law in the mid-1990s, before being transferred to the Museum of Automobiles at Petit Jean Mountain, near Morrilton, Arkansas, where it resided on public display until 2014.
In 2014, Bonhams was entrusted with the dispersal of the entire Ralph W.E. Cox Jr. Collection, which took place in two parts, at our Scottsdale Auction at the Westin Keirland Resort, and at Cox's beloved Cape May County Airport. The Mercedes-Benz was sold in Scottsdale to the current owner, a noted collector of the marque.
An extensive refurbishment of the car followed during which the Tourenwagen was brought to the immaculate order in which it can be seen today. The finished article debuted at the Pebble Beach Concours d'Elegance in 2015 where it was exhibited in the pre-war Mercedes-Benz class. Set against formidable competition, only a Mercedes-Benz 680S of Arturo and Deborah Keller eclipsed the car and so it took an impressive 2nd in Class.
Since that time, the Mercedes has remained in its cossetted garage environment here in California, being shown only on occasion. Far less numerous in production than the more commonly found series of Cabriolets, just a handful of Tourenwagens survive today. It is a rare, and supremely elegant touring car.
Footnotes
Special formalities are required to bid on this lot. Contact Client Services at +1 (212) 644 9001 or [email protected] at least 48 hours in advance of the auction. Please also note Online Bidding is not available for this lot.