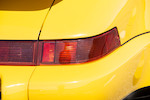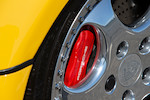 1993 Porsche 911 Type 964 Turbo S 'Leichtbau' Coupé
29 September 2019, 14:00 CEST
Cheserex
Sold for CHF1,150,000 inc. premium
Own a similar item?
Submit your item online for a free auction estimate.
How to sell
Looking for a similar item?
Our Collector Cars specialists can help you find a similar item at an auction or via a private sale.
Find your local specialist
Ask about this lot
Paul Gaucher
Head of Sale, Switzerland
Livie Gallone Moeller
Deputy Head of Switzerland
Andrea Bodmer
Zurich Representative
1993 Porsche 911 Type 964 Turbo S 'Leichtbau' Coupé
Chassis no. WP0ZZZ96ZPS479056
•One of only 86 produced
•Delivered new to Switzerland
•Two owners
•Only 14,600 kilometres from new
•Sought-after options: wind-up windows, no airbag
•Certificate of Authenticity


Footnotes
'The new engine turned out to have enormous marketing power. It became a real status symbol to have that little word 'turbo' on your rear deck, and this fashion spread right across the motor industry.' - Peter Morgan, 'Original Porsche 911'.

Much of the Porsche 911's development had resulted from the factory's racing programme, and it was the then Group 4 homologation rules, which required 400 road cars to be built, which spurred the development of 'Project 930' - the legendary 911 Turbo. In production from April 1975, the Turbo married a KKK turbocharger to the 3.0-litre RSR engine, in road trim a combination that delivered 260bhp for a top speed of 250km/h. But the Turbo wasn't just about top speed, it was also the best-equipped 911 and amazingly flexible - hence only four speeds in the gearbox - being capable of racing from a standstill to 62km/h in 14 seconds.

The Turbo's characteristic flared wheelarches and 'tea tray' rear spoiler had already been seen on the Carrera model, while the interior was the most luxurious yet seen in a 911, featuring leather upholstery, air conditioning and electric windows. The Turbo's engine was enlarged to 3.3 litres for 1978, gaining an inter-cooler in the process; power increased to 300bhp and the top speed of what was the fastest-accelerating road car of its day went up to 260km/h. More refined than hitherto yet retaining its high performance edge, the Turbo sold in the thousands, becoming the definitive sports car of its age. When Porsche revealed that the original 911 would be replaced by the new Type 964 in 1990, dealer stocks of the existing Turbo model sold out overnight.

Representing a major step forward for the 911, the new Carrera 4 and Carrera 2 - coded named '964' - were launched in 1989, the former marking the first time that four-wheel drive had been seen on a series-production 911. Porsche had experimented with four-wheel drive on the 959 supercar, and many of the lessons learned from the latter influenced the design of the 964's chassis and suspension. Face-lifted but retaining that familiar shape, the Carreras had been given a more extensive work-over mechanically, 87% of parts being claimed as entirely new. Although the normally aspirated duo shared the same 3.6-litre, 247bhp, flat-six engine, the Turbo initially kept its existing 3.3-litre unit, which now developed 320bhp. Power-assisted steering (another 911 'first'), anti-lock brakes, and a five-speed manual transmission were standard, with the Tiptronic auto 'box a Carrera 2-only option.

In May 1992 Porsche announced a special limited-edition version of the Type 964 Turbo: the 'Turbo S Leichtbau' (light build). Some 25-50 units were planned, though this was later increased to 80. As its nomenclature suggests, this new model was intended to be both more powerful and lighter than the stock Turbo, as well as offering enhanced handling and subtle re-styling. The engine changes raised the maximum output by 61bhp. "With different camshafts, precision-machined intake ducts, slightly higher charge pressure and an optimised ignition and fuel injection system, this six-cylinder engine was capable of producing 381bhp," explained Porsche. "To deliver all that power to the road surface safely, the car was lowered by 40 millimetres and the running gear was given firmer settings."

The 'Leichtbau' requirement was achieved by deleting the under-body protection, soundproofing, air conditioning, power steering and rear seats, while further savings came from thinner glass, aluminium doors, a carbon-fibre luggage compartment and thinner carpets, the result being a reduction of 180kg over the standard Turbo. Production of the Turbo S Leichtbau began in July 1992 for the 1993 model year. Some sources state that Porsche ended up building six more cars than the 80 planned, though actual production data is sketchy.

Never restored, this pristine example of one of the rarest and most collectible members of the Porsche 911 family was delivered new to Switzerland and has covered only some 14,600 kilometres. Currently in the hands of only its second owner, who acquired it for his private Porsche collection in 2017 and has not driven it since then, the car is described by him as in 'like new' condition in every respect. Finished in Speed Yellow with contrasting black interior, it comes with its original sales contract, Type Approval paperwork, original pouch and manuals (including service manual), and cancelled Swiss Carte Grise (2019).

◊ Note: If you wish to bid on this Lot, special formalities are required. Contact Client Services at +44 20 7447 7447 / [email protected] in advance of the sale. Please also note Online Bidding is not available for this Lot.

Porsche 911 (type 964) Turbo S 'Leichtbau' coupé 1993
Châssis n° WP0ZZZ96ZPS479056

•Une des 86 produites
•Livrée neuve en Suisse
•Deux propriétaires
•Seulement 14 600 kilomètres d'origine
•Options recherchées : fenêtres descendantes, pas d'airbag
•Certificat d'authenticité

« Le nouveau moteur a révélé un énorme potentiel commercial. Avoir le petit mot turbo écrit sur le capot du moteur équivalait à un véritable status symbol qui s'est répandu dans toute la production automobile. » Peter Morgan, in Original Porsche 911.

La majeure partie des améliorations apportées à la 911 venait de l'expérience en compétition de l'usine et ce sont les règles d'homologation du Groupe 4 exigeant 400 versions routières qui ont amenées à la mise au point du « projet 930 » - la légendaire 911 Turbo. Produite à partir d'avril 1975, la Turbo associait un compresseur KKK au moteur 3 litres de la RSR, un cocktail qui en version route offrait 260 ch pour une vitesse de pointe de 250 km/h. Mais la Turbo n'offrait pas seulement une vitesse de pointe, c'était aussi la mieux équipée des 911 et la plus souple – d'où sa transmission à seulement quatre rapports – capable d'accélérer de 0 à 100 km/h en 14 secondes.

Les ailes boursoufflées et l'aileron « plateau télé », si typiques de la Turbo, avaient déjà été vus sur la Carrera, alors que l'intérieur était le plus luxueux jamais trouvé sur une 911, avec sellerie cuir, air conditionné et vitres électriques. Le moteur de la Turbo avait été porté à 3,3 litres en 1978, gagnant un échangeur dans le processus, la puissance passant à 300 ch et la vitesse de pointe de ce qui était alors la voiture de route offrant les meilleures accélérations grimpait à 260 km/h.

Modèle le plus raffiné de Porsche jusqu'alors tout en offrant le summum en matière de performances, la Turbo se vendit par milliers, devenant la sportive ultime de son époque. Lorsque Porsche annonça que la 911 originale allait être remplacée par la nouvelle type 964 en 1990, les stocks des concessionnaires disparurent dans la nuit.
Évolution décisive de la 911, les nouvelles Carrera 4 et Carrera 2 – nom de code 964 – furent lancées en 1989, la première marquant l'arrivée des quatre roues motrices pour la première fois sur une 911 de série. Porsche avait expérimenté la transmission intégrale sur la supercar 959 et les nombreuses leçons apprises sur celle-ci influencèrent la conception du châssis de la 964 et de sa suspension. Remodelées, mais conservant l'allure générale familière, les Carrera avait été plus profondément retravaillées en ce qui concernait leur mécanique, 87% des pièces étant déclarées entièrement nouvelles. Bien que le tandem de Carrera à moteur atmosphérique ait adopté le même 6 cylindres à plat 3, 6 litres de 247 ch, la Turbo conservait au départ l'ancien bloc 3, 3 litres qui développait désormais 320 ch. La direction assistée (une autre première sur la 911), l'antiblocage des freins et la transmission manuelle à cinq rapports étaient montés en série, la boîte automatique Tiptronic n'étant proposée en option que sur la Carrera 2.

En mai 1992, Porsche annonçait une version spéciale en édition limitée du type 964 Turbo, la Turbo S Leichtbau (construction allégée). On avait prévu 25 à 50 unités, chiffre plus tard porté à 80. Comme le suggère sa nomenclature, ce nouveau modèle était destiné à être plus puissant et plus léger que la Turbo de série, mais aussi à offrir une tenue de route améliorée et un subtil restylage. Les modifications au moteur augmentaient la puissance maximale de 61 ch. « Avec des arbres à cames différents, des conduits d'admission réalisés sur des machines de précision, une pression de turbo légèrement supérieure et un allumage et un système d'injection optimisés, ce six cylindres était capable de produire 381 ch » expliquait Porsche. « Pour faire passer toute cette puissance à la route en toute sécurité, la voiture était abaissée de 40 millimètres et les trains roulants étaient réglés plus ferme ».

Les exigences du « Leichtbau » étaient réalisées en supprimant les protections du soubassement, les matériaux insonorisants, l'air conditionné, la direction assistée et les sièges arrière, tandis que des gains supplémentaires étaient réalisés grâce à des vitres plus minces, des portes en aluminium, un compartiment à bagages en fibre de carbone et des tapis de sol moins épais, donnant un allègement de 180 kg par rapport à la Turbo de série. La production de la Turbo S Leichtbau débuta en juillet 1992 pour l'année-modèle 1993. Certaines sources affirment que Porsche construisit six voitures de plus que les 80 prévues, les données de production réelles étant douteuses.

Jamais restauré, cet exemplaire immaculé de l'une des plus rares et des plus séduisantes versions de la famille des Porsche 911 a été livré neuf en Suisse et a couvert seulement 14 600 kilomètres. Actuellement aux mains de son second propriétaire qui l'a achetée pour sa collection personnelle de Porsche en 2017 et ne l'a pas conduite depuis cette date, la voiture est décrite par celui-ci « comme neuve » sous tous ses aspects. Jaune Speed avec un intérieur noir contrastant, elle est fournie avec son contrat d'achat original, ses papiers d'attestation du type, sa pochette d'origine avec ses manuels (y compris le carnet d'entretien) et sa carte grise suisse résiliée (2019).

◊ Veuillez noter que des formalités spéciales d'enregistrement seront exigées si vous souhaitez enchérir sur ce lot. Contactez notre service clients au +44 20 7447 7447 / [email protected] avant la vente. Veuillez aussi noter que les enchères en ligne ne seront pas disponibles pour ce lot.