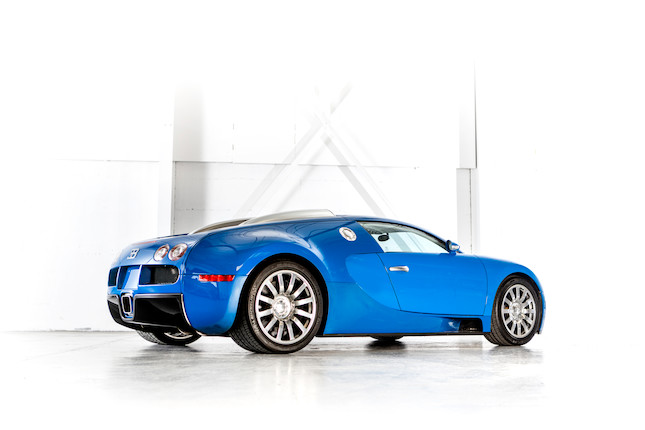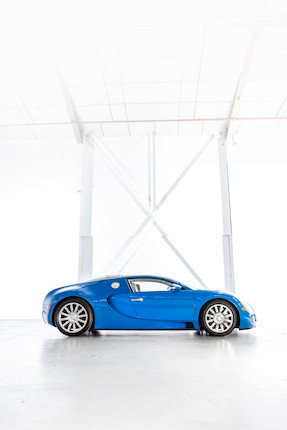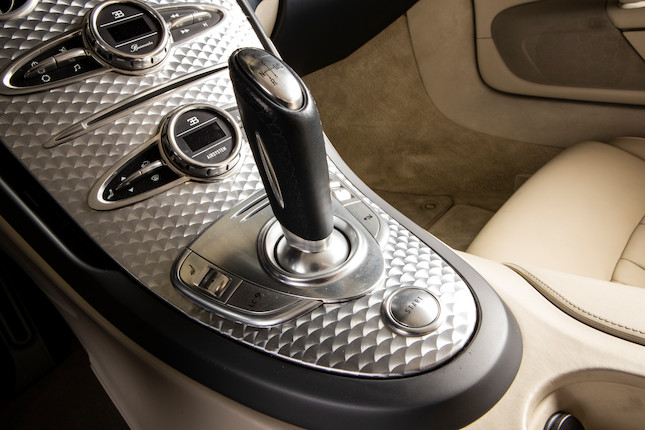 2010 Bugatti Veyron EB 16.4 Coupé
Amended
29 September 2019, 14:00 CEST
Cheserex
Sold for CHF1,311,000 inc. premium
Own a similar item?
Submit your item online for a free auction estimate.
How to sell
Looking for a similar item?
Our Collector Cars specialists can help you find a similar item at an auction or via a private sale.
Find your local specialist
Ask about this lot
Paul Gaucher
Head of Sale, Switzerland
Livie Gallone Moeller
Deputy Head of Switzerland
Andrea Bodmer
Zurich Representative
2010 Bugatti Veyron EB 16.4 Coupé
Chassis no. VF9SA25C18M795208
•One of only 450 produced
•Built for the United States market
•3,142 miles recorded
•No documents
Footnotes
"The Bugatti Veyron has recalibrated that which can be achieved by the motor car." – Autocar.

To say that the Bugatti Veyron caused a sensation when it arrived in 2005 would be a gross understatement; for here was a car that didn't just rewrite the supercar rule book so much as tear it up and start afresh. All the more remarkable was the fact that the Veyron was the dream of one man: Ferdinand Piech, CEO of the Volkswagen Group, which had acquired the Bugatti brand in 1998. Piech's ambition was to create a car that had 1,000 horsepower at its disposal, could exceed 400km/h (250mph), and cost €1 million. Turning Piech's dream into a reality would prove to be an immensely difficult undertaking, even for a company with Volkswagen's technological resources, and the result would not see the light of day for another seven years.

Designed by ItalDesign boss Giorgetto Giugiaro, the first concept car – the EB118 – was displayed at the Paris Auto Show in 1998, featuring permanent four-wheel drive and a Volkswagen-designed W18 engine. A handful of variations on the theme were displayed at international motor shows over the course of the next few years before the concept finally crystallised in 2000 in the form of the Veyron EB 16.4. The latter was styled in house at VW by Hartmut Warkuß and featured an engine with 16 cylinders and four turbochargers – hence the '16.4' designation. It was named after Bugatti development engineer and racing driver, Pierre Veyron, who together with co-driver Jean-Pierre Wimille, had won the 1939 Le Mans 24-Hour race for the French manufacturer. But this was far from the end of the development process, and it would take another five years and an extensive shake-up of the project's management and engineering teams before production could begin, by which time an incredible 95% of components had been either changed or redesigned.

Effectively two narrow-angle 4.0-litre V8 engines sharing a common crankcase, the 8.0-litre W16 - just - met Piech's requirements, producing a maximum output of 1,001PS (987bhp) and 922ft/lb of torque, figures that would embarrass a current Formula 1 car. With a kerb weight of 1,888kg (4,162lb) the Veyron had a staggering power-to-eight ratio of 523bhp per ton. Tasked with transmitting this formidable force to the ground was a permanent four-wheel-drive, dual-clutch transmission system incorporating a seven-speed paddle-shift semi-automatic gearbox, the latter built by the British company, Ricardo, while to accommodate the Veyron's phenomenal top speed Michelin designed special run-flat PAX tyres. Piech had specified a maximum velocity of 250mph and the Veyron did not disappoint, with more than one tester – Top Gear's James May included - exceeding the target by a few miles per hour. At €1,225,000 (£1,065,000) the Veyron base price as also exceeded Piech's target comfortably.

To maintain stability at such high speeds, the Veyron has a few aerodynamic tricks up its sleeve, a hydraulic system lowering the car at around 140mph, at which speed the rear wing deploys, increasing downforce. But if the Veyron driver wishes to exceed 213mph (343km/h), he or she needs to select Top Speed Mode (from rest) before joining what is a very exclusive club indeed.

Jeremy Clarkson, reviewing the Veyron for The Times: "In a drag race you could let the McLaren (F1) get to 120mph before setting off in the Veyron. And you'd still get to 200mph first. The Bugatti is way, way faster than anything else the roads have seen." Yet despite its breathtaking performance, the Veyron contrived to be surprisingly docile at 'sensible' speeds. "Bugatti says the Veyron is as easy to drive as a Bentley, and they're not exaggerating," declared Autocar. "Immediately you notice how smoothly weighted the steering is, and how calm the ride is."

In a market sector many of whose protagonists can only be described a 'hard core', the Veyron contrived to be a remarkably civilised conveyance. "When you climb aboard the Bugatti Veyron there are no particular physical contortions required of you by the world's fastest car, as there are in so many so-called supercars," observed Autocar describing "the most exquisite car cabin on earth". The latter was found to be more than generously spacious for a two-seat mid-engined car, while in terms of interior equipment there was virtually no limit to what the, necessarily wealthy, Veyron customer could specify. Restricted rearward visibility is a frequent bugbear of mid-engined supercars, a problem the Veyron dealt with by means of a reversing camera.

In 2009, an open version of the Veyron – the Grand Sport – was announced, featuring a removable roof panel and 'emergency' soft-top. The following year Bugatti released the ultimate Veyron - the Super Sport - which came with 1,200bhp, 1,100ft/lb of torque, and revised aerodynamics. Only 30 were made, the very last of these truly fabulous cars being that offered here. An open version - the Grand Sport Vitesse - was introduced in 2012.

The SSC Ultimate Aero had taken the Veyron's title of 'World's Fastest Car' in 2007, but the Super Sport would soon put the upstart American manufacturer in its place. The redoubtable James May achieved a top speed of 259.49mph (417.61km/h) on 4th July 2010, and later that same day Bugatti test driver Pierre Henri Raphanel set a new mean best mark of 267.856mph (431.072km/h) at Volkswagen's test track near Wolfsburg in Germany. This had been achieved by deactivating the Super Sport's electronic limiter, which restricts top speed to 'only' 258mph (415km/h), causing some to question the figure's validity. Eventually, the Guinness Book of Records decided that the mark should stand. By the time Veyron production ceased in 2015, Bugati had built only 450 of these quite extraordinary cars.

Chassis number '208', the car offered here, was intended for sale in the USA. Finished in Atlantic Blue with beige interior, it has covered 3,142 miles and appears in good condition, with 'as new' bodywork and paint, excellent wheels and tyres, and a clean engine that starts instantly. The car is offered with Equatorial Guinea registration papers and technical inspection.

VAT, Car Tax and Customs Duty at the standard rates will be payable on this Lot if the car remains in Switzerland.

Bonhams is the guarantor of the customs duties and taxes clearance: consequently, this motor car cannot be released to the buyer or his transporter immediately after the sale.

◊ Note: If you wish to bid on this Lot, special formalities are required. Contact Client Services at +44 20 7447 7447 / [email protected] in advance of the sale. Please also note Online Bidding is not available for this Lot.

Bugatti Veyron EB 16.4 Coupé 2010
Châssis n° VF9SA25C18M795208

•L'un des 450 seuls produits
•Construit pour le marché américain
•5 055 km constatés
•Sans ses documents

"La Bugatti Veyron a resitué ce qu'une automobile pouvait parvenir à accomplir." – Autocar.

Dire qu'en 2005 la Bugatti Veyron a fait sensation lors de ses débuts serait bien en-dessous de la réalité, car c'est une voiture qui n'a pas seulement fait évoluer la définition des supercars, mais qui l'a jetée au panier et l'a réécrite à partir de zéro. Le plus remarquable est que la Veyron était le rêve d'un seul homme, Ferdinand Piëch, le patron du Groupe Volkswagen, qui avait racheté la marque Bugatti en 1998. Il avait l'ambition de créer une voiture disposant de 1 000 chevaux, capable de dépasser les 400 km/h et coûtant un million d'euros. La concrétisation de son rêve s'est révélée extrêmement difficile, même pour un constructeur disposant de l'arsenal technologique de Volkswagen, et il a fallu sept ans pour qu'il devienne réalité.

Le premier concept car, la EB118 dessinée par Giorgetto Giugiaro, le patron d'ItalDesign, fut montré au Salon de Paris 1998 ; il était équipé d'un moteur W18 de conception Volkswagen et d'une traction intégrale permanente. Différentes variations sur ce thème furent exposées dans les Salons du monde entier pendant les années qui suivirent, jusqu'à ce qu'en 2000 le concept converge vers la Veyron EB 16.4. Cette voiture, dessinée par le styliste VW Hartmut Warkuß, était équipée d'un 16-cylindres et de quatre turbos, d'où son appellation '16.4'. Elle portait le nom de Pierre Veyron, ingénieur de développement et pilote de Bugatti qui, en tandem avec Jean-Pierre Wimille, avait remporté pour le compte du constructeur français les 24 Heures du Mans 1939. Mais on n'était pas encore arrivé au bout du processus de développement, et il fallut encore cinq ans et une profonde modification de la direction du projet et des équipes de conception pour que la production puisse démarrer, après avoir remplacé ou modifié -c'est à peine croyable- 95% de ses composants.

Le W16 de 8,0 litres, constitué de deux V8 de 4,0 litre à angle fermé partageant le même carter cylindres, atteignait tout juste les objectifs de Piëch, avec une puissance de 1 001 chevaux et un couple de 1 254 Nm, des chiffres à mettre une Formule 1 dans l'embarras. Avec un poids en ordre de marche de 1 888 kg, la Veyron présentait un impressionnant rapport poids-puissance de 530 chevaux par tonne. La transmission au sol de son fantastique couple était confiée à une traction intégrale permanente entraînée par une boîte semi-automatique à double embrayage et sept rapports commandés par des palettes. La boîte était produite par la société britannique Ricardo, et c'est Michelin qui fournissait les pneus capables de résister à l'extraordinaire vitesse de pointe de la voiture, des PAX pouvant supporter un roulage à plat. Piëch avait imposé une vitesse de pointe de 400 km/h, vis-à-vis de laquelle la Veyron ne déméritait pas : plus d'un essayeur, dont James May de Top Gear, avait dépassé ce chiffre de quelques km/h. Quant à son prix de base, avec 1 225 000 euros, la Veyron dépassait aussi de loin l'objectif de Piëch.

Pour garantir sa stabilité à de telles vitesses, la Veyron disposait de quelques atouts aérodynamiques dont, à partir de 225 km/h, un dispositif hydraulique qui abaissait la voiture et un aileron arrière qui se déployait pour éviter tout délestage. Mais si le conducteur désirait dépasser les 343 km/h pour pouvoir rejoindre le club très fermé des très hautes vitesses, il lui fallait sélectionner au démarrage le mode 'vitesse maxi'.

Jeremy Clarkson a écrit dans le Times à propos de la Veyron : "Lors d'une course d'accélération, on pourrait laisser la McLaren (F1) atteindre les 193 km/h avant de faire démarrer la Veyron, et celle-ci serait tout de même la première à atteindre les 320 km/h. La Bugatti est de très loin plus rapide que tout ce qui circule sur les routes." Malgré des performances à couper le souffle, la Veyron parvenait à rester étonnamment docile aux vitesses "raisonnables". "Bugatti annonce que la Veyron est aussi facile à conduire qu'une Bentley, et ils n'exagèrent pas," déclarait Autocar. "On remarque immédiatement à quel point la direction est douce et le comportement paisible."

Dans ce secteur du marché où de nombreux acteurs peuvent être qualifiés de purs et durs, la Veyron parvenait à être remarquablement civilisée. "Bien que la Bugatti Veyron soit la voiture la plus rapide au monde, s'y installer n'exige aucune des contorsions que tant de soi-disantes supercars réclament," observait Autocar, qui la décrivait comme dotée "de l'habitacle le plus raffiné au monde." Celui-ci était en effet plus que généreux pour une deux-places à moteur central, et il n'existait pratiquement aucune limite aux équipements intérieurs que ses clients, nécessairement fortunés, pouvaient commander. La piètre visibilité arrière commune à toutes les supercars à moteur central était résolue par la monte d'une caméra de recul.

En 2009 fut présentée une version découverte de la Veyron, la Grand Sport, équipée d'un pavillon amovible et d'une capote 'de secours'. L'année suivante, Bugatti lança la plus extrême des Veyron, la Super Sport, dotée d'une puissance de 1 218 chevaux, d'un couple de 1 500 Nm et d'évolutions aérodynamiques. Il n'y en eut que 30 de produites, et c'est la dernière de ces voitures totalement fabuleuses qui est proposée ici. Une version découverte, la Grand Sport Vitesse, en fut lancée en 2012.

En 2007, la SSC Ultimate Aero avait ravi à la Veyron le titre de voiture la plus rapide au monde, mais la Super Sport ne tarda pas à remettre ce nouvel entrant américain à sa place. Le redoutable James May atteignit le 4 juillet 2010 la vitesse de 417,6 km/h et, plus tard dans la journée, un essayeur de Bugatti, Pierre Henri Raphanel, établit un nouveau record à 431 km/h sur la piste d'essai de Volkswagen située près de Wolfsburg. Il avait pour ce faire désactivé le limiteur électronique de la Super Sport qui restreignait la vitesse à "seulement" 415 km/h, ce qui fit s'interroger certains sur la validité du résultat obtenu. Le Livre Guiness des records finit toutefois par la reconnaître. Au moment où la production de la Veyron prit fin, Bugatti n'avait construit que 450 de ces si extraordinaires voitures.

Le châssis numéro '208', proposé ici, était destiné à être vendu aux USA. Il est de couleur bleu Atlantic avec un intérieur beige. Il a parcouru 5 055 km et semble en bon état, avec une carrosserie et une peinture comme neuves, des roues et pneus en excellent état et un moteur propre qui démarre instantanément. La voiture est munie de ses documents d'immatriculation de Guinée équatoriale et de son contrôle technique.

La TVA, la taxe sur les véhicules ainsi que les droits de douanes aux taux courants seront payables sur ce lot si le véhicule reste en Suisse.

Bonhams restant le garant des droits et taxes douanières, cette voiture ne pourra pas être récupérée par l'acheteur ou son transporteur immédiatement après la vente.

◊ Veuillez noter que des formalités spéciales d'enregistrement seront exigées si vous souhaitez enchérir sur ce lot. Contactez notre service clients au +44 20 7447 7447 / [email protected] avant la vente. Veuillez aussi noter que les enchères en ligne ne seront pas disponibles pour ce lot.
Saleroom notices
Please note that the car is from 2008 and not 2010 as stated in the printed and online catalogue. Merci de prendre note que cette auto est un modèle 2008 et non pas 2010 comme mentionné sur le catalogue papier et catalogue en ligne.