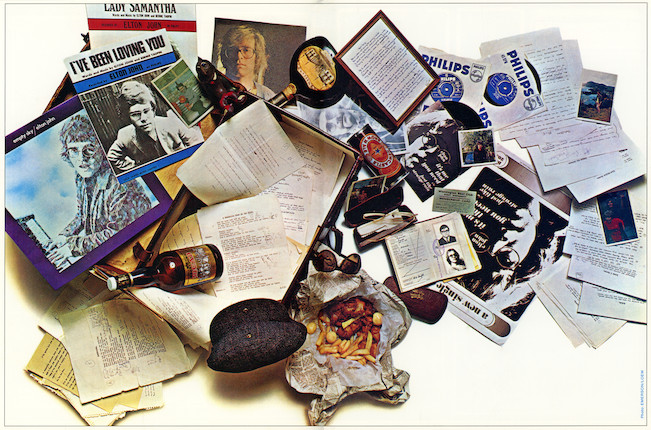 THE ORIGINAL HANDWRITTEN LYRICS TO ELTON JOHN'S "YOUR SONG" with "The Songs of Elton John and Bernie Taupin" book of sheet music and Captain Fantastic graphic novel
9 December 2019, 13:00 PST
Los Angeles
Sold for US$237,575 inc. premium
Own a similar item?
Submit your item online for a free auction estimate.
How to sell
Looking for a similar item?
Our Popular Culture specialists can help you find a similar item at an auction or via a private sale.
Find your local specialist
Ask about this lot
Client Services (San Francisco)
Client Services (New York)
Client Services (Los Angeles)
THE ORIGINAL HANDWRITTEN LYRICS TO ELTON JOHN'S "YOUR SONG" with "The Songs of Elton John and Bernie Taupin" book of sheet music and Captain Fantastic graphic novel
TAUPIN, BERNIE. Autograph Manuscript Signed ("B. Taupin"), in blue ink, 1 p, 7 x 9 in., n.p. [but London], n.d. [but 1970], the original handwritten lyrics for Elton John's first mega-hit, "Your Song," with emendations throughout by Taupin in slightly darker blue ink, in small vintage wooden frame. 5 Stanzas in total, with the Chorus appearing in stanza 3 and not repeated at the end. Together with a period 45 of the song in original sleeve, a period copy of the sheet music to "Your Song," a copy of The Songs of Elton John and Bernie Taupin (NY: Warner Bros., 1971), and a complete copy of Captain Fantastic and the Brown Dirt Cowboy.

Provenance: Collection of Maxine Taupin.


"When Bernie brings me the lyrics, I read them and then I get the first line of the song and deal with that first. I never work to the chorus or the hook. I start at the top and gradually work down, I can't do it any other way. 'Your Song' went straight off in ten minutes. I go round to Bernie and say 'listen, I've done it' and he can't believe it."

—Elton John, in an interview with Penny Valentine Sounds, c.1970


These are the original, first and only draft of the lyrics to "Your Song." After Taupin handed the lyrics to John, the pianist took all of 10 minutes to come up with the haunting melody that accompanies Taupin's paean to the inarticulateness of young love. "Your Song" was Elton John's first monster hit, introducing audiences to his exciting new brand of piano pop, and it remains today one of his most identifiable and best-loved songs.

This lyric sheet, in the very same modest frame, makes an appearance among the insert material in Elton John's groundbreaking concept album, Captain Fantastic and the Brown Dirt Cowboy. Released in 1975, the album is an autobiographical look at the careers of Elton John (Captain Fantastic) and Bernie Taupin (the Brown Dirt Cowboy), dramatizing the struggles the two faced from 1967 to 1969 before breaking through in 1970 with "Your Song." The appearance of these lyrics in the group shot double page spread on pp 7-8 of "Scraps," and again photographed singly on p 14 of the "Lyrics" booklet above the lyrics for "We All Fall in Love Sometimes" (another love song, this one from an older and wiser prospective), confirms their importance as the first major career milestone for the two artists.

Footnotes
"AND YOU CAN TELL EVERYBODY THAT THIS IS YOUR SONG...."