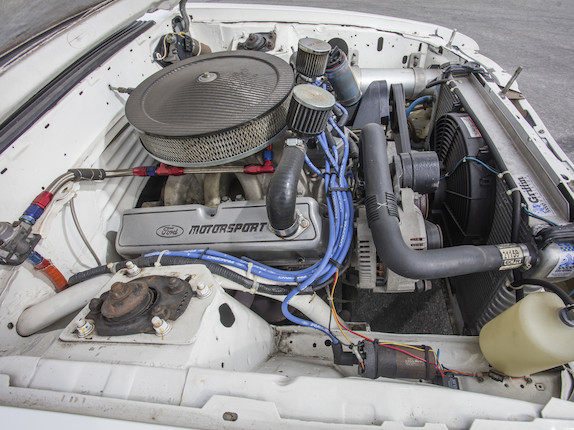 Motorcars from the Collection of Gerhard Schnuerer
1987 Ford Mustang "Racer"

5 March 2020, 12:00 EST
Fernandina Beach Golf Club
Sold for US$6,720 inc. premium
Own a similar item?
Submit your item online for a free auction estimate.
How to sell
Looking for a similar item?
Our Collector Cars specialists can help you find a similar item at an auction or via a private sale.
Find your local specialist
Ask about this lot
Rupert Banner
VP, Business Development
Motorcars from the Collection of Gerhard Schnuerer
1987 Ford Mustang "Racer"
VIN. 1EABP42E3HF136822

302ci V8 Engine
Carbureted
est. 400bhp at 5,500rpm
5-Speed Manual Transmission
Front Independent Suspension – Live Rear Axle
4-Wheel Disc Brakes

*Purpose built engine
*A track focused Fox Body Mustang
*Thought to have been owned by Saleen

THE MOTORCAR OFFERED

Upon its introduction in 1979, the Fox-Body Mustang breathed fresh life into Ford's enduring pony car. After years meandering with the Pinto based Mustang II, the Fox was unleashed from the get-go with a range topping V8 motor, unlike its predecessor. While early iterations continued the trend of speed alluding sticker packages, the Mustang now had the performance to back it up. Advancing into the high-tech 1980s, the range of fastback, notchback, and convertible body styles were supplemented by the introduction of the turbocharged 2.3 liter Lima engine. Reaching its ultimate potency in the much sought after SVO Mustang of 1984, this model superseded even the 5.0 powered GT within the Mustang Range.

With production due to carry on into the final decade of the 20th century, Ford remained diligent in keeping the aging platform up to date and competitive with its Detroit based competition. In 1987, the Fox received a facelift which served to both align the vehicle with the rest of Ford's corporate identity and clean up the aerodynamic surfaces. The powertrain would continue to receive updates in this time and by the final model year the GT trim delivered a respectable 205hp. Available in just about any flavor an enthusiast could want, it should come as no surprise that the popularity of the Fox platform Mustang continues to grow over time.

This particular Fox has been converted into a potent racer. The car is said to have been built by Roush Racing and acquired from Saleen. Little is known about the specifics of the vehicle, but it looks to have been built with top spec components throughout. With a safety check and some light recommissioning, this beast will be sure to bring endless fun at your local track.
Footnotes
Please note, this vehicle is offered on a bill of sale.