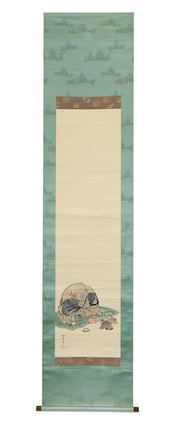 Suzuki Shonen (1849-1918)
Meiji (1868-1912) or Taisho (1912-1926) era, early 20th century
16 May 2019, 14:00 BST
London, New Bond Street
Sold for £5,062.50 inc. premium
Own a similar item?
Submit your item online for a free auction estimate.
How to sell
Looking for a similar item?
Our Japanese Art specialists can help you find a similar item at an auction or via a private sale.
Find your local specialist
Ask about this lot
Suzannah Yip
Department Director
Suzuki Shonen (1849-1918)
Meiji (1868-1912) or Taisho (1912-1926) era, early 20th century
A set of 12 kakejiku (vertical hanging scrolls), ink and colours on paper in silk mounts, depicting a series of legendary and historical scenes including: The flute-playing hero Ushiwakamaru about to confront the warrior-monk Benkei at the Gojo Bridge; Momotaro the Peach Boy riding on a bear and followed by a monkey carrying a branch of peaches; Momotaro the Peach Boy emerging from inside a giant peach; a raccoon and a monkey in the guise of peasants; Urashima Taro riding on turtle, surrounded by fish and crustacea dressed in clothes; a group of mice in procession; an old man approached by two sparrows in human dress; Hanasakajiji, the virtuous old man marvelling at a branch of cherry blossoming at his touch; and Yorimitsu (Raiko) slaying the Shuten Doji ogre; each signed Shonen hitsu (brushed by Shonen) and sealed Shonen, the seal in the shape of a suzu (small bell); with a wood storage box. Each overall: 191cm × 48.5cm (75¼in x 19 1/8in); image: 119cm x 31cm (46 7/8in x 12¼in). (13).
Footnotes
The son of Suzuki Hyakunen, a Kyoto artist who worked in the Shijo and Nanga styles, Suzuki Shonen started his training at a tender age and became head of the Northern Division of the Kyoto Prefecture Painting School in 1881, when he was only 32. His career prospered and he went on to win prizes at many later-Meiji-era domestic and international exhibitions, including the first Naikoku Kangyo Hakurankai (Domestic Industrial Promotion Exhibition, 1877), the first Naikoku Kaiga Kyoshinkai (Domestic Painting Competitive Exhibition, 1882), the World's Columbian Exhibition in Chicago (1893), and the Paris Exposition Universelle (1900).