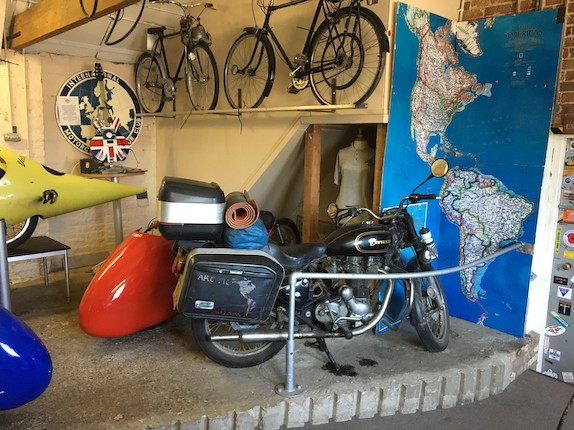 1993 Enfield 499cc Bullet
Registration no. L344 TGJ Frame no. 3B52 1490 Engine no. 3B52 1490
Amended
19 October 2019, 14:00 BST
Stafford, Staffordshire County Showground
Sold for £1,265 inc. premium
Own a similar item?
Submit your item online for a free auction estimate.
How to sell
Looking for a similar item?
Our Motorcycles specialists can help you find a similar item at an auction or via a private sale.
Find your local specialist
Ask about this lot
Ben Walker
Department Director
1993 Enfield 499cc Bullet
Registration no. L344 TGJ
Frame no. 3B52 1490
Engine no. 3B52 1490
• Ridden by the first owner from the Arctic to Antarctica
• Circa 22,000 miles covered on that one journey
• Gifted to the London Motorcycle Museum

A former cancer patient, its first owner, the late Greg Staves, purchased this Indian-built Bullet and, being in remission, decided he would undertake a special trip he had wanted to do for some time while at the same time raising for cancer research. This epic ride would take him from Prudhoe Bay in northern Alaska to Ushuaia in Argentina, his intention being to journey from the Arctic to the Antarctic. The plan was to start the ride at the summer solstice and complete it by the winter solstice, a period of six months. He insisted that it be a solo ride, despite doctors and family being sceptical of his ability to cope.

As a trial run, Greg took a trip to Europe to demonstrate he could cope while at the same time getting used to the Enfield. He hadn't experienced a single before and didn't know what to expect from it. He had a great time, later remarking "I found myself in Egypt, thought perhaps I'd had enough fun and should go home now".

On the Europe trip Gerg had grown tired of forever explaining to curious locals what he was doing, so put a map of his Arctic/Antarctic route on one of the panniers before setting off. Some of his stops during the ride were for interviews promoting the trip with the locals, and on a couple of occasions he was roped in to promote local cancer projects. Unfortunately, the speedometer broke after 18,350 miles but Greg claimed that his total journey was some 22,000 miles. This feat of endurance earned him the nickname 'Iron Ass', bestowed by a Canadian acquaintance.

Greg was refused permission to take the Enfield into Antarctica so he removed the front wheel while leaving the rest of the machine at the dock, and took it with him on a cruise ship to within the Arctic Circle so he could dip it in the sea! This exceptionally well-travelled motorcycle is offered with an old-style V5 document; a letter gifting it to the London Motorcycle Museum; and a history file containing an article and photographs detailing the journey.
Saleroom notices
The frame number is 3B52149C. The engine number is 3B52149C.