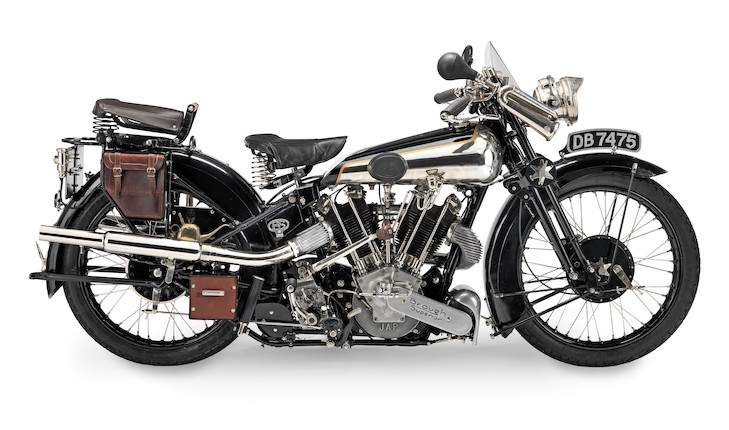 1926 Brough Superior 986cc SS100 Alpine Grand Sports
Registration no. DB 7475 Frame no. 875A Engine no. KTOR/A 42152
28 April 2019, 10:00 BST
Stafford, Staffordshire County Showground
Sold for £207,000 inc. premium
Own a similar item?
Submit your item online for a free auction estimate.
How to sell
Looking for a similar item?
Our Motorcycles specialists can help you find a similar item at an auction or via a private sale.
Find your local specialist
1926 Brough Superior 986cc SS100 Alpine Grand Sports
Registration no. DB 7475
Frame no. 875A
Engine no. KTOR/A 42152
• The ultimate Vintage-era Brough Superior
• History known since the early 1930s
• Present ownership since 1986
• Restored over the last 30 years

Legendary superbike of motorcycling's between-the-wars 'Golden Age', Brough Superior – 'The Rolls-Royce of Motorcycles' - was synonymous with high performance, engineering excellence, and quality of finish. That such a formidable reputation was forged by a motorcycle constructed almost entirely from bought-in components says much for the publicity skills of George Brough. But if ever a machine was more than the sum of its parts, it was the Brough Superior. A Vintage-era SS100 powered by the legendary JAP KTOR competition engine, the example offered here represents this iconic marque in its most desirable Alpine Grand Sports form.

W E Brough's machines had been innovative and well-engineered, and his son's continued the family tradition but with an added ingredient - style. The very first Brough Superior MkI of 1919 featured a saddle tank - an innovation not adopted by the rest of the British industry until 1928 - and the latter's broad-nosed, wedge-profiled outline would be a hallmark of the Nottingham-built machines from then on. Always the perfectionist, Brough bought only the best available components for his bikes, reasoning that if the product was right, a lofty price tag would be no handicap. And in the 'Roaring Twenties' there were sufficient wealthy connoisseurs around to prove him right. One such was T E Lawrence – 'Lawrence of Arabia' – who owned several Broughs and was killed riding an SS100.

Introduced in 1922, the JAP-powered SS80 achieved instant fame when a racing version ridden by George became the first sidevalve-engined machine to lap Brooklands at over 100mph. With the new SS80's performance threatening to put the overhead-valve MkI in the shade, it was decided to completely redesign the latter. The result was the legendary SS100. First shown to the public in 1924, the SS100 employed an entirely new overhead-valve 980cc JAP v-twin engine. A frame of duplex cradle type was devised for the newcomer, which soon after its launch became available with the distinctive, Harley-Davidson-influenced, Castle front fork patented by George Brough and Harold 'Oily' Karslake. And just in case prospective customers had any doubts about the SS100's performance, each machine came with a written guarantee that it had been timed at over 100mph for a quarter of a mile - a staggering achievement at a time when very few road vehicles of any sort were capable of reaching three-figure speeds.

With this level of performance available in road trim, it was only to be expected that the SS100 would make an impact on the race track, particularly the ultra-fast Brooklands oval, and the exploits of Brough Superior riders - among them Le Vack, Temple, Baragwanath, Fernihough, and Pope - did much to burnish the marque's image. When Brooklands closed forever at the outbreak of WW2, Noel Pope's Brough Superior held both the sidecar and solo lap records, the latter at an average speed of 124.51mph.

Success in an altogether different branch of motorcycle sport resulted in one of Brough's most iconic models: the SS100 'Alpine Grand Sports' or 'AGS'. Introduced in September 1925 for the 1926 season, this new machine took its name from the Austrian Alpine Trial, the 1925 event having been contested by a number of SS100s, one ridden by George Brough himself, resulting in the award of six cups, including one for 'Best Performance'. The introduction of the Alpine Grand Sports coincided with that of a new frame for the SS100, and the AGS came as standard with a lower compression ratio (making it more suitable for touring), a small fly-screen, and a pair of tool boxes. Priced at £170 (in 1927), it was the most expensive model in the range.

Brough entered the 1930s with an entirely JAP-powered range and then in 1936 the SS100 was redesigned with an engine built by Associated Motor Cycles, in which form it continued until production ceased in 1939. Lighter and faster than the subsequent Matchless-engined version, the JAP-powered SS100 Alpine Grand Sports has long been regarded as the ultimate incarnation of this famous model.

A 1927 model, this particular SS100 Alpine Grand Sports - frame number '875A' - was despatched from the factory on 30th October 1926 to Mersey Motors, as recorded on the accompanying copy of its Works Record Card. The machine left the factory equipped with Castle forks, a Binks 'Mousetrap' carburettor, prop stand, bulb horn, and a Terry saddle. The Brough has since had its engine changed (to one of correct KTOR type, believed previously fitted to a Montgomery), the original engine – '64928' – was fitted by the factory in the 1930s to frame '857' - the Jack Cunliffe sand racer.

In 1934, the Brough passed into the ownership of engineer Arthur Brocklebank, who made various modifications, including changing the gearbox and fitting forks of his own design, and sometimes attached a sidecar. In this form the Brough took Arthur and his wife all over the British Isles on holidays and camping trips, clocking up an estimated 100,000-plus miles over some 30 or more years. Attached to a sidecar and fitted with Arthur's own front fork, 'DB 7475' was featured together with two other combinations in The Motor Cycle in 1955 (October edition, copy available). Arthur's outfit was also featured in the Brough Club newsletter in 1965 in an article written by his friend, Peter Robinson (manuscript copy available). The history file contains numerous photographs of the Brough with various front-end arrangements, though it is not known when the Castle forks were refitted or by whom.

Following Arthur's death, the Brough passed through the hands of Peter Robinson and then Ken Neave before being registered in February 1979 to Peter Dawson of Cheadle, Lancashire (see old-style V5 document on file). The current vendor purchased the machine from Solent Britbikes of Manchester in June 1986, since when it has been comprehensively restored by its owner, a qualified mechanical engineer.

Various recognised specialists contributed to the SS100's restoration: the engine being overhauled by a German expert; the Sturmey Archer gearbox, clutch and rear luggage rack rebuilt by Simon Miles; and the magneto overhauled by Dave Lindsley. The mudguards were supplied by R Pettet and the wheel rims by Dave Kemp, while numerous other parts were obtained from the Brough Club. Noteworthy features include a Binks 'Mousetrap' carburettor, Bonniksen six-pointer speedometer (rare), bulb horn, Terry saddle, hinged carrier, prop stand, anti-theft ignition cut-out switch, a modern electrical generator (concealed behind the gearbox), and a removable drip tray beneath the engine/gearbox. In addition, the vendor has made numerous minor modifications (list available) in the interests of improving reliability and practicality, which nevertheless are removable if not required by the next owner.

Offered with a detailed and fascinating history file (perusal recommended), 'DB 7475' represents a possibly once-in-a-lifetime opportunity to acquire a well-documented example one of these legendary Brough Superior SS100 Alpine Grand Sports models.

Footnotes
As with all Lots in the Sale, this Lot is sold 'as is/where is' and Bidders must satisfy themselves as to the provenance, condition, age, completeness and originality prior to bidding.