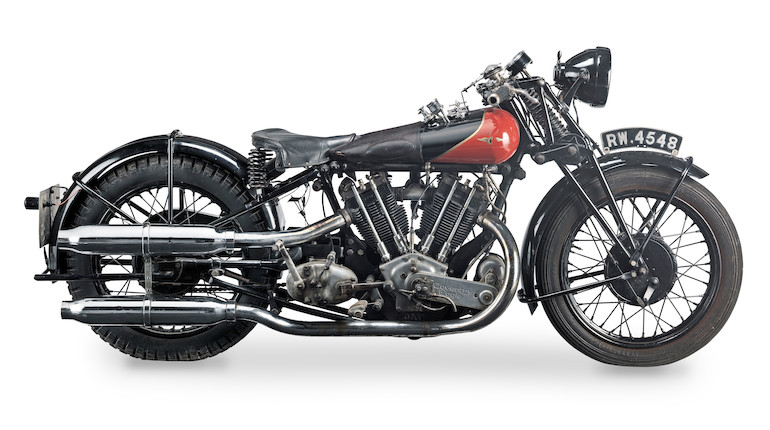 1925 Coventry-Eagle 981cc Flying-8
Registration no. RW 4548 Frame no. 37204 Engine no. KTOR/A 42942
Amended
28 April 2019, 10:00 BST
Stafford, Staffordshire County Showground
Sold for £218,500 inc. premium
Own a similar item?
Submit your item online for a free auction estimate.
How to sell
Looking for a similar item?
Our Motorcycles specialists can help you find a similar item at an auction or via a private sale.
Find your local specialist
1925 Coventry-Eagle 981cc Flying-8
Registration no. RW 4548
Frame no. 37204
Engine no. KTOR/A 42942
• Rare Vintage-era v-twin
• An older restoration
• Mechanical condition not known.
• Formerly on display at the London Motorcycle Museum

'There is an undeniable fascination in owning a machine capable of seemingly illimitable speed. For ordinary running the engine is merely idling, 50mph seems like 30mph on most machines, 60mph is a comfortable touring speed, while when one of those very rare stretches of really safe road is encountered the speedometer needle will, when the throttle is opened wide, pass the 80mph before remaining steady.' – Motor Cycling testing a Coventry-Eagle Flying-8, with sidecar attached, in 1925 (4th November edition).

Established in Victorian times as a bicycle manufacturer, Coventry-Eagle built a diverse range of motorcycles using proprietary (mainly JAP) engines from 1901 onwards, though machines only began to be produced in significant numbers after WWI. Six Coventry-Eagles were offered for 1923, all JAP-powered except for a Blackburne-engined 350, ranging from the formidable Flying-8 to the diminutive S14 Ultra-Lightweight. Most famous of these was the Flying-8 which, with its 1.0-litre JAP v-twin engine and muscular good looks, was a worthy rival for the Brough Superior and a formidable Brooklands racing machine. Introduced in 1923, the Flying-8 was not Coventry-Eagle's first v-twin but it was the first to establish a sporting reputation thanks to its special 981cc sidevalve engine that guaranteed a top speed of 80mph, an exceptional performance at the time. Motor Cycle's tester found that the Flying-8 was tractable, comfortable and handled well in town, while 'on the open road, as one would expect, it is possible to annihilate space on the merest whiff of gas...'

In 1926 the sidevalve version was joined by a new and even faster overhead-valve engined Flying-8, again JAP powered. Motor Cycling concluded its test of the OHV Flying-8 thus: 'We have no hesitation in recommending the latest Coventry-Eagle as a high-quality machine, capable of the most satisfactory road performance both as regards speed and flexibility.' And that, lest we forget, was with a sidecar attached.

Within a few years however, the onset of the Depression had forced Coventry-Eagle to change tack, the firm concentrating on bread-and-butter lightweights until it ceased motorcycle production in 1939. The last overhead-valve Flying-8 left the factory in 1930 and the final sidevalve model the following year. Compared with the rival Brough Superior, Flying-8 survivors are relatively few.

This rare overhead valve-engined Flying-8 is an older restoration in average-to-good condition, though fitted with an incorrect gearbox and silencers. The machine's mechanical condition is not known. Accompanying documentation consists of an old V5, expired MoT certificates, expired tax discs (1948 onwards), an old-style continuation logbook (1948), assorted correspondence, a JAP Reference Book, and a Coventry Eagle Motor Cycles Olympia Show edition pamphlet. The machine's continuation logbook (issued 1948) records a 10 Oct 1925 date of registration, although it is believed to be an early 1926 model, possibly a show model given the date of manufacture.
Footnotes
As with all Lots in the Sale, this Lot is sold 'as is/where is' and Bidders must satisfy themselves as to the provenance, condition, age, completeness and originality prior to bidding.
Saleroom notices
There is no handbook with this Lot.