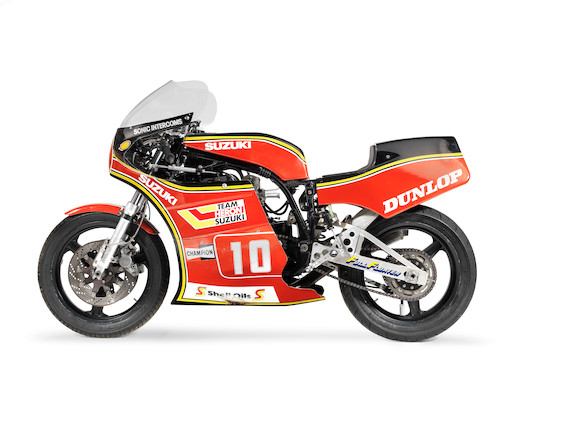 Ex-works; Mick Grant; North West 200-winning, 1982 Suzuki 998cc XR69 TT Formula 1 Racing Motorcycle
Registration no. not registered Engine no. GS100R-83002
28 April 2019, 10:00 BST
Stafford, Staffordshire County Showground
Own a similar item?
Submit your item online for a free auction estimate.
How to sell
Looking for a similar item?
Our Motorcycles specialists can help you find a similar item at an auction or via a private sale.
Find your local specialist
Ex-works; Mick Grant; North West 200-winning
1982 Suzuki 998cc XR69 TT Formula 1 Racing Motorcycle
Registration no. not registered
Engine no. GS100R-83002
• Given to Mick Grant by Suzuki
• Owned continuously since 1985
• Extensive in-period race history
• Regularly paraded

The ex-works Suzuki XR69 seen here is offered for sale by former Kawasaki, Honda, and Suzuki factory rider Mick Grant, who was given the machine by a grateful Suzuki when he retired from racing in 1985. Mick has owned the XR69 continuously since then.

Nowadays a mainstay of classic racing in replica form, the XR69 was originally developed jointly by Suzuki and legendary tuner Pops Yoshimura, who had been running the factory's effort in the AMA Superbike Championship. Suzuki's AMA superbike racers were based on the GS1000 sports roadster, and as Yoshimura steadily increased maximum power the stock running gear had to be up-rated to cope. Suzuki supplied a complete front end from its contemporary XR-series 500cc Grand Prix bike, followed by a braced swinging arm, leaving only the main frame as standard. When it was decided to further develop the GS1000 for the Formula 1 TT category and the Endurance World Championship, Yoshimura came up with an entirely new frame for the resulting XR69.

The first XR69s were ready in time for the Le Mans 24 Hours race in April 1980. The XR69's UK debut was delayed until the Isle of Man TT in June, when Heron Suzuki factor rider Graeme Crosby brought his home is 2nd place behind Mick Grant's works Honda. There were only two rounds in the TT F1 World Championship that year, and Crosby's victory in the second at the Ulster Grand Prix was good enough to take the title for Suzuki. Despite having missed the first three rounds because the XR69s were not ready, Crosby only narrowly missed out on winning the 1980 British TT F1 Championship, which went to Honda-mounted Grant. The following year there was no stopping the New Zealander, who won six out of seven rounds to take the British TT F1 Championship in fine style. He also retained his TT F1 World title. For '81 the XR69 featured revised rear suspension, becoming the XR69-S, while the engine now produced a maximum of 134bhp.

With Crosby off to the Grand Prix circus with Suzuki factory team for 1982, his place at Heron Suzuki was taken by Mick Grant. Forming part of a three-rider team with John Newbold and Roger Marshall, Grant finished 2nd behind the returning Crosby at the Isle of Man and 3rd behind him at the Ulster GP. Tragically, at the North West 200, Newbold clipped the rear wheel of Grant's XR69 and was killed in the ensuing crash. Despite being badly shaken, Mick responded by going out and winning the NW200 main event, dedicating the victory to Newbold and donating his prize money to John's widow.

With Marshall departed for Honda, Grant was joined by Rob McElnea for the 1983 season, the start of which marked a change in team livery from Heron's red/yellow/back to Suzuki-factory blue/white. McElnea would prove to be an inspired choice, winning the IoM Classic TT on only his second visit to the Island, while the highlights of Mick's roads season would be 2nd places in the IoM TT F1 race and Ulster GP. In the British TT F1 Championship, Mick ended the season in 3rd place overall behind McElnea and winner Wayne Gardner (Honda). With the upper capacity limit for the TT Formula 1 category reducing to 750cc for 1984, the Suzuki XR69s were retired at the season's end.

Mick takes up the story: 'My full factory XR69 has been in my possession since I retired from racing in 1985. It is the exact specification as I raced it. It was given to me by Suzuki. To the best of my knowledge there were only five or six of the special bikes made. For some reason my bike seems to be the best specification of them all, it has a dry clutch, magnesium carburettors, billet forks, twin sparking plugs, etc.

'I only know of two others that still exist, one is an ex-Roger Marshall bike with a collector in Ireland, and the other is an early twin-shock XR built for Graham Crosby.
'This machine is in very good mechanical and working condition. In the last few years I've demonstrated this machine in South Africa and at Oliver's Mount, Spa Francorchamps, Brands Hatch, Mallory Park, etc.

'It is a lovely bike to ride and still feels as fresh as when I was racing it. On this bike I had lap records and second places in the Isle of Man. I won the North West 200 on it, set the lap record Donington Park, was second in the Macau GP, etc.'

In 1982 Shell Oils made a video of the Isle of Man TT featuring Mick's XR69, which some years later was tested by Alan Cathcart for Classic Racer magazine (issue 49). Interviewed for the Classic Racer article, Mick had this to say about this XR69: 'It's pretty near the top of my personal hit parade of bikes I've raced. I think my all-time favourite would be my KR750 Kawasaki, but nowadays when I parade them back to back at Classic do's and such, I prefer to be on the Suzuki. It's just a very nice ride.'

An original works machine possessing in-period race history and fitted with countless special parts, Mick Grant's XR69 represents a possibly once-in-a-lifetime opportunity to acquire one of the iconic factory-built superbikes.