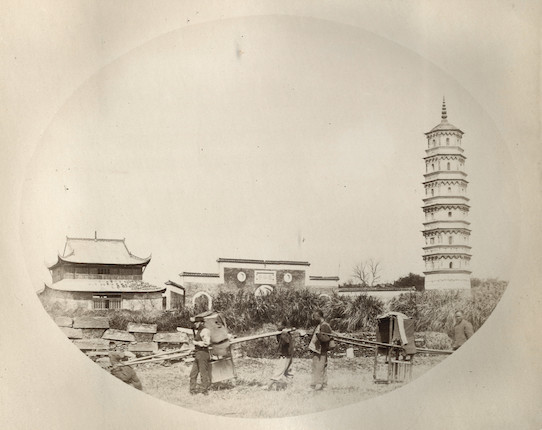 CHINA
DUDGEON (JOHN, attributed to) An album of views in Beijing (including Imperial Palaces) and locations in Zhenjiang Province, [c.1868-1872]
27 March 2019, 13:00 GMT
London, Knightsbridge
Sold for £31,312.50 inc. premium
Own a similar item?
Submit your item online for a free auction estimate.
How to sell
Looking for a similar item?
Our Books & Manuscripts specialists can help you find a similar item at an auction or via a private sale.
Find your local specialist
CHINA
DUDGEON (JOHN, attributed to) An album of views in Beijing (including Imperial Palaces) and locations in Zhenjiang Province, 83 albumen prints, 79 mounted one per page (4 smaller on 2 pages), various sizes but typically approximately 140 x 205mm., each with contemporary ink caption on mount, one leaf loose, contemporary half morocco, upper cover captioned "Photographic Views in the Che-Kiang Province", g.e., oblong folio (252 x 295mm.), [c.1868-1872]
Footnotes
A good series of albumen views, attributable to Dr. John Dudgeon (1837-1901), resident in Peking for some thirty-eight years, who was "an enthusiastic amateur photographer... [and whose] outstanding contribution to photography in China was his composition and publication of a treatise in Chinese on the subject... [his] work deserves greater recognition" (Terry Bennett, History of Photography in China. Western Photographers 1861-1879, 2010, pp.37-55, illustrating seven images also included in the present album). He was an acquaintance of both Thomas Child and John Thompson (with whom he visited the Summer Palace in 1871), and in 1868 had undertaken a tour beyond Peking including visits to Tientsin, Hankow, and Kiukiang.

Approximately 55 of the views depict scenes in Beijing, the Summer Palace and environs, including: "Fancy Kytes near Custom House Lane"; British Legation (2); "Outside view of Peking Wall"; "View of Peking Wall"; "Front of Shops"; "Arch across Street"; "Mongolian Tent"; "Ku Lo or Drum Tower"; French Legation; Catholic Cathedral; "Observatory"; Yonghe Temple monastery (4), flower gardens (3), building in which Sir Harry Parkes was imprisoned; "The Beggar's Bridge"; Imperial and Summer Palaces ("Principal Entrance", "Imperial Grounds" (2), "Nine Arched Bridge"; "North Sea"; "South Sea"; "Pavilion Imperial City"; "Imperial Grounds" (2, including Buddhist Pagoda); "Persian Mosque"; "Building opposite Imperial Persian Mosque"); "Seventeen Arched Bridge"; views of Yuen Ming Yuen (6, distant and building groups); "Hunch Backed Bridge" (2); Temple of Heaven (3). The remainder of views are mostly of scenes in the Zhenjiang [Che-Kiang] Province, and include: Tientsin (2); Hamlet and ruins at "Ling Kwang Ssu" (5); Hankow (4, including garden courtyard with an official, and the Causeway); "Kingiang Custom House"; "Outside View of Kingkiang Wall"; "Kinkiang Pagoda" (2); distant view of Kinkiang City; bungalows at Kingkiang.

Provenance: Hester Hart, presentation inscription "To Ho Tai Tai Mrs Robert Hart from her humble servant and well wisher Bibanne Moore... Kiukiang - China" on the front free endpaper.

The album's recipient, Hester Hart (neé Bredon), had married Sir Robert Hart in 1866, returning to England in 1881. Hart was inspector-general of the Chinese Maritime Customs, based primarily in Beijing, from 1864 until 1908. He was a friend and patient of Dudgeon. Charles Frederick Moore (1838-1916), who had joined the British Colonial Office in 1860, subsequently working at the C.M.C. under Hart for nine years, married Bibianne (née Yii) in Peking in 1868. Whilst in China she had nine children, several of whom were born in Beijing, and two in "Che-Kiang" in 1873. The couple moved to Canada in 1885. A collection of photographs taken by Moore in China is held by Royal British Columbia Museum archives (see the RBCM website, for images and biography). Bennett notes that "it is likely that the Western community in the capital sought out Dudgeon's works as souvenirs of their time in China, because several collections of his photographs originally owned by diplomats or members of the Imperial Maritime Customs Service survive".