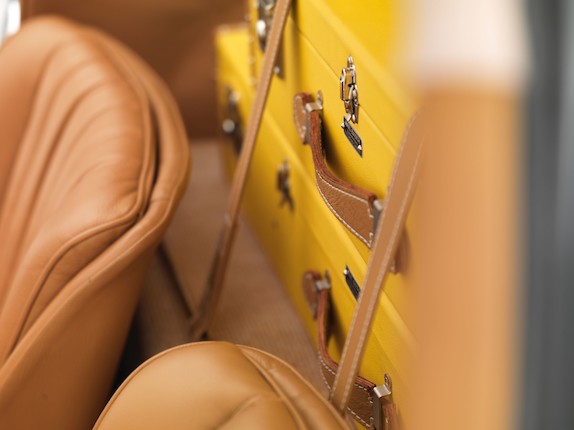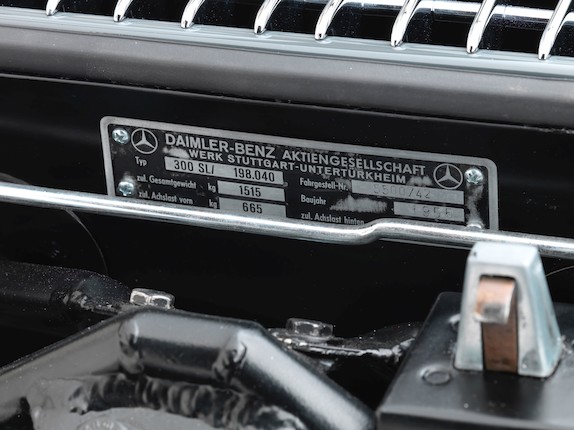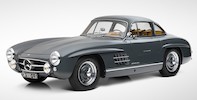 1955 Mercedes-Benz 300 SL 'Gullwing' Coupé
7 February 2019, 14:00 CET
Paris, The Grand Palais
Sold for €1,207,500 inc. premium
Own a similar item?
Submit your item online for a free auction estimate.
How to sell
Looking for a similar item?
Our Collector Cars specialists can help you find a similar item at an auction or via a private sale.
Find your local specialist
Ask about this lot
Philip Kantor
International Chairman for Motoring
Concours Condition
1955 Mercedes-Benz 300 SL 'Gullwing' Coupé
Chassis no. 198.040.55.00742
•Full ownership history known
•New factory-supplied aluminium engine block, cylinder head, and gearbox installed in 1973 by Daimler Benz Bielefeld
•Full 'last nut and bolt' restoration by Mercedes specialist Cochera, finished in November 2018
•HK-Engineering Improvements for reliable daily use: front disc brake conversion, electronic ignition, and improved and more reliable fuel system (changes reversible and original parts available)

Footnotes
In 1973, this 300 SL Gullwing was fitted with a rare and ultra-desirable new aluminium engine (manufactured in 1965) together with a new cylinder head (1968) and a new gearbox (1970).
It only covered 90,851 kilometres since 1973 and was fully restored between May 2014 and November 2018.

This car was supplied new on 22nd of September 1955 to Mercedes¬-Benz Distributors USA of New York City and was delivered finished in red with a black leather interior. Factory-fitted options included high-gloss paintwork; instruments with English inscriptions; sealed-beam headlights; bumpers equipped with horns; right door with door-lock; and windscreen washing system. The car was sold to the first owner, a Mr Heckler of Springfield, Ohio, who kept it until 1972.

On 8th March 1972, the Gullwing was sold to Mr E von Fragstein of Dayton, Ohio, who re-import the car into Germany via his brother, Mr N von Fragstein of Mülheim, on 18th August 1973. It was then sold to Mr Berthold Rückwarth of Bielefeld, Germany.

When Mr Rückwarth acquired the car, it was still in its original livery, but he made the decision to repaint it in the 'standard' 300 SL colour, metallic silver grey (DB 180). On 5th November 1973, the original engine (number '198.980.55.00792') was scrapped and replaced with a new factory aluminium engine manufactured in 1965, two years after the end of 300 SL production. The new block was delivered with no identification plates and no stamps in the usual places. These aluminium blocks were 44kg lighter than the cast-iron original type; Mercedes-Benz's race-team director Rudolf Uhlenhaut had introduced the alloy blocks for competition use in 1952, and the last 210 300 SL Roadsters (built during 1962 and 1963) received these lighter engines.

The new aluminium engine block, manufactured on 22nd September 1965, was stamped with the correct '198.982' number prefix and fitted with a specific plate stamped: 'Original Mercedes-Benz Tauschaggregat, Teil-Nr. 198 010 1200 / 80, Aggregat Nr. 365984'. The cylinder head (manufactured on 10th April 1968) was replaced also, as was the gearbox (manufactured on 21st May 1970). It too received a specific plate stamped: 'Original Mercedes-Benz Tauschaggregat, Teil¬-Nr. 198 260 0704 / 80, Aggregat Nr. 140585'. This engine block was certainly one of the last available new from the factory and is not a reconditioned unit from the 210 manufactured between 1962 and 1963. Not only is this engine newer and much lighter, it is also more powerful, producing 240bhp at 6,000rpm courtesy of the NSL or Sports camshaft, as well as numerous other improvements that characterise the last engines built.

The foregoing works were carried out by the Daimler-Benz subsidiary in Bielefeld, formerly (until April 1973) Kirstein & Sauer GmbH, Herforder Str. 273, 4800 Bielefeld. After these replacements, the odometer was reset and Mr Rückwarth covered a mere 10,000 kilometres in his 300 SL over the course of the next 31 years.

In spring of 2004, Mr Axel Schutte of Oerlinghausen in Germany became the car's next owner. He decided to commission a full mechanical overhaul because the Gullwing was going to participate in that year's edition of the 'Mille Miglia Storica'; its driver would be Mr Volker Stauch, formerly Managing Director of Daimler Fellbach, and the co-driver the well-known German industrialist, Mr August Oetker. The car completed the 1,600-kilometre race without any problems (see book on the 2004 'Mille Miglia Storica').

On 21st March 2007, the car was registered by Mr Jörg Pilawa from Hamburg, a well¬ known German TV star, and later, on 16th February 2010, it was registered in the United Kingdom by a French collector, Mr Gerard Molins. The current owner, a Franco-Spanish collector, bought the Mercedes on 21st May 2013 with 76,884 kilometres recorded on the odometer. He then drove the car for approximately 14,000 kilometres before commissioning a mechanical and electrical restoration in 2014 followed by a full frame-off restoration to concours condition in 2016. Completed in November 2018, this full frame-off refurbishment was entrusted to Cochera, the well-known Mercedes-Benz classics specialists in Madrid, Spain, a company used to working for specialist dealers and private owners in Germany.

The car was completely dismantled and catalogued with photographs (more than 1,600), while the body was placed on a rotisserie for manual body sanding and minor shaping corrections, which were followed by a deep repaint in Graphite Grey (DB 190). The frame was taken down to bare metal and properly epoxy-coated, and the suspension, brakes, and electrical systems rebuilt as needed. The engine and transmission were removed, disassembled, and rebuilt with many parts sourced from Daimler AG, HK-Engineering, and Kienle in Germany. The interior was re-upholstered in contrasting tan leather, while a new Karl Baisch two-piece leather luggage set in yellow/tan was sourced. A detailed description of the 4,350-hour restoration process is available together with all invoices, photographs, videos, etc. (perusal recommended).

HK-Engineering provided a complete front disc brakes kit, while other reversible upgrades include electronic ignition, an improved fuel system; Nardi steering wheel; additional headlights; fire extinguisher; support for a Halda Twin Master or equivalent and two 'vintage' chronometers. Late Rudge wheels were fitted, circa 2007. The bumpers are available, but the owner prefers the more aggressive look the car has without them. Where original parts have been removed they have been preserved and are included in the sale.

The car also comes with a set of tools; Daimler-Benz Data Card (copy); original Instruction Manual; original Type 300 SL sales brochure; Gullwing Group technical tips binder; FIVA card; and book of the 2004 'Mille Miglia Storica' with pictures of the car. Currently registered in France (where it no longer has to pass the Contrôle Technique), the car also comes with copies of its previous UK and German registration documents.

Events attended in recent years include the following:

Flying Stars exhibition at Mercedes-Benz's Paris showroom (2013)
Urban Tour Baden Württemberg, Madrid, Spain (2014)
Concours Arts et Elegance Richard Mille, Chantilly, France (2014)
Spain Rally FIA (2015, class winner)
Concours d'Elegance Autobello, Madrid, Spain (2015)
Ennstal Classic Rally, Austria (2015)
Classic Auto, Madrid, Spain (2016)
ING Ardenne Roads Rally, Belgium (2016)
Concours d'Elegance Suisse, Coppet, Switzerland (2016)

A wonderful opportunity to own what is probably the only Gullwing in the world fitted with a new factory-supplied aluminium engine.

Unique et en état concours
Mercedes-Benz 300 SL coupé « papillon » 1955
Châssis n° 198.040.55.00742

•Historique des propriétaires complet
•Bloc moteur en aluminium, culasse et boîte de vitesses neufs, fournis par l'usine, montés en 1973
•Restauration intégrale par le spécialiste Mercedes Cochera, achevée en novembre 2018
•Améliorations par HK-Engineering pour un usage quotidien et fiable fiabilisé : freins à disque à l'avant (réversible), allumage électronique, et système d'alimentation fiabilisé et éprouvé (changements réversibles avec pièces d'origine fournies)

En 1973, cette 300 SL « papillon » a été dotée d'un rare et très recherché moteur en aluminium neuf (fabriquée en 1965) avec une culasse neuve (1968) et une boîte neuve (1970). Elle n'a parcouru que 90 851 km depuis 1973 et a été complètement restaurée entre mai 2014 et novembre 2018.

Cette voiture a été livrée neuve le 22 septembre 1955 à l'agent Mercedes-Benz Distributors USA de New York dans une livrée rouge avec intérieur en cuir noir. Les options d'usine comprenaient la peinture lustrée, les instruments de bord en anglais, les phares à faisceau scellé, les pare-chocs avec butoirs, la porte droite avec serrure et le lave-glace. La voiture fut vendue à son premier propriétaire, un certain M. Heckler de Springfield, dans l'Ohio, qui la conserva jusqu'en 1972.

Le 8 mars 1972, le papillon fut vendu à M. E. von Fragstein de Dayton, Ohio, qui ré-importa la voiture en Allemagne grâce à son frère, M. N. von Fragstein de Mülheim, le 18 août 1973. Elle fut ensuite vendue à M. Berthold Rückwarth de Bielefeld, en Allemagne.

Lorsque M. Rückwarth acquit la voiture, elle était encore dans sa livrée d'origine, mais il décida de la repeindre dans la couleur gris argent métallisé « standard » des 300 SL (DB 180). Le 5 novembre 1973, le moteur original (n° 198.980.55.00792) fut ferraillé et remplacé par un nouveau moteur en aluminium d'usine, construit en 1965, deux ans après l'arrêt de la production de la 300 SL. Le nouveau bloc-moteur ne comportait ni numéro d'identification ni plaque aux emplacements habituels. Ces blocs en aluminium étaient plus légers de 44 kg que le type original en fonte d'acier. Rudolf Uhlenhaut, le Directeur du Département Compétition de Mercedes-Benz, avait présenté le bloc aluminium pour la compétition en 1952, et les 210 derniers roadsters 300 SL (construits de 1962 à 1963) reçurent ces moteurs plus légers.

Le nouveau moteur en aluminium, construit le 22 septembre 1965, était estampillé avec le préfixe conforme 198.982 et doté d'une plaque spécifique sur laquelle on pouvait lire : Original Mercedes-Benz Tauschaggregat, Teil-Nr. 198 010 1200 / 80, Aggregat Nr. 365984. La culasse (fabriquée le 10 avril 1968) fut également remplacée, tout comme la boîte de vitesse (construite le 21 mai 1970). Elle aussi recevait une plaque spécifique : Original Mercedes-Benz Tauschaggregat, Teil-Nr. 198 260 0704 / 80, Aggregat Nr. 140585. Ce bloc-moteur était probablement l'un des derniers disponibles neufs à l'usine et n'est pas un bloc-moteur reconditionné issu des 210 construits entre 1962 et 1963. Non seulement ce nouveau moteur est plus neuf et plus léger mais il est aussi plus puissant délivrant 240 ch à 6 000 tr/min, grâce à un arbre à cames sport NSL, et aussi à de nombreuses autres améliorations caractéristiques des derniers moteurs construits.
Les travaux ultérieurs ont été menés par la filiale Daimler-Benz de Bielefeld, autrefois (jusqu'en avril 1973) Kirstein & Sauer GmbH, Herforder Str. 273, 4800 Bielefeld. Après ces remplacements, le compteur fut remis à zéro et M. Rückwarth parcourut à peine 10 000 km avec cette 300 SL au cours des 31 dernières années.

Au printemps 2004, M. Axel Schutte d'Oerlinghausen en Allemagne devint le propriétaire suivant. Il décida d'entreprendre une révision totale de la mécanique car son « papillon » devait participer à l'édition des Mille Miglia Storica cette année-là. Son pilote fut M. Volker Stauch, ex-directeur général Daimler de Fellbach, et le copilote l'industriel allemand bien connu, M. August Oetker. La voiture a suivi la course de 1 600 km sans aucun problème (voir le livre des Mille Miglia Storica 2004).

Le 21 mars 2007, la voiture fut immatriculée par M. Jörg Pilawa de Hambourg, une vedette de la télévision allemande et, plus tard, le 16 février 2010, elle fut immatriculée au Royaume-Uni par un collectionneur français, M. Gérard Molins. Le propriétaire actuel un collectionneur franco-espagnol, a acheté la voiture le 21 mai 2013 avec 76 884 km au compteur. Il a parcouru approximativement 14 000 km, avant de commander une restauration mécanique et électrique en 2014, suivie d'une restauration en 2016 avec une mise à nu du châssis et l'objectif de l'état concours. Achevée en novembre 2018, cette restauration fut confiée à Cochera, le spécialiste des Mercedes-Benz de collection de Madrid, en Espagne, une société qui a l'habitude de travailler pour des professionnels spécialisés et des particuliers en Allemagne.

La voiture a été complètement démontée et répertoriée en photos (plus de 1 600 clichés). La carrosserie a été installée sur une « rôtissoire » pour un sablage manuel et des retouches de carrosserie mineures, suivis par une peinture gris graphite (DB 190). Le châssis a été mis à nu et traité à l'epoxy et les suspensions, les freins et le système électrique refaits en fonction des besoins. Le moteur et la transmission ont été démontés, désassemblés et reconstruits avec de nombreuses pièces d'origine Daimler AG, HK-Engineering, et Kienle en Allemagne. L'intérieur a été regarni dans un cuir fauve contrasté, et un ensemble de deux valises neuves en cuir bicolore Karl Baisch jaune/fauve a été réalisé. Une description détaillée des 4 350 heures de restauration est disponible avec factures, photographies, vidéos, etc. (examen attentionné recommandé).

HK-Engineering a fourni les freins à disque avant, tandis que les autres modifications réversibles comprennent l'allumage électronique, un système d'alimentation amélioré, un volant Nardi, des phares longue portée, un extincteur, un support pour trip master du type Halda et deux chronomètres « vintage ». Des roues Rudge plus tardives ont été installées vers 2007. Les pare-chocs sont fournis mais le propriétaire préfère l'allure plus agressive de la voiture sans ces derniers. Les pièces d'origine remplacées ont été conservées et seront vendues avec la voiture.

La 300 SL est également vendue avec sa trousse à outils, sa fiche d'identification Daimler-Benz (copie), son manuel d'instruction original, la brochure commerciale 300 SL d'origine, le dossier de conseils techniques du Gullwing Group, la carte FIVA et le livre des Mille Miglia Storica 2004 dans lequel figure la voiture. Actuellement immatriculée en France (où elle n'a plus à passer le Contrôle Technique), la voiture est aussi vendue avec des copies de ses précédentes immatriculations en Allemagne et au Royaume-Uni.

Événements auxquels elle a participé :

Exposition Flying Stars au showroom Mercedes-Benz de Paris (2013)
Urban Tour Baden-Württemberg, Madrid, Espagne (2014)
Concours Arts et Élégance Richard Mille, Chantilly, France (2014)
Rallye FIA en Espagne (2015, victoire de classe)
Concours d'Élégance d'Autobello, Madrid, Espagne (2015)
Ennstal Classic Rally, Autriche (2015)
Classic Auto, Madrid, Espagne (2016)
ING Ardennes Roads Rally, Belgique (2016)
Concours d'Élégance Suisse, Coppet, Suisse (2016)

Une magnifique occasion de posséder ce qui est probablement le seul « papillon » au monde équipé d'un moteur neuf en aluminium fourni par l'usine.