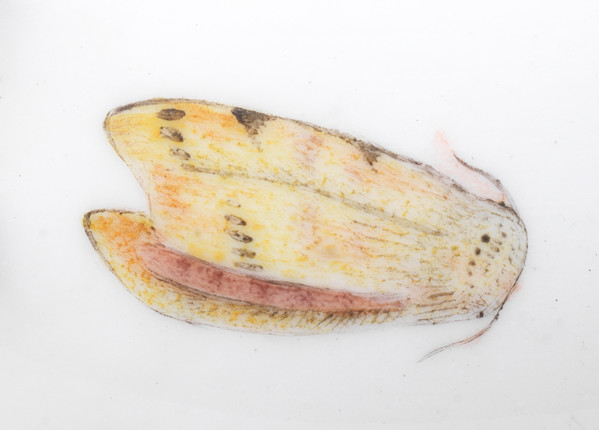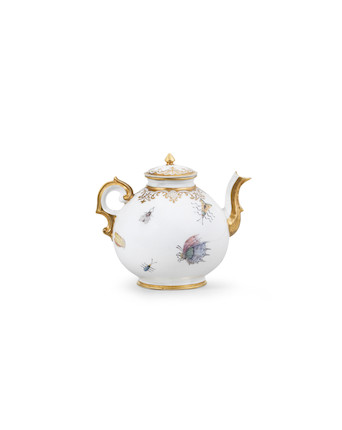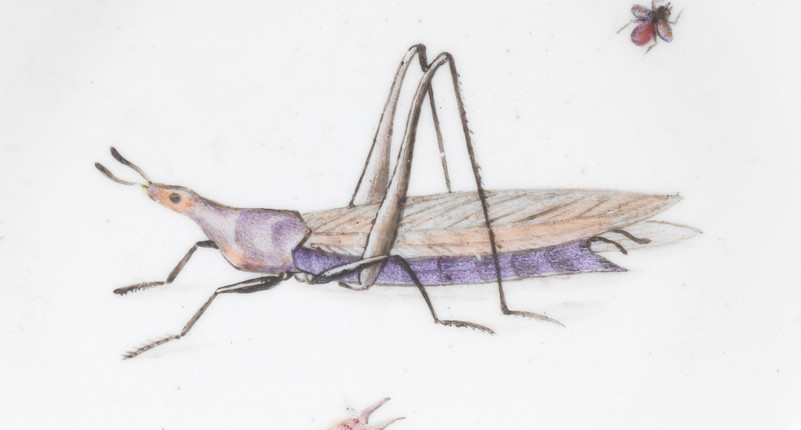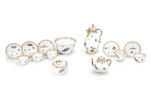 An exceptional Capodimonte porcelain tea and coffee service, circa 1750
2 July 2019, 14:00 BST
London, New Bond Street
Sold for £100,062.50 inc. premium
Own a similar item?
Submit your item online for a free auction estimate.
How to sell
Looking for a similar item?
Our European Ceramics specialists can help you find a similar item at an auction or via a private sale.
Find your local specialist
Ask about this lot
Sophie von der Goltz
Head of Sale
Sebastian Kuhn
Department Director
Nette Megens
Head of Department, Director
An exceptional Capodimonte porcelain tea and coffee service, circa 1750
Decorated a farfalle e insetti, after the prints by Joris Hoefnagel, 'Insects Diversae Insectarum Volatilium' published in 1630, comprising a coffee pot and cover, tea pot and cover, slop bowl, sugar bowl and cover and four teacups and saucers and one coffee cup and saucer, the coffee pot and cover: 24cm high, fleur-de-lys marks in blue enamel (small flat chip to underside of rim of one saucer) (17)
Footnotes
Provenance:
Private Collection, Rome (the coffee pot and beaker and saucer) by 1977;
Aldo Pironti Collection, Benevento (paper label to the base);
Italian Private Collection

Published:
A. Mottola Molfino, L'Arte della Porcellan in Italia, Il Piemonte, Roma e Napoli (1977), pls. XVII and XVIII;
A. Caròla-Perrotti, Le Porcellane dei Borbone di Napoli (1986), plate XXIX, [I,9]

This service is exceptional both in its completeness and decoration. Insects such as butterflies and moths appear on Asian porcelain with great frequency and fulfilled a clear decorative and often symbolic purpose. The fashion for depicting naturalistic insects on European porcelain was first introduced at Du Paquier, where porcelain was decorated with lifelike creatures based on the prints and copies of the work of Jacob Hoefnagel. According to Claudia Lehner-Jobst (Barockes Luxusporzellan (2005) p.19ff.) it is questionable whether artists of the Du Paquier manufactory always intended to convey the symbolic meaning in depicting certain flowers and animals as is the case with Asian porcelain. In the inventory of the Du Paquier porcelain manufactory in the MAK there are individual sheets by Maria Sybilla Merian, whose engravings, like Josef Hoefnagel's, are rooted both in the natural sciences and in artistic depiction of the natural world.

The large naturalistic single insects and animals such as the lizard and mouse we associate immediately with Vienna porcelain of the Du Paquier period faithfully copied the work of Jacob and Joris Hoefnagel, Archetypa studiaque patris, and were subsequently used at the Doccia factory. They were most probably introduced there by the painter Carl Wedelin Anreiter von Zirnfeld, whose services to the Doccia factory were secured by Carlo Ginori on his visit to Vienna in 1737, at the head of a delegation travelling from Tuscany to Vienna to pay homage to the new ruler. Appointing Carl Anreiter as chief painter at Doccia meant strong Viennese influence on the entire production cycle, not only the decorative style. A recent discussion of the sources for this naturalistic painting on Du Paquier and Doccia porcelain was published in the catalogue of the exhibition 'Fragili Tesori dei Principi' held in the Palazzo Pitti from 13 November 2018 to 10 March 2019. It showed that, although the Hoefnagel prints remain the main source for this kind of decoration, other Flemish paintings from the same period should also be considered as a source for decoration on Doccia porcelain.

It is no wonder, then, that less than 15 years later the newly-founded Capodimonte factory of King Charles III in Naples also used the fashionable Hoefnagel prints for the most precious and finely-potted pieces of soft-paste porcelain. The insects on this service are not taken after Archetypa studiaque patris, but based on the work Insects Diversae Insectarum Volatilium published in 1630. When Angela Caròla-Perrotti published this service on the occasion of her ground-breaking exhibition on Bourbon porcelain in 1986, she floated the idea that the source prints, rather than arriving at the factory as named concise albums, may have arrived in sets more similar to 'The Ladies Amusement', which included various prints after - amongst many others - Pillement, Watteau and Piazetta, a theory to which end she was able to find several parallels in the accompanying catalogue. However, the Capodimonte factory, unlike Doccia, was only sparsely influenced by topography and naturalia from outside the Neapolitan realm. This idiosyncrastic style can be found on this service too, certain elements such as the butterflies with their pointed scallop wings seem to be inventions unique to the Capodimonte factory.

Similar insects can be found on a snuff box in the Museo Duca di Martina, illustrated by Angela Caròla-Perrotti, p.239, cat. no. 182, plate XLVII and another, cat. no. 183, again in the Museo Duca di Martina, where the author attributes the decoration, at least on the inside of the box, to perhaps the most celebrated artist at Capodimonte, Giovanni Caselli.