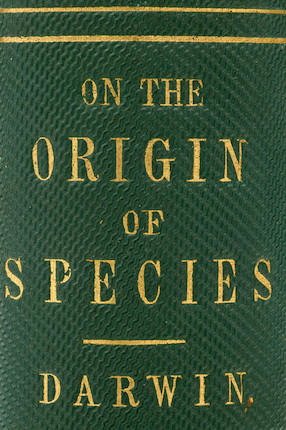 DARWIN, CHARLES. 1809-1882.
On the Origin of Species by Means of Natural Selection. London: John Murray, 1859.

13 June 2019, 13:00 EDT
New York
Sold for US$500,075 inc. premium
Own a similar item?
Submit your item online for a free auction estimate.
How to sell
Looking for a similar item?
Our Books & Manuscripts specialists can help you find a similar item at an auction or via a private sale.
Find your local specialist
DARWIN, CHARLES. 1809-1882.
On the Origin of Species by Means of Natural Selection. London: John Murray, 1859.
8vo (198 x 125 mm). Half-title verso with quotations from W. Whewell and Bacon only, folding lithographic diagram by William West after Darwin, uncut and partially unopened. 32-page publisher's catalogue at rear dated June 1859. Publisher's blind-stamped green cloth, spine gilt, brown coated endpapers, uncut, by Edmonds and Remnants with their ticket on the lower pastedown; modern cloth folding case. Tiny split to head of spine.
Provenance: Johann Xavier Robert Caspary (1818-1887; presentation inscription); Edward Bradford Titchener (1867-1927) English-born psychologist, professor at Cornell University, and instrumental in the establishment of experimental psychology in the United States; by descent to the current owner.

"A turning point, not only in the history of science, but in the history of ideas in general" (DSB).

FIRST EDITION,AN EARLY PRESENTATION COPY, OF "THE MOST IMPORTANT SINGLE WORK IN SCIENCE" (DIBNER), AND ONE OF THE FINEST PRESENTATION COPIES EXTANT, uncut and partially unopened. Inscribed by a publisher's clerk, "Professor Caspary / Koenigsberg / from the author." Darwin drafted a list of recipients of the Origin between August and October 1859. Caspary's name appears in the 23rd place of that list. The list was heavily edited and probably far fewer of the copies were sent. Freeman notes that "twenty-three author's presentation copies are recorded, but there were probably more." "There are no known author's presentation copies of the first edition inscribed in Darwin's hand" (Norman).

Professor Robert Caspary was a German botanist and the director of the botanic garden in Koenigsberg, 1858, as well as a frequent Darwin correspondent. Joseph Dalton Hooker arranged Caspary's important visit in May 1866 to see Darwin at Downs, where he interviewed Darwin on evolution, a version of which was published in the Botanische Zeitung in 1882. Although Darwin's health was questionable, he urged Hooker in early 1866 to encourage Caspary's visit, intrigued with Caspary's recent work on graft hybrids and water lillies. Caspary and his work are discussed in Darwin's 1868 The Variation of Animals and Plants Under Domestication as well as in his 1877 The Different Forms of Flowers on Plants of the Same Species.
Presentation copies of the Origin of Species are rare, and copies in this fine condition extremely so. Stored safely away in a private collection for nearly 100 years, this partially unopened copy exhibits none of the wear usually associated with the book. Hardly opened, the hinges are tight, and the original green cloth unfaded. A remarkable copy of the most important book in the history of science, and in the history of ideas.
"The publication of the Origin of Species ushered in a new era in our thinking about the nature of man. The intellectual revolution it caused and the impact it had on man's concept of himself and the world were greater than those caused by the works of Copernicus, Newton, and the great physicists of more recent times ... Every modern discussion of man's future, the population explosion, the struggle for existence, the purpose of man and the universe, and man's place in nature rests on Darwin" (Ernst Mayr, Introduction to the Harvard University Facsimile Edition, Cambridge, 1964). Dibner Heralds 199; Freeman 373 (binding variant "b," no priority); Garrison-Morton 220; Grolier Science 23b; Norman 593; PMM 344b; The Correspondence of Charles Darwin vol.7 and 8 appendix VII and VIII.