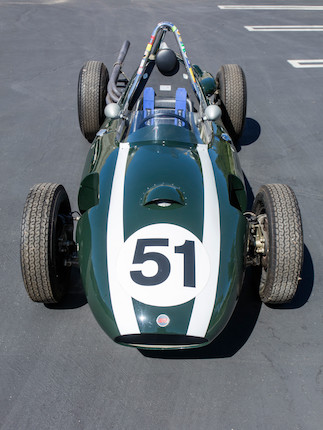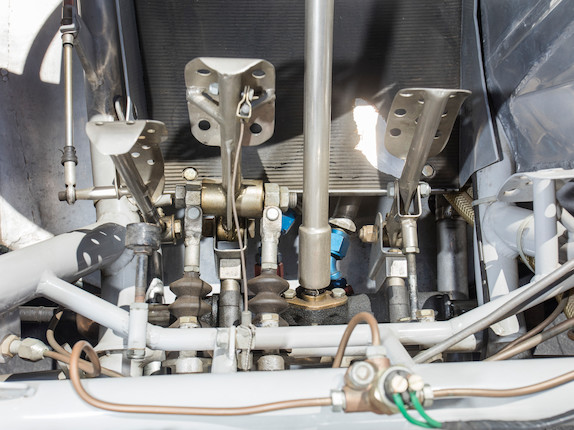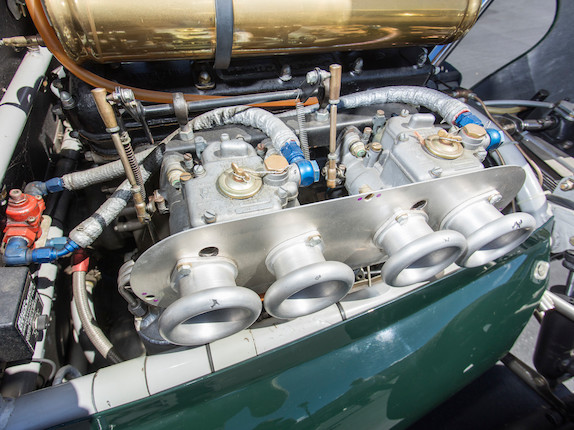 The Ex-George Nixon, Ian Burgess
1959 Cooper-Climax Type 51 Formula 1 Racing Single-Seater
Amended
15 August 2019, 14:00 PDT
Carmel, Quail Lodge & Golf Club
Own a similar item?
Submit your item online for a free auction estimate.
How to sell
Looking for a similar item?
Our Collector Cars specialists can help you find a similar item at an auction or via a private sale.
Find your local specialist
The Ex-George Nixon, Ian Burgess
1959 Cooper-Climax Type 51 Formula 1 Racing Single-Seater
Chassis no. F2/3/59

2-Liter Coventry-Climax FPF 4-Cylinder Engine
170bhp
4-Speed Citroen-ERSA Gearbox with Reverse
Double Wishbone, Front Suspension with Coil Springs and Damper - Double Wishbone, Rear with Leafspring and Damper
4-Wheel Disc Brakes

*Absolutely iconic Championship winning design
*T51s driven by Jack Brabham,Bruce McLaren, Stirling Moss and Masten Gregory helped secure both 1959 F1 World titles
*Wonderfully useable Vintage race car, eligible for all manner of international events
*Known history, cosseted over many years by well-known owners
*A truly historic, ground-breaking, revolutionary Grand Prix car

THE MOTORCAR OFFERED

Any race car enthusiast whose juices churn at the thought of a 1950s or '60s road-racing open-wheeler must surely be stirred by the prospect of owning one of the pioneering British rear-engined Coopers. The Cooper Car Company was launched as early as 1946. It was the product of father and son duo, Charles and John Cooper. Charles the father was a grizzled veteran, a sometime race mechanic turned garage proprietor, and a hands-on practical-minded 'Racer' to the core. His son John was an extrovert, personable and popular tousle-haired and dynamic young dynamo – and again he was just a 'Racer' to the core.

These two gathered around them a dedicated group of like-minded men and as a unit they escaped the immediate post-war cares and gloom and austerity of Great Britain 1946-1952 by building pioneering new race cars for sale to like-minded sportsmen. Some of those customers just aimed to enjoy some race driving sport just as a weekend pastime. Others – including such legendary names as Stirling Moss and Peter Collins – raced Cooper cars to first launch and then build a professional race-driving career; and both would use the Cooper launchpad to achieve eventual Grand Prix-winning status.

Charles Cooper first helped son John and the boy's schoolfriend Eric Brandon build a pair of lightweight motor-cycle engined open-wheeler race cars in 1946. To expedite construction, they took the front ends of two Fiat 500 Topolino road cars and welded them together back-to-back to create a simple chassis frame with transverse-leafspring independent suspension at each end. They then fitted a single-cylinder 500cc air-cooled JAP engine behind the driver's cockpit, so it could conveniently drive by chain to the back axle.

These little cars were built low, light, slender and sleek – and they became the machines to beat in 500cc 'poor man's racing. Customers flocked to Cooper's garage door to buy replicas. In 1948 the Cooper Car Company was launched to supply that demand. They built rear-engined 500cc F3 cars in hundreds, plus some front-engined Formula 2 cars, road cars with engines both front and rear-mounted, then in 1955 the centre-seat 'Bobtail' sports car using a water-cooled Coventry-Climax 4-cylinder engine in the back. In 1956 the 'Bobtail' spawned the first water-cooled rear-engined Cooper-Climax for Formula 2 – the marque's Type 41.

And by 1959 the rear-engined Cooper-Climax theme had reached the Type 51 variant – as now offered here – and with full 2 1/2-liter Formula 1 Climax FPF engine – it would carry works No 1 driver Jack Brabham the Drivers' World Championship that year. The Cooper Car Company in parallel won the Formula 1 World Championship.

This particular Type 51 - chassis 'F2/3/59' - is mentioned in the Cooper Car Company's surviving chassis book as having been sold to British garage propreiotor and occasional privateer race driver George Nixon on January 7, 1959. It was delivered to him with Climax FPF engine '1085' – probably in 1 ½-liter Formula 2 specification, since the Type 51 was itself a dual-purpose Formula 2/Formula 1 design.

Race appearances for the car appear to have been as follows:

Amateur driver Chris Summers – of the Anstey Garage business, near Coventry – entered by Nixons Garages – race at Mallory Park, Leicestershire, on May 18, 1959 – a club level event, DNF

Professional driver – and Cooper Racing Drivers' School instructor - Ian Burgess drove it in the Reims F2 Coupe de Vitesse race in France on July 5, 1959 - DNF

Ian Burgess drove it again at Rouen-les-Essarts, France, on July 12, 1959 - 8th

Ian Burgess at Clermont-Ferrand, France, on July 26, 1959 – finished, but too far behind to be classified

Ian Burgess in the Formula 2 Kentish Trophy International at Brands Hatch, England, on August 3, 1959 – a most commendable 5th

Ian Burgess at Brands Hatch, England, again on August 29 - 9th

This was' a very respectable International career for a privately-entered Cooper-Climax at that time, and its career later continued in private hands, at less elevated level for several years. It was eventually restored to full running order – we understand – by respected British specialist Peter Denty and became part of the private Cooper Collection owned by movie director David Cronenberg, based in Canada.

So here we offer a very nicely presented, well-preserved example of a truly iconic Cooper-Climax – an open-wheeler Formula road-racing car made absolutely by pure-bred Racers for fellow enthusiasts who also had the road-racing bug in their systems. We commend this Type 51 as deserving the very closest consideration. As an ex-David Cronenberg Collection car it would surely grace any similar collector's garage, race shop, museum, office, or den...
Saleroom notices
Please note, this vehicle is offered on a Bill of Sale.