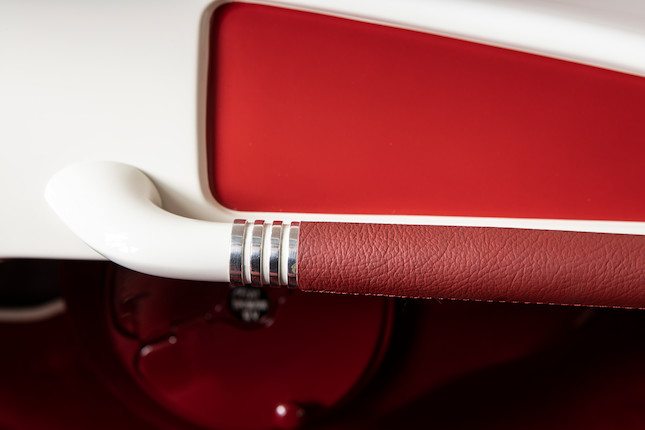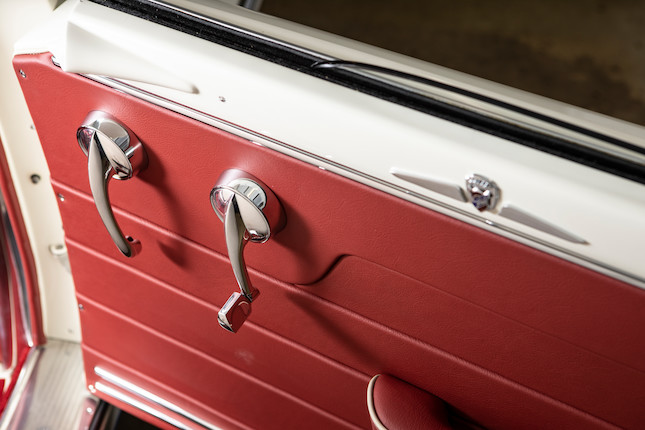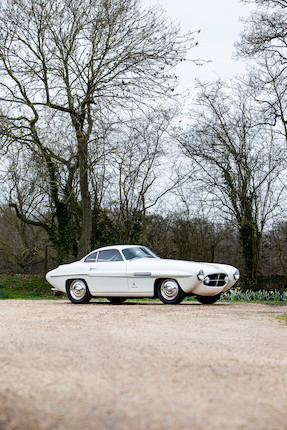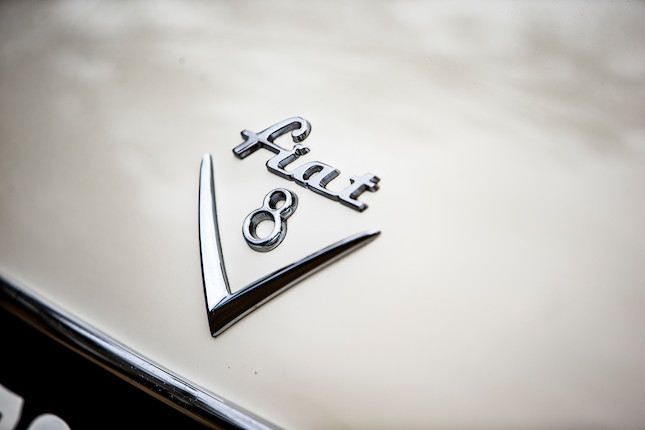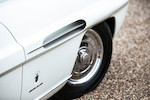 1953 Fiat 8V Supersonic
Coachwork by Ghia - Design by Giovanni Savonuzzi
16 August 2019, 10:00 PDT
Carmel, Quail Lodge & Golf Club
Sold for US$1,625,000 inc. premium
Own a similar item?
Submit your item online for a free auction estimate.
How to sell
Looking for a similar item?
Our Collector Cars specialists can help you find a similar item at an auction or via a private sale.
Find your local specialist
1953 Fiat 8V Supersonic
Coachwork by Ghia - Design by Giovanni Savonuzzi
Chassis no. 106.000043

1,996cc OHV Alloy V8 Engine
110bhp at 6,000rpm
4-Speed Manual Gearbox
4-Wheel Independent Suspension
4-Wheel Alfin Drum Brakes

*One of just 15 iconic and exceedingly stylish 8V Supersonics built
*Full nut and bolt restoration by Strada e Corsa
*Impressive Concours d'Elegance history
*Exquisitely presented example of a coachbuilt jewel

THE FIAT 8V

In the spring of 1948, Fiat management instructed technical director Dante Giacosa to begin developing a V-6 engine to be used in a newly planned six-passenger sedan. The attempt to produce an American-style touring sedan never advanced beyond the inceptional stage, but the engine devised by Giacosa soon morphed into a V-8 of considerable merit. Displacing just under two liters, the Tipo 104 motor featured an unusual 70° architecture, as well as advanced racing components such as a finned aluminum sump, forged crankshaft, polished intakes and ports, and tubular 4x1 stainless steel exhaust manifolds. As Giacosa later noted of the V-8 in his autobiography, "the idea of mounting it on a sports car for a small production run was attractive and aroused the keenest interest among the design engineers."

And so was born the Fiat 8V, which featured the only overhead-valve V-8 that Fiat ever built during its long and storied history. Known in Italy as the Otto Vu, the new model was positioned as a luxury grand touring sports car, obviously a far cry from the automaker's niche for utilitarian mass-market cars like the 500. To maintain the necessary quality-control for such a high-end product, the fabrication of the chassis was farmed out to Giorgio Ambrosini's Siata, the tuning specialists that had long served as Fiat's in-house competition and customization department. This choice was probably further facilitated by Ghia owner Mario Felice Boano's 1950 hiring of Luigi Segre, a former Siata sales manager, as Ghia's sales director.

The 8V's tipo 106 chassis was one the world's most advanced, challenging the finest offerings from Ferrari or Maserati with four-wheel independent suspension (a Fiat first), and Borrani wire wheels with Rudge knock-off hubs. Completed chassis were sent to the Carrozzerie Speciali FIAT in Lingotto, where they were clothed with an elegant new coupe design by Fabio Lucio Rapi that was aerodynamically fine-tuned in the Turin wind tunnel. The Otto Vu made its public debut at the Geneva Salon in March 1952, and immediately impressed all who saw it with Fiat's ability to produce such a jewel-like automobile.

Over the following two years, about two hundred tipo 104 motors were produced (though more than fifty of these were eventually installed in the upcoming Siata roadster). The Otto Vu automobile was even more rare, with approximately 114 examples built through 1954. While at least forty of these cars were bodied with the factory coachwork by Rapi, the other chassis were clothed by coachbuilders such as Balbo, Pinin Farina, and Vignale.

Zagato bodied approximately thirty Otto Vu examples, including a lightweight aluminum version that was very popular in sports car racing. In this form, the 8V earned class wins at the 1955 Targa Florio and 1957 Mille Miglia, and claimed the 1956 Italian Sports Car Championship (2-Liter Class), a huge benchmark in the model's competition pedigree.

THE MOTORCAR OFFERED

The pedigree of every one of the 15 Ghia 8V Supersonic automobiles is unequivocal. However, this example comes with a celebrated history and provenance, rendering it ultimately rare.

Conceived as the sports car for the elite, chassis #0043 was completed alongside its stablemate, #0039, by Ghia in 1953. Car #0039 was painted ivory, while #0043 was finished in white with red leather, a front grille with additional lights and no bumpers. The two Supersonics were shipped from Genoa, Italy, to the USA by 'Dutch' Darrin - founder of the coachbuilder Hibbard & Darrin and co-designer of the Kaiser Darrin marque.

Darrin was impressed with Ghia's production quality and believed that he could sell the two Supersonics in New York at a profit. The following year he exhibited his Kaiser Darrin Roadster Model KF 161 at the 1954 World Motor Sports Show in Madison Square Gardens in New York, where - according to legend - Paul Farago, a friend and fellow 8V owner, visited his stand accompanied by actress Lana Turner. Miss Turner was fascinated by the KF 161, but eventually disclosed she was actually there to enquire about the Supersonic, a marque she was determined to own after she had seen Farago's Supersonic parked outside the enigmatic El Morocco nightclub in Manhattan. Miss Turner immediately purchased the ivory Supersonic #0039.

Later at the Motor Show, another auspicious car enthusiast visited the Darrin stand – Briggs Swift Cunningham, the famous entrepreneur, car and yacht racer. Darrin proposed he buy the second Supersonic, chassis #0043 in ivory. Quite possibly swayed by Miss Turner's recent acquisition, Cunningham struck a deal with Darrin, with the view to gifting the car to his wife, Lucie. Cunningham invited Darrin to drive the Supersonic to the 12-Hour Grand Prix at the Sebring on March 6, 1954. Darrin arrived in the 8V just in time for Friday practice, after a 1,330-mile road trip with less than 3,000 miles on the odometer. Cunningham test-drove the 8V and was delighted with its performance, as was evidenced by his proffering a check for $9,500. Equally delighted with the deal, Darrin stayed for the Sunday race (which was won by Stirling Moss and Bill Lloyd of the Cunningham Team in an Osca MT4 1450) before returning to Detroit. Following the Sebring event, Cunningham presented the Supersonic to his wife, who drove car #0043 throughout 1954 until her husband sold it to a dealer in Hartford, Connecticut.

In 1959 the 8V was purchased by Dr. Webb of California, who registered it with the license plate TYF835. Three years later it was repainted in Metallic Medium Gray and in 1963 the Supersonic was acquired by Bruce Pierce, who had the original transmission and engine replaced with a Chevrolet V8 and drive train. The car was then purchased by Erik Nielsen of California who registered it under MGC425 and submitted it to another repaint, this time in Metallic Gold.

Some 20 years later, in 1981, the Supersonic was purchased by Jarl de Boer, a gentleman collector in Walnut Creek, California, who decided that Regency Red was the preferable color option and thus commissioned a repaint and had the left door replaced. Registered under 206VOB, Mr. de Boer retained the car until 2001 when ownership was transferred to Paul Sable of Pennsylvania.

In 2012, the 8V Supersonic was purchased by a celebrated rare car collector in Belgium – who recognized the prestige of this rare sports car and commissioned a superb nut and bolt restoration back to its original specification. The work involved thousands of hours of labor over two years by race-car specialist Lennart Schouwenberg and his team at Strada e Corsa of Haalem, Netherlands, who described the 8V as 'a very good car with very little issues'. The car was fitted with its original engine and transmission and was dyno-tested and remains in excellent condition, dressed in its original livery of white over red with Borrani wire wheels, exactly as it first appeared at the World Motor Sports Show in Madison Square Gardens in 1954.

Such was the excellence of the restoration and gravitas of the car's heritage, this Supersonic was invited to the Pebble Beach Concours d'Elegance in Carmel in 2017 and displayed at the Salon Retromobile in February, 2018, in Paris at the Portes de Versailles, where it was acquired by the consignor - a prominent UK based collector.

This 1953 8V Supersonic is a spectacular example of a sports car with the streamline jet-age styling which defined the automotive sporting culture of the 1950s. It will be highly prized by the discerning collector with an eye for rarity, engineering and design, and an appreciation for celebrated provenance. In addition to providing the focal point of any prestigious collection, this 8V is absolutely perfect for top-notch motoring events, such as the Mille Miglia and the Targa Florio Classi.