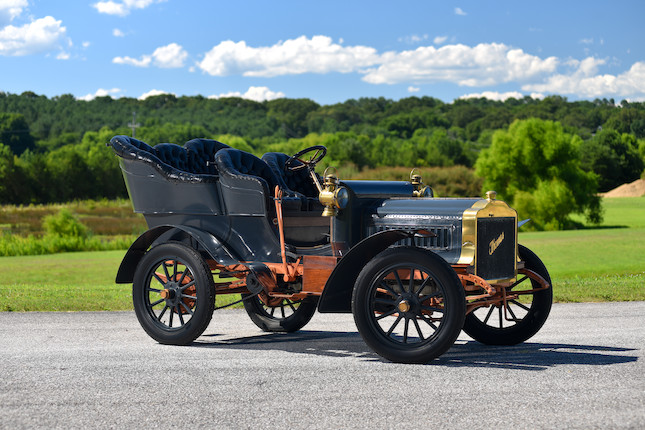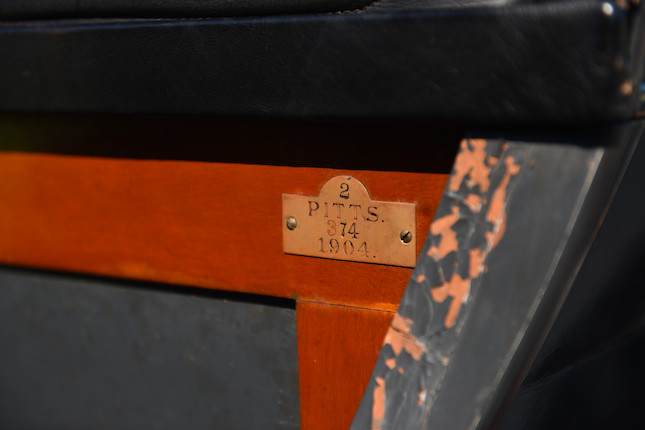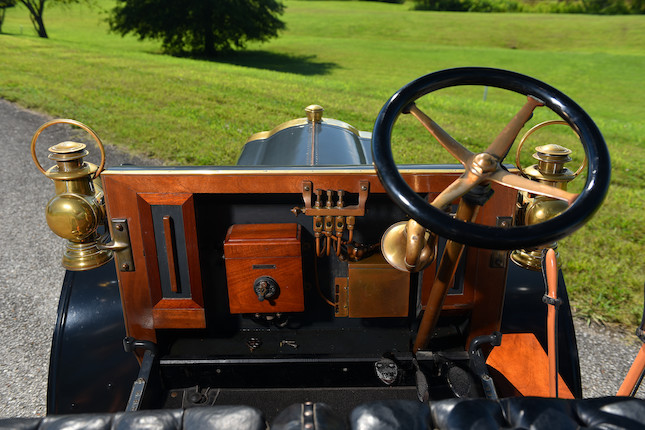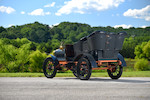 Ex-Ote Corriher
1904 Thomas MODEL 22 THREE CYLINDER 24HP "FLYER" REAR ENTRANCE TONNEAU
Amended
7 March 2019, 13:00 EST
Fernandina Beach Golf Club
Sold for US$489,000 inc. premium
Own a similar item?
Submit your item online for a free auction estimate.
How to sell
Looking for a similar item?
Our Collector Cars specialists can help you find a similar item at an auction or via a private sale.
Find your local specialist
Ask about this lot
Evan Ide
Vice President, Senior Specialist
Eric Minoff
Senior Specialist
Rupert Banner
VP, Business Development
Ex-Ote Corriher
1904 Thomas MODEL 22 THREE CYLINDER 24HP "FLYER" REAR ENTRANCE TONNEAU
Engine no. 1083

4,300cc, T-Head Inline 3-Cylinder Engine
24bhp
Single Carburetor
3-Speed Manual Transmission with Chain Final Drive
Semi-Elliptic Leaf Suspension
2-Wheel Brakes

*Unique survivor of the original 'Flyer' model
*From the Estate of Harold Coker
*Veteran Car Club Dated, London to Brighton Eligible
*A one-off opportunity

THE THOMAS COMPANY

Like so many of his pioneering contemporaries, Erwin Ross (E. R.) Thomas was in the bicycle business prior to manufacturing automobiles. During the 1890s, E. R. was the managing director for H. A. Lozier & Co. who produced the famous Cleveland bicycle. However, he recognized the huge potential in the newly evolving automobile business and left Lozier to take over the Buffalo Automobile and Auto-Bi company, which was known for its production of bicycles and motorcycle engines. In 1900 E. R. changed the company name to Thomas Auto-Bi, and by 1901 Thomas claimed to build more air-cooled motors than anyone else.

E. R. had bigger things in mind however, and the first Thomas automobiles were introduced in 1903; small runabouts described in the catalog as the happy medium between the cheaper and more expensive cars.

All of that changed with the introduction of the model that you see on these pages, from the French fronted voiturettes that Thomas had made to date a huge leap forward was made with the introduction of the Model 22. One of its most distinctive features was that the lightweight tubed chassis of its predecessors was succeeded with a more substantial frame that was constructed with an outside plate riveted to angle iron above and below it, visually this is immediately apparent with the series of rivets along each side.

To the frame Thomas mounted a three-cylinder engine, an unusual configuration which over the 133 years of the industry has rarely been commonplace, it was mounted to what we now consider to be a 'proper' gearbox, a separate casing with three forward speeds. Other innovative features included the Thomas Safety System, ratchet mechanism on the back axle to hold the car in place on hills should the engine stop, which was something that caused many accidents in those days. 'Beauty and Power' proclaimed the 1904 brochure for the model and summarized the use of the three-cylinder power plant thus 'In a word, the triple-cylinder motor gives us high speed, high efficiency, the greatest amount of power for a given size of cylinder, or for a minimum of weight, a maximum of speed and power'.

Owing to its spritely performance, Thomas noted that their Chicago agent C.A. Coey had christened the new car a 'Flyer' – it was a name that stuck and a genius marketing name which has come to symbolize the marque as a swashbuckling high-performance motor car.

The three-cylinder was a snapshot of what was to come, the following year an extra cylinder was added and the car grew a little more. Thomas Flyers soon gained notoriety among the faster and more flamboyant Touring cars of their day. E. R. had an eye for flair and his huge powerful cars showed it – they were often finished in bright colors and loaded with many ornate brass accessories. The 1907 sales catalogue boasted "You can't go by a Thomas Flyer, so go buy one!"

The Thomas name endures and is most readily remembered for its most astounding victory in one the greatest automotive competition events of the time, the 1908 Le Matin sponsored 'The Great Race'. The route went from New York (in the dead of winter) across the U.S. to San Francisco, then by ship to Alaska, and across the Bering Strait, either by ship or by ice to Siberia. To be certain that the Yukon and the Bering Strait would be covered in ice, the race purposely began in the winter. Many of the dirt covered trails had never been traveled by a motorcar.

E. R. Thomas made a last-minute decision to enter a car and three days prior to the start, a stock 1907 model was selected from the factory lot. 13,341 miles and 171 days later, the victorious Thomas rolled into Paris and forever cemented its place in history. It was the Model 22 Flyer that started it all...

THE MOTORCAR OFFERED

It is not recorded as to how many Type 22 Thomas's were built, but the example presented here is the sole one to survive. Its lineage is quite well charted and combined with its unusual specification it has enabled the esteemed panel of the Veteran Car Club Dating Committee to confirm a date of manufacture as 1904, which will now enable the car to be an entrant on another much-fabled event, the annual London to Brighton Veteran Car Run in the UK.

The car is today offered from the estate of Harold Coker, a passionate Thomas collector, to whom it was the holy grail to acquire. It was purchased by him after it had been restored by Ote Corriher and owing to its tidy condition and the vast number of projects that Coker had on the go has never been re-restored.

On file are various articles tracing the car back to the mid-1920s and pre-teen era, most pertinently one by former owner Corriher in the Horseless Carriage Club of America 'Spark Plug Ditty' in April 1965. There much of its history and restoration is recorded. Mr. Corriher a vociferous sleuth had stumbled across the car on one of his regular quests for 'old cars' in the mid-1950s, with the rewarding response that there was an 'old one' with 'wagon wheels on it'! He traced its owner to be a lawyer in Lincolnton who had bought the car from a man in Antioch, Tennessee in 1928. A price of $2,000 was sought, something far in excess of the $500 that the late James Melton had offered him previously, and even his counter of $1,000. Corriher declined the car at that level, but later he became aware that there would shortly be an article published on these cars by Austie Clark, and sensing that this might provoke a quest by others for any survivors and would cause some competition for him. He returned there and after some discussion, a figure of $1,400 was settled upon and the Flyer had a new owner. In the passing conversation with the lawyer, he mentioned the existence of spare engine that he had turned down when he had acquired the car decades earlier. Not sure of how much work was needed on his new acquisition he also pursued that and while that engine was long gone, he was able to secure other parts to help the refurbishment of his car.

Corriher's restoration was completed in time for the 1965 Glidden Tour and it is the fruits of his labor that we see today. When Harold Coker became aware of the car years later, it was a sheer necessity that he acquired it as he collated his collection of Thomas Cars. For many years it sat alongside everything from an '03 Single Cylinder car to 'Big Red' his famed Model K 6-70, sold here by Bonhams in 2015.

On his passing, the Model 22 moved within his family and a decision was made to get the car running and to definitively verify its date, a full document was put together, the car inspected in May 2018 and this has resulted in the aforementioned acceptance of its 1904 manufacturing. This document, together with copies of various pieces of information on the model accompany the car today. Intriguingly, during its inspection at an HCCA event, a spectator noticed the 'Pitts 1904' plate on the car and suggested that this may well be a Pittsburgh road licensing designation, but that has yet to be further investigated. With the confirmed dating and its sale here this presents a new chapter for the car of eligibility for the most famous event for these cars, being the British London to Brighton Run, where as of 2019 every car that travels the 60-mile road to the coast will be more than 115 years old! Some of those will be steamers, some electric, some will have less than 1 horsepower, but the new owner of this car will be able to travel in style with two dozen horses, three cylinders and commodious seating for 4 or more.

So, there you have it, the only surviving genus of one of the most famous motoring names of all time, and with London to Brighton eligibility to boot, it doesn't get much better!
Saleroom notices
Please note that in the printed catalog only, the headline text should read 24HP, the technical specification is otherwise accurate.