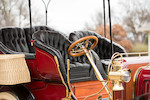 Property from the Collection of Don C. Boulton
c.1904 Pope-Toledo 24HP Four-Cylinder Rear Entrance Tonneau
Amended
7 March 2019, 13:00 EST
Fernandina Beach Golf Club
Sold for US$134,400 inc. premium
Own a similar item?
Submit your item online for a free auction estimate.
How to sell
Looking for a similar item?
Our Collector Cars specialists can help you find a similar item at an auction or via a private sale.
Find your local specialist
Ask about this lot
Evan Ide
Vice President, Senior Specialist
Eric Minoff
Senior Specialist
Rupert Banner
VP, Business Development
c.1904 Pope-Toledo 24HP Four-Cylinder Rear Entrance Tonneau
Engine no. 2444

209.8ci 4-Cylinder Engine
24bhp
3-Speed Manual Transmission with Double Chain Drive
Front and Rear Semi-Elliptic Leaf Springs
Rear-Wheel Drum Brakes

*Offered from the Don C. Boulton Collection
*Powerful American Veteran car with double chain drive
*Superb restoration by Stu Laidlaw
*Award-winner at the 2001 Pebble Beach Concours d'Elegance
*Accompanied by an extensive restoration file

"THE QUIET MILE-A-MINUTE CAR"

Colonel Albert Pope successfully dominated the American bicycle industry during its heyday of the 1880s and 1890s, building a "bicycle trust" that consumed the market. He afterward determined to do the same with automobiles, and his factories throughout the Eastern United States produced a litany of the Brass Era's great cars, of varying designs and specifications. They were all united by a superb level of fit and finish, and outstanding engineering, which has made the Pope name legend among modern enthusiasts of early automobiles.

One of the finest Pope products was the Pope-Toledo, manufactured in the Ohio city between 1903 and 1909, and for much of that time the costliest crown jewel of the empire. Pope-Toledo was an early American adapter of the four-cylinder engine, at a time when even competitors such as Packard used a twin, with double chain drive. It was justifiably proud of its product's performance, advertising "The Quiet Mile-a-Minute Car." Compared to many other automobiles of its era, it still stands above in power, lightness, and strength.

THE MOTORCAR OFFERED

The Boulton Collection's Pope-Toledo was restored by the noted Brass Era car specialist, Stu Laidlaw of Connecticut, from a collection of original Pope-Toledo componentry that had been assembled by Mr. Laidlaw over many years. In a recent conversation Mr. Laidlaw noted that the front of the body was original. Accompanying the car is a fascinating restoration file that testifies to the level of detailed research involved, including original catalogues and brochures, many photocopies of factory literature and reference materials, and photographs depicting the process. Additionally the car is accompanied by extensive invoices for the work performed.

Finished in a splendid rich deep burgundy with ornate black moldings, blue and gold striping, and black patent leather fenders, the car's voluptuously curved body boasts a black leather interior with wicker side baskets and parasol holder, and a canopy top with skeleton wood headliner of the type often found on the great cars of this era. Phare Solar 24A headlights, Neverout cowl lights and taillight, and correct Pope-Toledo step plates add brass accents, as does the Warner combination clock/speedometer/odometer. An electric starter has been added, to make starting the Pope-Toledo a simple process.

Such was the beauty of the Pope-Toledo that, upon its completion, it was accepted to the 2001 Pebble Beach Concours d'Elegance, where it was proudly exhibited by Mr. Boulton and placed in the Antique class. It remains a striking Veteran automobile, of nearly peerless power and impressive, modern specifications and design – true to the Pope legacy.
Saleroom notices
Please note, this vehicle is titled under chassis no. 2444POPE