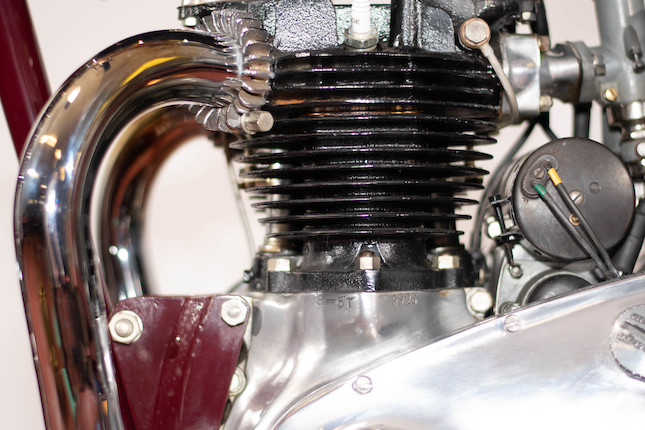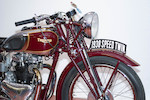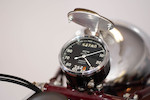 1938 Triumph 500cc 5T Speed Twin
Engine no. 8-5T 9926
Amended
24 January 2019, 13:00 PST
Las Vegas, Rio All Suite Hotel & Casino
Sold for US$42,550 inc. premium
Own a similar item?
Submit your item online for a free auction estimate.
How to sell
Looking for a similar item?
Our Motorcycles specialists can help you find a similar item at an auction or via a private sale.
Find your local specialist
Ask about this lot
Client Services (San Francisco)
Client Services (Los Angeles)
1938 Triumph 500cc 5T Speed Twin
Engine no. 8-5T 9926
• First-year example of Triumph's landmark twin
• Older, museum-quality restoration
• Formerly owned by Triumph historian David Gaylin
• Best of Show concours winner

Although Edward Turner's Triumph Speed Twin caused a sensation when it appeared at the 1937 National Motorcycle Show, few of its admirers could have guessed how influential the design would prove to be, establishing a formula adopted by all of Britain's major motorcycle manufacturers in the succeeding decade. True, there had been vertical-twins before, but whereas previous designs suffered from excess bulk, the Triumph was lighter and narrower across the crankcases than the contemporary single-cylinder Tiger 90, whose cycle parts it shared – indeed, from certain angles it looked just like a twin-port single.

This was just what the conservatively minded British motorcycling public wanted and the Speed Twin proved an enormous success for Triumph, lifting the company out of the economic doldrums and setting it on the road to future prosperity. Performance proved exemplary for a road-going 500, with 85mph being attainable by the Speed Twin while the Tiger 100 sports version, on sale in 1939, could reach the "Ton" under favorable conditions.

Triumph made sure The Motor Cycle's Speed Twin test bike had a crisp tune before turning it over to the editors. It averaged an impressive 93.75mph at top whack past the publication's speed clocks, prompting the comment, "Truly an amazing performance for a fully equipped 500." Just as important, the 5T was easy to start, its pair of 250cc pistons being easier to prod into life than the coffee-can sized slug in the usual big-bore British single. Power delivery was also smoother and more civilized than with the hulking one-lungers. That it was one of the most handsome-looking machines of the era certainly did not hurt.

In explaining the original Speed Twin's place in history, Motorcycle Classics told its readers, "The Triumph 5T was such a success it revolutionized the entire industry in a way that no machine had ever done before. Only one design since has had such a profound influence: Soichiro Honda's four-cylinder CB750." Summing up, the magazine said, "The Triumph 5T Speed Twin was exactly the right bike at the right time, and at the right price. It became an instant success and orders flooded in."

This first-year example of Turner's landmark machine, in its trademark Amaranth Red with hand-drawn gold pinstriping, is an older restoration, meticulously carried out keeping as many original parts as possible. It still presents beautifully, recently taking Best of Show honors at the prestigious Riding Through History concours, where it edged out 350 other classics. Currently part of private Florida collection, the Speed Twin has always been owned by discriminating enthusiasts, including noted historian and author David Gaylin (Triumph Motorcycles in America, Triumph Motorcycle Restoration Guide). We're informed the bike is mechanically sound and is an excellent runner. It is sold with various manuals and historical literature.
Footnotes
As with all Lots in the Sale, this Lot is sold 'as is/where is' and Bidders must satisfy themselves as to the provenance, condition, age, completeness and originality prior to bidding.
Saleroom notices
The frame number is TH 4779.