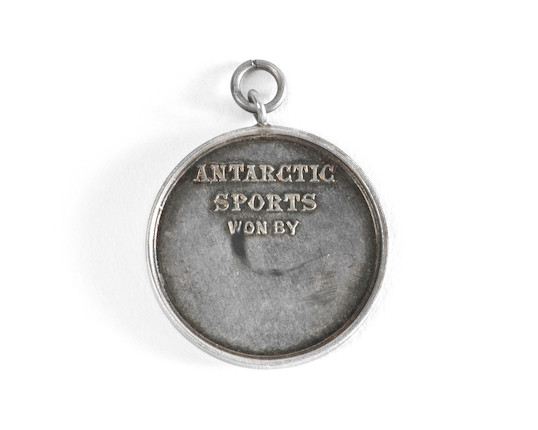 BRITISH NATIONAL ANTARCTIC EXPEDITION, 1901-1904
6 February 2019, 13:00 GMT
London, Knightsbridge
Sold for £20,000 inc. premium
Own a similar item?
Submit your item online for a free auction estimate.
How to sell
Looking for a similar item?
Our Travel & Exploration specialists can help you find a similar item at an auction or via a private sale.
Find your local specialist
BRITISH NATIONAL ANTARCTIC EXPEDITION, 1901-1904
A silver Sporting Medal awarded to First Lieutenant Charles W.R. Royds, obverse inscribed "ANTARCTIC SPORTS WON BY" the reverse cast in relief with a penguin on ice flow surrounded by lettering "NATIONAL ANTARCTIC EXPEDITION 'DISCOVERY'" 1 in (25mm.) diameter
Footnotes
Provenance
Vice Admiral Sir Charles William Rawson Royds (1876-1931).
From 1904 to 1905, Royds enjoyed a courtship with Marguerite Makowski whom he had previously met whilst employed as a maths tutor to her brothers. He gave this Sporting Medal to her as a token of his affection; sadly Royds' family did not approve of their engagement and the relationship was ended. Makowski kept the medal and it was passed on through her family and thence by descent.

Exhibited
The Scott Polar Research Institute, Cambridge, UK.

This sporting medal was awarded to First Lieutenant Charles William Rawson Royds during the British National Antarctic Expedition led by Captain Robert Falcon Scott which took place between 1901 and 1904. The Antarctic Sporting Medals were given to serving officers on the Discovery Expedition as prizes for their sporting achievements. Originally they were devised as a simple way to keep morale high and sporting events were arranged throughout the course of the expedition.

In honour of King Edward VII's birthday on 8 November 1902, a general holiday was declared and the ship was decorated with Union flags. A sports day competition was organised with events including a 'flat skis race', won by Petty Officer Edgar Evans, a ski race down a steep hillside, a rifle shooting match and a toboggan race, amongst others. On the day of the event Royds was on a sledging trip to Cape Crozier, returning on 17 November 1902. It is likely that this sporting medal was awarded to Royds for his consistent record of achievement and high professional standards.

Royds was born in Rochdale, Lancashire and attended Eastman's Royal Naval Academy in Southsea and became a Naval Cadet in HMS Conway in June 1892. A month later he went to sea in the cruiser HMS Immortalité of the Channel Squadron. He quickly moved through the ranks, becoming Sub-Lieutenant in 1896 and an early promotion in 1898, due to his skilled handling of a man overboard mission in the Baltic, led to him becoming Lieutenant. In 1899 he sailed to the West Indies aboard HMS Crescent.

Royds was chosen to be First Lieutenant of the RRS Discovery on Robert Falcon Scott's National Antarctic Expedition. Having trained at the Ben Nevis Observatory in preparation for the mission, Royds was a qualified meteorologist and was in charge of the physical training of the expedition members. He volunteered to be part of the sledging programme and lead a sledging journey to explore the Ross Ice Shelf. An area of Ross Island, Cape Royds, was named in honour of him. The expedition aimed to carry out scientific research and geographic exploration on the, then, largely untouched continent. Its scientific results covered extensive ground in biology, zoology, geology, meteorology and magnetism. The expedition was deemed a success, despite having required an expensive relief mission to free the Discover and her crew from the ice.

In December 1914 Royds was promoted to Captain and became Flag Captain to Admiral Sir Stanley Colville, commanding Orkney and Shetland. Six months later he was given command of the battleship HMS Emperor of India, an unusually important command for a junior Captain. In 1918, he married the widowed Mary Louisa Blane, a former actress. They had a daughter named Minna Mary Jessica Royds. He remained with the HMS Emperor of India until 1919 and was appointed a Companion of St Michael and St George for his war service.

Royds was the last ever captain of the Osborne Royal Naval college for 5 months until its closure in 1921. He then took a position at the Admiralty as Director of Physical Training and Sports before becoming Commodore of the Royal Naval Barracks at Devonport in October 1923. In 1925 he stepped down from this, his last naval appointment. On 1 January 1926, he succeeded Sir James Olive as Assistant Commissioner "A" and Deputy Commissioner of the Metropolitan Police. He retired from the Royal Navy in 1926 on promotion to Rear-Admiral.

In 1929, he was appointed Knight Commander of the Order of the British Empire (KBE) in the Metropolitan Police Centenary Honours, and in the same year was made an ADC to the King. On 23 May 1930, he was promoted to Vice-Admiral on the Retired List. On 5 January 1931 Royds died suddenly while still in office as Assistant Commissioner, and while acting as Commissioner during General Byng's absence on sick leave. He suffered a heart attack while attending a rehearsal of the Strauss Ball at the Savoy Hotel and was rushed to Charing Cross Hospital, but was tragically pronounced dead on arrival.