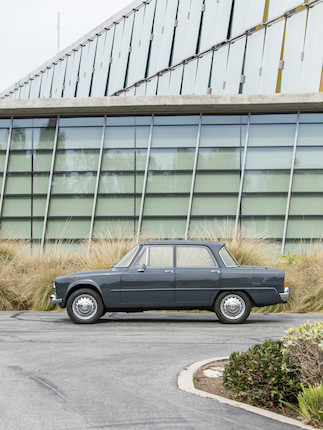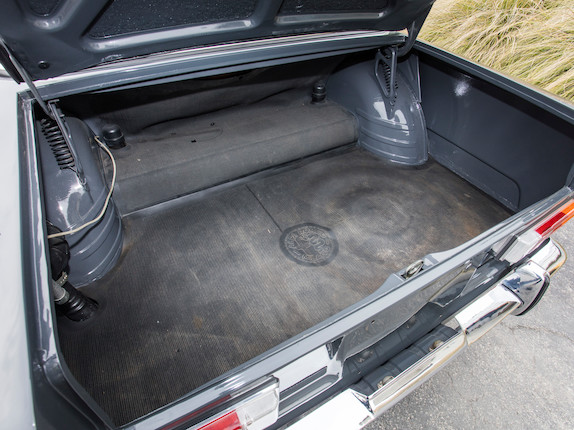 1966 Alfa Romeo Giulia 1300ti
Chassis no. AR584945
Engine no. AR00539 09742

1,290cc DOHC Inline 4-Cylinder Engine
Solex Carburetor
78bhp at 6,000rpm
5-Speed Manual Transmission
Independent Front Suspension - Live Rear Axle
4-Wheel Hydraulic Drum Brakes

*Beautifully well-reserved and highly original example
*Factory Correct Grigio Graffite over Red livery
*Charming and sporty Alfa Romeo Sport Sedan
*Fun Italian motoring with room for four

THE ALFA ROMEO GIULIA TI

The Giulia TI (Turismo Internationale) was Alfa Romeo's flagship high-performance saloon in the 1960s. Introduced in 1962, and outwardly almost indistinguishable from the outgoing 1.3-liter Giulietta, the Series 101 Giulia boasted a more powerful and much less fussy engine in addition to welcome improvements to the previously feeble heating arrangements. Despite their boxy, unitary construction body, the Giulietta and Giulia were paragons of aerodynamic efficiency and possessed a distinctly sporting nature.

THE MOTORCAR OFFERED

This charming 1966 Alfa Romeo Giulia 1300ti was originally delivered to Bologna, Italy on June 30, 1966 and registered to a gentleman by the name of Venturoli Antonio. The Giulia is believed to have resided in Italy until recently when it was imported to the US. Apart from one repaint in the factory Grigio Graffite color, the Alfa Romeo remains in lovely original condition. The original 105 series 15" steel wheels are wrapped in new Vredestein Sprint Classic tires, with the original spare tire (covered by original trunk mat) is situated in the trunk. The interior is like a time-capsule crafted by metal, wood and leatherette, retaining that certain smell of an Italian 1960s interior. The trim and glass are equally original, and the windshield even possesses a 1966 tax sticker. The Giulia maintains its original 1300cc twin cam inline-four, all-aluminum engine. Furthermore, the Giulia is offered with the Carta Di Cicolazione detailing the original registration, as well as owner's manual, jack, trunk mat, spare tire, service guide, and various Italian maintenance records. As used in the recent Formula 1 movie Rush, where Niki Lauda's character drives one of these Sport Sedans in anger, these charming Alfa Romeo's offer great handling, charming looks, and room for four.
Saleroom notices
Please note, the clutch is weak and slips heavily. Bonhmas' believes it would be best to perform an adjustment and/or replacement.