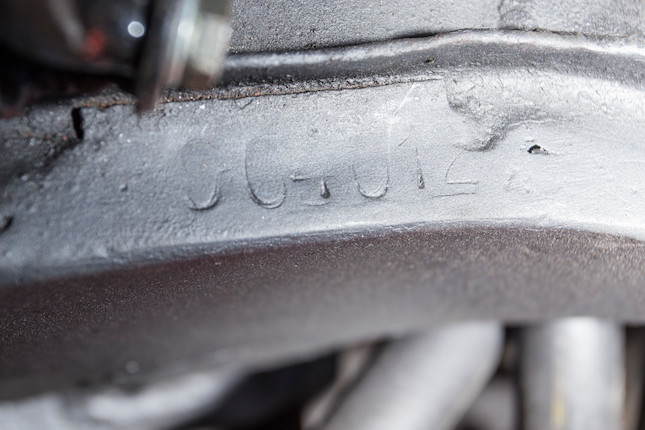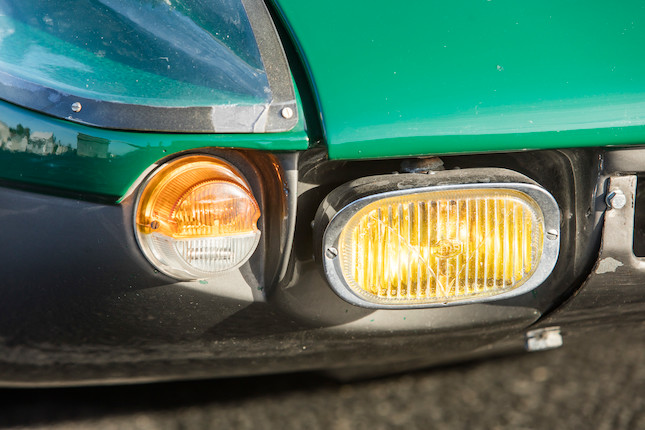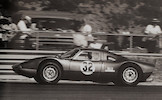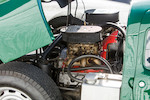 Ex-Team Otto Zipper Precision Motor Cars
Previously owned by actor Robert Redford, Steve Earle and Jim Tidwell
1964 Porsche 904 GTS
Amended
17 January 2019, 11:00 MST
Scottsdale, The Westin Kierland Resort & Spa
US$1,400,000 - US$1,600,000
Own a similar item?
Submit your item online for a free auction estimate.
How to sell
Looking for a similar item?
Our Collector Cars specialists can help you find a similar item at an auction or via a private sale.
Find your local specialist
Ask about this lot
Jakob Greisen
Head of Business Development
1964 Porsche 904 GTS
Chassis no. 904 012
Engine no. 14264 (see text)

1,991cc SOHC Flat 6-Cylinder Engine
Dual Triple-choke Weber Carburetors
Est. 175bhp at 6,800rpm
5-Speed Manual Transaxle
4-Wheel Independent Suspension
4-Wheel Disc Brakes

*Raced in period under the Otto Zipper Precision Motor Car banner at prominent North American venues
*Previously owned by actor Robert Redford, Steve Earle and Jim Tidwell
*Retaining original bodywork, chassis, transaxle and suspension
*Documented with factory Kardex, extensive history file, and listed in several marquee books
*Rare and desirable example of a Porsche racing legend

THE PORSCHE 904 GTS

"The final sports racing expression of the Porsche four-cylinder line came in 1964 with the arrival of the 904 GTS Coupe. It not only took the first two places in that year's Targa Florio event but was also second in the 1965 Monte Carlo Rally and scored a host of class wins, in addition to numerous other competition successes." – Jonathan Wood, Porsche: The Legend

Having axed its expensive Formula 1 program at the end of 1962—a commitment that placed a heavy burden on the German manufacturer's limited technical resources—Porsche turned once more to sports car racing as a means of improving and marketing its road car range. The Type 356-based Abarth-Carreras had flown the Porsche flag in international GT racing during the early 1960s, but an entirely new design was now deemed necessary to meet the strengthening opposition.

A minimum of 100 road-usable cars had to be made to meet the FIA's homologation requirements, a stipulation that made a complex spaceframe design like the Type 718 RSK a non-starter. Therefore, Porsche's Technical Director, Dr. Hans Tomala, started with a clean sheet. Colin Chapman's revolutionary Lotus Elite, with its fiberglass body/chassis, had demonstrated the potential of composite materials for structural use in cars, and this technology was embraced in the design of Porsche's new mid-engined GT racer, the Type 904. Tomala though, opted for a chassis comprising a pair of steel, cross-braced, box sections, to which the fiberglass bodyshell was bonded.

The engine and suspension were bolted directly to the steel structure, thereby reducing the transmission of noise and vibration to the passenger compartment—problems that had afflicted the all-composite Elite. Designed by Ferry Porsche's eldest son, "Butzi," the body was manufactured by the Heinkel aircraft company and is widely recognized as one of Porsche's most elegant. The Zuffenhausen firm's recent Formula 1 experience was reflected in the 904's state-of-the-art suspension, which featured double wishbones all round.

Although developed at the same time as Porsche's new Type 901 six-cylinder road car (which would enter production in 1964 as the 911) the 904 used the 356 Carrera 2's tried and tested Type 587 2.0-liter four-cam, four-cylinder engine. The new six would not be ready in time in any case, but with an eye on future developments, the 904's engine bay was made big enough to accommodate it, as well as the 2-liter version of the F1 flat eight. In road trim, the 587/2 produced 155bhp, with 180 horsepower available when fitted with the full racing exhaust system. The five-speed transaxle incorporated internals developed for the 911's transmission, but used a different casing that reflected the 904's mid-engined layout.

When an example entered in the prototype class at Daytona failed to finish in February of 1964, the 904 was able to make its competition debut in the USA. At Sebring in March, the 904 scored its first international success, the Cunningham/Underwood car winning its class and finishing 9th overall behind a multitude of Ferraris. While the small-capacity Porsches had always struggled to match the pace of the larger-engined opposition on fast tracks, at the punishing Sicilian Targa Florio, which was run along the lines of a tarmac rally, the nimble 2-liter cars were at much less of a disadvantage. Indeed, the German manufacturer had won the Sicilian classic on three occasions since the race first formed part of the World Sportscar Championship in 1958. The 904 underlined its pedigree by scoring a debut win in the hands of Colin Davis and Antonio Pucci. In May, Ben Pon and Gunther Koch took 3rd place at the Nürburgring 1,000kms in a production 904, while at Le Mans all five 904s entered finished, the highest in 7th place overall. The 904's attraction as a competitive customer car was further underlined at the Reims 12 Hours, where eight finished in the top 20, the highest in 5th place.

Its exceptional versatility was demonstrated at the start of the 1965 season when the Böhringer/Wütherich 904 finished 2nd overall in the Monte Carlo Rally. There would be no classic endurance racing victories for the Porsche 904 in '65; however, the car secured numerous podium finishes and continued to dominate its class. Lightweight, spyder-bodied versions were developed for the European Hill-Climb Championship, but even here the compromises enforced by the regulations prevailing at the time of the 904's design tolled against it. It had been intended to build a second series of 100 904s powered by the 911's six-cylinder engine for 1965, but a change in the homologation requirements made Porsche realize that such a car would not be competitive and the plan was abandoned. The 904's successor would be an all-new 2-liter sports car—the Carrera 6. Of the 120 model 904s produced, 104 were completed with the four-cylinder engine, while ten were fitted with the 911's six and a further half-dozen used the F1-type flat eight. The 904's star may have burned only briefly, but it was both bright and glorious.

THE MOTORCAR OFFERED

Offered here is both Porsche and North American racing history in one well-engineered and furiously fast sports racing car. According to a copy on file of the factory Kardex built sheet, the 904 GTS offered here (chassis no. 904 012) was equipped new with engine no. 99001, a Type 587/3 Carrera motor. Shod with Dunlop tires, the 904 GTS was completed at the Zuffenhausen Porsche works in January of 1964, finished in Silbermetall (Silver Metallic) paint and upholstered with a blue cloth interior. Car 904 012 was the second 904 GTS delivered to a customer outside of the works program.

The new sports racing Porsche had been ordered by Californian Steve Earle, the well-known enthusiast and racing driver, who went on to found the popular Monterey Historic Races at Laguna Seca, California. Car 904 012 was brought to the US to compete in the 1964 season, so as time was of the essence to get the new racer Stateside as fast as possible, 904 012 was situated on an air pallet on January 16, 1964 at the Stuttgart International Airport, and flown aboard a Pan America Jet to the JFK Airport in New York. In Jürgen Barth's book on the model, many spectacular photos can be found of 904 012 being loaded and unloaded with much care taken not to damage the valuable new Porsche model. The 904 GTS was officially sold to Mr. Earle through Otto Zipper's Precision Motor Cars of Beverly Hills, California. The original Bill of Sale and a copy of the original Purchase Agreement signed by Mr. Zipper can be found in 904 012's substantial history file.

It does not appear that Steve Earle ever raced 904 012, but instead sold it back through Otto Zipper to fellow Californian Mr. Steve Berg. Supposedly, w Mr. Earle s took delivery of a Ferrari 250 LM. Then, the 904 012 appeared to race under Otto Zipper and Precision Motor Car banner and livery at prominent venues in 1964, with Hollywood TV producer, Mr. Kurt Neumann, behind the wheel. Already in February 1964, the new Porsche hit the race tracks and was, according to Mr. Barth's book, raced at Riverside Raceway. According to Mr. Jerry Pantis' 904 book, 904 012 went on to compete at the following events that same year: 1.) April 26, 1964, #32 Kurt Neumann, 2.) 8th OA at Riverside USRRC GT, 3.) May 3, 1964, #32 Kurt Neumann, 7th OA at Laguna Seca USRRC GT, 4.) May 1964, Santa Barbara Road Races SCCA Regional, 5.) June 1964, #32 Kurt Neumann, 3rd OA Willow Springs SCCA Divisional, 6.) September 5 and 6, 1964, #32 Kurt Neumann, A-C Production Race at Santa Barbara SCCA Regional, 7.) September 19, 1964, #37 Skip Scott, 2nd OA Bridgehampton Double 500, and 8.) October 10th, 1964, #32 Kurt Neumann at the Riverside 3 Hour Enduro.

After the 1964 season, 904 012 was painted dark blue with a silver nose, and fitted with Le Mans type brakes. Steve Berg would now enter the 904 GTS under his own name, with support from Al Cadrobbi's shop in Culver City, California. The 904 012 continued racing in the 1965 season, earning the following credentials: 1.) May 2nd 1965, #32 Kurt Neumann, DNF Riverside USRRC GT, 2.) May 9th, 1965, #32 Kurt Neumann, 5th OA Laguna Seca USRRC GT, 3.) May 30, 1965 Kurt Neumann, 2nd A-C Production Santa Barbara SCCA Regional, 4.) October 31st, 1965, #49 Denny Harrison, 8th LA Times GP at Riverside, 5.) November 14, 1965, Denny Harrison, 9th Consolation Race at Stardust GP Las Vegas, December 12, Denny Harrison, 1st A-D Production Race Willow Springs, 6.) February 20, 1966, 2nd (1st AP) A-D Production Willow Springs SCCA National, and 7.) March 20, 1966, Denny Harrison, 3rd A-D Production Willow Springs. Many great images exist of 904 012 competing at various prominent events and tracks from this era.

Mr. Steve Berg then offered 904 012 for sale in the March 12, 1966 issue of Competition Press, noting "...must sell, Carrera 6 coming!" The 904 012 was then purchased by celebrated actor and producer, Mr. Robert Redford. Having grown up in Southern California, Mr. Redford has surely witnessed the eras sports car races at the various tracks, and maybe even seen 904 012 in action. Mr. Redford kept the 904 GTS in California, and had it in his possession for nearly a decade. After Mr. Redford's ownership, 904 012 went through the hands of Mr. Danny McLaughlin to well-known racer and Porsche enthusiast, Mr. Jim Tidwell of San Diego. The original 4-cylinder, 4-cam engine had been taken out at this point, and 904 012 had aged, needing a definite restoration. The old racecar was then sold by Jim Tidwell to Mr. Nelson Rath of Anchorage, Kentucky in July of 1981. Documentation of these transactions can be found in copies of old titles, registrations, and bill of sales.

Belgian enthusiast Mr. Stefan Talpe bought 904 012 in 1982 from Mr. Rath, and describes the purchase as "a young man's dream." Mr. Talpe furthered that 904 012 gave him great satisfaction during his 34-year ownership, much due to the 904 GTS' beautiful design and excellent driving characteristics. The 904 012 underwent a restoration in the early 1990s, where an early 2-liter 911 engine was sourced and installed. This is a common and period-correct upgrade to a 904 GTS, and actually the very type of engine that the Porsche factory would install in the last 904 GTS' produced. The Apal Company of Blégny Trembleur, Belgium, carried out a repaint of the car, Irish Green, a period Porsche color, while all mechanical systems were also refurbished. Many photos of the restoration can be found in 904 012's comprehensive history file and show the car's original fiberglass bodywork and chassis intact and in very good, largely original condition. Very few sports racing cars of any kind can boast such qualities. It is believed, that the original engine installed in 904 012 from new, engine number 99001, is still in existence. Furthermore, 904 012 does indeed have its original matching numbers transaxle.

The consignor, a prominent Porsche collector from Denmark, purchased 904 012 from Mr. Talpe in 2016, and has recently fitted a new clutch. During his ownership, the 904 GTS was only occasionally enjoyed for gentle cruises in the Danish countryside. The car is accompanied by the previously mentioned comprehensive history file, containing records dating back to when the car was brand new, numerous receipts, registration and title certificates, letters, and a copy of the Porsche factory original built record (Kardex).

The 904 012 boasts a prominent period competition racing history and celebrity ownership— both famous racing drivers and none other than actor Robert Redford. The car would be the ideal entry into historic racing or high-speed rallies such as the Tour Auto in France. Moreover, the car would be a superb candidate to change back to its original Silver Metallic livery while it raced for Otto Zipper's Precision Motor Cars. Now inviting consideration by serious Porsche connoisseurs whom are missing the legendary 904 in their collection, this fine example of the sports racing icon would crown most collections and is sure to be welcomed at any major concours d'elegance and vintage racing events.
Saleroom notices
Please note, the title for this vehicle will be in transit