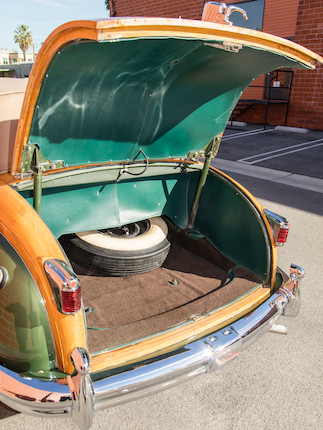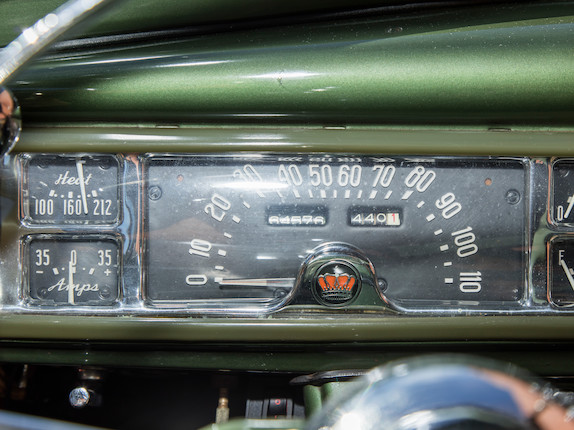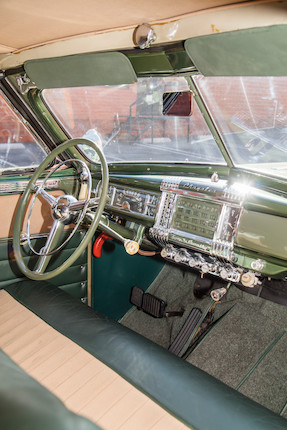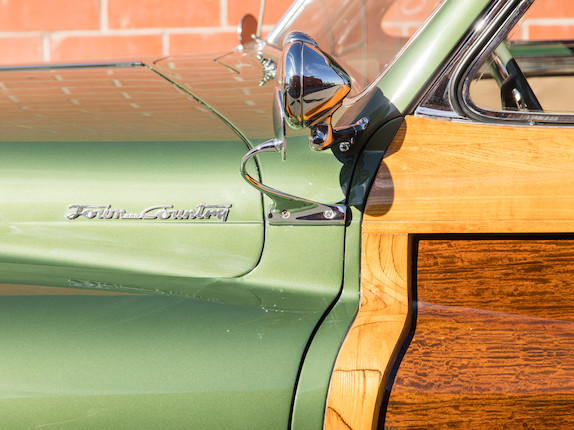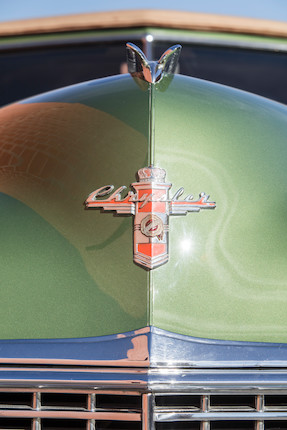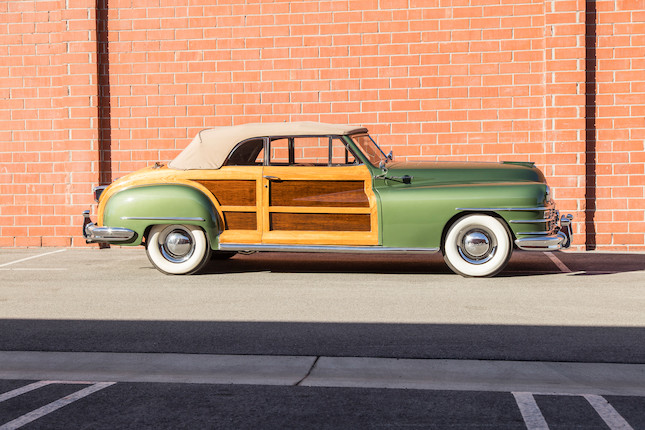 1948 Chrysler Town & Country Convertible
Chassis no. 7406635

323ci L-Head Inline 8-Cylinder Engine
Carter Dual Downdraft Carburetor
135bhp at 3,400rpm
Fluid Drive 4-Speed Semi-Automatic Transmission
Independent Front Suspension - Live Rear Axle
4-Wheel Hydraulic Drum Brakes

*Highly original and well-preserved example of the classic Town & Country
*Beautifully presented in the correct livery of Seacrest Green over Green and Tan Interior
*Less than 65,000 miles recorded on the odometer from new
*CCCA Full Classic® status

THE CHRYSLER TOWN & COUNTRY

Wood-bodied station wagons began as utility vehicles, often cataloged in the manufacturers' commercial lines. However, during the 1930s the style developed a certain vogue, particularly as prestige manufacturers, like Packard and Chrysler, began offering them. In 1941, Chrysler created a sensation with the Town & Country, a stylish barrel-backed four-door wood-bodied station wagon. Based on the six-cylinder Windsor line, it came in either six- or eight-passenger form and had swing-open clamshell doors at the rear. About 2,000 were built in 1941 and '42 before automobile production was suspended for World War II.

Such was the demand for vehicles in the immediate aftermath of WWII that the 1946 Chryslers—like most other American makes—reappeared looking much the same as they had in 1942. One difference in the model line-up was that the wood-embellished Town & Country model, previously available only as a station wagon, was now made either as a sedan or two-door convertible on both the New Yorker (8-cylinder) and Windsor (6-cylinder) chassis.

Slightly fewer than 8,400 T&C convertibles were built in the C-39 series from 1946 to 1948, out of more than 330,000 Chryslers built in the period. Just 3,039 were 1948 models. With their contrasting ash framing, mahogany veneer and steel panels, while boasting a level of finish that would be the envy of the finest yachts, these new Town & Country models were certainly striking. They were also the best-equipped and most expensive models in the Chrysler range. Today, they are among the most highly prized American automobiles of their era.

THE MOTORCAR OFFERED

Of the rare Town & Country breed, this extraordinary example stands out in both originality and appearance. A largely original example with less than 65,000 miles recorded on the odometer, this 1948 Town & Country has been refinished in the car's original color of Seacrest Green, and is both charming and classy in every way. The wood is expertly refinished and the tan canvas top fits nicely. The brightwork is all of fine quality and the trim wheel rings stand out on a set of wide whitewall tires. Postwar material shortages delayed the introduction of true whitewalls, so Chrysler resorted to white-painted metal wheel trim on most cars well into 1947. Not until 1948 were genuine whitewalls readily available. The interior is done in attractive green and tan leather, nicely complimenting the wood body and green exterior paint. The car has Chrysler's very reliable and strong 323 cubic inch straight-eight engine, as used by the top-of-the-line New Yorker and Imperial, driving through the M-5 semi-automatic four-speed transmission with Fluid Drive. The dashboard features elegant brightwork and trim, spectacularly color-coded by the same Seacrest Green color as seen on the exterior. Out front, a set of yellow-lens fog lights adorn the impressive and confident-looking grill, while a period spotlight is affixed in the driver's door area to aid on a dark evening driving out in the countryside.

Town & Country Convertibles always attract attention, but this beautifully finished Seacrest Green over green and tan leather and cloth seats flies above the rest. The last of the true woodies, this Chrysler is a CCCA Full Classic® and would make a brilliant and comfortable tour car. Alternatively, one can enjoy it for how it was originally intended—on any sunny day for a nice drive! A prime example of Chrysler's flagship of the postwar period, this Town & Country Convertible would be a charming addition to any collection.
Saleroom notices
Please note, the title for this vehicle will be in transit