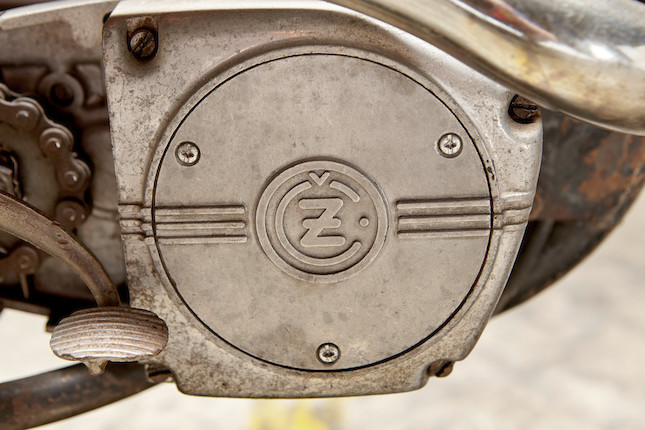 As ridden by Paul Newman in the film "Sometimes a Great Notion",1967 CZ 250
Frame no. 980-02-02269 Engine no. 980-02-02269
Amended
6 October 2018, 11:00 PDT
Barber Motorsports
Own a similar item?
Submit your item online for a free auction estimate.
How to sell
Looking for a similar item?
Our Motorcycles specialists can help you find a similar item at an auction or via a private sale.
Find your local specialist
Ask about this lot
Client Services (Los Angeles)
Client Services (New York)
Client Services (San Francisco)
As ridden by Paul Newman in the film "Sometimes a Great Notion"
1967 CZ 250
Frame no. 980-02-02269
Engine no. 980-02-02269
• Restored to film used condition
• Includes letters from J.N. Roberts and American Jawa


Starting in the mid-1960s, CZ was the bike to beat in international motocross, the Czechoslovakian 2-stroke recording six Grand Prix world championships from 1964 through 1969. It was CZ that put Belgian Joel (J.N.) Robert on the world motocross map, and vice versa. Robert, perhaps the most naturally talented rider ever, was notorious for his lack of training, preferring a good party to practice motos, smoking cigarettes to doing calisthenics. Yet in 1964 at age 20 he bested all comers on his privateer CZ 250, making him at that time the youngest rider to win a world motocross title, and giving CZ its first-ever GP championship. Longtime U.S. motocross fans remember the brand fondly for CZ's win at the 1974 Superbowl of Motocross at the L.A. Coliseum in front of 65,000 fans and network television cameras, Czech works rider Jaroslav Falta at the controls. Forty-plus years later the beloved bikes are still a force to be reckoned with in vintage motocross competition.
This 'as used in the movie' CZ 250 – actually the 'red tank' CZ is clean and in generally very good condition – was manufactured by Ceska zbropjovka, once an arms manufacturer, a branch of the Skoda car company (now inside the Volkswagen Group) and once owned by Cagiva. It was 'given' to Paul Newman for use in the film, Sometimes a Great Notion. There's a letter in its history file from J.N. Roberts and the Jawa and CZ distributor clarifying the arrangement. Paul Newman plays Hank Stamper in this Oregon logging drama that incapsulates a 'war' waged between a conglomerate, a logger's union and a fiercely independent logging family. There's a motocross race and that's where the CZ fits in...
Footnotes
Offered on a Bill of Sale.

As with all Lots in the Sale, this Lot is sold 'as is/where is' and Bidders must satisfy themselves as to the provenance, condition, age, completeness and originality prior to bidding.
Saleroom notices
Offered on a Bill of Sale and the frame number is 5192.