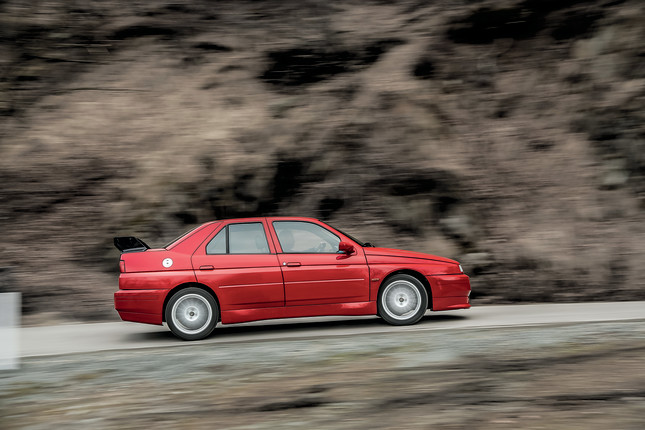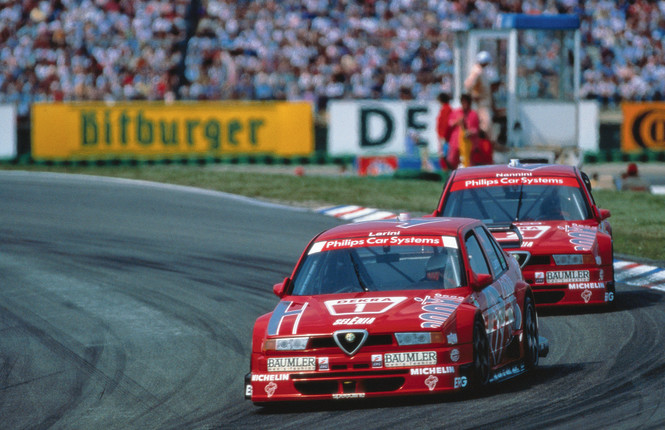 1993 Alfa Romeo 155 GTA Stradale Sports Saloon
Withdrawn
Amended
27 October 2018, 14:30 CEST
Italy, Padua
Ask about this lot
Gregor Wenner
Specialist Consultant
1993 Alfa Romeo 155 GTA Stradale Sports Saloon
Chassis no. ZAR16700000005892
•The sole prototype for a planned limited series
•Built by Abarth for Alfa Romeo
•Displayed at the 1994 Bologna Motor Show
•Known ownership history
•Outstandingly original


Footnotes
This unique Alfa Romeo is very special indeed, being the only prototype built for a planned limited series of the Alfa Romeo 155 GTA Stradale to celebrate Alfa Romeo's success in touring car racing.

The 155 was immensely successful in touring car racing across Europe, winning the Italian Superturismo Championship and German DTM Championship (both with Nicola Larini at the wheel); the Spanish Touring Car Championship (with Adrián Campos); and the British Touring Car Championship (with Gabriele Tarquini). Its Tipo 156 replacement would prove equally competitive.

Following the success of the Tipo 155 competition cars, Alfa Romeo decided to produce a Stradale version, similar to the successful Mercedes-Benz 190 E 2.5-16 and BMW M3 models. The 155 GTA Stradale project commenced under the supervision of legendary Abarth engineer and 'father' of the Lancia 037, Sergio Limone. Mechanically, the prototype is based on the 155 Q4, the sportiest of the 155 range, which uses basically the same engine and mechanicals as the Lancia Delta Integrale, though with the rear differential casing in cast iron (not aluminium) to shift the weight bias rearwards.

The engine was prepared to Group N specification and the body modified with larger wings, race-style front and rear bumpers, and a large rear spoiler. Also, the suspension was changed and is similar to that of the Lancia Delta Integrale, while the 'sports/luxury' interior was trimmed in black leather with 'anatomic' sports seats. But the FIAT bosses saw two major problems: one was that they would have preferred a more powerful six-cylinder engine, which would not have fitted the compact Delta Integrale drivetrain, and the second was the relatively prohibitive cost, as a separate production line would be needed. Hence the project was abandoned and the car we are proud to offer is the only one ever built.

The prototype was displayed at the Bologna Motor Show and was also used at the 1994 Monza Gran Premio d'Italia as a medical car, driving the legendary British neurosurgeon and FIA medical officer, Dr Sid Watkins - 'Professor Sid'. It subsequently ended up in Tony Fassina's workshop in Milan, where it remained for four years before being purchased by one of Mr Fassina's friends. The latter then brought the car to Germany where it was road-registered for the first time. In 1999, the Alfa returned to Italy, forming part of the private collection of an Alfa Romeo engine preparation specialist and enthusiast in the Marche region until it changed hands, passing to its current owner only recently.

Its condition testifies to this car's careful ownership. It remains outstandingly original with the exception of the rear spoiler, which was reconstructed recently. This Alfa recently featured on the front cover of the renowned Italian classic car magazine, Ruote Classiche (May 2018 edition), in whose article Sergio Limone vividly remembers the car, saying it was a 'missed opportunity' and should have gone into production. Now displaying a total of some 40,000 kilometres on the odometer, it is described by the vendor in good order throughout.
Accompanying documentation consists of Italian registration documents: various documents pertaining to its history; a copy of the aforementioned Ruote Classiche; and a letter from Sergio Limone to the then owner Tony Fassina testifying to its originality.

An opportunity for the true Alfa Romeo aficionado to purchase a very useable, one-off creation with an enviable pedigree.


1993 Alfa Romeo 155 GTA Stradale Berlina
Telaio nr. ZAR16700000005892

•L'unico prototipo realizzato in previsione di una serie limitata
•Costruito da Abarth per Alfa Romeo
•Presentato al Salone di Bologna del 1994
•Storia dei passaggi di proprietà nota
•Eccezionalmente originale

Questa esclusiva Alfa Romeo è davvero speciale, essendo l'unico prototipo costruito in previsione di una serie limitata pensata da Alfa Romeo per la sua 155 GTA Stradale, per celebrarne il successo nelle corse automobilistiche delle vetture turismo.

La 155 ha conquistato infiniti successi nelle corse automobilistiche in tutta Europa, vincendo il Campionato Italiano Superturismo e il campionato Tedesco DTM (entrambi con Nicola Larini al volante), il Campionato Spagnolo di vetture da Turismo (con Adrián Campos) e, il British Touring Car Championship (con Gabriele Tarquini). La sua erede, modello 156, si dimostrerà poi altrettanto competitiva. A seguito dei successi in gara delle sue 155, Alfa Romeo aveva deciso di produrre una versione Stradale, sulla falsariga di quanto, con successo, fatto da Mercedes-Benz con la 190 E 2.5-16 e da BMW per la M3. Il progetto 155 GTA Stradale è iniziato sotto la supervisione del leggendario ingegnere Abarth, "padre" della Lancia 037, Sergio Limone. Meccanicamente, il prototipo si basa sulla 155 Q4, la più sportiva della gamma 155, che, fondamentalmente, utilizza motore e meccanica della Lancia Delta Integrale, sebbene la scatola del differenziale posteriore sia in ghisa (e non in alluminio) per spostare più peso verso la parte posteriore. Il motore era stato preparato secondo le specifiche del Gruppo N mentre la carrozzeria era stata modificata con ali più grandi, paraurti anteriore e posteriore in "stile competizione" ed era stato aggiunto un ampio spoiler posteriore. Inoltre, la sospensione era stata modificata e resa simile a quella della Lancia Delta Integrale, mentre l'interno "di lusso sportivo" era rivestito in pelle nera con sedili sportivi anatomici.
Al momento di deciderne la sua realizzazione "in serie", i capi FIAT hanno visto due problemi principali: uno legato al motore, avrebbero preferito un sei cilindri più potente, che non si sarebbe potuto adattare alla trasmissione della più piccola Delta Integrale, il secondo legato ai costi, quasi proibitivi, visto che si sarebbe resa necessaria una linea di produzione dedicata. Queste le ragioni che hanno portato all'abbandono del progetto e che fanno, dell'auto che siamo orgogliosi di poter offrire, un pezzo unico. Questo prototipo è stato esposto al Motor Show di Bologna ed è stato utilizzato, come auto medica, anche nelle giornate del Gran Premio d'Italia del 1994, deve trasportava il leggendario neurochirurgo britannico, e ufficiale medico della FIA, dottor Sid Watkins alas "Professor Sid". In seguito la 155 GTA Stradale è finita nell'officina di Tony Fassina, a Milano, dove è rimasta per quattro anni, prima di essere acquistata da un amico di Fassina che l'ha portata in Germania, dove è stata immatricolata per la prima volta. Nel 1999, la 155 torna in Italia, entrando nella collezione privata di un appassionato Marchigiano, specialista nella preparazione dei motori Alfa Romeo per poi, solo recentemente, passare al suo attuale proprietario.

Le condizioni attuali della vettura testimoniano l'attenta custodia che ne è stata fatta dai diversi proprietari, rimanendo straordinariamente originale, con la sola l'eccezione dello spoiler posteriore ricostruito di recente. Quest'Alfa, inoltre, è stata recentemente presentata sulla copertina della famosa rivista automobilistica italiana Ruote Classiche (numero di Maggio 2018) dove, nell'articolo, Sergio Limone ricorda vividamente l'auto, definendo "un'opportunità mancata" non averla messa in produzione. Il contachilometri attualmente mostra un totale di circa 40.000 chilometri percorsi e la macchina viene descritta dal venditore come sempre rimasta in buoni condizioni.

La documentazione di accompagnamento è costituita dai documenti di immatricolazione italiani e da svariati documenti relativi alla sua storia: una copia della già citata Ruote Classiche ed una lettera di Sergio Limone, all'allora proprietario Tony Fassina, che testimoniava l'originalità di questa 155. Un'opportunità rara per il vero appassionato di Alfa Romeo di poter acquistare una creazione unica, e utilizzabile, completata da un'origine invidiabile.
Saleroom notices
Please note that this car has been withdrawn.