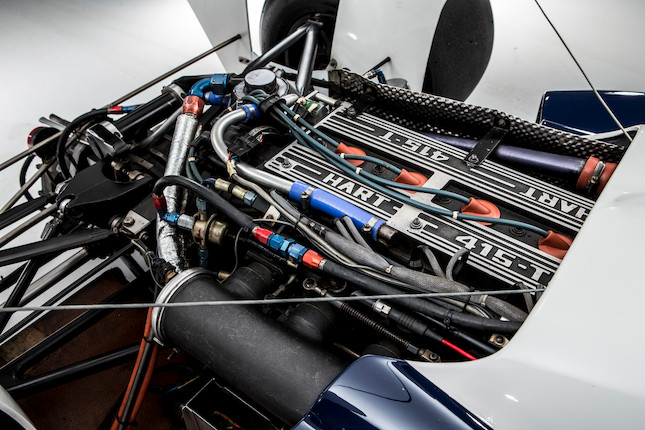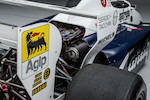 1984 Toleman-Hart TG184 racing single seater
Amended
11 May 2018, 18:00 CEST
Villa La Vigie
Sold for €1,610,000 inc. premium
Own a similar item?
Submit your item online for a free auction estimate.
How to sell
Looking for a similar item?
Our Collector Cars specialists can help you find a similar item at an auction or via a private sale.
Find your local specialist
Ask about this lot
Philip Kantor
International Chairman for Motoring
The Ex-Ayrton Senna, ex-Stefan Johansson
1984 Toleman-Hart TG184 Formula 1 Racing Single-Seater
Chassis no. TG184-02
Footnotes
Here we at BONHAMS are privileged to offer not only the legendary Ayrton Senna's last Monaco Grand Prix car – see Lot XXX – but also his very first – this 1984 Toleman-Hart TG184, chassis number '02'. This is the car in which the brilliant Brazilian really exploded onto the Formula 1 scene, hunting down Monaco Grand Prix race leader Alain Prost – troubled by braking problems in atrociously wet, rain-soaked conditions, to challenge strongly for the race lead. It was only his sixth (?) Formula 1 drive but Senna was closing so fast it seemed inevitable that he would somehow find a way past the French superstar's leading McLaren-TAG Turbo and potentially win at Monaco in his first Formula 1 season.

However, what then transpired contributed perhaps to the brilliant Brazilian's future – and equally legendary – personal feud with Prost when they became team-mates together at McLaren in the later 1980s – trading the Formula 1 Driver's World Champion title to-and-fro between them.

On Monaco Grand Prix race day in 1984 the local weather conditions were so appalling that it became obvious the event could not run its full distance of 76 laps without exceeding the FIA's strict two-hour duration limit. In his 1½-litre, 4-cylinder, 600bhp Toleman-Hart, Senna was chasing-down race leader Alain Prost's more powerful McLaren-TAG Turbo MP4/2. The mercurial Brazilian new boy was catching the established French superstar at the staggering rate of 3 seconds per lap.

Ayrton Senna, in this very Toleman-Hart, had started the race in ninth place. He had then splashed and plumed his way up through the field to establish himself in second place, and he had closed the gap behind Prost to barely 7 seconds – and closing at an accelerating rate - when race director Jacky Ickx (the Belgian former Formula 1 driver) and Monaco Automobile Club secretary Michel Boeri controversially had both the red flag and the chequered flag shown simultaneously, bringing the race to what many considered to be a premature end, after only 31 laps. Prost therefore took the win from new boy Senna, the margin of victory being 7.446 seconds.

In fact, when the red and chequered flags were both shown as the drivers reached the end of lap 32, Prost had slowed and hesitated just short of the finish line and Senna swept by, waving ecstatically, convinced that in the car offered here he had just won his first World Championship-qualifying Grand Prix - and at Monaco - the most glamorous venue of them all...

In fact, as was customary in Formula 1, the race results would be declared as the positions pertaining at the end of the last previous uninterrupted lap, and so Prost was confirmed as the winner after 31 officially recognised laps, with Senna second in this Toleman-Hart TG184 chassis '02 now offered here.

However, while it seems almost certain that Senna would have wrested the race lead from Alain Prost after just one or two more laps, it is doubtful that his car could then have survived much longer. His Toleman team mechanics reported post-race that its suspension had suffered damage and would likely have soon failed after the Grand Prix had been so abruptly abandoned. By such slender margins is sporting history written...

Most presciently, during the closing stages of the 1984 Monaco Grand Prix, 1976 Formula 1 World Champion Driver and BBC TV commentator James Hunt, announced the true emergence of Senna upon the Formula 1 scene. He declared on air: "I think we are watching the arrival of Ayrton Senna as a truly outstanding talent in Grand Prix racing..."

He was not wrong. Not only would Senna go on to win the Formula 1 Drivers' World Championship titles in 1988, 1990 and 1991 - he would also win the Monaco Grand Prix itself a record six times; in 1987, then for five consecutive years from 1989 to 1993 inclusive. Lot XXX in this Sale is his final, record-breaking, winning McLaren-Ford from 1993.

The Toleman-Hart TG184 which Senna campaigned that season of 1984 was designed by Rory Byrne and Pat Symonds, and at the time of Ayrton's stupendous Monaco drive, this particular chassis was still fresh from its debut as-new in the preceding French GP at Dijon-Prenois, from which he had been forced to retire due to turbocharger failure on the slimline car's 4-cylinder in-line Hart power unit. Emphasising his potential for future greatness, Senna's subsequent 1984 season in the Toleman-Hart saw him add to his maiden podium placing at Monaco with third-place finishes in both that year's British and Portuguese Grands Prix.

He would drive this particular Toleman-Hart TG184 – chassis '02 – in that year's Canadian, Detroit, Dallas and British Grand Prix races – finishing 7th in Montreal – then crashing in Detroit - retiring with a driveshaft failure in Dallas – before finishing a fine third in his final appearance in this individual Grand Prix car in the British event at Brands Hatch, where one report greeted his success with the line "Third, Senna, the brilliant new shooting star in the Formula 1 constellation..." – and the star driver of this sparklingly well-preserved and historic Toleman-Hart.

Later in that 1984 Formula 1 season, chassis '02 served the Toleman team as spare car at Hockenheim, the Osterreichring, Zandvoort and Monza where it was actually driven in the Italian Grand Prix by Senna's Swedish team-mate Stefan Johansson to add to its entirely meritorious Grand Prix laurels by finishing fourth overall, headed only by winner Niki Lauda's McLaren-TAG Turbo MP4/2, Michele Alboreto's second-placed Ferrari 126C4 and Riccardo Patrese's Alfa Romeo 184T third.

The extremely capable Stefan Johansson then raced this car again in both the European Grand Prix at the Nurburgring in Germany, and in the Portuguese Grand Prix at Estoril. At the Nurburgring Johansson was forced into retirement by overheating, while in Portugal he finished 11th after running as high as 6th place overall and ahead of Niki Lauda's McLaren-TAG Turbo MP4/2.

Some measure of the low-budget, underdog, Toleman-Hart TG184's true class within the contemporary Grand Prix field is offered by this passage from the annual 'Autocourse' covering the 1984 season and in this case describing action during that Portuguese Grand Prix: "Niki was having a look down the inside of just about every corner all the way round the circuit as he weighed up the possibility of passing Johansson, but the Swede was driving brilliantly, making not the smallest slip which would allow Niki to get his McLaren alongside.

" 'I simply couldn't believe the speed of that Toleman on the straight', said Niki afterwards, 'I eventually had to wind my boost up to well beyond qualifying level and go down the outside of him into a tricky left-hander...as I came across in front of him I tagged his nose which was a bit unfortunate....'.

"Stefan who had been wondering why the hell Lauda had been sitting on his tail for lap after lap, not making – in his view – any serious effort to come past, shared Niki's view of the situation. 'Unfortunate? I was livid', he grinned at the end of the race. This slight contact meant that Johansson lost the best part of two laps in the pits having the nose wing replaced. On his return to the fray he set the third fastest lap of the race, behind the two works McLaren-TAG Turbo cars. For certain he would otherwise have been fourth..." behind Toleman team-mate Senna...who finished third in the sister car, Toleman-Hart TG184 chassis number '05.

The Toleman Group – headed by successful businessman, motor racing enthusiast and sometime competitor Ted Toleman – had been involved in various forms of racing through the 1970s before moving into Formula Ford 2000 in 1977. Toleman's primary business provided a huge fleet of car transporters delivering new stock from British motor industry factories to docks and distributors.

In 1978 the Toleman Group's growing racing interests entered driver Rad Dougall in a Formula 2 March, and it was during that season that the company hired the services of multi-talented young South African design engineer Rory Byrne, ex-Royale Racing. But through 1979 the Toleman team ran Ralt cars for Dougall and Brian Henton – who took second place in the year's Formula 2 Championship, while Dougall placed fifth.

In 1980 the first Toleman-titled racing car emerged - the Formula 2 TG280 model, designed by Byrne and engineered by John Gentry. Powered by a Hart 4-cylinder engine and running on Pirelli tires, the cars dominated 1980 Formula 2 racing with team drivers Brian Henton and Derek Warwick finishing 1-2 in the Championship. This success then encouraged Ted Toleman and team director Alex Hawkridge to announce that the team would be entering Formula 1...

After considering a turbocharged engine from Lancia, the team decided to remain faithful to British engine builder Brian Hart. Team drivers would be Brian Henton and Derek Warwick. The Rory Byrne-designed Toleman TG181 appeared in 1981. The team received a baptism of fire, as Henton and Warwick failed to qualify to start on raceday in all events entered until Henton finally made the cut at Monza in September. Derek Warwick qualified in the last race of the year at Las Vegas. In 1982 upgraded TG181s were run for Warwick and Italian driver Teo Fabi until that August when the first carbon-composite chassised Toleman TG183 was ready. While deployed only twice in 1982 Warwick set fastest race lap in the Dutch Grand Prix at Zandvoort.

The Toleman TG183B for 1983 was then a much more effective design, and with sponsorship from domestic appliance manufacturer Candy, truck maker Magirus and BP Oil the machines were driven by Derek Warwick and Bruno Giacomelli. Warwick scored Toleman's first World Championship points by finishing fourth in the year's Dutch Grand Prix before scoring in all three of the subsequent qualifying rounds, in Italy, the European GP at Brands Hatch and in South Africa. The Toleman team took ninth place in the year's Formula 1 Constructors' Championship.

This success catapulted Warwick into the major Renault works team for 1984 while Toleman signed up new rising star Ayrton Senna and Venezuelan racing motor-cyclist Johnny Cecotto for the new season. Backed by sponsors Segafredo and Magirus, Ayrton Senna achieved the team's first podium finish with his Monaco Grand Prix exploits and finished third in the British Grand Prix at Brands Hatch. Sadly, that weekend saw his team-mate Cecotto badly hurt in a practice crash and the team ran just one car for Senna in the German, Austrian and Dutch GPs.

The ambitious Brazilian was then suspended by Toleman from the Italian GP because he had signed a contract with the rival Team Lotus for 1985 (ignoring his Toleman contract). It was then that Stefan Johansson took the drive and finished fourth. The second Toleman TG184 there was driven by Pierluigi Martini in qualifying but he failed to make the cut. The Senna/Johansson duo then completed the year's race programme.

Toleman subsequently built its first TG185 in-house monocoque for 1985, when the Benetton group entered a three-year sponsorship agreement with Ted Toleman. After the struggling team scored no points that year the team was sold to Benetton for 1986 and subsequent times.

Consequently, this Toleman-Hart TG184 is not only the great Ayrton Senna's first Monaco Grand Prix mount, and the first to secure a podium finish for the British marque. It also represents the high-tide of the Toleman team's Formula 1 achievement – an historic turbocharged Formula 1 car of true distinction – and we commend it for the closest possible consideration.

Toleman-Hart TG184 1984
Monoplace de Formule 1
Châssis n° TG184-02

Nous avons chez Bonhams le privilège d'offrir non seulement la dernière voiture du légendaire Ayrton Senna au Grand Prix de Monaco – voir Lot n° xxx – mais également sa toute première, cette Toleman-Hart TG184 châssis n° « 02 ». C'est la voiture au volant de laquelle le talentueux Brésilien s'imposa définitivement sur la scène de la F1 en poursuivant l'homme de tête du GP de Monaco, Alain Prost, malgré des ennuis de frein dans des conditions trop compliquées par la pluie battante pour défier efficacement le leader de la course. C'était seulement sa sixième course en F1, mais Senna se rapprochait si vite qu'il apparut inévitable qu'il finît par trouver le moyen de dépasser la Mc-Laren-TAG Turbo de la star française et potentiellement, de gagner à Monaco dès sa première saison en Formule 1.

Mais ce à quoi l'on assista contribua peut-être à établir la future rivalité personnelle– et tout aussi légendaire – du brillant Brésilien avec Prost lorsqu'ils devinrent coéquipiers dans l'écurie McLaren à la fin des années 1980, échangeant entre eux le titre de Champion du Monde des Pilotes de F1.

Le jour de la course de Monaco en 1984, les conditions atmosphériques locales étaient si mauvaises qu'il parut impossible de disputer la totalité des 76 tours sans dépasser la durée maximale de deux heures fixée par la FIA. Dans sa Toleman-Hart 1, 5 litres 4 cylindres de 600 ch, Senna poursuivit la McLaren-TAG Turbo MP4/2 d'Alain Prost plus puissante qui menait. Le versatile nouveau venu remontait sur le champion français à la
cadence impensable de 3 secondes au tour.

Ayrton Senna, dans cette même Toleman-Hart, avait pris le départ en neuvième position. Il avait ensuite bataillé et forcé le passage pour arriver à la deuxième position et resserrer l'écart avec Prost à 7 secondes à peine – et se rapprochait toujours plus vite – lorsque le directeur de course Jacky Ickx (ancien pilote belge de F1) et le secrétaire de l'Automobile-Club de Monaco, Michel Boeri, sortirent simultanément et contradictoirement le drapeau rouge et le drapeau à damier en mettant trop tôt– nombreux furent ceux qui le pensèrent - un terme à la course après 31 tours seulement. Prost fut donc déclaré vainqueur devant Senna avec un écart de 7, 446 secondes.

En réalité, lorsque les deux drapeaux, rouge et à damier, furent agités, quand les pilotes terminaient leur 32e tour, Prost avait ralenti et il hésita juste avant la ligne et Senna passa en saluant joyeusement persuadé qu'il venait de remporter son premier GP en Championnat du Monde – et à Monaco, le circuit le plus prestigieux...

En fait, comme il est d'usage en Formule 1, le résultat de la course doit être déclaré en fonction des positions occupées à la fin du tour complet précédent si bien que Prost fut confirmé comme vainqueur après 31 tours officiellement contrôlés devant Senna, deuxième dans sa Toleman-Hart TG184 châssis 02 offerte aujourd'hui.

Or, s'il semble ne faire aucun doute que Senna aurait finit par ravir le commandement de la course à Prost après un ou deux tours, il n'est pas sûr que sa voiture aurait continué à fonctionner. Ses mécaniciens de l'équipe Toleman déclarèrent après la course que sa suspension avait été endommagée et qu'elle aurait certainement lâché peu après l'arrêt inattendu du Grand Prix. L'histoire du sport s'écrit toujours dans ce genre de détail ...

Avec beaucoup de prescience, au cours des derniers tours du GP de Monaco, le Champion du Monde de F1 1976 et commentateur de BBC Television, James Hunt, annonça la prochaine affirmation de Senna sur la scène de la F1. Il dit à l'antenne : « Je pense que nous assistons à l'arrivée d'Ayrton Senna, pilote d'un extraordinaire talent, en Grand Prix... »

Il voyait juste. Non seulement Senna allait devenir Champion du Monde des Pilotes de F1 en 1988, 1990 et 1991, mais il allait remporter le Grand Prix de Monaco six fois – un record – en 1987 puis cinq fois consécutives de 1989 à 1993. Le Lot XXX de cette vente est sa dernière McLaren-Ford gagnante de 1993.

La Toleman-Hart TG184 pilotée par Senna au cours de la saison 1984 fut conçue par Rory Byrne et Pat Symonds et, au moment de cette course stupéfiante d'Ayrton à Monaco, ce châssis particulier venait d'accomplir ses tout débuts au GP de France à Dijon-Prenois où il avait dû abandonner sur casse du turbo du moteur Hart à quatre cylindres en ligne équipant cette fine voiture. Confirmant son potentiel annonciateur de futurs exploits, la suite de la saison 1984 de Senna dans la Toleman-Hart ajouta à son premier podium de Monaco deux troisièmes places aux GP de Grande-Bretagne et du Portugal.

Il allait piloter cette même Toleman-Hart TG184 châssis 02 aux GP du Canada, de Detroit, de Dallas et de Grande-Bretagne – terminant 7e à Montréal – avec un accident à Detroit et une rupture de transmission à Dallas, avant de décrocher une belle troisième place lors de sa dernière apparition dans cette même voiture au GP de Grande-Bretagne à Brands Hatch dont un compte-rendu salua ce succès avec ces mots : « Troisième, Senna, la brillante nouvelle étoile filante de la constellation Formule 1... » - et pilote vedette de cette Toleman-Hart extraordinairement bien conservée et historique.

Plus tard au cours de cette saison de F1 1984, le châssis 02 servit de mulet à l'équipe Toleman à Hockenheim, à l'Osterreichring, à Zandvvort et à Monza où il fut réellement piloté dans le GP d'Italie par le coéquipier suédois de Senna, Stefan Johansson, qui rajouta à ses méritoires succès en Grand Prix une quatrième place absolue, battu seulement par la McLaren TAG Turbo MP4/2 de Niki Lauda, la Ferrari 126 C4 de Michele Alboreto, deuxième, et l'Alfa Romeo 184 T de Ricardo Patrese, troisième.

Le très compétent Stefan Johansson la conduisit ensuite au GP d'Europe au Nürburgring en Allemagne et au GP du Portugal à Estoril, Au Nürburgring, Johansson fut contraint à l'abandon suite à une surchauffe, tandis qu'au Portugal il arriva 11e après avoir occupé la sixième place absolue en devançant la McLaren-TAG Turbo MP4/2 de Niki Lauda.

Une certaine idée de la véritable classe de la Toleman-Hart TG184, insuffisamment financée pour vaincre dans l'univers contemporain des Grands Prix, est donnée par ce passage de la publication annuelle Autocourse traitant de la saison 1984 et, dans ce cas précis, décrivant l'action lors de ce GP du Portugal : « Niki allait devoir surveiller son intérieur à chaque virage tout au long du circuit alors qu'il mesurait la possibilité de sauter Johansson, mais le Suédois pilotait brillamment sans provoquer la moindre glissade qui aurait permis à Niki de glisser sa McLaren sur son flanc.

« Je ne pouvais tout simplement pas croire la vitesse de cette Toleman en ligne droite », dit Niki Lauda après coup. « J'ai remonté la pression du turbo bien au-dessus de celle des qualifications et j'ai pris l'extérieur dans un gauche piégeux...en revenant devant lui j'ai lui ai frotté le nez, ce qui était un peu regrettable...

« Stefan qui s'était demandé pourquoi diable Lauda qui lui avait marché sur les talons tout après tour n'avait fait – de son point de vue – aucune tentative sérieuse pour le passer partagea l'avis de Niki. « Regrettable ? J'étais livide », avoua-t-il après la course. Cette touchette signifie que Johansson manqua le meilleur des deux tours qu'il passa au stand pour faire remplacer son aileron avant. En revenant en course, il signa le troisième meilleur tour en course derrière les deux McLaren-TAG Turbo officielles. Il est sûr qu'il aurait autrement été quatrième... » derrière son coéquipier chez Toleman, Senna... qui finit troisième dans la sister car, la Toleman-Hart TG184 châssis n° 05.

Le Groupe Toleman – dirigé par l'homme d'affaires, passionné de course automobile et parfois concurrent, Ted Toleman – avait été impliqué dans diverses disciplines sportives dans les années 1970 avant d'aborder la Formule Ford 2000 en 1977. La première activité de Toleman avait été la gestion d'une importante flotte de porte-voitures pour la livraison de véhicules neufs provenant des constructeurs britanniques vers les ports et les distributeurs.

En 1978, les intérêts grandissants du Groupe Toleman dans le domaine de la compétition firent recruter le pilote Rad Dougall sur March F2 et c'est pendant cette même saison que la firme engagea le talentueux jeune ingénieur sud-africain Rory Byrne, ex-Royal Racing. Mais tout au long de la saison 1979, l'écurie Toleman engagea des Ralt pour Dougall et Brian Henton – qui finit deuxième dans le Championnat de F2, Dougall prenant la 5e place.

La première voiture portant la marque Toleman apparut en 1980 : le type TG280 de Formule 2 conçu par Byrne et construite par John Gentry. Propulsées par des moteurs Hart à quatre cylindres et chaussées de pneus Pirelli, les voitures dominèrent la Formule 2 en 1980 avec les pilotes Brian Henton et Derek Warwick qui finirent 1e et 2e du Championnat. Ces succès encouragèrent Ted Toleman et le directeur de l'écurie, Alex Hawkridge à annoncer l'arrivée de leur équipe en Formule 1.

Après avoir envisagé un moteur Lancia suralimenté, l'équipe décida de rester fidèle au constructeur de moteurs britannique Brian Hart. Les pilotes officiels seraient Brian Henton et Derek Warwick. La Toleman TG181 conçue par Rory Byrne apparut en 1981. L'écurie reçut son baptême du feu alors que Henton et Warwick manquaient leur qualification dans toutes les courses jusqu'à ce que Henton perce à Monza en septembre. Derek Warwick se qualifia pour la dernière manche de l'année à Las Vegas. En 1982, la TG181 révisée fut engagée pour Warwick et le pilote italien Teo Fabi jusqu'au mois d'août lorsque la première Toleman 183 à coque en carbone fut prête. Bien qu'ayant couru seulement deux fois en 1982, Warwick réalisa le meilleur tour au GP de Hollande à Zandvoort.

La Toleman TG183 B de 1983 apparut alors comme une machine bien plus efficace et avec le soutien financier du fabricant d'appareils ménagers Candy, du constructeur de camions Magirus et des Huille BP, les machines furent pilotées par Derek Warwick et Bruno Giacomelli. Warwick marqua les premiers points en championnat pour Toleman en terminant quatrième au GP de Hollande avant de marquer lors des trois manches suivantes, en Italie, au GP d'Europe et en Afrique du Sud. L'écurie Toleman se classa neuvième au Championnat du Monde des Constructeurs de F1.

Ces succès catapultèrent Warwick dans la grande équipe Renault officielle pour 1984 tandis que Toleman signait avec la nouvelle étoile montante Ayrton Senna et le champion motocycliste vénézuélien Johnny Cectto pour la nouvelle saison. Avec le soutien des sponsors Segafredo et Magirus, Ayrton Senna assura le premier podium de l'équipe avec ses exploits au GP de Monaco et termina troisième du GP de Grande-Bretagne à Brands Hatch. Malheureusement, ce même week-end, son coéquipier Cecotto fut gravement blessé lors d'un accident aux essais et l'équipe n'engagea qu'une voiture pour Senna dans les GP d'Allemagne, d'Autriche et de Hollande.

L'ambitieux Brésilien fut alors suspendu par Toleman pour le GP d'Italie du fait qu'il avait signé chez la rivale Lotus pour 1985 (ignorant son contrat avec Toleman). C'est alors que Stefan Johansson prit le volant et finit quatrième. La seconde Toleman TG184 fut pilotée par Pierluigi Martini aux qualifications, mais il échoua. Le duo Senna/Johasson termina le programme sportif de la saison.

Par la suite, Toleman fabriqua elle-même sa première monocoque TG185 pour 1985 lorsque le groupe Benetton signa un accord de financement sur trois ans avec Ted Toleman. Après que l'équipe en difficulté n'eût marqué aucun point cette année-là, elle fut vendue à Benetton pour 1986 et après ...

Cette Toleman-Hart TG184 est donc non seulement la monture du grand Ayrton Senna pour son premier Monaco, mais aussi la première a apporter un podium à la marque britannique. Elle représente aussi l'apogée des réalisations de l'équipe en F1 – une F1 turbo historique tout à fait honorable – et nous recommandons de la prendre en considération avec un maximum d'attention.

Après la fin de carrière en première ligne de la F1, cette Toleman-Hart TG184 ex Senna au GP de Monaco devint la propriété de son ancien deuxième pilote, Stefan Johansson selon les termes de son contrat. Elle résida alors au cours des dix années suivantes dans sa ville natale de Malmö en Suède avant d'être rachetée en 1994 par un consortium de quatre passionnés britanniques très liés au sport automobile. La voiture fut alors soigneusement restaurée dans sa définition et ses couleurs du GP de Monaco 1984 et elle figura dans l'exposition Ayrton Senna de l' Autosport' International Show et au Festival of Speed de Goodwood. L'histoire particulière de cette voiture – absolument confirmée depuis par des preuves photographiques – a été déjà établie par Alex Hawkridge du Groupe Toleman Motorsport et, après une inspection détaillée, à la fois par deux anciens employés de Toleman, Pat Symonds et Greg Field, qui déclarèrent la voiture à la fois « très originale » et « incontestablement TG184-02 ». La voiture est ensuite entrée dans la collection du vendeur – un important responsable actuel en Formule 1 – qui n'est que le quatrième propriétaire depuis l'origine (en comptant son constructeur).

Saleroom notices
Please note that online bidding is not available for this lot. If you are interested in bidding on this lot, you will be registered for telephone bidding. Veuillez noter qu'il n'est pas possible d'enchérir en ligne sur ce lot. Si vous souhaitez enchérir sur ce lot, vous allez être enregistré pour des enchères par téléphone.