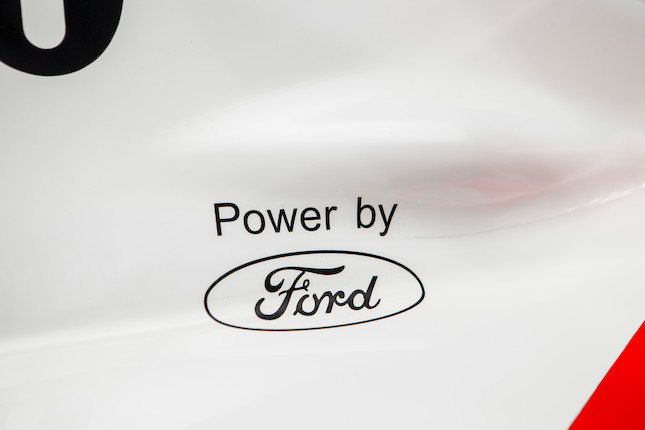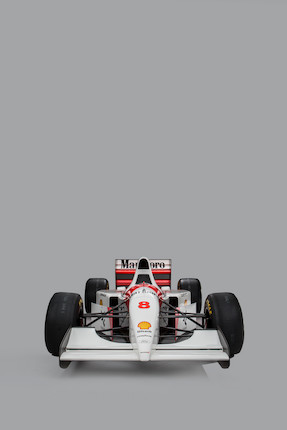 1993 McLaren-Cosworth Ford MP4/8A Formula racing Single-Seater
Amended
11 May 2018, 18:00 CEST
Villa La Vigie
Sold for €4,197,500 inc. premium
Own a similar item?
Submit your item online for a free auction estimate.
How to sell
Looking for a similar item?
Our Collector Cars specialists can help you find a similar item at an auction or via a private sale.
Find your local specialist
Ask about this lot
Philip Kantor
International Chairman for Motoring
The record breaking Ex-Ayrton Senna 1993 Monaco Grand Prix-winning
1993 McLaren-Cosworth Ford MP4/8A Formula racing Single-Seater
Chassis no. MP4/8-6
Engine no. 510
Gearbox no. 2

•Ayrton Senna's record-breaking sixth and last Monaco Grand Prix winner
•The most historically important Formula 1 McLaren ever presented at auction
•The rarest of rare opportunities to acquire a fully functional McLaren MP4
• Matching numbers chassis/engine/gearbox from Senna's 1993 Monaco Grand Prix win

Footnotes
It is evident from our long years of market experience that the essence of a truly collectible and iconic competition car is surely a combination of several very significant factors. The crème de la crème cars upon the very pinnacle of collectability each have an in-dividually unique and completely verifiable racing history, jewelled by significant success. They also embody the finest standards of contemporary competition car design and construction. They often embody design and manufacturing technology which is both a joy to behold, intricate to the eye, and often highly innovative. And, in the most desirable cases, they will have the closest and most intimate historic bond with a truly iconic and charismatic racing hero...

Here BONHAMS offers an immensely historic and important Formula 1 car which embodies every one of these immensely desirable attributes, in spades.

By the conclusion of this Monaco Sale you as the successful bidder could have adorned your collection with this 1993 McLaren-Ford MP4/8A Formula 1 car – the very machine with which the late and so legendary three-times World Champion Driver, Ayrton Senna, scored the record-breaking sixth and last of his historic race victories right here in the Monaco Grand Prix.

This startlingly well-preserved Ayrton Senna icon is offered here not only in running order, but also still featuring both the self-same V8-cylinder Cosworth-Ford 'HB' engine - serial 510 - and the self-same McLaren gearbox - serial 2 - which Ayrton Senna used so brilliantly when it won him that sixth Monaco Grand Prix title.

The present vendor – a truly dyed-in-the-wool motor racing enthusiast -acquired the car direct from McLaren International founder Ron Dennis in 2006, within an era in which no previous McLaren MP4 cars of any type were privately owned. As now offered here 'MP4/8A-6' has benefited from truly cherished preservation, and our reaction upon first seeing it, and hearing its V8 engine start up and run, has been "my, how it shows...".

The 1993 season would prove to be the brilliant Brazilian Champion's last with McLaren International – after driving for them through six action-packed and dramatically successful seasons which saw him win the Formula 1 Drivers' World Championship title in 1988, 1990 and 1991. During his career Ayrton became accustomed to breaking old records, and setting new ones. His laurels included the most wins achieved after leading throughout a World Championship-qualifying Grand Prix, the most consecutive pole positions, the most consecutive front-row starts, the most consecutive wins at the same Grand Prix (the Monaco Grand Prix, finally achieved in this McLaren-Ford), the most pole positions at the same Grand Prix, the most consecutive pole positions at the same Grand Prix and the highest percentage of front-row starts within a season (100 per cent in 1989). Add his 41 Grand Prix victories overall from 161 race starts – and the blistering driving style which he demonstrated throughout his frontline career – and the stature of the man is in no doubt.


Meanwhile, into 1993 the great British team of McLaren International, based at Woking in Surrey, south-west of London, had just ended its long and successful engine-supply partnership with Honda of Japan. McLaren would link up instead with Peugeot in a new Formula 1 racing partnership from 1994.

It was in the interim 1993 season that a last-minute agreement had been struck with Ford – following Honda's announcement of withdrawal from racing - to run their Cosworth-built 'HB' V8 engines on loan. Ayrton Senna himself was initially sceptical that these compact Ford V8 engines would be able to compete with the dominant Renault V10s as then deployed by the Williams team, led by the Brazilian's former McLaren team-mate (and long-time deadly rival) Alain Prost.

Senna consented – with initial reluctance - to remain with McLaren for that season on a race-by-race basis, in return for a rumoured $1-million fee for every race he started. The British team's latest McLaren-Ford MP4/8A model - like his Monaco GP-winning chassis '6' now offered here – certainly began that season being regarded very much as a stop-gap underdog challenger. Yet, in addition to Senna's exceptional brilliance within the cockpit - it quickly demonstrated such technological and mechanical sophistication that by season's end the MP4/8A it had proved itself one of the most competitive of all contemporary Formula 1 car designs. And Ayrton Senna actually drove chassis number '6' now offered as his mid-season regular car in no fewer than eight of the 1993 season's Formula 1 World Championship-qualifying Grand Prix races.

In his debut with the brand new chassis '6' at Barcelona's Spanish Grand Prix he immediately finished 2nd overall, headed only by Alain Prost's more powerful Williams-Renault.

Here in Monte Carlo for the following Monaco Grand Prix, the weekend could hardly have begun worse for the intensely committed and always highly motivated Brazilian, as in early practice he experienced an apparent problem with the car's ultra-modern 'active' suspension system which sparked a violent crash into the barriers at Ste Devote corner.

The after effects of that incident shaped his subsequent performance in the Grand Prix itself, come race day. The accident had actually occurred in Thursday morning's free practice session. That 1993 Monaco GP meeting was barely six laps old, and the skies were just opening to dump the first of the day's unwelcome rain drops on to the Principality's streets. The Brazilian was hammering his McLaren hard and fast into the first right-hand corner at Ste Devote when the active suspension system apparently misinterpreted a jounce over an approach-section kerb and lowered abruptly, taking download off the critical front tyre contact patch just as Ayrton needed bite to turn into the corner.

The car slewed off-line to the left, hit the adjacent steel barrier, and was then launched back across the road to strike the opposite guardrail headon at a speed later estimated at 160km/h – fully 100mph...

Within the fleeting few yards of that careering half-spin, Ayrton still felt that he had a lot of time to await the inevitable – and was gripped by an intense fear that this was going to be serious. Reflecting quietly to friends, later that weekend, he admitted: "For sure I was afraid l was going to lose my legs, that I was going to be very badly hurt".

But thanks to the McLaren moulded carbon-composite chassis nacelle's sturdy construction, he was actually well protected within the tub as the car bounced off, shedding wheels and suspension parts. In fact Ayrton Senna only strained the thumb on his stronger left hand where he had kept hold of the steering wheel as the car impacted the guardrail. It was not something he would normally have done in such circumstances, but to the end (Senna-style) he was trying to rescue the situation.

The McLaren mechanics and engineers quickly assessed the true damage to chassis '6 and concluded that it would be speedily repairable – which proved to be more the case than with poor Ayrton's thumb which remained sickeningly numb, and which he had taped and bandaged in hopes of full and speedy recovery. Although it may not have seemed so when he subsequently qualified fifth in the wet that afternoon, and improved to third in Saturday's sun, he would remain in very pensive mood. Understandably, the incident really had shaken him badly.


After the race that Sunday would explain: "Monte Carlo is special, and always has been for me, from my very first race here with Toleman..."(back in 1984 – see Lot No 124) "...and throughout my career. And it continues to be special...

"After my accident on Thursday I knew I had lost the edge, because the difference between going flat out here and going 99 per cent is big. And in that shunt I lost the 100 per cent possibility. We still tried to come back on Saturday, and again I touched the Armco in the chi-cane."

On that occasion, when the repaired chassis '6 had been flicked into a spin by another bump, this time at the exit from the seaside tunnel, he had been unable to restart and had sat quietly on a bench in the sun, pondering the wretched hand that Fate appeared to be dealing him.

"I was thinking hard, before going to bed on Saturday, throughout the night, and then when I got up this morning..." he would admit. "But this morning I really was thinking positively about it. I didn't think I would be able to take the lead on the first corner, but I would try to push the people ahead of me, even though I might not be able to cope with their speed.


He spoke of initial pole-sitter and race leader Alain Prost whose Williams had inadvertently jumped the start, and had a 10-second stop/go pit-stop penalty penalty imposed for having done so. After Prost had been further delayed by clutch problems when attempting to restart from the pits, Ayrton then addressed new race leader Michael Schumacher's pace in his Benetton-Ford B193B car.

It was powered by the very latest-tune Cosworth-Ford HB V8 'development' engine and Benetton also enjoyed full favoured-team contractual backing. Their engine was therefore superior in performance to the customer power units provided under that stop-gap deal to McLaren.

"Michael was quick", Ayrton confessed, "...But in those early laps I didn't want to go too hard because I knew the tyres would be worn by the other end of the race. I just wanted to keep a good pace. And after some laps I started to push, which stopped the gap growing and allowed me to maintain pressure on him and hope for him to make a pit stop. I knew Benetton had worse tyre wear. I always hoped, and in the end I got what I was looking for..."

His thumb, he said, still felt numb. The main problem seated there in McLaren MP4/8A chassis '6 was truly to maintain concentration, and to make the right nano-second race-driving decisions.


For Schumacher, on Prost's enforced stop, things had seemed straightforward as by lap 20 he had opened a lead over Senna of as much as 19.1secs, before back-marker traffic entered the equation. At long last Benetton had traction control on its B193B cars, and af-ter qualifying on the front row alongside poleman Prost the young German superstar had been absolutely delighted with his car. "I just keep thinking what we could have done earlier in the year if we'd had it sooner..." he kept repeating to himself.

In fact Schumacher then led the race from Ayrton Senna until lap 33, when the Benetton-Ford retired abruptly with hydraulic failure. From that point forward, Ayrton in MP4/8A chassis '6 took commanding control of the great race, 15 seconds ahead of Damon Hill's Williams-Renault. And as the great Brazilian three-time World Champion took the Monaco chequered flag for his sixth time, he broke Graham Hill's record for the most Monaco GP victories (of five), set back in 1969.

Subsequent to its hard-won Monaco Grand Prix victory, this individual McLaren MP4/8A chassis '6 was raced again by Ayrton Senna in that year's Canadian, French, British, German, Belgian and Italian GPs. The combination finished 4th in the French GP at Magny-Cours, the German GP at Hockenheim and the Belgian GP at Spa-Francorchamps.

At Silverstone in the British GP, Ayrton looked firmly set to finish 3rd, only to run out of fuel in the closing stages – and being classified 5th. Chassis '6's frontline career was finally completed as spare car at both the 1993 Japanese and Australian Grands Prix.

Ayrton Senna is widely regarded as having been absolutely the most charismatic Grand Prix driver of the modern era, and this individual McLaren-Ford MP4/8A is the car with which his team, McLaren International, (albeit temporarily) surpassed Ferrari as the most successful team in Formula 1 World Championship history.


Within the Formula 1 world of 1993, McLaren MP4/8A-6 seemed a relatively simple car. But simplicity at its most effective level also reflects intense refinement, and the making of good decisions by a dedicated - and hugely experienced - McLaren International design team. The Woking operation would still see number one driver Ayrton Senna win no fewer than five of that year's World Championship-qualifying Grand Prix races, including Monaco, a record which emphasises the sheer class of the MP4/8A-Senna combination that year.

Relatively simple though chassis '6 might have been, it still featured active suspension, and later also power brakes. Its design had been perfected by a team led by hugely experienced ex-Williams engineer Neil Oatley while its Henri Durand-devised aerodynamic package performed at best when presented to the airstream upon a stable-riding platform, which was provided by active suspension. As developed during that year by McLaren engineers Paddy Lowe and Nick Fry, the car's active system continually reset ride-heights and trim automatically while the car was running. The system's designers divided-up the circuits into a number of sensing segments and by the end of the year its sensing was as precise as every five to ten metres...

Now, however much chief designer Neil Oatley might describe his MP4/8A as having been a relatively simple car, it pushed everywhere against the limit of what contemporary regulations allowed. The Formula 1 car is a bomb upon the brink of exploding. In action it's a vibrant, dynamic, incredibly dynamic man-carrying capsule which will challenge any mere human strapped into its seat to ex-plore its outermost performance limits, while still maintaining at least a semblance of control.

That's what makes superstar Formula 1 drivers such special athletes - merely to be able to live with the car's capabilities, and to use all it has to offer. From McLaren's incredibly fine-detailed contemporary chassis '6 data read-outs, the car's explosive performance around the Monte Carlo street circuit is absolutely eye-popping. Just imagine keeping on top of this rampaging street fight...


Approaching Ste Devote Corner in 1993, Ayrton Senna had MP4/8A-6 reaching a maximum 265km/h (164.6mph) in 6th gear, its 3.5-litre Ford HB engine screaming - by contemporary standards - at 12,070rpm. His mid-corner Ste Devote speed was then 90km/h (55.9mph), 7,048rpm in 2nd gear.

His maximum speed up the long hill towards the Casino was 259km/h (160.9mph), 11,827rpm in 6th. He slammed right in front of the Hotel de Paris at 122km/h (75.8mph), 7,959rpm in 3rd. Down into Mirabeau 213km/h (132.3mph), 12,565rpm in 4th. Locking left into the Loew's Hairpin, 46km/h (28.5mph), 4,634rpm, bottom gear, and then up and away through the curving, tunnel, where the car as now offered here reached 277km/h (172.1mph), 12,636rpm in 6th.

Through the quayside chicane 63.0km/h (39.1mph), 4,922rpm in 2nd gear. After the Tabac turn through the swimming pool complex, 164km/h (101.9mph), 9,639rpm in 4th. Pitching the car into the right-hand entry to Rascasse, 48km/h (29.8mph), 4,897rpm, again in 1st gear. And so back across the timing line and away beyond 160mph again towards Ste Devote... To win that 1993 Monaco Grand Prix, Ayrton Senna in chassis '6 went through this mind-boggling sequence no fewer than 78 times, to win for that record-breaking sixth time.

It is with great pleasure – and profound respect for the memory of the late, great Ayrton Senna – that BONHAMS commends this wonderfully historic, iconic (and running order) Formula 1 car to the market.



McLaren-Cosworth Ford MP4/8A 1993
Monoplace de Formule 1

Châssis n° MP4/8-6
Moteur n°: 510
Boîte de vitesses n° : 2


Il apparait évident à travers notre longue expérience du marché que la valeur d'une voiture de compétition de collection emblématique est probablement une combinaison de plusieurs facteurs significatifs. La crème de la crème des voitures au sommet de la hiérarchie des modèles de collection, ont toutes une histoire particulière et parfaitement vérifiable en compétition, avec des succès significatifs à la clé. Elles possèdent également les caractéristiques les plus raffinées de la compétition de leur époque en matière de conception et de mise en œuvre. Elles arborent souvent des techniques de design et de construction qui sont un plaisir pour l'œil par leur sophistication et aussi par leur innovation. Et dans le cas des modèles les plus séduisants, elles ont eu un lien historique intime et étroit avec une icône charismatique du sport automobile...

Bonhams propose ici une importante monoplace de Formula 1 au caractère historique bien particulier qui possède toutes les caractéristiques qui rendent une voiture exceptionnelle.

À la fin de cette vente monégasque, si vous êtes l'enchérisseur qui l'emporte, vous pourrez enrichir votre collection avec cette monoplace McLaren-Ford MP4/8A de Formule 1 de 1993 – celle-là même avec laquelle le défunt et légendaire triple champion du monde des pilotes Ayrton Senna, signa la sixième et dernière victoire de sa carrière ici au Grand Prix de Monaco.

Cette emblématique voiture d'Ayrton Senna incroyablement bien préservée est non seulement en état de marche mais possède toujours le même V8 Cosworth-Ford « HB » - numéro de série 510 – et la même boîte de vitesse McLaren - numéro de série 2 – utilisés par Ayrton Senna si brillamment lorsqu'il remporta son sixième Grand Prix de Monaco.

Le vendeur – un passionné invétéré de compétition automobile–a acheté la voiture directement au fondateur de McLaren International, Ron Dennis, en 2006, à une époque où aucune autre McLaren MP4 d'aucun type n'était en possession d'un particulier. Dans l'état où elle est proposée cette MP4/8A-6 a fait l'objet d'une préservation soignée et notre réaction lorsque nous l'avons découverte et lorsque nous avons démarré son V8 et l'avons entendu tourner a été « Quelle merveille ! ».

La saison 1993 allait être la dernière du brillant champion brésilien avec McLaren International – après avoir piloté pour eux pendant six saisons riches en péripéties et en succès qui le virent remporter le titre de champion du monde des pilotes de Formule 1 en 1988, 1990 et 1991. Au cours de sa carrière, Ayrton prit l'habitude de battre les anciens records pour en valider de nouveaux. Parmi ses lauriers on compte le plus grand nombre de victoires en championnat remportées en tête d'un Grand Prix de bout en bout, le plus grand nombre de pole positions consécutives, le plus grand nombre de départ en première ligne, le plus grand nombre de victoires consécutives au même Grand Prix (le Grand Prix de Monaco remporté pour la dernière fois à bord de cette McLaren-Ford), le plus grand nombre de pole positions au même Grand Prix, le plus grand nombre de pole positions consécutives au même Grand Prix et le plus grand pourcentage de départs en première ligne au cours de la même saison (100% en 1989). Ajoutez 41 victoires en Grand Prix sur 161 courus – et le style de conduite fulgurant qu'il a affiché tout au long d'une carrière de premier plan – et la stature de cet homme exceptionnel ne fait plus aucun doute.

En attendant, en 1993 la grande écurie britannique McLaren International, installée à Woking dans le Surrey, au sud ouest de Londres, venait de mettre fin à un long partenariat riche en succès avec le Japonais Honda. McLaren allait s'associer avec Peugeot dans un nouveau partenariat en Formule 1 à partir de 1994.

C'est lors de cette saison intermédiaire de 1993 qu'un accord de dernière minute avait été conclu avec Ford – après l'annonce du retrait de Honda de la compétition – pour engager leur moteur V8 HM construit par Cosworth sur la base d'un prêt. Ayrton Senna lui-même se montra d'abord sceptique devant les capacités des petits V8 Ford face aux V10 dominants de Renault engagé par l'écurie Williams menée par l'ancien camarade d'écurie du Brésilien chez McLaren (et son ennemi mortel pendant de longues années), Alain Prost.

Senna consentit – d'abord à contre-cœur – à rester chez McLaren pour cette saison sur la base d'un accord course par course, pour la somme d'un million de dollars par course courue, selon la rumeur. Le dernier modèle de l'écurie britannique, la McLaren-Ford MP4/8A – comme le châssis 6 vainqueur du Grand prix de Monaco proposé ici – commença cette saison considérée comme un bouche-trou face aux autres concurrents. Mais, en plus de l'exceptionnel talent de Senna au volant – la MP4/8A fit rapidement état d'une sophistication mécanique et technologique telle qu'à la fin de la saison, elle s'était révélée l'une des plus compétitives de toutes les Formule 1 contemporaines. Et Ayrton Senna choisit le châssis numéro 6, proposé à la vente aujourd'hui, comme sa voiture régulière de mi-saison dans pas moins de huit des Grand Prix qualificatifs de la saison 1993 du championnat du monde de Formule 1.

Pour les débuts du tout nouveau châssis 6 au Grand Prix d'Espagne à Barcelone, il termina deuxième du classement général seulement devancé par la Williams-Renault d'Alain Prost plus puissante.

Pour le Grand Prix suivant ici à Monte-Carlo, le Grand Prix de Monaco, le week-end ne pouvait pas plus mal commencé pour le champion brésilien intensément motivé et profondément impliqué, lorsqu'aux premiers essais il fut confronté à un problème avec le système de suspension active ultra-moderne de sa voiture qui se termina par un violent crash dans les barrières du virage de Sainte-Dévote.

Les effets consécutifs de cet incident allaient avoir une incidence sur sa performance au Grand Prix lui-même, le jour de la course. L'accident avait eu lieu au cours de la séance d'essais libres du jeudi matin. Cette séance du Grand Prix de Monaco 1993 n'avait que six tours quand le ciel déversa la première de ces averses intempestives sur les rues de la principauté. Le Brésilien rudoyait sa McLaren dans le premier virage à droite à Sainte-Dévote quand le système de suspension active interpréta apparemment de façon incorrecte un rebond sur un vibreur et s'abaissa soudainement, privant d'appui le pneu avant au moment même où Ayrton avait besoin de toute l'adhérence pour s'inscrire dans la courbe.


La voiture dérapa quittant sa trajectoire par la gauche, heurta la barrière métallique et fut rejetée de l'autre côté de la route où elle heurta de face le rail de sécurité opposé à une vitesse qu'on estima après coup à 160 km/h...

Pendant les quelques mètres de ce tête-à-queue parcourus à toute vitesse, Ayrton eut le temps de se rendre compte de l'inévitable – et fut saisi par la peur que cela allait être sérieux. Lorsqu'il en parla à ses proches au cours du week-end, il admit : « J'étais sûr que j'allais y laisser mes jambes, que j'allais être gravement blessé ».

Mais grâce au solide habitacle en carbone moulé du châssis de la McLaren, il fut bien protégé dans son baquet lorsque la voiture rebondit, perdant ses roues et ses suspensions. En fait Ayrton Senna se froissa seulement le muscle du pouce de sa main forte, la gauche, qui n'avait pas lâché le volant lors de l'impact sur le rail de sécurité. Ce n'était pas son habitude dans de telles circonstances, mais en fin de compte (bien dans le style Senna) il avait essayé de récupérer la situation.

Les ingénieurs et les mécaniciens de McLaren estimèrent rapidement les dommages au châssis 6 et conclurent qu'il était facilement réparable – ce qui s'avéra plus vrai que pour le pouce du pauvre Senna qui resta paralysé et qu'il fit enrubanné de bandages dans l'espoir qu'une guérison rapide. Bien que cela ne parut pas évident quand il se qualifia en cinquième position sous la pluie l'après-midi même et redescendit en troisième position sous le soleil le samedi, il resta très perturbé. Comme on peut le comprendre, l'incident l'avait salement secoué.


Après la course, le dimanche, il expliqua : « Monte-Carlo est très spécial et l'a toujours été pour moi, depuis ma première course avec Toleman... » (en 1984 – voir Lot n° 124) « ... et tout au long de ma carrière. Et ça continue d'être spécial... »

« Après mon accident de jeudi, je savais que j'avais perdu mes repères. La différence entre rentrer à 100% dans un virage et seulement à 99% est énorme. Et dans ce dérapage, j'avais perdu la possibilité des 100%. Nous avons essayé tout le samedi et j'ai à nouveau touché le rail dans la chicane ».

À cette occasion, quand le châssis 6 était parti en toupie sur la bosse à la sortie du tunnel vers la plage, il n'avait pas pu redémarrer et s'était assis tranquillement sur un banc au soleil, réfléchissant au mauvais tour que lui jouait le destin.

« J'y réfléchissais avant d'aller au lit le samedi, puis toute la nuit et encore quand je me suis levé ce matin... » reconnut-il « Mais ce matin, j'y pensais de façon positive. Je pensais que je ne serais pas capable de prendre la tête au premier virage, mais que j'allais pousser ceux qui me précédaient, même si je n'étais pas en mesure de les suivre ».


Il parlait du tenant de la pole position et leader de la course Alain Prost dont la Williams avait par mégarde fait un faux départ et écopé d'une pénalité de 10 secondes d'arrêt au stand pour cela. Lorsque Prost avait encore été retardé par des problème d'embrayage pour repartir des stands, Ayrton avait alors collé au train du nouveau leader, la Benetton-Ford B193B de Michael Schumacher.

Elle était animée par la dernière mouture du V8 Cosworth-Ford HB et Benetton recevait en plus un traitement de faveur en tant qu'écurie officiel. Leur moteur était donc supérieur en performance à celui des moteurs clients fournis dans le cadre de ce contrat bouche-trou avec McLaren.

« Michael était rapide », reconnut Ayrton « ...mais dans ces premiers tours, je ne voulais pas aller trop vite car je savais que les pneus allaient être usés à la fin de la course. Je voulais maintenir une bonne allure. Après quelques tours, je commençais à accélérer, ce qui réduisit l'écart et me permit de maintenir la pression et d'espérer qu'il s'arrête au stand. Je savais que Benetton avait de plus mauvais pneus. Je gardais espoir et finalement j'obtins ce que j'attendais... »

Son pouce, dit-il, le lançait toujours. Le plus gros problème, assis dans le baquet de la McLaren MP4/8A châssis 6, était de rester concentré et de prendre la bonne décision de conduite en une nano-seconde.


Pour Schumacher, suite à l'arrêt forcé de Prost, les choses semblaient claires puisqu'au 20e tour, il menait devant Senna avec plus de 19 secondes, avant que les retardataires n'entrent en lice. Finalement Benetton avait doté ses B193B du contrôle de traction et, après s'être qualifié en première ligne aux côtés du tenant de la pole position, Prost, le jeune pilote vedette allemand était enchanté de sa voiture. « Si seulement on l'avait eu plus tôt dans la saison... » ne cessait-il de se répéter.

En fait Schumacher tint la tête de la course devant Ayrton Senna jusqu'au 33e tour, quand la Benetton-Ford se retira soudainement sur une panne hydraulique. À partir de ce moment-là, Ayrton sur la MP4/8A châssis 6 prit le contrôle de la grande classique 15 secondes devant la Williams-Renault de Damon Hill. Et, quand le grand Brésilien triple champion du monde passa devant le drapeau à damier de Monaco pour la sixième fois, il battait le record de Graham Hill pour le plus grand nombre de victoires à ce Grand prix (cinq) établi en 1969.

À la suite de cette victoire au Grand Prix de Monaco acquise de haute lutte, Ayrton Senna pilota encore la McLaren MP4/8A châssis 6 au cours de la saison au Grands Prix du Canada, de France, de Grande-Bretagne, d'Allemagne, de Belgique et d'Italie. Le tandem termina 4e au GP de France à Magny-Cours, en Allemagne à Hockenheim et en Belgique à Spa-Francorchamps.

À Silverstone au Grand Prix de Grande-Bretagne, Ayrton était sur le point de terminer troisième lorsqu'il tomba en panne sèche dans le dernier tour et fut finalement classé 5e. La carrière du châssis 6 se termina comme voiture de secours aux Grands Prix du Japon et d'Australie de 1993.

Ayrton Senna est considéré dans le monde entier comme le plus charismatique des pilotes de Grand Prix de l'ère moderne et cette McLaren-Ford MP4/8A particulière est la voiture avec laquelle son écurie, McLaren International, surpassa (au moins temporairement) Ferrari comme écurie la plus titrée dans l'histoire du Championnat du monde de Formule 1.
Dans l'univers de la Formule 1 de 1993, la McLaren MP4/8A-6 semblait une voiture relativement simple. Mais la simplicité à son degré le plus poussé reflète aussi un raffinement extrême et les bons choix de l'équipe d'ingénieurs et de spécialistes – hautement qualifiés - de McLaren International. Woking allait voir son pilote numéro un Ayrton Senna remporter pas moins de cinq Grand Prix dans le championnat du monde au cours de cette saison, parmi lesquels Monaco, qui souligne de façon incontestable la grande classe du tandem MP4/8A-Senna cette année-là.


Aussi simple qu'ait pu paraître le châssis 6, il offrait néanmoins la suspension active et plus tard des freins assistés. Sa mise au point avait été perfectionnée par une équipe conduite par un ancien ingénieur de chez Williams très expérimenté, Neil Oatley, tandis que l'ensemble aérodynamique conçu par Henri Durand fonctionnait à merveille lorsqu'il reposait sur une base aérodynamiquement stable, comme celle que procurait la suspension active. Tel que développé cette année-là par les ingénieurs de McLaren Paddy Lowe et Nick Fry, le système actif recalculait en permanence la garde au sol et l'équi
Saleroom notices
Please note that online bidding is not available for this lot. If you are interested in bidding on this lot, you will be registered for telephone bidding. Veuillez noter qu'il n'est pas possible d'enchérir en ligne sur ce lot. Si vous souhaitez enchérir sur ce lot, vous allez être enregistré pour des enchères par téléphone.