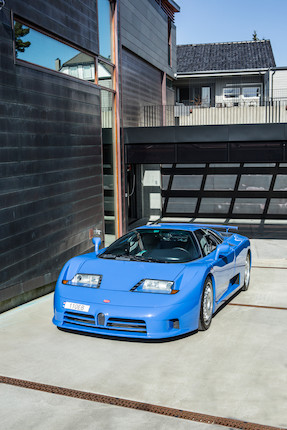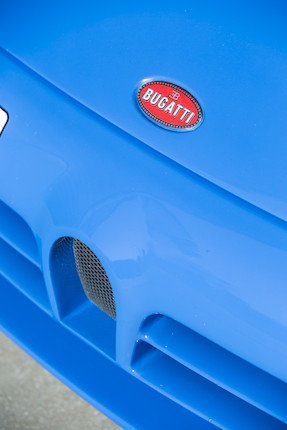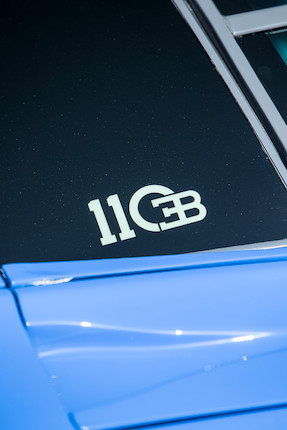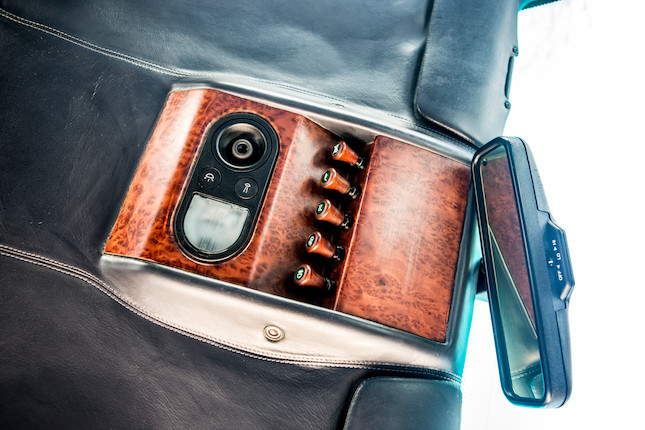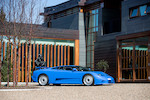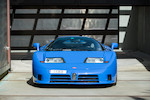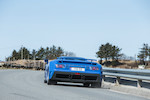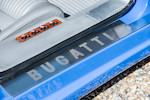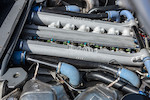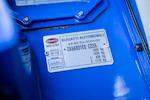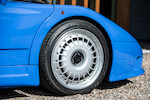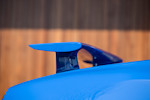 1993 Bugatti EB110 GT Coupe
11 May 2018, 18:00 CEST
Villa La Vigie
Sold for €603,750 inc. premium
Own a similar item?
Submit your item online for a free auction estimate.
How to sell
Looking for a similar item?
Our Collector Cars specialists can help you find a similar item at an auction or via a private sale.
Find your local specialist
Ask about this lot
Philip Kantor
International Chairman for Motoring
The 1993 Frankfurt International Motor Show
1993 Bugatti EB110 GT
Chassis no. ZA9AB01E0PCD39033
•One of an estimated 139 produced
•Delivered new to Germany
•Known ownership history
•Circa 16,500 kilometres recorded
•Well maintained
•Substantial history file


Footnotes
Forty years after Ettore Bugatti's death in 1947, the once legendary but moribund marque, one of the most renowned in automotive history, was acquired by ambitious Italian businessman Romano Artioli, whose aim was nothing less than a resurrection of Bugatti in the form of a state-of-the-art supercar. Artioli chose Modena, home to Ferrari, Lamborghini and Maserati, as the place to build his modern factory from which the first completed production car rolled out in 1992. Designated 'EB110' (signifying its debut 110 years after Ettore's birth) the first new Bugatti since the 1950s was an advanced mid-engined supercar acclaimed as worthy successor to its formidable antecedents.

The Bugatti EB110 was designed by none other than engineer Paolo Stanzani and stylist Marcello Gandini, co-creators of the exotic Lamborghini Countach supercar to which the EB110, with its short nose, wedge-shaped body and gull-wing doors, bore a strong resemblance. Beneath the skin there were similarities too, the short-stroke V12 engine with forward mounted gearbox having been pioneered on the Countach. Had the EN110 stopped there it would have constituted a remarkable enough debut for a fledgling manufacturer, but to the already outstanding specification Stanzani added five valves per cylinder, four turbo-chargers, a bespoke six-speed gearbox, and four-wheel drive! Despite the complexity, the EB110 worked well on the road, its compact dimensions combined with four-wheel drive making for exceptional agility, and excellent grip and balance no matter what the conditions. The 3.5-litre V12 developed 561bhp, good enough for a top speed of 212mph, a figure recorded at the Nardi test track in Italy that placed the EB110 on a par with that other 'World's Fastest Car', the Jaguar XJ220.

While, understandably, headline writers emphasised its performance to the exclusion of almost everything else except the price ($456,000), the EB110 was nevertheless a very well-built product possessing a roomy and lavishly equipped interior. There was also a lightweight competition version: the even more powerful and expensive EB110SS. Unfortunately for Artioli and his collaborators, the EB110 launched just as the early 1990s recession took hold and the company entered receivership in 1994. It is estimated that a mere 139 of these exotic cars were built, Michael Schumacher being perhaps the most high-profile owner.

Bugatti EB110 GT '39033' was assembled on the Aerospatiale chassis number '028' and fitted with the engine number '046'. Assembly commenced in May 1993 and was completed at the end of July 1993. Official delivery was scheduled for 30th August 1993 to a German customer, Mr Walter Eder, though apparently the delivery was a little delayed because an elderly lady driving a FIAT Punto hit the EB110, so the left front had to be repaired!

According to the Bugatti EB110 Registry, it seems the factory or the local distributor borrowed '39033' for the IAA Frankfurt International Motorshow in September 1993. The car was exhibited on the Bugatti stand, side by side with the EB112 '39001' and the Supersport prototype 'SS39005'.

On the 19th December 1996, with 9,000 kilometres showing on the odometer, the car was sold to Jurgen Persch for 330,000 DM (copy sales contract and German Fahrzeugbrief in file). It seems that Mr Persch used the Bugatii very much, since it was sold to Alberto Di Garnerone a few months later (in July 1997) for 345,000 DM still with 9000 kilometres recorded (copy of sales contract and Italian registration document in file).

After 15 years in Italy, the Bugatti was exported on 20th January 2012 (original document in file) and was again registered in Germany on 24th August 2012 with the German registration 'MYK BE110' (copy of registration document in file).

The current owner purchased the car on 24th August in 2012 at 14,900 kilometres and kept in the South of France where it was serviced at P3 Automobiles. In February 2013, the car was imported into Norway and registered there on the 21st March 2013. While in Norway, the Bugatti has formed part of a large car collection and has been serviced and preserved in ideal conditions (service receipts in file). The current odometer reading is 16,500 kilometres.

Representing a rare opportunity for the serious collector to acquire one of these fabulous cars, '39033' comes with Norwegian registration papers, technical inspection (MoT), and a most substantial history file.

Please note this motor car is subject to the normal local import tax on Hammer Price should it remains in the EU.

Bonhams is the guarantor of the customs duties and taxes clearance: consequently, this motor car cannot be released to the buyer or his transporter immediately after the sale.

Voiture du Salon international de Francfort 1993
Bugatti EB 110 GT 1993
Châssis n° ZA9AB01E0PCD39033

•L'une d'environ 139 produites
•Livrée neuve en Allemagne
•Historique des propriétaires connu
•Environ 16 500 kilomètres enregistrés
•Bien entretenue
•Dossier historique substantiel

Quarante ans après la mort d'Ettore Bugatti en 1947, la marque moribonde autrefois légendaire, l'une des plus célèbres de l'histoire de l'automobile, fut rachetée par l'ambitieux homme d'affaire italien Romano Artioli, dont le but était ni plus ni moins que de ressusciter Bugatti sous la forme d'une supercar dernier cri. Artioli choisit Modène, la ville de Ferrari, Lamborghini et Maserati pour construire son usine moderne dont la première voiture de série finie sortit en 1992. Baptisée EB 110 (pour ses débuts 110 ans après la naissance d'Ettore) la première nouvelle Bugatti depuis 1950 était une surpercar moderne à moteur central, accueillie comme la digne héritière de ses formidables devancières.

La Bugatti EB 110 avait été conçu par nuls autres que l'ingénieur Paolo Stanzani et le styliste Marcello Gandini, co-créateurs de l'exotique Lamborghini Countach à laquelle l'EB 110 par son porte-à-faux avant court, sa carrosserie en coin et ses portes en élytre ressemblait fortement. Sous la carrosserie, on trouvait aussi quelques ressemblances, le moteur V12 à course courte avec la boîte de vitesse monté devant déjà vu sur la Countach. Si l'EB 110 s'en était tenu à cela, elle aurait déjà constitué un assez remarquable départ pour un nouveau constructeur, mais à ses caractéristiques déjà exceptionnelles, elle ajoutait cinq soupapes par cylindre, quatre turbos, une boîte à six rapports spécifiques et quatre roues motrices ! Malgré sa complexité, l'EB 110 marchait bien sur la route ses dimensions compactes combinées aux quatre roues motrices lui conférant une agilité exceptionnelle, une excellente adhérence et un bon équilibre en toutes circonstances. Le V12 3, 5 litres développait 561 ch, pour une vitesse de pointe de 340 km/h, un chiffre enregistré sur la piste d'essai de Nardo en Italie qui mettait l'EB 110 à égalité avec l'autre « voiture la plus rapide du monde », la Jaguar XJ220.

Alors que les journalistes mettaient en avant de façon assez compréhensible ses performances à l'exclusion de presque toutes ses autres caractéristiques hormis son prix (456 000 $), l'EB 110 était néanmoins un produit bien construit, doté d'un intérieur spacieux et luxueusement équipé. Il existait aussi une version de compétition allégée, l'EB 110 SS encore plus puissante et plus chère. Malheureusement pour Artioli et ses collaborateurs, l'EB 110, avait été lancée juste au moment de la récession du début des années 1990 et la société fut mise en liquidation en 1994. On estime que seulement 139 de ces voitures exotiques furent construites, Michael Schumacher étant probablement le plus connu de ses propriétaires.

La Bugatti EB 110 GT n° 39033 a été assemblée sur le châssis Aerospatiale numéro 028 et doté du moteur numéro 046. L'assemblage, commencé en mai 1993, fut achevé à la fin de juillet 1993. La livraison officielle était prévue le 30 août 1993 pour un client allemand, M. Walter Eder, mais apparemment elle fut légèrement retardée, une vieille dame au volant d'une Fiat Punto ayant embouti l'EB 110 dont on dut réparer l'aile avant !

Selon le registre de la Bugatti EB 110, il semble que l'usine ou le distributeur local ait emprunté 39033 pour le salon international de Francfort en septembre 1993. La voiture était exposée sur le stand Bugatti, à côté de l'EB 112 39001 et du prototype Supersport SS39005.

Le 19 décembre 1996, avec 9 000 kilomètres au compteur, la voiture fut vendue à Jurgen Persch pour 330 000 DM (copie du contrat de vente et du Fahrzeugbrief allemand au dossier). Il semble que M. Persch n'utilisa pas beaucoup la Bugatii, puisqu'elle fut vendue à Alberto Di Garnerone quelques mois plus tard (en juillet 1997) pour 345 000 DM toujours avec 9 000 kilomètres (copie du contrat de vente et du document d'immatriculation italienne au dossier).

Après 15 années en Italie, la Bugatti fut exportée le 20 janvier 2012 (document original au dossier) et à nouveau immatriculée en Allemagne le 24 août 2012 sous le numéro MYK BE110 (copie du document d'immatriculation au dossier).
L'actuel propriétaire a acheté la voiture le 24 août en 2012 à 14 900 kilomètres et l'a conservée dans le sud de la France où elle était entretenue par P3 Automobiles. En février 2013, la voiture fut importée en Norvège et immatriculée là-bas le 21 mars 2013. Pendant son séjour en Norvège, la Bugatti faisait partie d'une grande collection et a été conservé et entretenue dans des conditions idéale (factures d'entretien au dossier). Le compteur affiche aujourd'hui 16 500 kilomètres.

Représentant une chance unique pour un collectionneur sérieux d'acquérir une de ces fabuleuses voitures, 39033 est vendue avec ses papiers d'immatriculation norvégienne, un contrôle technique (MoT) et un dossier historique très complet.

Veuillez noter que si cette voiture reste dans la Communauté Européenne elle sera soumise à une taxe d'importation au taux normal de la TVA à l'importation locale sur le prix d'adjudication.

Bonhams restant le garant des droits et taxes douanières, cette voiture ne pourra donc pas être récupérée par l'acheteur ou son transporteur immédiatement après la vente.