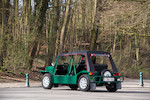 1987 Austin Rover Mini Moke
Amended
11 May 2018, 18:00 CEST
Villa La Vigie
Sold for €21,850 inc. premium
Own a similar item?
Submit your item online for a free auction estimate.
How to sell
Looking for a similar item?
Our Collector Cars specialists can help you find a similar item at an auction or via a private sale.
Find your local specialist
Ask about this lot
Philip Kantor
International Chairman for Motoring
1987 Mini Moke
Chassis no. TW7XKFP3285681056
•Charismatic 1960s motoring style icon
•Restored in 1997
•1,380cc 100 horsepower engine
•Registered in Belgium
Footnotes
Like that other great cult car of the post-WW2 era - the Volkswagen 'Beetle' - the Mini proved amenable to all manner of imaginative interpretations by devotees, though its boldest reinvention - the Jeep-like Moke - came from BMC itself. Conceived as a military vehicle but rejected by the Army, the Moke was redeveloped for the civilian market, deliveries commencing in 1964. Sold overseas as a utility vehicle but in Britain viewed more as a fashion accessory, the Moke captured the 1960s' spirit of freedom and self-expression more effectively than any other car. The Moke's prominent role in Patrick McGoohan's cult TV series The Prisoner has only served to maintain its popularity and today this quirky Mini variant remains highly sought after.

This example was restored in 1997 when it was owned in Germany owned by a Mr Frank Beller, who had a tuned 1,380cc engine installed, producing 100bhp. Numerous other mechanical works were carried out at the same time costing a total of 17,000 DM (invoices on file). From 2002 the Moke was owned by a Mr Frederic Dor in England. The car is offered with an old German Fahrzeugbrief; old TüV paperwork dated 1997; an expired MoT certificate (2002); and Belgian Carte Grise.

Mini Moke 1987
Châssis n° TW7XKFP3285681056

•Emblématique icône du style des années 1960
•Restaurée en 1997
•Moteur 1 380 cm3 de 100 ch
•Immatriculée en Belgique

Comme l'autre grand modèle culte de l'après-guerre - la Volkswagen « Coccinelle » - la Mini se prêtait à toutes sortes d'interprétations délirantes par ses inconditionnels, mais sa version la plus audacieuse - la Moke inspirée de la Jeep – était due à la BMC elle-même. Conçue comme un véhicule militaire, mais refusée par l'armée, la Moke fut remaniée pour le marché civil, les premières livraisons débutant en 1964. Vendue comme utilitaire sur les marchés extérieurs, elle était plutôt considérée comme un accessoire de mode en Grande-Bretagne. La Moke avait saisi l'esprit de liberté et d'expression de soi des années 1960, mieux que toute autre voiture. Le rôle de premier plan joué par la Moke dans la série télévisée culte de Patrick McGoohan Le Prisonnier a prolongé sa popularité et aujourd'hui cette variante décalée de la Mini reste très recherchée.

Cet exemplaire a été restauré en 1997 en Allemagne lorsqu'il appartenait à M. Frank Beller, qui a gonflé son moteur de 1 380 cm3 à 100 ch. De nombreux autres travaux mécaniques ont été effectués à la même époque pour un total de 17 000 DM (factures au dossier). À partir de 2002, la Moke appartint à M. Frederic Dor en Angleterre. La voiture est vendue avec un ancien Fahrzeugbrief allemand, un contrôle du TüV de 1997, un certificat du MoT expiré (2002) et une carte grise belge.

Saleroom notices
Please note that the chassis number stamped on the car is TW7XKFP328S681056 and not TW7XKFP3285681056 as stated in the online and printed catalogue. Veuillez noter que le numéro de châssis de cette voiture est TW7XKFP328S681056 et non TW7XKFP3285681056 comme mentionné en ligne et au catalogue.